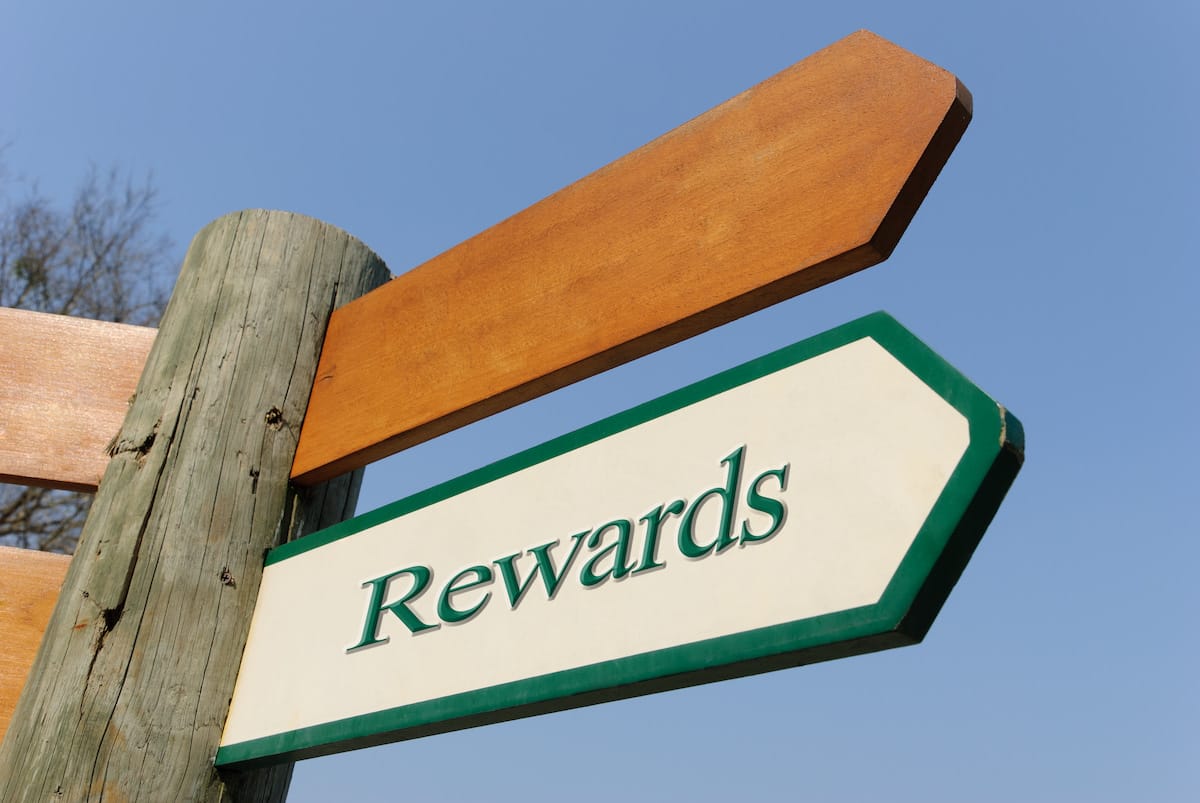 Microsoft Rewards review: A rewards program or a racket?
TungCheung / Shutterstock
🗓️
Updated: August 01, 2023
We adhere to strict standards of editorial integrity to help you make decisions with confidence. Please be aware that some (or all) products and services linked in this article are from our sponsors.
We adhere to strict standards of editorial integrity to help you make decisions with confidence. Please be aware that some (or all) products and services linked in this article are from our sponsors.
It feels like every business offers an incentive program of some kind. Whether they're brick-and-mortar, online, corporate, or mom-and-pop retailers, most companies try to lure customers back to their businesses with rewards programs. It's an appealing premise: The more money customers spend, the more they can save.
It's no surprise that Microsoft, the multi-billion-dollar technology company, offers a similar incentive system.
The short version
Microsoft Rewards is an online digital points system that accumulates points anytime a Microsoft Rewards member uses a Microsoft product, service, or platform.
There are numerous ways to earn Microsoft Rewards, including searching on Bing, playing games on an Xbox device, and making purchases in the Microsoft store.
There are three ways to redeem Microsoft Rewards: exchanging points for Microsoft products and various third-party gift cards, entering sweepstakes to win prizes, or donating points to charities.
While the Microsoft Rewards program appears extensive in theory, it only benefits a limited group of people, namely avid Microsoft consumers.
You'd probably be hard-pressed to find someone in your circle who doesn't use at least one Microsoft product, whether it's an Xbox for gaming, Office 365 for basic work software, or Windows PCs. Since you're likely using a Microsoft product yourself, why not try to earn free stuff while doing so? You can—with an online rewards program called Microsoft Rewards.
What is Microsoft Rewards?
Microsoft Rewards is a digital points system that accumulates anytime a Microsoft consumer uses a Microsoft product, service, or platform. The more a Microsoft user engages with Microsoft tools, the more rewards they can earn.
Setting up a Microsoft account to begin earning rewards is simple. Sign into www.microsoft.com/rewards. At the top of the page, click "Sign up for free."
Users can sign in to their Microsoft account, and the page will take them to their Rewards home page, where they can start earning. There are no start-up fees or contracts to join Microsoft Rewards, and users can start earning points immediately after signing up.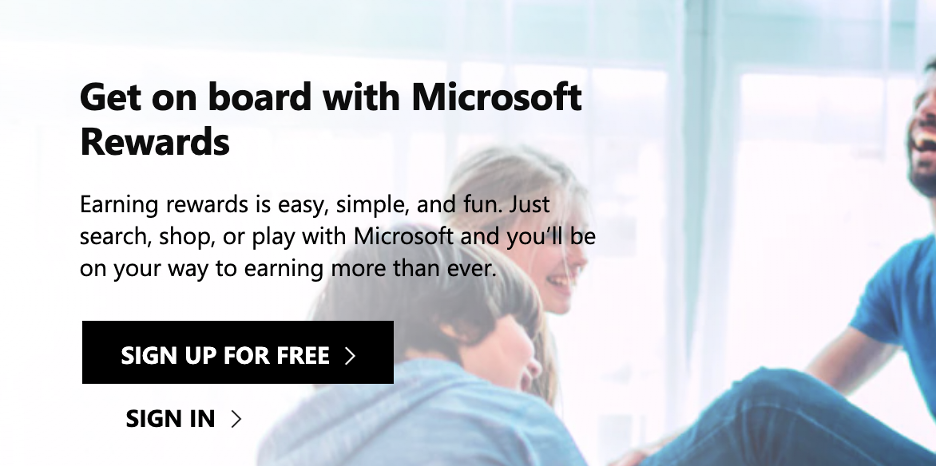 If you were a previous Bing Rewards Member, this system probably sounds familiar. They've made the transition from Bing Rewards to Microsoft Rewards completely seamless: Your Bing Rewards Membership automatically transferred into a Microsoft Rewards account, and your points transferred as well.
There are two levels in Microsoft Rewards, labeled "Level 1" and "Level 2". The only distinction between Level 1 and Level 2 is the number of points a person has earned. Once you reach 500 points every month, you become a Level 2 earner, which allows you to earn more points with each activity. Level 2 earners are also privy to exclusive offers other Level 1 earners are not.
One important thing to remember before trying to earn any points: Make sure you sign in to your Microsoft account. If you're not, any point-accumulating activity won't track, so that you won't earn credit for those points earned.
Related: Cashback rewards: How to earn extra money with rewards apps
How do I earn Microsoft Rewards points?
If all roads lead to Rome, then all virtual roads lead to Microsoft Rewards points. There are many ways to quickly accumulate your points balance, depending on how you use Microsoft's products and platform.
Extend to earn
The easiest way to start earning your Microsoft Rewards is to install the Microsoft Rewards browser extension here. This extension is your hub for tracking and accumulating your Microsoft Rewards. The Rewards Extension shows your current point balance and status, tracks your points earned each day and allows you to access your rewards anytime. It also serves as a launch point for other ways to earn rewards.
Search to earn
Simply signing onto your Microsoft account with any browser and using Bing as your search engine earns you five points per search. You're limited to 150 points earned via Bing each day on a PC and 100 points per day on a mobile device. Earning up to 250 points per day while searching up the terms you normally would anyways can let you reach the Level 2 threshold in a matter of days. You can also use your Microsoft Edge to earn an additional 600 points per month when you search with Bing.
Installing the Microsoft Rewards browser extension makes Bing your default search engine, so you don't have to worry about accidentally using another search engine and sacrificing potential points.

Shop to earn
Most of the purchases you make in the Microsoft store increase your point balance, earning you one point for every dollar spent in the Microsoft store. Some Xbox content can earn you 20 points for every dollar spent. In addition, Microsoft has special monthly offers in their store to help users gain more points.
Play to earn
Microsoft also helps you earn points for having fun. After logging in to your rewards dashboard, scroll about midway down the page, and you'll see plenty of activities you can complete to earn points. Taking a quiz, participating in a poll, and playing virtual games are some ways you can play to earn.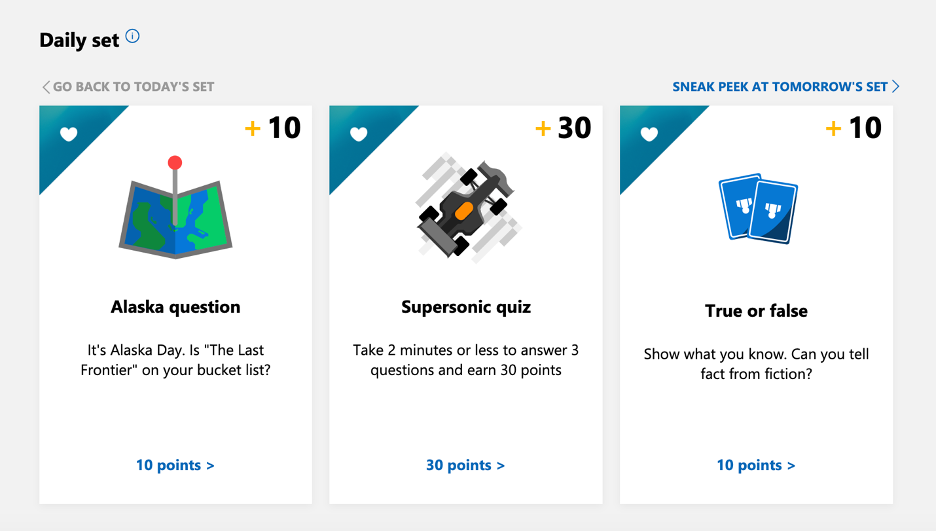 Xbox to earn
Download the free Rewards app on your Xbox device and sign in to your Microsoft account. There, you can earn points on your Xbox device by completing weekly challenges to create activity streaks, playing games on the Xbox Game Pass library, and buying the latest games.
Looking to make some extra coin?: Best crypto passive income strategies
How do I redeem Microsoft Rewards points?
Now comes the fun part — cashing in your points for rewards.
When logging in to your account on the Microsoft Rewards homepage, you'll see your level, amount of points earned that month, available points donated, available points to use, and the points you have collected along the top of your screen. Clicking on the points breakdown enables you to see a more detailed analysis of what activities you have completed to accumulate your points.

You can redeem your Microsoft Rewards in three ways: shopping, winning, or donating. Click on "Redeem" underneath the banner to get started.
Shop
Use points to redeem gift cards from Microsoft and various third parties, including Amazon, Target, and the NFL shop. You need to accumulate a lot of points to do this, however. For example, one $25 Hulu E-Gift card costs 28,000 points, and one $10 Amazon gift card is 13,000 points. You can also purchase credits for Roblox, Microsoft's virtual reality platform.
Win
Use points to join sweepstakes to win items like Surfaces, Xboxes, and higher value gift cards from various retailers. The points accumulation threshold is much lower to enter sweepstakes than to redeem gift cards. That said, it can still cost hundreds of points even to enter a sweepstake. When only five or so individuals win those sweepstakes, the return on that reward investment is meager.
Donate
Choose from over a million nonprofits—including categories like animal rescues, the arts, environment, healthcare, mental health, religion, and science and technology—to donate some of your points.
Download the Give with Bing browser extension to increase your donations with every search you make on Bing.
How much are Microsoft Rewards actually worth?
As you can probably tell, there isn't a direct point-to-cash equivalent for Microsoft Rewards. In fact, Microsoft admits that points don't have a cash value. That said, it typically takes about 1000 points to redeem something worth $1.
Do Microsoft points expire?
Yes, make sure to track how long you've been storing your points because unredeemed points expire after 18 months.
What are the best alternatives to Microsoft Rewards?
Microsoft isn't the only online platform that allows users to accumulate points while shopping and browsing online. Tons of online platforms offer a similar concept—here are some of our favorites.
Rakuten
Rakuten has partnered with over 3,500 stores that pay for Rakuten to send online customers to their websites. The shopping site shares the payments from partner retailers with their consumers as cashback rewards.
To start earning cashback on purchases, go to Rakuten.com and create a free account. You can access Rakuten by downloading the app to your mobile device, installing the browser extension on your PC, or shopping on their website. On any of those options, search for the store you want to shop at the top of Rakuten's homepage. Clicking on the retailer will take you directly to their website, where you can earn anywhere from 1% to 10% cashback while shopping.
Every three months, you'll receive a paper check or deposit in your PayPal account with your cashback rewards, whichever you prefer. Be sure to add your home address or PayPal information to your Rakuten account to get your cash.
Fetch Rewards
Fetch Rewards is another cashback rewards program that helps you earn rewards for shopping. You simply take your paper or e-receipts and upload them into your Fetch Rewards app. You can also earn points by purchasing items from participating brands directly on the Fetch app or by completing special offers through Fetch. In addition, referring your friends to the Fetch app can help you earn points.
Redeem your points for rewards in the form of gift cards at retailers like Amazon, Walmart, and Panera Bread. A minimum of 3000 points is needed to redeem most rewards, but no fear—this is a relatively easy amount to accumulate. For example, one referral of a friend to Fetch's app gets you 2000 points.
Bottom line: Is Microsoft Rewards worth it?
By now, you might be wondering just whether Microsoft Rewards actually benefits its customers. It could — but only if you're already a huge Microsoft consumer. The opportunities to accumulate points on Microsoft's platform are endless, and being able to exchange them for more Microsoft products would be great for someone deep in the Microsoft ecosystem.
However, for most other people, Microsoft Rewards is essentially a racket. There are many more efficient resources to get cash back, specifically Rakuten, which pays you in actual cash for purchases you would make anyway. That said, returns using any of these online rewards programs are pretty limited, with the largest we've seen at about 10%.
If you're looking to online rewards programs for passive income, you may want to rethink your strategy. Alternative investments like dividend stocks or real estate should pay much more in the long run.
Related Reading