1. Check your score
The first step to improving your credit score is to actually find out what it is. You can get your score for free by contacting your bank or credit card issuer, or an online provider like Credit Sesame.
For reference, a good credit score is between 690 and 719, while 720 and up is considered excellent.
The higher your score, the more likely you'll be able to secure favorable terms and interest rates on things like auto loans or mortgages.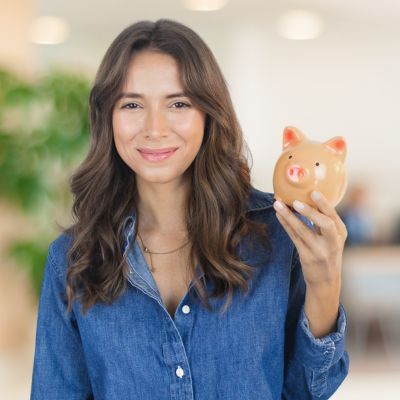 Don't let your money idle in low-interest accounts! Savvy savers are earning up to 10x more interest by keeping their hard-earned cash in a high-yield savings account. Find some of the best options here.
Get Started
2. Review your credit history
Next, go over the records of all your bills and payments in your credit report.
This way you can track what you're spending money on each month and look for areas to cut back — like perhaps a streaming subscription you no longer use. Consider creating a budget or use the cash-stuffing hack to get a handle on your spending too.
You can also keep an eye out for any outdated or incorrect information, like loans you've already paid off, or an unauthorized credit check, which can also lower your credit score.
If you spot anything amiss, you can go ahead and request an investigation.
3. Pay off your debts
Now that you know where you stand, it's time to take action by lowering your debt load.
The lower your credit utilization rate (the amount of available credit you're using), the better your chances of improving your credit score. Experts generally recommend keeping your credit utilization rate below 30%, so it's key to avoid carrying a large balance on your card.
As for how to tackle your debt, there are a couple of cool tactics you can try, like the snowball or avalanche methods. You might even be able to negotiate with your lender to lower your interest rate or reduce the amount of debt you owe.
If you're juggling several lines of credit, another option would be to roll them into a single lower-interest loan and consolidate your debt.
Sponsored
Kiss Your Credit Card Debt Goodbye
Millions of Americans are struggling to crawl out of debt in the face of record-high interest rates. A personal loan offers lower interest rates and fixed payments, making it a smart choice to consolidate high-interest credit card debt. It helps save money, simplifies payments, and accelerates debt payoff. Credible is a free online service that shows you the best lending options to pay off your credit card debt fast — and save a ton in interest.