It all comes down to money
The first reason? She's able to live rent-free, which is a huge financial advantage — especially during a nationwide housing crisis. And since rent prices are only expected to increase (they're already up 3% this year and are projected to rise another 3% to 4% in 2024 and 2025), this is a compelling factor keeping Lemire at home.
Her second reason is that much of her income stems from entrepreneurial ventures, which are unpredictable.
"I could go and get an apartment for $4,000 a month and then things could totally change two months into it," she says.
The final reason Lemire still lives with her parents? Student loans. "I wanted to make sure I paid off all my student loans before I moved out of my parents' place, and I'm getting real close to that," she says in the video. Lemire goes on to say that she has considered moving out in the near future once her income is more stable and debts have been paid off.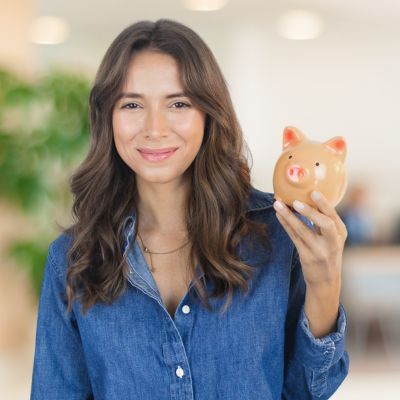 Don't let your money idle in low-interest accounts! Savvy savers are earning up to 10x more interest by keeping their hard-earned cash in a high-yield savings account. Find some of the best options here.
Get Started
What do her parents think?
Lemire seems to have had multiple conversations with her parents about paying rent. In another video uploaded to her channel, she asks her dad if he wanted her to start paying rent now that he knew how much money she was making. "No, I don't see any reason to," he says off-camera.
This perspective is common across the country. A recent survey by LendingTree found that 73% of Americans who said they'd let their child live with them also said they wouldn't charge them rent. With that, it's clear most parents across the country are happy to give their child an economic advantage by letting them live rent-free at home.
She's not alone in this strategy
Not all comments on Lemire's videos were negative, though. Some TikTok users applauded her entrepreneurial and financially savvy spirit.
And she's clearly doing something right. Provided she brings home $173,000 by the end of the year — as she says she expects to — Lemire's income from writing content for financial tech start-ups, and giving advice to her 73,000 TikTok followers, will put her in the top 10% of American earners.
And many TikTok commenters revealed they too live at home with their parents to cut down on costs. A recent analysis by the Pew Research Center supports this, stating that roughly 50% of Americans aged 18 to 29 were living with at least one of their parents. A small wonder considering the mean student loan debt carried by Americans in 2023 is around $32,000, according to Federal Reserve data.
Sponsored
Kiss Your Credit Card Debt Goodbye
Millions of Americans are struggling to crawl out of debt in the face of record-high interest rates. A personal loan offers lower interest rates and fixed payments, making it a smart choice to consolidate high-interest credit card debt. It helps save money, simplifies payments, and accelerates debt payoff. Credible is a free online service that shows you the best lending options to pay off your credit card debt fast — and save a ton in interest.