Just don't let your anxiety paralyze you. You can only binge Netflix for so long. Doing something constructive will make you feel better, and you could use this time to take care of some financial things that you've been putting off.
We asked a couple of financial experts for advice. Here are three tips they gave us. You can do all this stuff from your living room:
1. Get yourself a life insurance policy
We're not trying to be morbid here — honest, we're not!
It's just that life insurance is something that lots of people think about doing, but they never get around to actually doing it. So why not now?
"If you don't have any life insurance, just having the downtime and potentially even the boredom to explore options now can be advantageous, because one thing about life insurance is always true: the younger you are, the less expensive it will be," says Kerri Moriarty, a financial business strategist based in Boston.
Also, life insurance is cheaper than you think it is. For example, rates start at just $5 a month at an online insurance company called Bestow.
If you're under the age of 54, you can get a free quote without a medical exam or any pushy sales calls.
"Like preparing a will, life insurance is a topic that often gets put off," says Warren A. Ward, a certified financial planner whose business, WWA Planning & Investments, is located near Indianapolis. "Neither is fun, but we suggest that people think in terms of 'giving away money' in both situations."
Getting a quote from Bestow takes about five minutes, tops.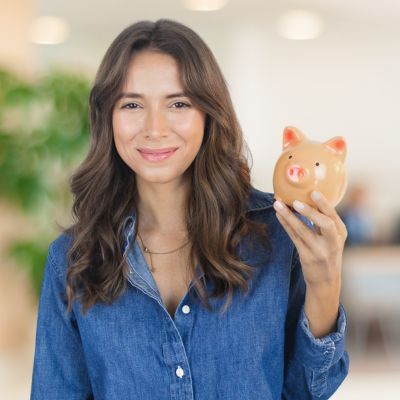 Don't let your money idle in low-interest accounts! Savvy savers are earning up to 10x more interest by keeping their hard-earned cash in a high-yield savings account. Find some of the best options here.
Get Started
2. Start investing — really
Yes, really. We mean it.
It's true that the stock market is super volatile these days. It goes UP and DOWN. But when it comes to investing, you've got to take the long view.
"One of the most difficult elements of successful investing is discipline: nourishing the ability to ignore the 24/7 noise and focusing on the idea that when you're investing in stocks, you're one of the owners of the best companies in the world," Ward says.
Be patient: "There will be multiple good and bad days — and even months — along the way," he says. "However, the most likely outcome is that the world's economy will survive and markets will provide a reasonable rate of return to investors."
Whether you've got $5, $100 or $800 to spare, you can start investing with Robinhood.
Both investing beginners and pros love it because it doesn't charge commission fees, and you can buy and sell stocks, exchange-traded funds and cryptocurrency without paying commissions or fees. Plus, it's super easy to use.
"It's always scary to have money in the stock market during a volatile time like this," Moriarty says. "However, remember you're investing for the long haul, not for short term gains, and you will recover."
When you download the Robinhood app and fund your account (it takes just a few minutes), it drops a share of free stock into your account.
It's random, though, so that stock could be worth anywhere from $5 to $500 — a nice boost to help you build your investments.
3. Have this website pay your credit card bills this month
Here's something smart you can do from your couch. This is a good time to consolidate your expensive credit card debt.
"If you're dealing with credit card debt, you're probably already aware that it's not just the balance itself — it's the monthly interest charges adding up that can make it feel like you'll never be able to get out from under it," Moriarty says.
Yup. Your credit cards are getting rich by ripping you off with high interest rates. But a website called AmOne wants to help.
If you owe your credit card companies $50,000 or less, it'll match you with a low-interest loan you can use to pay off every single one of your balances.
Because personal loans have lower interest rates (AmOne rates start at 3.99% APR), you'll get out of debt that much faster. Plus: No credit card payment this month.
"Debt consolidation helps you see your path out of debt more clearly," Moriarty says. "You're not needing to track multiple balances and varying interest rates. You can stay focused on paying that one monthly bill — that one interest rate — and calculating exactly when you can eliminate the debt."
If you're worried you won't qualify, it's free to check online. It takes just two minutes, and it could help you pay off your debt years faster.
Mike Brassfield (mike@thepennyhoarder.com) is a senior writer at The Penny Hoarder. He is anxious.
This was originally published on The Penny Hoarder, which helps millions of readers worldwide earn and save money by sharing unique job opportunities, personal stories, freebies and more. The Inc. 5000 ranked The Penny Hoarder as the fastest-growing private media company in the U.S. in 2017.
Sponsored
Kiss Your Credit Card Debt Goodbye
Millions of Americans are struggling to crawl out of debt in the face of record-high interest rates. A personal loan offers lower interest rates and fixed payments, making it a smart choice to consolidate high-interest credit card debt. It helps save money, simplifies payments, and accelerates debt payoff. Credible is a free online service that shows you the best lending options to pay off your credit card debt fast — and save a ton in interest.