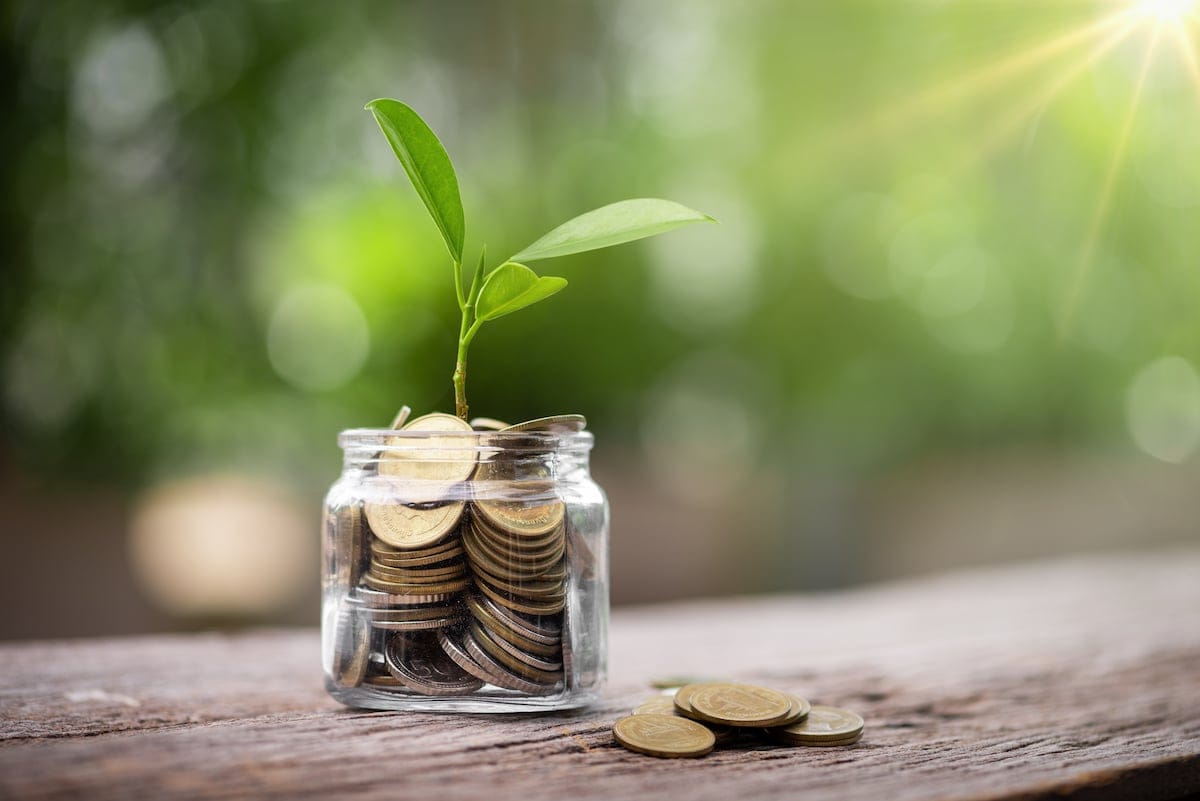 Moneydance review: The best Quicken replacement?
LookerStudio / Shutterstock
🗓️
Updated: November 18, 2022
We adhere to strict standards of editorial integrity to help you make decisions with confidence. Please be aware that some (or all) products and services linked in this article are from our sponsors.
We adhere to strict standards of editorial integrity to help you make decisions with confidence. Please be aware that some (or all) products and services linked in this article are from our sponsors.
For years, I used Quicken. It worked well on the Macintosh and had a ledger-looking interface that I loved. When I bought a computer in 2008, it came, pre-installed, with Quicken 2005 for the Mac. Awesome.
However, when I bought another computer in 2012, I discovered that Quicken 2005 was no longer being supported. I was discouraged with the Quicken Essentials for Mac. Even the new Quicken for Mac, doesn't do the trick for me.
After poking around a couple years ago, I found Moneydance. I'm fairly satisfied with Moneydance, and while it isn't as awesome as Quicken 2005, it is the closest thing I've found to it, and I still like it better than the new Quicken for Mac 2017. It's not worth making the switch for me. Here's my full comparison between Quicken, Moneydance and Empower.
What is Moneydance?
Moneydance is a personal finance software that's available for Mac, Windows, Linux, and mobile devices. It can help you create budgets, stay on top of bills, and view all of your financial accounts from one central dashboard.
The software looks like a ledger, and that's one of my favorite things about it. I enter my transactions manually, but it's also possible to update with transactions from your bank, but you have to download them and import them to Moneydance using OFX, QIF, or QFX files).
You can also arrange to have your transactions automatically updated from your financial institutions, by linking accounts. I've never been a fan of that since I prefer to manually enter my information. But if you like the automatic update, and you are interested in mobile access from anywhere, Moneydance can be a great option for keeping track of your finances — including investments.
Moneydance features
| Feature | Details |
| --- | --- |
| Price | Min: $49.99, Max: $49.99, Term: none |
| Budgeting | ✅ |
| Bill Payment | ✅ |
| Investment Tracking | ✅ |
| Access | iOS, Android |
| Credit Score Monitoring | ❌ |
| Bill Management | ✅ |
| Retirement Planning | ❌ |
| Tax Reporting | ✅ |
| Reconcile Transactions | ✅ |
| Custom Categories | ✅ |
| Import QFX, QIF Files | ✅ |
| Two-Factor Authentication | ❌ |
| Online Synchronization | ✅ |
What does Moneydance offer?
Create budgets
One of Moneydance's main features is to create budgets so you stay on track with your spending. The software can sync with hundreds of different banks and financial institutions to download your transaction history. From there, it automatically categorizes expenses so you know how much you're spending. And when you approach the limit in your categories, they show up orange to warn you that you are close.
Another great feature of Moneydance is that you have a great home screen that helps you keep track of where you stand. You can quickly see what you've spent so far in the month. It's color-coded so that you can see which categories you are spending the most on. It's a quick and easy way to see where you stand in the month, and it's right there when you first open the software. Overall, it's a similar budgeting system to apps like Mint and PocketSmith, and it's great if you like ledgers and organization. Moneydance also lets you organize all this data by account, which is useful if you're using several mobile banking apps and brokerage accounts.
Bill reminders
Another useful Moneydance feature is the ability to create bill reminders. This sends you reminders of upcoming payments so you don't miss them.
Additionally, Moneydance offers free billpay. This is one way that you can stay on top of what you owe — and when you owe it. Your upcoming bills are also represented on the home page when you open the software. There is also a handy list of bills that you owe off to the right, so that you can quickly click and see what you normally pay. Unfortunately, what's listed is all bills past and present, so some of them might be items that you no longer pay, or that have changed.
Investment support
You can also track your investment portfolio with Moneydance. Customize your options, and take advantage of the possibility of specific ID of shares so you can track tax lots.
Moneydance can also be set to automatically download current prices. The software also helps you perform cost basis computations and stock splits computations. It's a quick and easy way to stay up to date on what is happening with your investments.
Useful graphs and reporting
Generate a number of reports that can help you keep track of your spending in certain categories. You can also generate graphs and charts that let you see your entire financial picture.
While Moneydance doesn't have tax integration, it's still possible to sort things by category. This is what I did in Quicken anyway, breaking out business expenses and other deduction categories. You can also get a solid idea of cash flow.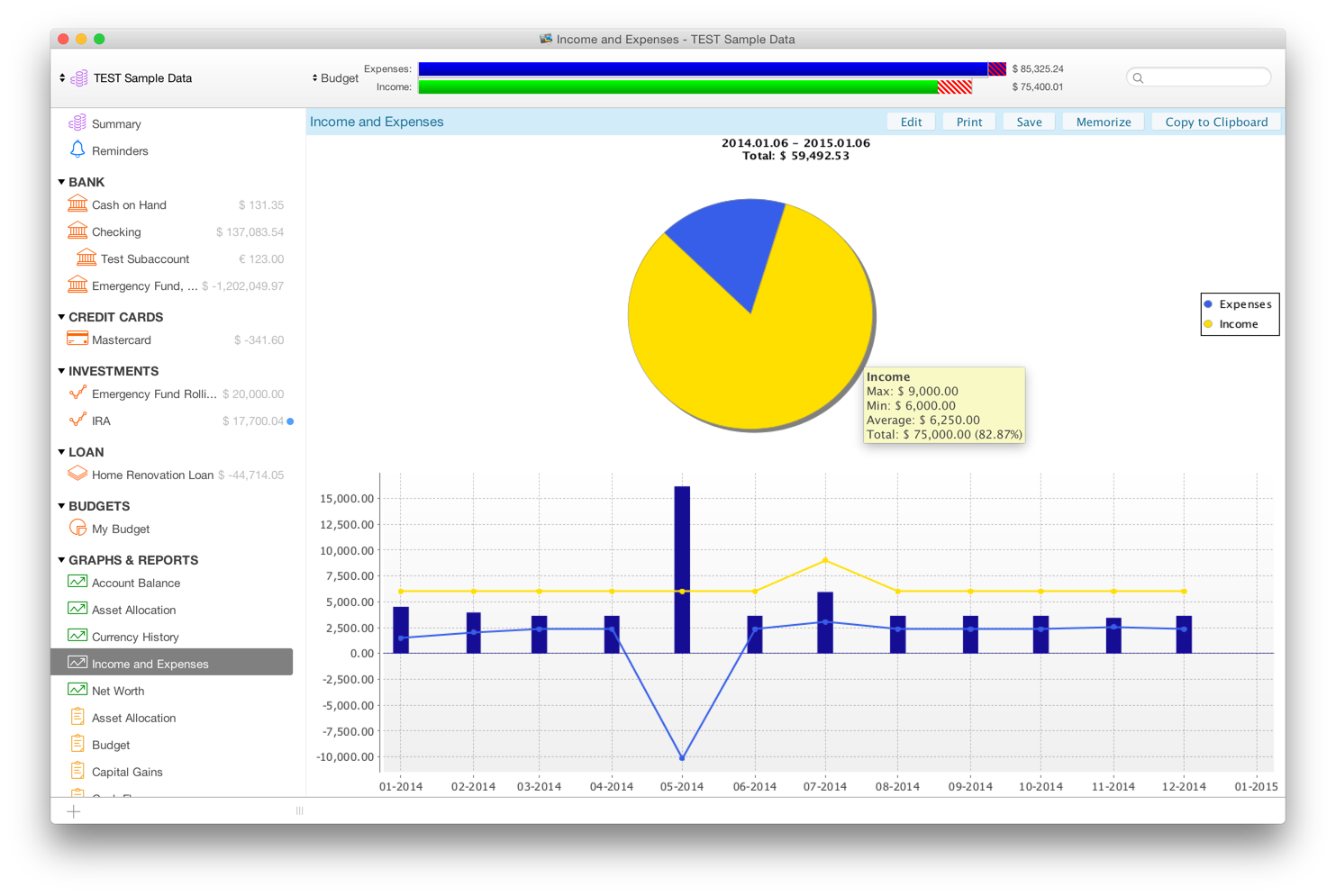 I like to use the graphs that let me quickly see where my income is coming from, as well as where my expenses are going. You can get a detailed cash flow report, as well as see graphical representations. It's a good way to keep on top of exactly what your financial picture looks like. You can look at year-to-date, all of last year, or adjust to a variety of different time periods to see where you stand.
Moneydance mobile
You can now monitor your finance while on the go with the Moneydance app. It's available for iOS and Android, and it's pretty handy since your mobile and desktop are in sync almost immediately, so you don't have to worry about changing it yourself later.
Foreign urrencies
Alongside automatic transaction downloads, Moneydance also works with multiple currencies and can convert currencies automatically for easier record keeping. If you have banks with different currencies or are a freelancer who gets paid in another currency, this is quite useful for bookkeeping.
Moneydance pricing and fees
A Moneydance license costs $49.99 and is free for your first 100 transactions. There's also a 90-day money-back guarantee, so you can test out the software to see if it's right for you without any risk.
Pros and cons
Pros
Moneydance has a low, one-time $49.99 price tag
90-day return policy so you can test the software without risk
Works across Mac, Windows, Linux, and mobile devices
Supports foreign currencies
Integrates with all your financial accounts
Has bill reminders and bill pay support
Cons
There's a bit of a learning curve to navigating Moneydance's software
QIF imports don't always work or have duplicate transactions in my experience
Best alternatives
If you want an alternative to Quicken, Moneydance is one of the more popular options. The fact it has bill payments and integrates with numerous accounts makes it a close competitor. And if you like the older ledger style for your bookkeeping, it's right up your alley.
That said, there are other Moneydance alternatives you can consider, including Quicken, if this software doesn't meet your needs.
We like Personal Capital as an all-in-one financial toolkit because of how many features it offers. For example, it has budgeting tools and a net worth tracker to help you stay on top of your finances. And its investment fee analyzer can look at your 401k and other portfolios to see if you're overpaying on fees. Plus, if you invest $100,000 or more, you can work with Personal Capital's investment service and work with advisors to build a custom investing plan.
Now, if you're just looking for budgeting help, you might be better off with budgeting-focused apps instead. Both Mint and YNAB are excellent options, and you can also read our article on the best Mint alternatives for even more selection.
Bottom line
One of the biggest complaints about Moneydance is that the transfer from Quicken isn't all that smooth. I converted my Quicken data to a QIF, and then followed the prompts to "Import File," and selected "From Another Program." Most of my data transferred, along with most of my categories.
I did have some duplicate transactions to fiddle with, and for a couple of months I had to make adjustments as I reconciled my account statements, but things seem to be running smoothly now.
However, now that I'm used to using Moneydance, I don't want to go back. I tried the new Quicken for Mac, and it just didn't hold up, so I decided not to switch. I'm pretty happy with the situation as it is now.
Overall, I really like Moneydance. It's a great alternative for Quicken lovers, especially those who are disappointed with Quicken for Mac.
Related reading: