Take a hard look at monthly spending
If you're like @fouronacouch and you're left wondering where all your money goes at the end of the month, you should copy her TikTok. You don't need to record yourself, but you should list out your monthly income and expenses.
Here's how the TikToker arrived at her small figure. She makes $2,500 a month as a teacher in her second year of teaching. She pays $1,300 in rent for her current home, $875 in her old apartment (she clarifies in the comments that her leases are overlapping right now) and $300 for her loan repayment. That leaves her only $25 for food and other necessities.
Once you do a similar breaking down of your income and expenses, you'll have a better idea of your monthly or weekly budget. Now that you have the data on your money situation, you can see if you need to cut or reduce any monthly expenses and how much money you might have for any non-necessity spending.
A time-tested way to prevent overspending is to use the cash stuffing method. The popular TikTok trend based on a classic budgeting strategy allows you to keep track of your spending money every month by laying your available funds out in front of you.
Here's how it works: you withdraw your pay from your bank account and organize the cash into envelopes that are labelled for various expenses and goals like groceries or a trip you're saving up for. Once the cash runs out, you know you've reached your spending limit.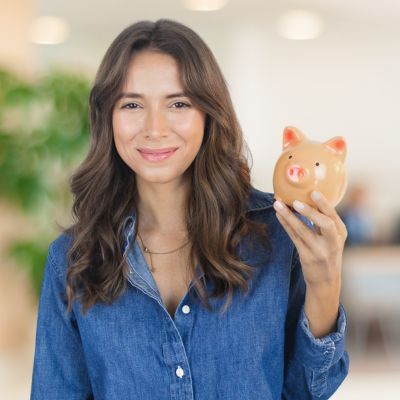 Don't let your money idle in low-interest accounts! Savvy savers are earning up to 10x more interest by keeping their hard-earned cash in a high-yield savings account. Find some of the best options here.
Get Started
A little saving is better than no saving
If you're like @fouronacouch and only have $25 left over every month, putting money away may seem impossible. But if you put just $5 away a month, you would have $60 by the end of the year.
That sounds small, but most Americans don't have enough money for a $400 emergency. Saving a little bit every month toward that $400 can make a big difference down the line, when your car breaks down or your cat needs to visit the vet.
Money maven Suze Orman says that Americans who let their rainy day funds run dry have a "financial tornado" coming their way.
She and other personal finance experts like Dave Ramsey have long been advising Americans that even if you start small, getting in the habit of adding to your savings account is one of the best long-term skills you can learn to set yourself up for financial success.
When you start making more money, you can you'll be able to maintain or boost your savings and hopefully avoid lifestyle creep.
When your current income just won't cut it
It's hard to save money when you have none left over. If your income is in need of a boost, you can try to supplement it with what you DO have to spare.
You could rent out a spare room or starting a side hustle.
If you don't have extra time, you can make your money work for you by investing the small amounts you have to spare to help it grow over time.
Sponsored
Kiss Your Credit Card Debt Goodbye
Millions of Americans are struggling to crawl out of debt in the face of record-high interest rates. A personal loan offers lower interest rates and fixed payments, making it a smart choice to consolidate high-interest credit card debt. It helps save money, simplifies payments, and accelerates debt payoff. Credible is a free online service that shows you the best lending options to pay off your credit card debt fast — and save a ton in interest.