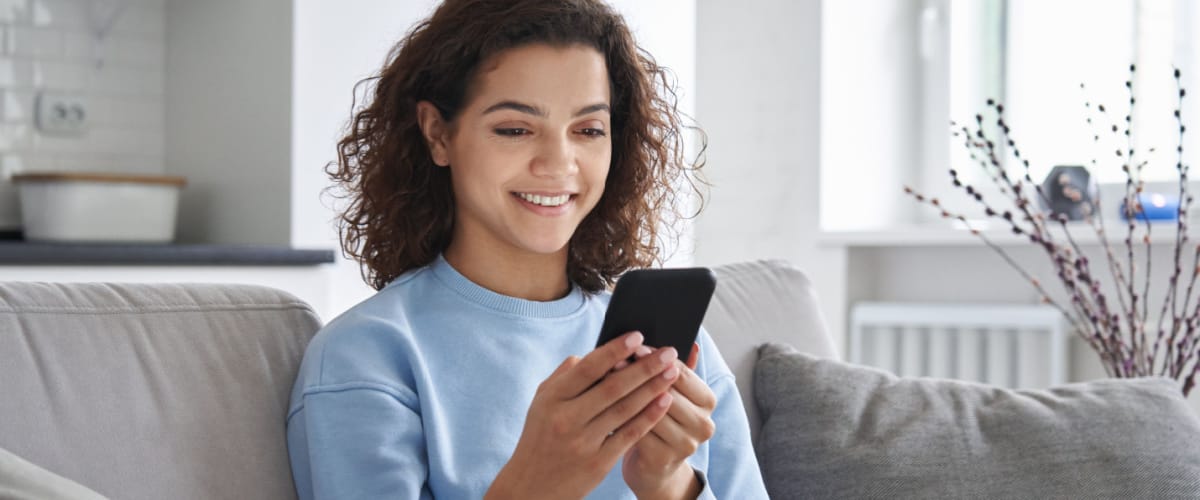 Ground Picture / Shutterstock
🗓️
Updated: July 31, 2023
We adhere to strict standards of editorial integrity to help you make decisions with confidence. Please be aware that some (or all) products and services linked in this article are from our sponsors.
We adhere to strict standards of editorial integrity to help you make decisions with confidence. Please be aware that some (or all) products and services linked in this article are from our sponsors.
Earn cash back using your favorite debit or credit card
How would you like to earn cash back using your favorite debit or credit card without having to change cards, track coupons or upload receipts to an app? Dosh does exactly that. When you create an account and link your cards, Dosh tracks your purchases and automatically rewards you when you buy from a partner merchant. Here's our Dosh review.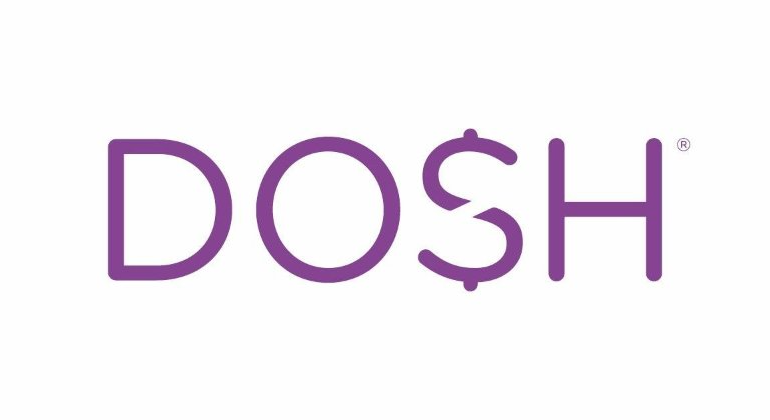 With an account at Dosh, you can link your credit and debit cards and earn rewards for shopping with both national brands and many local businesses. Continue reading to learn more about how Dosh works and if it could help you earn cash rewards for the purchases you're already making.
What is Dosh?
Dosh is a service that rewards you for purchases you make with merchants in Dosh's partner program. And you don't have to click any opt-in links or scan and upload receipts to earn cashback rewards. Just link your credit and debit cards and Dosh takes care of the rest.
Current rewards partners include Walmart, Pizza Hut, Disney+, Apple Music, and Uber. And there's 100,000 more. Dosh works with online stores, retail stores, restaurants, hotels, and other places you use your card.
Once you reach $25 in rewards, you can get cash into your bank, PayPal, or Venmo account or you can donate your rewards to charity. Your rewards are as good as actual cash. You can use it for anything you want, not just a limited set of redemptions.
Dosh unique features
Two-factor authentication
Cashback withdrawals
✅ Bank account ✅ Paypal. ✅ Venmo
Using Dosh is very easy. Here are some of the features that are useful to know about:
Automatic cash back
The big reason to sign up for Dosh is the cashback rewards. You earn cash back automatically for purchases made with linked cards. And you could earn extra cashback on a purchase without even realizing it. That's the magic of what Dosh does behind the scenes.
You can withdraw to your bank account, PayPal or Venmo when your balance reaches $25.
Dosh mobile app
You'll need the Dosh Android or iPhone app to sign up and manage your account. With the app, you can add cards, view current offers, and click on a map of nearby cashback offers. You can search for specific locations or brands if you want to find places to use Dosh. Or just browse through a list of popular offers. It's nice to see many local offers, not just deals from national brands. When dining at local restaurants, you'll generally earn up to 10% cashback.
Book hotels
The Dosh app allows you to find and book hotel rooms and then rewards you with more cashback. Frequent travelers can earn big rewards, depending on where they stay. When I signed up, you could stay at the Fairmont Dallas for $152 per night and earn $32.59 per night in cashback. Or the Westin Bonaventure in L.A. for $169 per night and earn $32.99 in cashback. And there are many more such offers.
Typically, you'll earn up to 20% on hotel stays. But you could earn as much as 40%.
How does Dosh work?
The Dosh website says that Dosh doesn't sell your data to third parties. So how does it work and make money? Dosh partners with merchants to offer deals as a form of marketing.
While you will likely earn cashback sporadically when your cards are linked to Dosh, merchants on the service hope that you'll see them on the map or search and choose them over competitors that don't offer cash rewards.
So you could think of Dosh as a marketing company more than a payments data company. However, when you sign up, you do agree that Dosh and its partners can see your purchase data, which is necessary to verify your purchases for rewards.
Dosh screenshots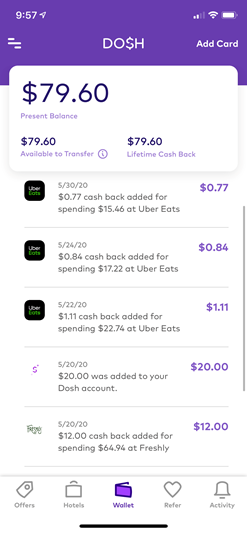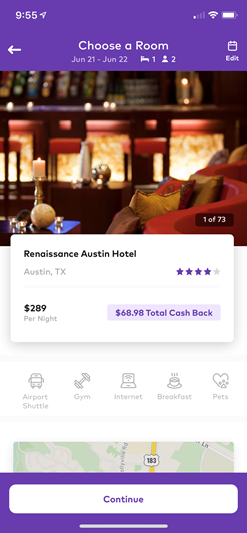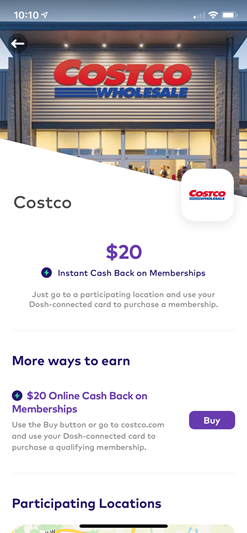 How much does Dosh cost?
Dosh is free to use; however, if your account is inactive for 12 months or longer, they will deduct a service charge of $4.99 a month from your account. This amount is only deducted from your Dosh wallet and not your linked credit or debit cards.
Is Dosh secure?
Dosh doesn't sell data to third parties and doesn't store your card info. It partners with Braintree (owned by PayPal), a secure platform designed just for securely storing payment card data.
Your information on Dosh is managed with 256-bit encryption — the same level used by banks — to keep your data safe.
Dosh app pros and cons
Pros
Automatic cash back: Earn cash back with purchases on linked cards with partner merchants. You don't have to do anything else to earn rewards.
Withdraw to bank, PayPal, or Venmo: Withdraw to your bank or popular digital wallet services.
Rewards in popular purchase categories: Rewards are available for online and offline purchases at retailers, restaurants, hotels, and more.
Cons
Can't sign up on website: You have to sign up and manage your account with the Dosh mobile app. You can't use Dosh with a web browser on your computer.
Privacy considerations: When signing up and linking cards, you do agree to be marketed to and share your purchase data with partners. I'm not too worried about this, as far worse data sharing happens without our permission through other data and payment services. At least at Dosh, it's opt-in and I'm in control of which cards I link.
Dosh alternatives
Juno – If you want to earn cash back and earn an impressive 1.20% bonus rate on your account at the same time, then check out Juno. You can choose up to five of your favorite stores to get up to 5% cash back from, including popular brands like Amazon, Target and Walmart. Read our Juno review for all the details.
Final thoughts on Dosh
Dosh is a fun way to earn cashback rewards on top of what you already get from your credit or debit card. Linking your account gives you access to automatic cashback rewards. When you reach $25, you can cash out and use that money for whatever you want.
If you're okay with the marketing aspect of using Dosh, there's little reason not to sign up. I liked it so much while reviewing that I signed up myself and already earned my first $1. It's free, and there's little to lose, so I can recommend Dosh with no hesitation.