Pay off your debts
This probably seems like an obvious piece of advice, but it's important to conquer this often intimidating feat. If you have credit card debt, the compounding interest likely feels insurmountable.
Consolidating your debt will allow you to save money on interest, lower your monthly payments, improve your credit and pay your debt off faster — so you can be ready for a recession without the nagging feeling of unpaid debts following you around.
With Credible — an online marketplace of vetted lenders — you can shop around for debt consolidation loans to make the task of cutting down your debt manageable.
After answering a few simple questions about yourself and your finances, Credible will provide you with a list of loan rates from top lenders within minutes. You can decide which works best for you and compare loans all in one place.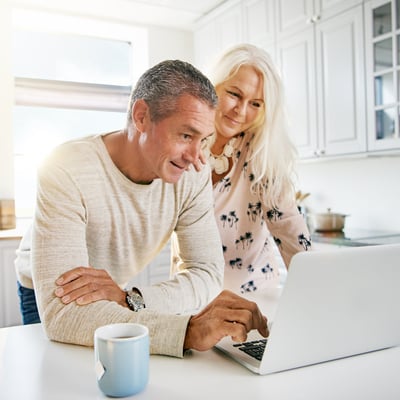 Are you confident in your retirement savings? Get advice on your investment portfolio from a certified professional through Datalign. It only takes 3 minutes to connect with an advisor who puts you first.
Get Started
Stay invested in your future
Even though the future might not look so bright, don't give up on preparing your finances for it. You'll want to stick to your savings plan and invest what you have leftover — even if it's just nickels and dimes.
Acorns is an investing platform that rounds up your purchases to the nearest dollar and automatically puts that spare change in a smart investment portfolio. Basically, the platform provides you with an easy way to cushion your finances in case of a recession, without having to think too hard about it.
It costs just $3 a month, and signing up takes less than five minutes — all you need to do is provide a bit of information about yourself, link your bank account and spend as you normally would and Acorns will take it from there.
Stop overpaying for insurance
It's more important than ever to take a closer look at your budget and make sure you're not spending more than you need to be. Many people overlook their insurance policy as a cost cutting measure, but you can actually save hundreds of dollars a year if you shop around for a better rate.
SmartFinancial is a platform that scans the web to find you the best home insurance rates in your area. Within minutes of answering a few questions about yourself and home, SmartFinancial will provide you with a list of quotes for high-quality insurance and even check for discounts so you can ensure you're getting the best price possible and not blowing up your budget.
They also make it easy to save on your car insurance. Give SmartFinancial a try and pay less for your peace of mind.
Sponsored
What are your spending habits?
When you know where your money is going, you can make better financial decisions.
With Rocket Money, get a breakdown of your spending to see exactly where your money is going. Manage subscriptions, lower your bills and put your savings on autopilot.
Managing money just got easier with the Rocket Money app.