1. Keep building your emergency fund If the lockdown and layoffs taught us anything, it's that having a solid emergency fund stashed away is one of the wisest financial decisions you can make.
Most financial experts recommend keeping enough emergency savings on hand to cover at least six months' worth of your regular expenses, including your rent, your groceries and any other recurring monthly bills.
Even if your emergency fund survived 2020, you should try to keep it topped up — especially if you've got the money parked in a high-yield savings account.
With a high-yield account, your money will earn way, way more interest than it would in a traditional checking or savings account from one of the big banks.
The more savings you put into a high-yield account, the more interest you'll earn — and the more you'll have available if something unexpected happens and you need cash fast.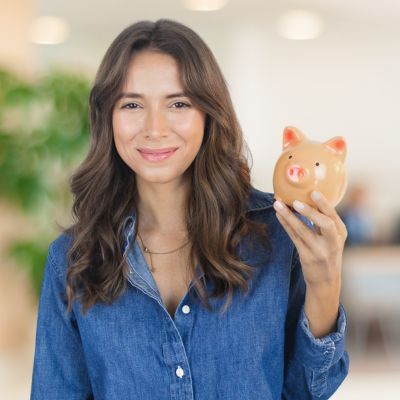 Don't let your money idle in low-interest accounts! Savvy savers are earning up to 10x more interest by keeping their hard-earned cash in a high-yield savings account. Find some of the best options here.
Get Started
2. Check in on your credit score You might not think your credit score matters that much, but if you ever need to take out a loan to cover an unexpected expense, a bad score could leave you without many options.
If you haven't checked in on your credit score in a while (or ever), don't worry — there are several online services available that will show you your score for free in just seconds.
A solid credit score won't just help you get an emergency loan; it will also unlock the best interest rates on a variety of financial products, including mortgages and credit cards, potentially saving you thousands.
Many websites offering free credit scores also provide free credit monitoring services. They'll notify you anytime there's a change in your score and send you personalized tips on how to bump it up if it's lower than you'd like.
With the right moves, you may be able to boost your score by over 100 points in just a few months.
3. Clear out your high-interest debts If you've been leaning on your credit cards a bit more than usual this year, you've likely racked up a pile of interest.
Credit card interest rates can be ridiculously high (over 20% in some cases), and they hit even harder because they compound. That means if you don't pay off the full balance each month, you'll end up paying interest on your interest.
For a fresh start in 2021, you may want to consider clearing out your credit card debt with a debt consolidation loan.
So long as your credit score is decent, consolidation will let you trade in all of your existing debts for a single loan at a much lower interest rate.
You'll only be on the hook for one monthly payment, and depending on how much interest you currently pay, you could save thousands of dollars and become debt-free years sooner.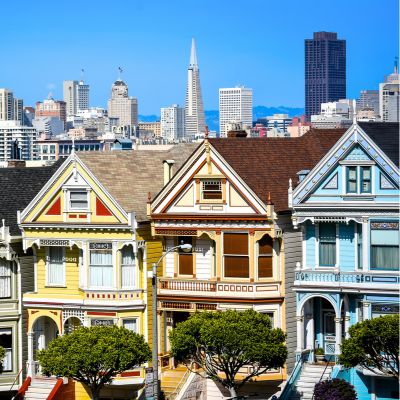 Believe it or not, you don't need millions, or even hundreds of thousands to invest in real estate. Arrived is an online platform where you can invest in shares of rental homes and vacation rentals without the headaches of being a landlord.
Learn More
4. Give your budget a tune-up You may have already adjusted your budget during the pandemic — maybe more than once — but as the year draws to a close it's worth taking another look at your bills to make sure you're not spending more than you need to.
Create a list or spreadsheet of your monthly expenses and check whether any non-essential items can be trimmed from your budget. Subscriptions like streaming services are a great place to start.
You might be able to cut down your grocery bills by trying out a few different stores in your neighborhood. Prices can vary a lot between chains, and you could find that your usual go-to is not the best option.
The same logic can be applied to your other monthly expenses as well, like your car insurance. Check out how much you're currently spending and then compare rates from at least three other insurance companies to make sure you're getting a good deal.
By comparing rates for free online, you may be able to save up to $1,100 a year.
5. Get your retirement plan back on track As anyone with a 401(k) can tell you, 2020 was a rough year for retirement savings.
If the pandemic threw a wrench into your plans, you may want to sit down with a certified financial planner (CFP) to help.
A CFP can build you a personalized retirement plan based on your current situation and long-term goals and can provide valuable insight on how to make the most of your money in 2021.
Working with a financial planner is surprisingly affordable, and these days it can be done entirely online.
Many online CFPs provide a free initial consultation, so you'll be able to chat with them first and get a sense of what they bring to the table before you commit to a plan.
6. Refinance your mortgage Mortgage rates crashed throughout 2020, so if you haven't already, looking into a refi should be your first order of business in 2021.
Refinancing your mortgage now could save you hundreds of dollars a month — and tens of thousands over the course of your loan. Good candidates should have a solid credit score and at least 20% home equity.
There's also a new 0.5% fee for refinancing that could cut into your savings, although there are several things you can do to avoid it.
Now, when you start shopping around for a refi, you might be tempted to lock in the first bargain rate you see — but it's important to shop around first before you commit to an offer.
A study by the government-sponsored mortgage agency Freddie Mac found that comparing rates from at least five lenders can make a $3,000 difference in how much you save over time.
7. Price-check when you shop online This year saw more Americans than ever do their everyday shopping online. With lockdown measures dragging on into 2021, you can expect online shopping to remain the preferred method for the foreseeable future.
Websites like Amazon and Walmart.com make it easy to get everything you need all in one place, and you don't even have to change out of your sweatpants.
However, those big-name e-tailers don't always have the best prices. Unless you price-check every item in your cart across multiple online stores, you'll end up spending more than you need to when you click the checkout button.
Fortunately, a free browser extension is available that can instantly compare prices on everything in your cart against thousands of other online stores.
They only take a few seconds to download and install and could potentially reduce your online shopping bills by hundreds of dollars in the new year.
8. Supplement your income with a side gig If your regular income was disrupted by the pandemic, or you'd just like to give your bank balance a boost in 2021, it's never been easier to turn your hobbies into cold cash.
Several online marketplaces have popped up to help ordinary people find buyers for all kinds of talents, from web design to blogging to personalized portraits.
Best of all, many of these side gigs can be done from the comfort of your own home.
Spending a few hours a week on side gigs will also help to expand your network and build up your resume, both of which can be important factors if you decide to look for a new job in the future.
Some gig workers even find that their side hustle is lucrative enough to turn into a full-fledged career.
Sponsored
Kiss Your Credit Card Debt Goodbye
Millions of Americans are struggling to crawl out of debt in the face of record-high interest rates. A personal loan offers lower interest rates and fixed payments, making it a smart choice to consolidate high-interest credit card debt. It helps save money, simplifies payments, and accelerates debt payoff. Credible is a free online service that shows you the best lending options to pay off your credit card debt fast — and save a ton in interest.