Step 1: See if refinancing is the right move Before you snap up a better rate, there are two things you should consider:
Refinancing a federal loan
First off, if you've got a federal student loan, you won't be able to refinance it with the government.
You can replace your federal loan with a private loan at a lower interest rate, but doing so will make you ineligible for the federal loan relief measures being offered during the pandemic, including the pause on payments.
You should only replace a federal student loan with a private student loan if you're confident that you'll stay employed and maintain your current income for the foreseeable future.
However, if your loan is from a private lender, refinancing is a safe move — as long as you qualify.
Qualifying for a better rate
To get the best rates, you'll need to have an excellent credit history and be able to demonstrate that you earn a steady income.
You'll also need to meet the criteria for eligibility set out by the new lender, which typically include a history of punctual payments on your current loan and a low debt-to-income ratio (DTI).
Your DTI is the percentage of your monthly income that goes toward paying off your debt — including your student loan but also things like mortgages and car payments. Many lenders will flat-out demand a DTI of less than 50%, but a lower ratio will also mean a better rate.
If your credit isn't the best — you can check for free online — you might want to take some time to boost your score before you refinance.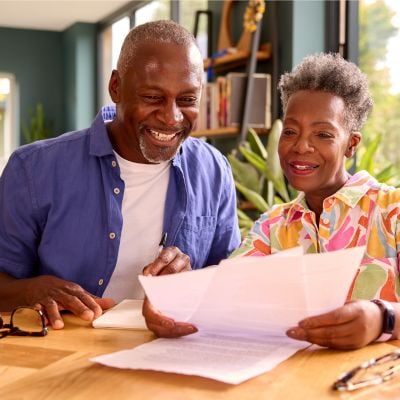 Having a single loan to pay off makes it easier to manage your payments, and you can often get a better interest rate than what you might be paying on credit cards and car loans.
Credible is an online marketplace offering personalized loan options based on your unique financial situation.
When you consolidate your debt with a personal loan through Credible, you can roll your payments into one monthly installment. Find a lower interest rate and pay down your debt faster with Credible today.
Find your rate
Step 2: Compare offers from multiple lenders Once you're sure that refinancing is the right decision, the next step is to shop around and check out rates from a few different lenders.
Using a comparison site like Credible, you can compare multiple lenders without affecting your credit score, so it's a good idea to do some research and explore your options before you commit to a lender.
For example, if you refinanced from a 5-year loan of $15,000 at 8.94% to a loan with the current average rate of 3.3%, you could cut your monthly payment from $311 to $272 and save $2,352 on interest. And there are even better rates out there.
You'll obviously want to seek out the lenders offering the lowest interest rates, but you should also make note of the different loan repayment terms that are available from each lender.
Repayment terms
The most common repayment terms for student loans are 5-year and 10-year, although longer terms of up to 20 years are available.
The best term for you will depend on your reasons for refinancing.
If your main goal is to lower your monthly payment, you'll want to refinance into a longer term. Just remember that the longer your term, the more interest you'll rack up over the course of your loan.
If your priority is to clear your debt fast and pay less overall, you should look for a shorter term. You may not shave as much off your monthly payment, but you'll save a bundle in interest over the course of your loan.
Fixed-rate vs. variable-rate
In addition to the length of your repayment term, you'll also need to decide whether you want to refinance into a fixed interest rate or a variable interest rate.
With a fixed-rate loan, your interest rate is locked in for the life of your loan. Fixed rates tend to start out higher than variable rates, but there's no risk of your rate going up.
With a variable-rate loan, the amount of interest you pay can change based on the country's prime rate. Variable rates often start out lower than fixed rates, but they're unpredictable and could fluctuate over the course of your loan.
If you're planning to go with a shorter term, you may be able to save some money by choosing a variable-rate option. Rates are expected to stay low until the economy bounces back from the pandemic.
Step 3: Pick a lender and complete your application Once you've compared lenders and found one offering a good rate at your preferred terms, it's time to fill out your application.
What you'll need
You'll be asked to enter your contact information, as well as details about your current loan and your financial situation. You'll also need to upload any documents that your lender requires, which could include:
Proof of employment (W-2, pay stubs, tax returns)
Proof of graduation
A valid government-issued ID number (passport or driver's license)
Proof of residency
Loan verification statements
Once your application is complete, you'll have to consent to a hard credit check, which will allow the lender to access your credit report.
Getting approved
The approval process typically takes two to three weeks, so during that time you'll need to keep making payments on your current student loan.
Once you're approved, your new lender will send you some final paperwork to sign, and you'll enter a three-day waiting period. If you change your mind about refinancing during that three-day waiting period, you can cancel your refinance loan without penalty.
When the three-day waiting period ends, your refinance lender will pay off all of your existing student loans and you'll begin making your monthly payments to them.
If you had autopay set up for your previous lender, make sure to contact your bank and transfer your automatic withdrawals over to your new lender. Some lenders will offer a discount on interest if you use autopay, so consider setting it up if you don't already use it.
And that's it. Refinancing is a painless way to save on interest and clear your debt faster, and now is the best time in a long time to do it. Just remember to shop around and compare offers online so you make the most of the swap.
Sponsored
This Company Will Help Nearly Anyone Get Rid of Credit Card Debt
Do you feel like paying off your credit card is a constant grind, with no end in sight? You're not alone. A personal loan offers lower interest rates and fixed payments, making it a smart choice to consolidate high-interest credit card debt. It helps save money, simplifies payments, and accelerates debt payoff.
Credible is a free online service that shows you the best lending options to pay off your credit card debt fast — and save a ton in interest.