17. Be your own date Amazon
Take the stress out of finding a date to that Halloween party by being your own date.
This versatile costume allows you to split yourself down the middle and dress as both Prince Charming and a Royal Princess. You'll definitely have the most attractive date of the whole evening.
If you've ever wondered what you're like out on a date, now's your chance to find out. Plus, this costume is just $47, which is probably cheaper than going on an actual date.
Amazon reviewer Matthew Dreessen warns prospective buyers about the wig, saying, "The costume itself was 5-star. The wig — 4.5. The black hair man's side was showing glue in spots and matted enough to make it difficult to fix."
Dove not included, so you'll have to bring your own.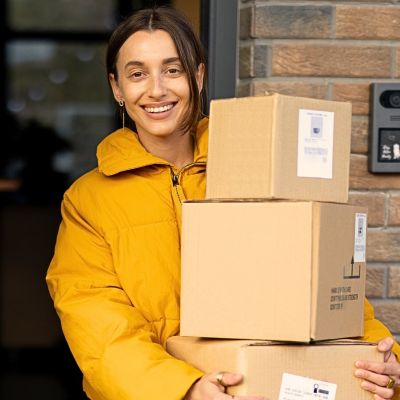 Capital One Shopping's browser add-on automatically applies coupon codes as you shop online. It's absolutely free – plus it takes only two clicks to install. Add the Capital One Shopping browser extension today and start earning discounts of up to 50% on the things you already buy.
Install for Free
16. Nice Bass Amazon
Remember back in the early 2000s when a musical wall decoration named Big Mouth Billy Bass became so iconic? It's OK — neither do we.
This Nice Bass Trophy costume will have you singing and making a bass of yourself in no time.
However, multiple customer reviews indicate that the trophy backing isn't sturdy, so you'll have to add cardboard or stuffing to keep the back straight. You don't want to be flopping around like a fish out of water.
Look reel awesome and sofishticated for just $21.38.
15. Riding a jumbo shrimp Amazon
One of the big trends this Halloween seems to be inflatable outfits with fake arms or legs. A quick search of the Amazon costume page reveals almost half a dozen varieties.
But we think this Jumbo Shrimp costume takes inflatables to a whole new level.
The person who came up with this costume must have always had an odd fantasy of turning a shrimp into a rodeo horse. Either that, or there were already so many other costumes out there that this was the only idea that hadn't already been taken.
Amazon reviewer D. Lettich gives the $35 costume a five-star review, saying, "I got this to intimidate the roaches in the basement. Can't wait to see their expressions!"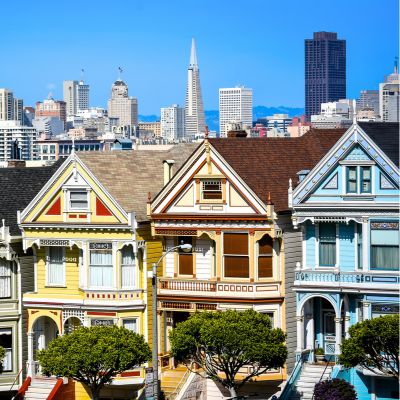 Believe it or not, you don't need millions, or even hundreds of thousands to invest in real estate. Arrived is an online platform where you can invest in shares of rental homes and vacation rentals without the headaches of being a landlord.
Learn More
14. Ghillie Suit Amazon
If you ever wanted to be one with nature — quite literally — now you can. This Ghillie Suit lets you be disguised as a bush? Moss? Both?
It's really meant as hunting camouflage, but it sure makes for a great Halloween costume — and wouldn't it be hysterically funny to dress like this and hide in the bushes to scare people passing by?
Sure, you could just go into your backyard and pick some moss off some trees to make your own Ghillie, but if you buy the outfit you get a hood, a top, pants and even a gun wrap, starting at $49.99.
The Swamp Thing has never looked swampier.
13. Riding an ostrich Amazon
Home, home on the range — at the old family ostrich farm.
If your child has cowboy dreams that somehow include riding an ostrich through the plains, don't hesitate to order this wacky inflatable costume.
We're not entirely sure who chose to combine these two vastly different things together, but we're happy (and impressed) that someone did.
The description doesn't explicitly state "cowboy" or "cowgirl," so anyone can enjoy shouting "Giddyap!" at a flightless bird. But it looks like the rider forgot the saddle but remembered to put on camo pants.
It would be very expensive to travel to Africa in hopes of riding an ostrich in its habitat. So instead, just buy this costume for $24.95.
12. Knockoff Shrek Amazon
If Shrek the Musical taught us anything, it's that trying to dress up like a realistic ogre never ends well.
Not exactly sure who thought that this Bizarro World Shrek costume was a good idea, but unless you're in a poorly lit room, odds are you are going to terrify people.
Amazon reviewer Autumnal, gives this costume a five-star review, saying, "Scared my son and nephew to the point of tears."
So if you've got $25 to burn and can stay away from fire while you're wearing the latex mask and gloves, why not give it a go?
Worst-case scenario, you freak everyone out and they don't speak to you for a couple of days.
11. Ride a leprechaun Amazon
Top O' the spooky morning to ya!
Another inflatable illusion, this leprechaun piggyback costume will get you through both Halloween and St. Patrick's Day.
Believe it or not, this costume has 125 reviews on Amazon, and 86 of those are five-star. It definitely seems that this costume works best if the wearer isn't very tall. After all, leprechauns aren't known for their height.
If you regularly get Lucky Charms cravings and want to have a magically delicious Halloween, or if you're just a die-hard fan of St. Patty's Day, then maybe it's time to invest $40 in a leprechaun costume.
10. A can of Spam Amazon
What kid doesn't grow up yearning to be canned meat for Halloween? More specifically, Spam? Well, wish no more.
Amazon lets you fulfill that childhood dream for a measly $30. Just think, you can finally know what it's like to wear a fully licensed container of cooked pork.
Maybe the appeal of this one is that it's simple? There's no need to explain anything (except why you can't touch your toes) the way you might want to do if you dress up as a character from a film or TV show.
Who knows if this costume will be a hit at Halloween, but if it doesn't pork out, you can always ham it up at the party.
9. Lost puppy Amazon
A recurring theme with a lot of these costumes is, Why? Why were they made? This woman-looking-for-her-puppy costume is no exception.
Even though this costume may be one of the rudest we've seen, this lost puppy outfit is weird enough that it might net you a win in a costume contest.
It may not be the best $50 you ever spend, but it'll certainly be the strangest. We're also not exactly sure what category of Halloween this falls under: Spooky? Unsettling? Funny? Maybe a combination of the last two?
Well, whatever category "old lady squishing a dog" falls under, it's that.
8. Dog Chucky Amazon
If there's one thing that can be universally agreed upon, it's that dogs in costumes are adorable. Even dogs in homicidal doll costumes.
Take this pup in a Chucky outfit. If a person ran at you in a Chucky costume with a knife, you'd be terrified. But this dog just fills you with love and wonderment.
Amazon has an entire subsection dedicated to costumes made specifically for pets. And most, if not all, of them put human costumes to shame.
Some might say it's overkill to buy your pet a $50 outfit for Halloween — but they would be wrong.
Looking for an alternate puppy costume? This UPS mail dog costume delivers the perfect touch of irony.
7. The baby sandwich Amazon
There seems to be a bit of a theme with baby Halloween costumes this year. First, a lobster. Now, a Subway sandwich costume.
What surprised reviewers the most about the costume? The Subway papers you receive to wrap your baby in are exactly the same as the ones you would get wrapped around your tuna sub at a Subway restaurant.
There's no imitation here — it's the real deal.
A fast-food sandwich might be an odd choice for a kid's costume, but it's possible that the Halloween memory will one day inspire your kid to seek a meaty career that pays a lot of dough.
6. A foot Amazon
If you like toeing the line with your costumes, then jump into Halloween feet first this year with this literal foot costume.
Feet make a lot of people uncomfortable — so dressing as a giant funky foot can be an appropriate choice for Halloween.
Consensus among reviewers shows that the costume is likely to be a hilarious hit — rather than a podophobic catastrophe — but one reviewer warns that they "had to stuff the toes with some foamy plastic packaging wrap in order to maintain the toes' shape."
And no one wants floppy toes.
5. Maui from Moana @CostumesCursed
This costume is less beloved Disney character, more cheap knockoff that gained sentience and escaped from a warehouse somewhere. One thing's certain, it won't get you any closer to looking like The Rock, or a demigod.
The version that's currently available on Amazon doesn't come with the character's head, so it's less disturbing than this photo from Twitter suggests.
Maybe this costume wouldn't be so bizarre if it were done in tandem with another character from the film, but on its own it's just like the other masked costumes on the list: unsettling.
This is one of the cheaper bizarre costumes we found. I's a decent deal, since you can get it for just under $40.
4. The two-person camel Amazon
At first glance, this camel costume seems pretty ordinary. Seriously, who doesn't love a tandem outfit?
Sure, people might think you're going over-the-top to celebrate Hump Day. And, yes, you'll need two people about the same height to make the costume look convincing. "But it's Halloween," you might say, "there are way weirder costumes than this one."
However, when you look a little closer, you'll realize that the person in the hump part of the outfit can't see anything. And the person wearing the head isn't much better off.
If you're willing to accept that you'll inevitably bump into people all night, and you don't mind spending $115, then maybe this costume is right for you.
3. Mario and Yoshi Amazon
The first thing that's sure to pop into the head of any person seeing this Mario costume for the first time? Proportions. Maybe the model in the photo is just super tall, but his legs look like they're half the size of his torso.
And since when has Yoshi been a long-legged weirdo? He doesn't have sweeping, graceful strides — he waddles. Everyone knows that.
Physical dimensions aside, does anyone else think that Mario's mustache is more upside-down than usual? The longer you stare at the image, the more bizarre things you notice.
If you can deal with the disproportionate arms and legs of Mario and Yoshi, don't hesitate to pick up this costume for $65.
2. Scary elf Amazon
There's just something a little bit eerie about masks that look vaguely human and are larger than life. Unblinking eyes and a mouth that never opens? It almost feels that if you look directly at this elf mask for too long, you'll become hypnotized.
Though dressing up as something spooky is a big part of Halloween, this costume just gives us the heebie-jeebies. Unintentionally creepy costumes are scary in a different way.
Besides, who needs a haunted elf? We can all be more than content with a terrifying leprechaun character to check off the scary-mythical-creature box.
But if you really want it, this costume is around $100 and is surprisingly well-reviewed on Amazon.
1. A Sriracha bottle dress Amazon
If you're looking to spice up your Halloween, why not dress up as Sriracha — one of America's most popular hot sauces?
We've all seen food costumes on Halloween: hot dogs, bananas, sushi rolls. With their growing popularity (Amazon has seven pages dedicated to food costumes) you can easily find an outfit that suits your palette.
But you won't see many food costumes as odd as this one. Don't worry — it's not going to give you heartburn. And who knows? Maybe you'll meet your soulmate — dressed up as ramen noodles.
Besides, the weirder, the better. No one likes showing up to a Halloween party to find three other people wearing the exact same costume. You can get this Sriracha dress for around $30.
Sponsored
Kiss Your Credit Card Debt Goodbye
Millions of Americans are struggling to crawl out of debt in the face of record-high interest rates. A personal loan offers lower interest rates and fixed payments, making it a smart choice to consolidate high-interest credit card debt. It helps save money, simplifies payments, and accelerates debt payoff. Credible is a free online service that shows you the best lending options to pay off your credit card debt fast — and save a ton in interest.