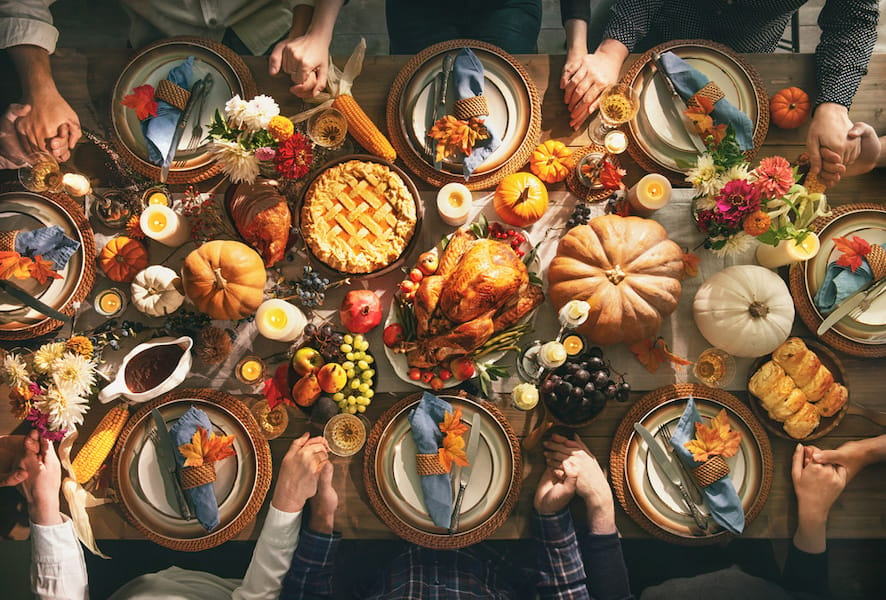 5 things all investors should be thankful for this year
Alexander Raths / Shutterstock
🗓️
Updated: February 03, 2023
We adhere to strict standards of editorial integrity to help you make decisions with confidence. Please be aware that some (or all) products and services linked in this article are from our sponsors.
We adhere to strict standards of editorial integrity to help you make decisions with confidence. Please be aware that some (or all) products and services linked in this article are from our sponsors.
It's been a tough few years. As we gather at the table with our loved ones this Thanksgiving, there are plenty of things we can be thankful for. After all, at its core, that is what Thanksgiving is all about: spending time to remember and being grateful for what we have.
As we think about all the things we are thankful for this year, let's not forget that investors should appreciate plenty of things. We might take investing for granted, but the fact that we can invest is just one of many things we should all be thankful for.
1. Diversification
Every investor should strive to have a diversified investment portfolio. The market is volatile. And if you put all of your investments in one place, there's an increased chance that you could lose a lot of money.
Thankfully, diversifying your portfolio is easy. Essentially, you buy stocks or funds in a variety of companies and sectors. The idea is that if one sector or company decreases in value, it won't bring your entire portfolio down.
You can also diversify by investing outside of stocks:
2. Zero commission fees
It's cheaper than ever to invest in the stock market. That's because many stock brokers charge no commission fees. That means less money out of your pocket and more money in your stock portfolio.
Back in the day, you could make a trade only through a broker, either over the phone or in person. And it cost you hundreds of dollars. Today, you can place trades free online or from your phone through discount stock brokers like E*TRADE, TD Ameritrade and Ally Invest. Here's a quick comparison between the three:
Commission fees on index funds have also gotten lower, and portfolio management is just a fraction of what it used to cost. You can even find zero-fee index funds. No fees are something every investor should appreciate.
3. Exchange-traded funds
If you hate having to research companies across various sectors but don't want to hire an advisor to do it for you, then exchange-traded funds (ETFs) are something to be very thankful for.
ETFs are just one way that investing has gotten a lot easier over the years:
Many mutual funds are expensive to buy and own. Most ETFs are free.
With an ETF, you can invest in a single fund that gives you exposure to many different sectors and companies.
Investing in ETFs is an easy way to diversify your portfolio and mitigate investment risk.
Plus, ETFs are passive, which means you don't need to check your investment portfolio to buy and sell stocks constantly. That's something every busy investor can be grateful for.
4. Tax-advantage investing accounts
Thanks to Uncle Sam, you can save money on your taxes when you invest in certain types of accounts. If you have a 401(k), for example, you can contribute up to $19,500 in 2020. The money is contributed to pre-tax. So you don't pay any income tax on it until you take out the money when you retire.
You can also contribute to a traditional or Roth IRA. Each of these has their own tax advantages. (You can read more about that in our guide, "Roth IRA vs. Traditional IRA.")
If you max out your 401(k) and other tax-advantaged accounts, that's a lot of money you can save on your taxes each year.
5. Compounding
One of the best reasons to invest is because of the magic of compounding. It's also why we encourage you to start investing no matter where you are in your life. The sooner you start investing, the more money your money will make for you.
On average, the stock market has a return of about 10%, not including inflation. Every year you invest, your money increases, which then increases the invested amount, which increases how much you get in return. It's how you can go from investing just a small amount of money to having hundreds of thousands of dollars by the time you retire.
With time and interest on your side, you can start amassing a lot of wealth and retire in style.
Further Reading: How to start investing your money
Bottom line
There are many other things to be thankful for this year, including the things that are free. Regardless of what you have in your investment portfolio, the holidays are a great time to reflect on what you're grateful for.