How to own a piece of Amazon or Google — for less
Micro-investing apps like Stash allow you to buy "fractional shares" — fractions of shares — of major companies like Amazon or Google or Netflix or Zoom for as little as $1.*
By buying partial shares, you can invest in stocks or investment funds that you wouldn't normally be able to afford.
Check out these stock prices as of mid-October 2020:
Amazon: $3,370
Google (Alphabet): $1,565
Netflix: $540
Zoom: $510
Tesla: $460
Disney: $125
It would cost you a lot of money to start buying up full shares of these companies.
When you sign up with Stash, you can choose to invest in whatever stocks or investment funds you want. For example, you can type "Amazon" into Stash's search bar, and it immediately offers you the chance to invest in Amazon in $5 increments.
As for the funds, instead of overwhelming you with industry jargon, Stash curates and categorizes these funds and gives them understandable names. You can invest in tech companies or green energy providers or cybersecurity firms through funds like "American Innovators," "Clean & Green" or "Data Defenders." Or you can invest in funds with names like "Roll with Buffett," "Moderate Mix" or "Global Citizen."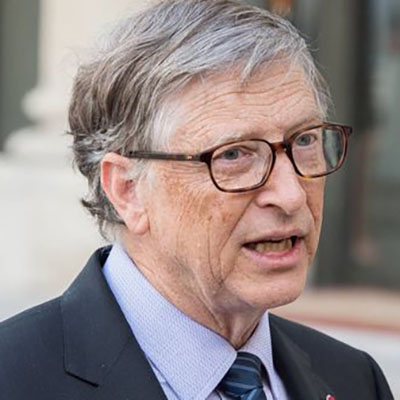 Bill Gates made a splash in 2017 when he bought $520 million worth of U.S. farmland, and he's continued to invest since. What's in it for Gates?
Read More
More and more young investors are buying partial shares
The sale of partial shares is helping to drive increased stock trading, especially when it comes to shares of in-demand but high-priced tech stocks like Amazon, according to financial industry executives.
Amazon remains one of the most popular stocks among millennial investors. But, like we said, not everyone has $3,500 handy.
It takes two minutes to sign up for Stash. Plus, Stash will give you a $5 sign-up bonus once you deposit $5 into your account. Subscription plans start at $1 a month.**
* For Securities priced over $1,000, purchase of fractional shares starts at $0.05.
** You'll also bear the standard fees and expenses reflected in the pricing of the ETFs in your account, plus fees for various ancillary services charged by Stash and the custodian.
This article was originally published on The Penny Hoarder, which helps millions of readers worldwide earn and save money by sharing unique job opportunities, personal stories, freebies and more. The Inc. 5000 ranked The Penny Hoarder as the fastest-growing private media company in the U.S. in 2017.
Sponsored
Generating regular income should be a top priority for risk-averse investors.
And you don't have to limit yourself to the stock market to do that.
For instance, some popular investing services let you lock in a steady rental income stream by investing in premium commercial real estate properties — from R&D campuses in San Jose to industrial e-commerce warehouses in Baltimore.
You'll gain exposure to high-end properties that big-time real estate moguls usually have access to.
And the best part? You'll receive regular passive income in the form of cash distributions without any headaches or hassles.