Buy bitcoin directly
The first option is the most straightforward: If you want to buy bitcoin, just buy bitcoin.
These days, many platforms allow individual investors to buy and sell crypto. Just be aware that some exchanges charge up to 4% commission fees for each transaction. So look for apps that charge low or even no commissions.
While bitcoin commands a five-figure price tag today, there's no need to buy a whole coin. Most exchanges allow you to start with as much money as you are willing to spend.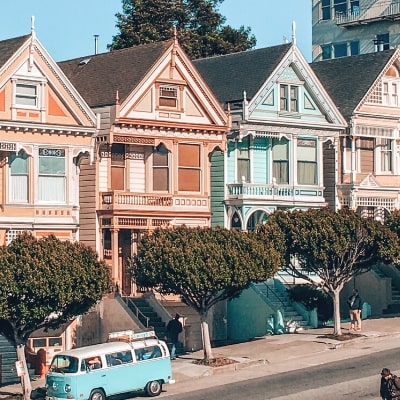 Fundrise helps you invest in real estate without having to buy a house. Let their state-of-the-art technology and in-house experience open the door to new opportunities today.
Sign up
Bitcoin ETFs
Exchange-traded funds have risen in popularity in recent years. They trade on stock exchanges, so buying and selling them is very convenient. And now, investors can use them to get a piece of the bitcoin action, too.
For instance, ProShares Bitcoin Strategy ETF (BITO) started trading on NYSE Arca in October 2021, marking the first U.S. bitcoin-linked ETF on the market. The fund holds bitcoin futures contracts that trade on the Chicago Mercantile Exchange and has an expense ratio of 0.95%.
Investors can also consider the Valkyrie Bitcoin Strategy ETF (BTF), which made its debut a few days after BITO. This Nasdaq-listed ETF invests in bitcoin futures contracts and charges an expense ratio of 0.95%.
Bitcoin stocks
When companies tie some of their growth to the crypto market, their shares can often move in tandem with the coins.
First, we have bitcoin miners. The computing power doesn't come cheap and energy costs can be substantial. But if the price of bitcoin goes up, miners such as Riot Blockchain (RIOT) and Hut 8 Mining (HUT) will likely receive growing attention from investors.
Then there are intermediaries like Coinbase Global (COIN) and PayPal (PYPL). When more people buy, sell, and use crypto, these platforms stand to benefit.
Finally, there are companies that simply hold a lot of crypto on their balance sheets.
Saylor's company serves as a prime example. MicroStrategy is an enterprise software technologist with a market cap of $2.2 billion. Yet its stash of around 130,000 bitcoins is worth approximately $2.47 billion.
Sponsored
Pour your portfolio a glass of recession resistance
Fine wine is a sweet comfort in any situation — and now it can make your investment portfolio a little more comfortable, too.
Ownership in real assets like fine wine could be the diversification you need to protect your portfolio against the volatile effects of inflation and recession. High-net-worth investors have kept this secret to themselves for too long.
Now a platform called Vinovest helps everyday buyers invest in fine wines — no sommelier certification required.
Vinovest automatically selects the best wines for your portfolio based on your goals, and it tells you the best times to sell to get the best value for your wine.