The short version
The financial industry, consumer staples, healthcare and construction are all sectors that can be positively impacted by rising interest rates.
Publicly listed companies may be extra vulnerable to interest rates and inflation.
Investors can best position themselves for rising interest rates by looking into growth stock funds and healthcare stock funds.
More stable savers who have money stowed away in bonds, CDs, high-yield savings accounts and money-market funds may also be able to buoy themselves and take advantage of rising interest rates.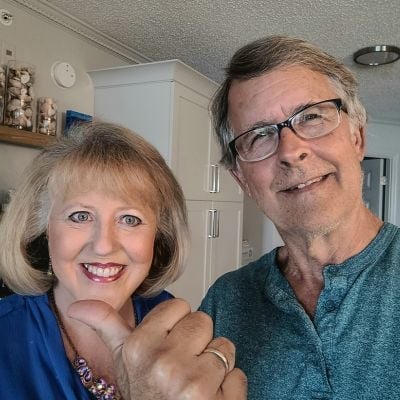 The four-factor risk model
When looking at your investment portfolio, it's important to understand the potential risks at play. In general, there are four main factors that impact the risk in your portfolio:
Market risk: The risk presented by the stock market in general.
Interest rate risk: How rising or falling interest rates impact stock performance.
Currency risk: The way the value of the dollar affects stocks and other investments.
Commodity risk: How commodity prices and their effects on the economy impact various stock sectors.
Interest rate risk is only one component, but it can be an important item to pay attention to when managing your portfolio and creating a long-term strategy.
More: Ways to take advantage of the commodities supercycle
Industries most affected by interest rates
When it comes to sectors affected by interest rates, you're likely to see the biggest sensitivity with financial-related companies. For example:
Rising interest rates are often connected to economic growth. When the economy is improving and people are able to spend more money, inflation can be a driver of higher interest rates. Additionally, the 10-year Treasury note is likely to see a higher yield, which is another sign that there is more money in economic circulation.
Whether that money is from a stimulus from the government or from economic growth in general, an increase in money moving through the economy can lead to inflation and higher rates. Financial companies — those that are involved with investing, lending, and insurance — can all benefit from a rise in rates.
However, with more money in the marketplace and more consumers more comfortable with their finances, sectors dealing with staples can also do well. Hygiene products, household goods, and food all benefit when consumers feel more confident. You're also likely to see more entertainment in an environment like this.
Finally, there's a good chance that some manufacturers, particularly those related to homebuilding, are likely to see improvements as interest rates move higher. Think truck part manufacturers who see an increase in demand as building ramps up or appliance manufacturers who need to outfit new homes.
Trade your favorite stocks any time
Investing doesn't have to be hard. Robinhood is the only place you can trade stocks, options and ETFs 24 hours a day, 5 days a week, all still commission-free. Start building your portfolio with as little as $1.
Get Started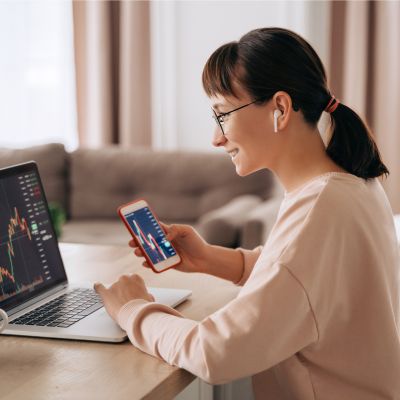 What to invest in when interest rates rise
As you consider sectors affected by interest rates, it's a good idea to see if it makes sense to change your strategy. Be mindful of your individual needs; it might make sense to consult with a professional before making changes to your portfolio. Here are some ideas of what to invest in when interest rates rise:
Best stock funds for rising interest rates
Here are some examples of stocks and funds that investors trying to take advantage of rising rates. These are not recommendations nor are we advising that you buy them. You'll need to do your own research to determine the best stocks and funds that fit you and your investment portfolio. But in general, choosing growth stock funds can help you take advantage of an environment of rising interest rates.
For example, the Jensen Quality Growth Fund (JENSX) has various companies that generally represent growth, like UnitedHealth Group and Microsoft.
If you're looking for household names with growth potential, the T. Rowe Price Blue Chip Growth Fund (TRBCX) may also be a good choice.
Additionally, healthcare stock funds can also be a good place to invest if you're hoping to take advantage of rising interest rates.
The Vanguard Health Care fund (VGHCX) offers access to companies that are involved in the future of healthcare.
If biotechnology and advancement are more to your interest, the Fidelity Select Biotechnology fund (FBIOX) can provide interesting opportunities.
If you're unsure of which stocks to invest in, we recommend consulting a financial advisor to figure out the best strategy for you. You can find a certified financial advisor through Paladin Registry.
Best sectors for rising interest rates
There are some sectors that do well when interest rates rise including:
Healthcare: People need healthcare no matter what's going on. That makes healthcare a sector worth considering, especially during a period of rising interest rates.
Consumer goods: There are a few things in life that are certain, but basic needs like food and household goods can always be counted on. That's why consumer goods stocks are often stable, as people will still need to buy groceries during a recession.
Financials: As we mentioned earlier, financial stocks often benefit the most from rising interest rates because of their connection to products like mortgages and loans.
It's important to note that even though these sectors can perform well as rates are rising, a correction can change the picture. If the stock market falls because interest rates rise too much in too short a period, some of these sectors could be hard-hit. The financial sector might do well as interest rates rise, but if things get pushed into a bear market territory, the situation could change and these types of stocks could also experience deep declines as interest rate risk is upstaged by market risk.
Do rising interest rates help banks?
Banks can actually get a nice boost from rising interest rates. Part of this has to do with the fact that higher rates mean they can charge more interest on loan products. If a bank can charge you a higher interest rate on a mortgage or a credit card, it can make more money. The bank hasn't lent you any more, but they receive a higher return.
Insurers can also do reasonably well as rates rise. Many insurance companies rely on bond investments — particularly long-term Treasuries — as base investments. When interest rates rise, so, too, do bond yields. This provides higher returns for these investments.
Who benefits from an interest rate rise?
In general, while banks and insurers benefit from rising interest rates, there are consumers who can benefit as well.
Regular Investors — If rates rise at a manageable pace and are a manifestation of economic growth, regular investors can benefit. With an increased interest in the stock market and investing, it's possible to see gains in your portfolio and even make a profit. \
Savers — On top of that, savers often benefit from rising rates. If you have a portion of your portfolio in money market funds, CDs, and high-yield savings accounts, you can see a benefit from rising rates. In general, savers benefit when rates rise.
Bond Investors — Likewise, bond investors can see potential benefits as rates rise. Bond funds and individual bonds tend to see higher yields, and that gives you a chance to invest and see a better return on some of your income-producing assets.
More: What is the relationship between interest rates and the bond market?
Who's at risk from an interest rate rise?
When interest rates rise rapidly and inflation becomes a problem, it can actually result in a stock market crash.
Publicly Listed Companies — If rates are rising to slow inflation, businesses have to borrow at higher rates, which can eat into their profit margins. When that happens, their stock prices can fall, prompting investors to sell.
Stock Market Correction — A rapid rise in interest rates tends to spark fears of inflation, and that can lead to stock market correction — followed by a potential bear market. When that happens, investors lose out, especially if they panic and sell, locking in losses.
Borrowers — Borrowers are also at risk from rising interest rates. If you have high-interest variable debt, like credit cards, rising rates can cause financial issues. It's harder to pay off debt when more of your monthly payment goes toward interest charges.
Will rates keep rising?
It's hard to tell whether rates will keep rising. Some forecasters expect to see rising rates long-term, but they expect that the rate of the rise will be manageable. In the end, it's hard to predict exactly what will happen. Rates are likely to head higher if the economy heats up, however, or if more stimulus prompts inflationary fears.
The bottom line
When creating your portfolio strategy, it makes sense to consider what sectors are affected by interest rates and to consider how that might impact your performance. Be careful, though. Consider consulting with an investment professional before making changes to your portfolio based on concerns about rising interest rates.
Sponsored
Follow These Steps if you Want to Retire Early
Secure your financial future with a tailored plan to maximize investments, navigate taxes, and retire comfortably.
Zoe Financial is an online platform that can match you with a network of vetted fiduciary advisors who are evaluated based on their credentials, education, experience, and pricing. The best part? - there is no fee to find an advisor.