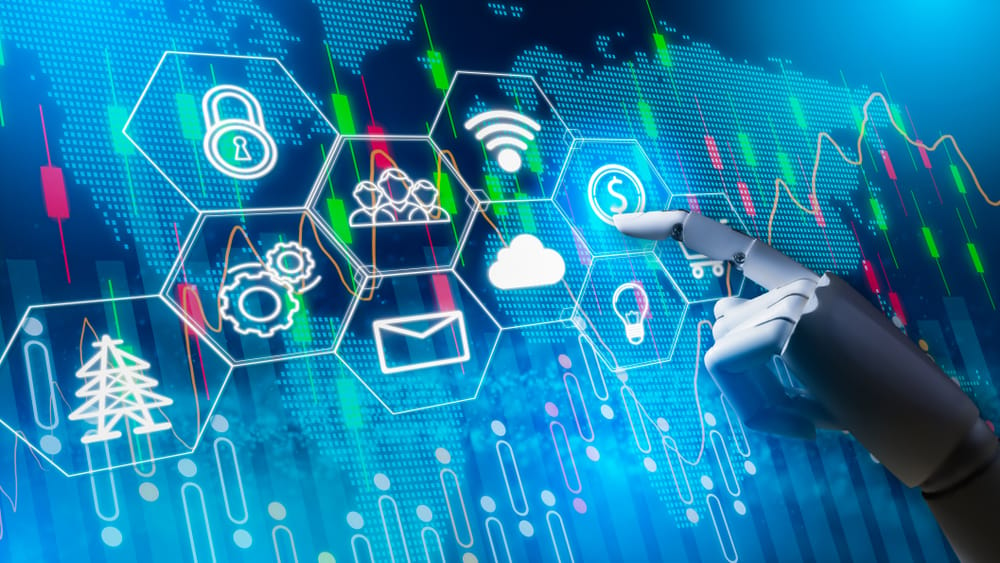 Fit Ztudio / Shutterstock
🗓️
Updated: August 14, 2023
We adhere to strict standards of editorial integrity to help you make decisions with confidence. Please be aware that some (or all) products and services linked in this article are from our sponsors.
We adhere to strict standards of editorial integrity to help you make decisions with confidence. Please be aware that some (or all) products and services linked in this article are from our sponsors.
There are plenty of robo-advisors out there that let you invest on autopilot. But only one comes from Goldman Sachs, one of the most respected names in investment banking and wealth management.
Marcus Invest is that robo-advisor. It's a competitive, low-fee solution that also offers ESG investing. And it also offers Goldman Sachs' proprietary Smart Beta portfolios that many competitor robo-advisors rely on.
However, this isn't the right robo-advisor depending on the level of customization you want. That's why our Marcus Invest review is covering all of its features, pros and cons, and pricing to help you make your decision.
Pros and cons
Pros
Low $5 investing minimum
Offers a variety of portfolios created by Goldman Sachs
Competitive 0.25% annual management fee
Offers impact investing and Smart Beta portfolios
Includes automatic rebalancing
Cons
Doesn't use tax-loss harvesting
No access to human advisors
What is Marcus Invest?
Marcus Invest is a robo-advisor that lets you automatically invest in portfolios designed by Goldman Sachs financial professionals. Like other leading robo-advisors, Marcus Invest uses portfolio of various ETFs to match your goals and risk tolerance.
With a $5 investing minimum, Marcus Invest is also very beginner-friendly. Plus, you still get features you'd want in a robo-advisor like automatic rebalancing so your portfolio's composition remains the same over time.
What makes Marcus Invest great?
Since Marcus falls under the Goldman Sachs brand, its robo-advisor is powered by some of the leading investment research and technology there is. This makes the underlying theories behind Marcus Invest portfolios appealing, and there's several advantages to using this robo-advisor.
Multiple Goldman Sachs portfolio themes
The main selling point of Marcus Invest is that it works with Goldman Sachs, a leading investment management firm, to construct its portfolios. Specifically, you can choose three different portfolio themes to invest through:
Goldman Sachs Core: This portfolio invests in a range of U.S. stocks, international stocks, and bonds for a well-rounded investing approach.
Goldman Sachs Smart Beta: While it's potentially more volatile than the Core portfolio, the Smart Beta portfolio aims for long-term gains through a variety of Goldman Sachs ETFs. According to Marcus, these ETFs use Goldman Sachs' proprietary technology to invest in companies with high growth potential to outperform the market in the long run.
Goldman Sachs Impact: This portfolio focuses on ESG investments while avoiding sectors like coal, firearms, and tobacco.
You can still choose different levels of portfolio risk that influences the ratio of stock and bond ETFs in your portfolio. For example, the conservative option is a 10% stock ETF and 90% bond ETF mix. In contrast, you can go more aggressive with 80% stock ETFs and 20% bond ETFs, or even 100% stock-based ETFs.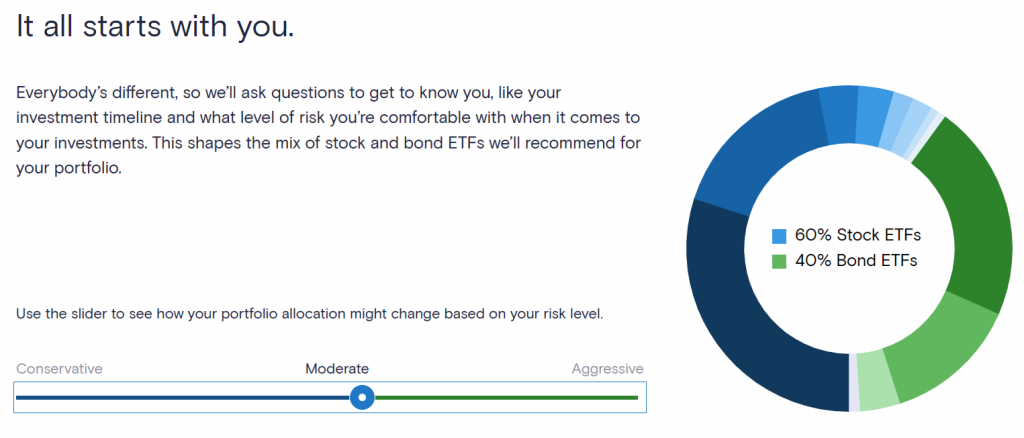 Other robo-advisors like Betterment and Wealthfront use similar approaches. Marcus Invest holds up well to the competition, and the fact it offers an ESG portfolio theme is also a selling point.
Low minimum investment requirement
As mentioned, there's a $5 minimum investment requirement for Marcus Invest. This is on the lower-end of the robo-advisor spectrum, and it's great news if you're investing small amounts of money.
Asset selection
While Marcus Invest only has three portfolio themes, it actually considers a wide range of sectors and assets for its portfolio. Some asset classes Marcus Invest considers include:
Short-term municipal bonds
U.S. high-yield bonds
Large U.S. cap stocks
Small U.S. cap stocks
Emerging market stocks
U.S. real estate
International real estate
International developed market stocks
The international exposure and inclusion of more small cap stocks are interesting since many microinvesting apps or robo-advisors focus on large cap U.S. companies. You still don't get as much customization as you do with competitors like M1 Finance or Wealthfront. However, Marcus Invest still has very robust portfolios.
Automatic rebalancing
You get automatic rebalancing for every Marcus Invest portfolio, and your portfolio is monitored for changes daily. Marcus Invest can then buy and sell assets if your asset allocation changes enough so that your portfolio mix is outside the "tolerance margin."
This feature is a must-have for robo-advisors since it ensures your asset allocation stays inline with your goals and risk tolerance.
Where Marcus Invest could improve
The Goldman Sachs technology behind Marcus Invest's portfolios is its main selling point. However, there are a few downsides you should consider before opening an account.
No tax-loss harvesting
Many top robo-advisors use tax-loss harvesting to help increase returns. This strategy involves selling off assets to realize a loss, which you can claim when filing taxes. After selling off assets, you can repurchase identical or similar assets to keep your portfolio's composition the same while still realizing some losses.
Unfortunately, Marcus Invest doesn't use tax-loss harvesting. Instead, it uses some tax relief methodology and basically sells off assets with the lowest possible taxable gains when rebalancing. This is still good for investors, but it's not as good as tax-loss harvesting for maximizing returns.
No human advisors
Goldman Sachs offers personalized, professional wealth management services. But Marcus Invest doesn't have a human advisor option or plan that you can opt-in to. In contrast, competitors like Betterment and SoFi let you work with financial advisors.
This isn't a downside if you just want automated investing. But some competitors have a hybrid model that's a significant difference from Marcus Invest.
Limited financial tools
With some robo-advisors, you get a wealth of financial tools and even various savings products to help you make the most out of your money. For example, Empower has a range of useful features like budgeting tools, a net worth tracker, and even an investment fee analyzer. Similarly, competitors like Betterment and Wealthfront have excellent no-fee cash management accounts.
With Marcus, you really don't get much from the robo-advisor except for some quality blog posts and various financial calculators. Granted, the company has an excellent high-yield savings account and a variety of CDs. However, its robo-advisor product line is fairly simple.
Account types
You can open the following account types with Marcus Invest:
Individual investment account
Joint investment account
Traditional, Roth, and SEP IRAs
Note that the Goldman Sachs Smart Beta portfolio isn't eligible for any IRA.
Marcus Invest pricing and fees
Marcus Invest charges 0.25% in annual management fees, which covers ongoing management, automatic rebalancing, and trade commissions. You still pay various ETF expense ratios depending on the ETFs you invest in, but this is the same case for any other robo-advisor.
In the past, Marcus Invest actually charged 0.35% in annual fees. The drop to 0.25% makes its management fee the same as competitors like Betterment and Wealthfront.
Is Marcus Invest safe?
Yes, Marcus Invest is a safe and secure robo-advisor that offers its investment advisory service through Goldman Sachs Bank USA and Goldman Sachs & Co LLC. It also works with Apex Clearing Corporation, a registered broker-dealer and FINRA/SIPC member, and provides SIPC insurance for members.
Like any other robo-advisor, returns aren't guaranteed, so you can lose value on your investments. But the platform itself is safe, and Marcus Invest uses similar long-term investing philosophies that other robos do.
How do I contact Marcus Invest?
You can contact Marcus Invest by calling 1-833-720-6468, Monday through Friday, from 9am to 6:30pm ET. Existing customers can also use the chat feature to get help from online customer support. Other Marcus Invest products have 24/7 support, but Marcus Invest doesn't offer this or weekend hours.
Best alternatives
If you're already a Marcus customer through its various savings products, loans, or credit cards, Marcus Invest is a natural choice to keep your accounts under one roof. And even new customers might find the Goldman Sachs powered portfolios to be a selling point.
However, the robo-advisor and wealth management space is a competitive one. And some alternatives might be superior depending on your investing styles and capital.
Betterment and Wealthfront are two popular alternatives for the same 0.25% annual management fee. Betterment offers more portfolios than Marcus Invest, and it has some excellent ESG options. As for Wealthfront, we prefer it if you want more ETF-level customization capabilities.
Empower is also worth considering, although its investment management service requires investing at least $100,000. However, it has a range of useful financial tools and calculators, and its investment fee analyzer is also free.
Bottom line
If you want a simple-yet-effective robo-advisor, Marcus Invest could be for you. It's an ideal choice if you're already in the company's ecosystem. And believers in Goldman Sachs' technology and investing track record will find comfort in sticking with Marcus.
Personally, I think the lack of tax-loss harvesting and other financial services makes it a bit too "bare bones" for me. After all, competitors like Betterment and Wealthfront have the same management fees but also offer cash management accounts and more tools. And you can get even more customization with hybrid robo-advisors like M1.
That said, it only takes $5 to start investing, so you can try out Marcus Invest and explore its portfolios very easily. And for long-term, automated investing, it still holds it own against many of the top contenders.
Moneywise receives cash compensation from Wealthfront Advisers LLC ("Wealthfront Advisers") for each new client that applies for a Wealthfront Automated Investing Account through our links. This creates an incentive that results in a material conflict of interest. Moneywise is not a Wealthfront Advisers client, and this is a paid endorsement. More information is available via our links to Wealthfront Advisers.