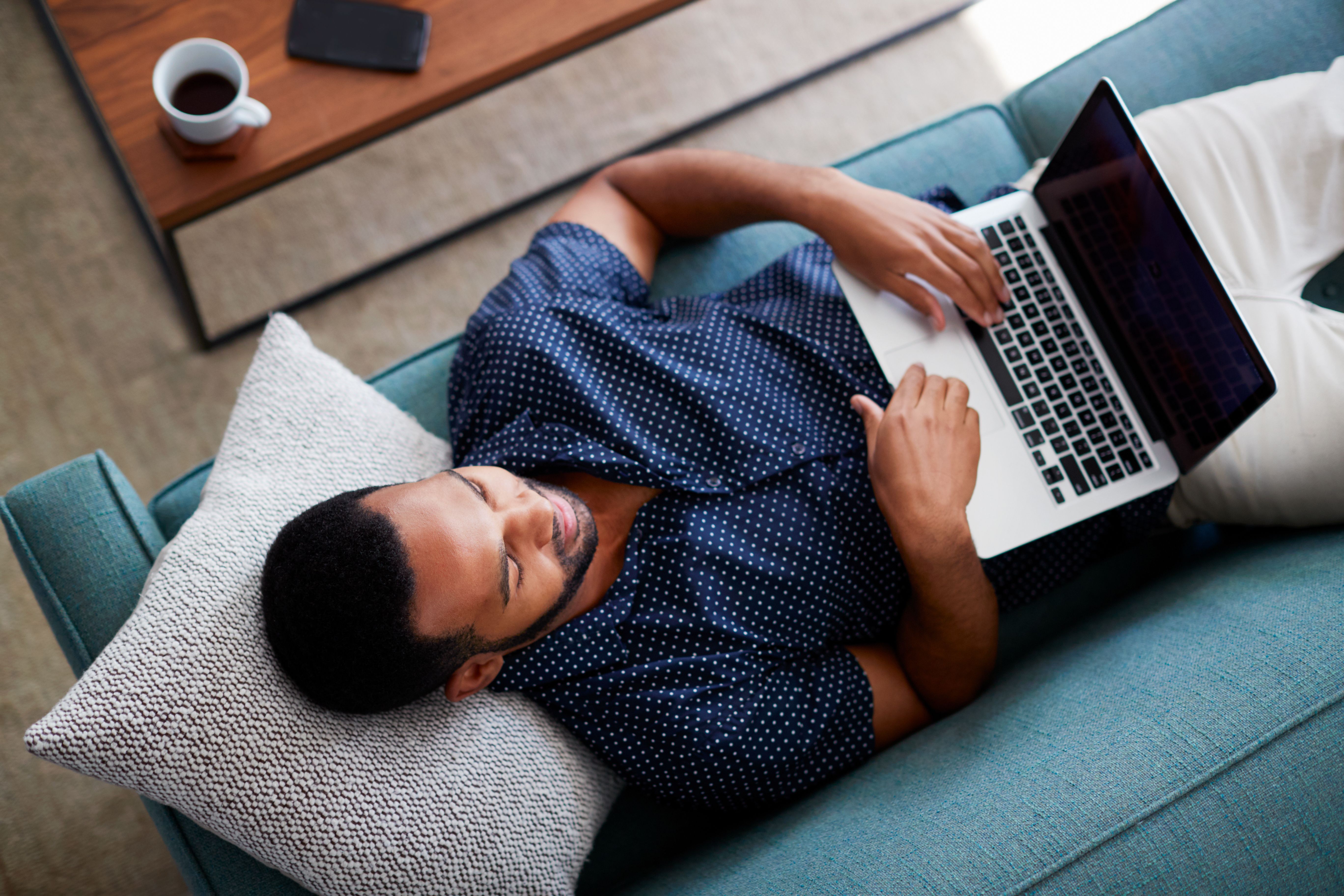 YCharts review: An alternative to a Bloomberg Terminal?
Monkey Business Images / Shutterstock
We adhere to strict standards of editorial integrity to help you make decisions with confidence. Please be aware that some (or all) products and services linked in this article are from our sponsors.
We adhere to strict standards of editorial integrity to help you make decisions with confidence. Please be aware that some (or all) products and services linked in this article are from our sponsors.
Are you looking for in-depth financial data but don't want to pay the arm and the leg that a Bloomberg Terminal costs? If so, you might find YCharts worth a look.
This web-based investment research data service is basically a prettier, more user-friendly Zack's, Telemet, or Thomson Reuters Eikon that delivers hard-to-calculate data in a quick and easy format, and with more metrics to boot. However, there's a lot of free data out there on sites like Google and Yahoo Finance. So is YCharts worth the price tag?
What is YCharts?
YCharts was founded in 2009 to fill a gap in the investment research space. The service targets long-term value investors, including RIAs, hedge fund managers, consultants and sales professionals. That group requires much more in-depth equity research and metrics. Data accuracy is important as well, and something the free services sometimes lack.
Since its founding, YCharts has received over $15 million in venture capital funding — including an investment from long-standing financial research company Morningstar. And it's received accolades, including being named the "Top Investment Data/Analytics Tools People Are Thinking About Adding" at the T3 Advisor Conference.
YCharts is growing, too. In fact, it's placed in the top 25% of Inc. 5000's list of Fastest Growing Companies for two years running. The company continues to build out its service, including a current complete overhaul of the site to improve the user experience.
YCharts features
Model Portfolios (New) — Choose any securities and weight them to build a Model Portfolio you can access across many tools within YCharts.
Cryptocurrency Data (New) — You can now access data for leading cryptocurrencies including Bitcoin, Bitcoin Cash, Ethereum, Litecoin and Ripple.
YData (New) — This proprietary events data feed services prop shops and hedge funds.
Custom Email Reports (New) — Receive the information you value regularly and in an intuitive, shareable format.
Integration With Veo One (New) — YCharts will now integrate with TD Ameritrade's popular Veo One platform.
How does YCharts work?
YCharts offers three tiers of service: Standard, Professional and Enterprise. Individual investors do best signing up for the Professional level to take advantage of YCharts' research and data tools. This is the product I currently subscribe to, at the rate of $400 per month. YCharts does give volume discounts for large firms who want to purchase multi-seat licenses, but you will have to contact them to ask.
The following features are included with YCharts Professional:
Excel Add-in — A powerful feature that allows users to perform your own data analysis in real-time
Stock + Fund Screener — A very flexible way to narrow your equity search criteria
Economic Data Verification — Go behind the numbers to the original data sources
Sector and Industry Data — Get the latest news and compare stocks in the same sector
4,000 Financial Metrics — Much more data analysis than other free stock screener services, so you don't have to do the legwork
Scoring Models — Build custom scoring systems in our Screeners by combining and weighting metrics. Sort, filter, and rank results based on your custom scores.
Comp Tables — Use the Multi-Company Comparison feature to view several current metrics for a list of companies.
Timeseries Analysis — Align quarterly data for companies on different fiscal calendars.
YCharts subscribers have access to all financial benchmarks, and the ability to chart this data online via their YCharts account. The level of detail is incredible, and from previous research, I've found it very useful. You can slice and dice data over time and compare to stocks to other stocks or more than 4,000 metrics, including economic data.
When it comes to numbers, if you can find it on an income statement, balance sheet, or statement of cash flows, you can turn it into a ratio and chart it with YCharts. Compared to other services I've used, YCharts data is much more comprehensive, but this should be no surprise for a paid service.
Users also have the ability to download and export data and charts for their own personal use (up to 500 per month for Standard and unlimited for the Professional plan).
The YCharts stock screener is unmatched, and it allows you to sort through all publicly traded companies based on whatever financial metrics you find most appealing.
Users can now sign up for a free trial in less than 30 seconds and get full access to the YCharts Professional for seven days. No credit card is required. The only limit is that YCharts doesn't allow you to download any data during this trial period.
How much does YCharts cost?
YCharts has three different plans: Standard, Professional, and Enterprise. The Standard Plan costs $300 per month, or $3,600 per year, while the Professional Plan costs $500 per month, or $6,000 per year. You have to get custom pricing for YCharts Enterprise since it's a more custom solution.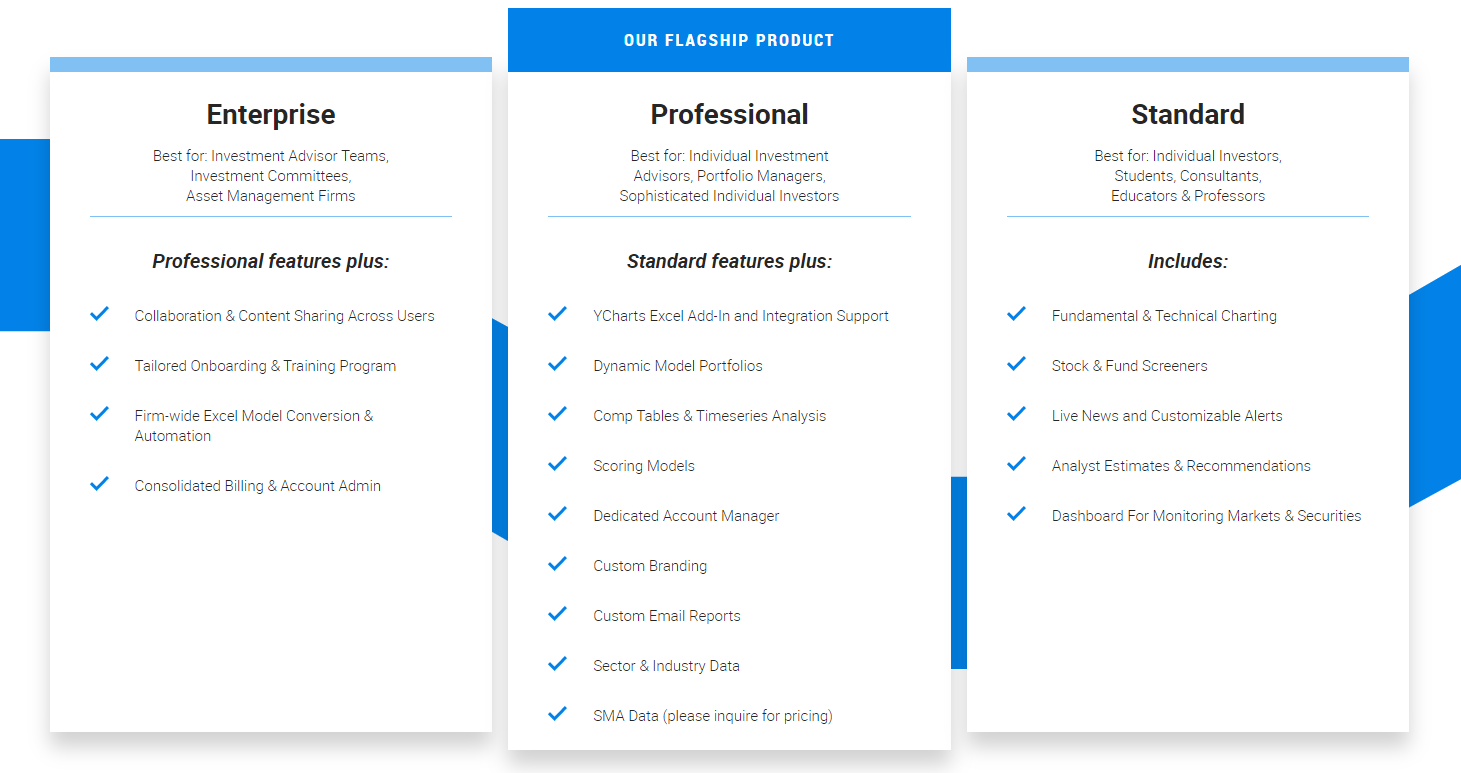 At the time of writing, my YCharts Professional plan cost $400 per month, or $4,800 per year, so it's increased its pricing since then. But you still have to call YCharts at 866-965-7552 to get information on current pricing, which is a bit annoying.
The seven-day free trial is nice, however, since you can at least test out YCharts Premium before forking over hundreds of dollars.
The bottom line
YCharts is a great way to easily compile investment research. Its stock screener is among the best we've seen. You can screen the database for fundamental data that you simply can't screen on the free alternatives.
Its graphing functionality is the gold standard on the web and easily beats the competition.
If you're an investor looking to research good potential investments, YCharts is worth a consideration. It's more user-friendly than Yahoo or Google Finance, plus it's capable of turning anything into a chart.
Of course, budget-conscious investors might prefer options like Morningstar, or even platforms like Seeking Alpha or The Motley Fool. But it's hard to beat the amount of data you get with YCharts, which helps justify the price tag.
For me, YCharts Professional is worth it, but that decision is up to you as an investor.