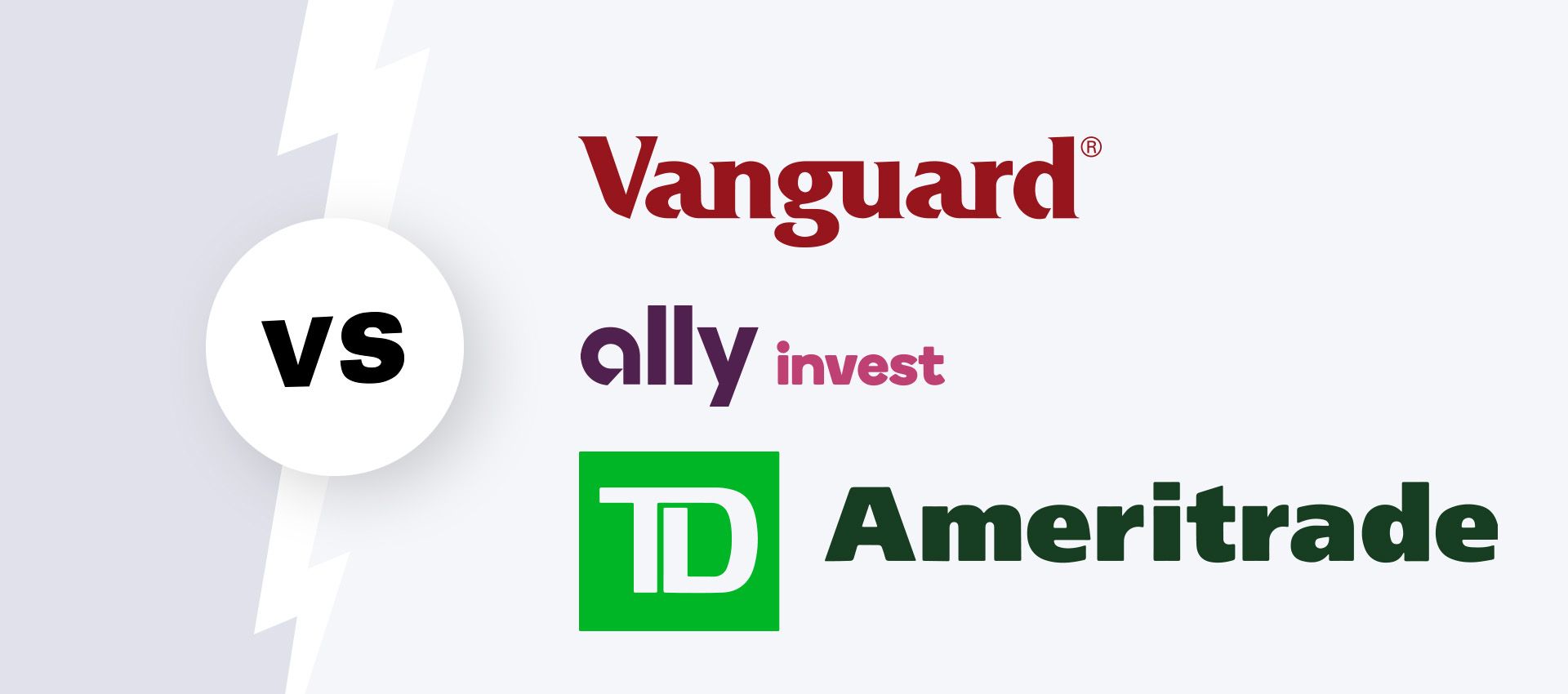 Vanguard vs. Ally invest vs. TD Ameritrade: which is best for you?
Moneywise / Vanguard/Ally/TD
🗓️
Updated: December 30, 2022
We adhere to strict standards of editorial integrity to help you make decisions with confidence. Please be aware that some (or all) products and services linked in this article are from our sponsors.
We adhere to strict standards of editorial integrity to help you make decisions with confidence. Please be aware that some (or all) products and services linked in this article are from our sponsors.
When looking for a brokerage to house your money, you've likely come across three big names: Vanguard, TD Ameritrade and Ally Invest. Each of these three brokerages offers unique and useful benefits that may appeal to different investing and trader goals and needs.
Before choosing a brokerage, it's important to understand what to look for when it comes to pricing, investment choices and trading tools, as well as keeping in mind how you plan to use your account. Passive investing, active stock trading and advanced trading all look very different. Once you have that figured out, you can choose between these popular brokerages.
About Vanguard
Vanguard is best known for its popular family of mutual funds and exchange-traded funds (ETFs). This firm is known as the pioneer in low-cost index fund investing. The company holds $5.2 trillion in assets and ranks as the second-largest asset manager in the world.
If you have a Vanguard account, you can buy and sell its mutual funds and ETFs with no trade commissions. If you have accounts elsewhere and buy Vanguard funds there, you'll probably have to pay for those transactions.
In January 2020, Vanguard joined the list of commission-free brokers. That means you'll pay zero commissions on online stock, option and ETF trades.
About Ally Invest
Ally Invest is the brokerage arm of Ally Financial, the company behind Ally Bank. In 2019, it joined many other online brokerages by eliminating commission fees on all exchange-listed stock, ETF and options trades.
Ally Invest offers access to a wide range of assets with good pricing across the board, including for margin accounts. It has a list of no-commission ETFs, retirement accounts and basic research tools. Ally's good for people who're looking to keep costs low but want to handle most things themselves. For investors who want a little more handholding, robo portfolios (like you'll find with a robo-advisor) are available for no additional fee.
About TD Ameritrade

In addition to charging no commissions on online stock and ETF trades, TD Ameritrade offers excellent trading tools and platforms geared toward advanced and expert traders. If you're interested in active trading, TD Ameritrade's thinkorswim desktop platform is one of the best in the industry.
However, TD Ameritrade is a full-service brokerage that offers anything most traders and investors might want. That includes access to a huge range of investable assets, advisory services, managed portfolios, and excellent education and research materials.
How are they the same?
All three stock brokerages offer many features. First, let's take a look at how they're similar.
| Feature | Details |
| --- | --- |
| Minimum investment | None of the three requires a minimum investment. |
| Commission-free trades | All three brokers have eliminated commissions on online stock, option and ETF trades. |
| Investment account types | All three offer taxable, joint, Roth IRA, Traditional IRA, Rollover IRA, SEP IRA, custodial, trust, 529 college plan, annuity, money market and certificate of deposit (CD) accounts. |
| Investment types | All three services allow you to invest in stocks, penny stocks, ETFs, mutual funds, bonds and FOREX. |
How are they different?
Here are some of the main differences between the three sites.
| Feature | Details |
| --- | --- |
| Investments offered | Ally Invest and TD Ameritrade let customers invest in futures. Vanguard doesn't. Vanguard also doesn't have an advanced trading platform. |
| Customer service | TD Ameritrade offer 24/7 phone and live chat customer service. Ally Invest offers customer support 7 days a week from 7 a.m.-10 p.m. (Eastern Time). Vanguard's support is available by phone Monday–Friday, 8 a.m.–10 p.m. (Eastern Time). |
Unique features
Let's take a closer look at what each of these brokers are able to offer to their clients.
Vanguard
Of these three companies, Vanguard is the only one to offer its own mutual funds and ETFs. It's also by far the biggest of the three when you look at total assets under management, although a portion of that includes fund balances managed through other brokerages. That also means you can get access to Vanguard funds with an account at most other brokerages.
Because of its suite of products, its strongest offering is for people looking to manage long-term investment accounts such as traditional IRAs, Roth IRAs or other retirement accounts. Some Vanguard funds are fine for nearer-term needs, but its strength is as an all-in-one offering for long-term investors looking to keep recurring fund management fees low.
Vanguard has also recently began offering advisory services. If you just want robo advisor portfolio management, the Vanguard Digital Advisor is one of the lowest-cost options available today. You don't pay any advisory fees for the first 90 days and just 0.20% after that. The minimum investment for Vanguard Digital Advisor is $3,000.
If you want access to a human advisor and a personalized financial plan, you can upgrade to Vanguard Personal Advisor Services. The advisory fee is, once again, rock bottom at 0.30%. However, the minimum balance that's required to access this service is quite high at $50,000.
Ally Invest
Ally Invest is a nimble online broker that no longer charges fees on most trades. It has a decent active trading platform and makes both active trading and passive investing affordable and accessible. Stocks and ETFs trade commission-free, but Ally doesn't have any no-transaction-fee mutual funds.
With Ally Invest, you can choose to open a Self-Directed Trading account or you can invest in Robo Portfolios. You just need $100 to get started with Robo Portfolios and their are no advisory fees if you choose the cash-enhanced portfolio (which keeps 30% of your account in an interest-earning cash account as a buffer). If you choose a different portfolio, you'll pay 0.30% annually.
Ally Invest has everything you need to keep all of your banking and investments under one login with easy access. If you have at least a little experience with investing and don't mind a do-it-yourself approach, it offers pricing and features that make it a winner for a wide range of needs.
TD Ameritrade
TD Ameritrade requires no fees for online stock and ETF trades, plus it gives you access to professional-level trading platforms and the opportunity to buy and sell more unique assets than most other brokerages. It offers a great online trading experience through Thinkorswim that's perfect for trading pros or people aspiring to get into the higher-speed world of active trading.
If you're looking for education and support, TD Ameritrade has you covered. Its educational center is filled with helpful courses, webcasts, and guides. Whether you're looking to learn more about technical analysis or you want to take a deep dive into the world of options trading, TD has resources for you. It also provides 24/7 phone customer service and gives you physical branch locations to go meet with a human for help.
Before TD Ameritrade was acquired by Charles Schwab it offered three different portfolio options: Essential Portfolios, Selective Portfolios, and Personalized Portfolios. But it's no longer accepting new clients to any of these portfolios. Since the acquisition, TD Ameritrade has hyper-focused on appealing to active traders and recommends that clients who want managed portfolio options visit Schwab.
Minimum investments
Neither Vanguard, Ally Invest nor TD Ameritrade requires any minimum investment to get started trading.
Winner: We've got a three-way tie. Vanguard, Ally Invest and TD Ameritrade all require no minimum investment.
Pricing
Vanguard, Ally Invest and TD Ameritrade are all commission fee-free when it comes to online stock, option and ETF trades.
Winner: Vanguard, TD Ameritrade and Ally Invest win thanks to their decision to cut out commissions on online stock and ETF trades.
Customer service
Vanguard offers customer service by phone during the week. The phones are staffed Monday through Friday from 8 a.m. to 10 p.m., Eastern Time. There are no weekend hours.
TD Ameritrade offers 24/7 customer service via both phone and live chat, plus it also operates hundreds of branch offices across the country.
Ally Invest offers customer support 7 days a week from 7 a.m.-10 p.m. (Eastern Time).
Winner: TD Ameritrade. Ally Invest also offers customer support 7 days a week from 7 a.m.- 10 p.m (Eastern Time), but TD Ameritrade wins for its 24/7 phone staffing and network of hundreds of branch offices.
Security
All three companies come with SIPC coverage protecting investor's funds from broker failure for up to $500,000 in securities in cash, including up to $250,000 in cash.
Vanguard provides timeout features for its website and unique passwords to create an account. It also asks security questions to verify your login. And Vanguard sends an email and letter for every account transaction. If you don't recognize an action on your account from these notifications, you can call the helpline. Also, Vanguard has an extended validation SSL, granted after an audit by security firm Comodo.
For direct account security, Ally Invest employs both firewalls and secure socket layering (SSL) technology. Sensitive information is encrypted online to safeguard it during transmission. You'll have a username and password, and access to your account will be blocked after a set number of unsuccessful login attempts.
TD Ameritrade uses the following security measures:
Advanced firewalls to keep unauthorized parties from accessing your personal information.
Anomaly detection and intrusion detection technology to determine unusual behavior.
128-bit encryption for the transmission of all data between the site and your computer.
If there is an unauthorized disappearance of cash or securities, TD Ameritrade provides its Asset Protection Guarantee. You'll be reimbursed for any cash or securities lost through unauthorized activity.
Winner: TD Ameritrade. Its Asset Protection Guarantee adds a strong additional measure of protection just in case other security measures fail.
Who are they best for?
Vanguard is best for long-term ETF and mutual fund investors looking to keep expense ratios low. Its huge portfolio of fee-free funds makes it a no-brainer for these types of investors. However, keep in mind there's a minimum of $1,000 required for mutual fund accounts.
Ally Invest is best for new traders. It's free to make most trades, and there's a wide range of products offers. If you require more handholding, you can use the robo advisor service for a low additional cost.
TD Ameritrade is best for advanced and professional-level traders. It offers award-winning trading platforms, but its service is likely too complicated for newbies.
Which is the best?
Hands down, the best brokerage of this trio for experienced traders is TD Ameritrade. The combination of commission-free trading and top-tier platforms and active trading tools is hard to beat.
However, if you want access to both a strong trading platforms and robo-advisor portfolios, Ally Invest is the best choice. And, finally, if you prefer a passive investing approach that relies fully on index funds and/or managed portfolios, Vanguard is the clear winner.
By understanding what you want and need most in a brokerage, you can pick the best one for your unique needs. Vanguard, Ally Invest and TD Ameritrade could all be the right choice.