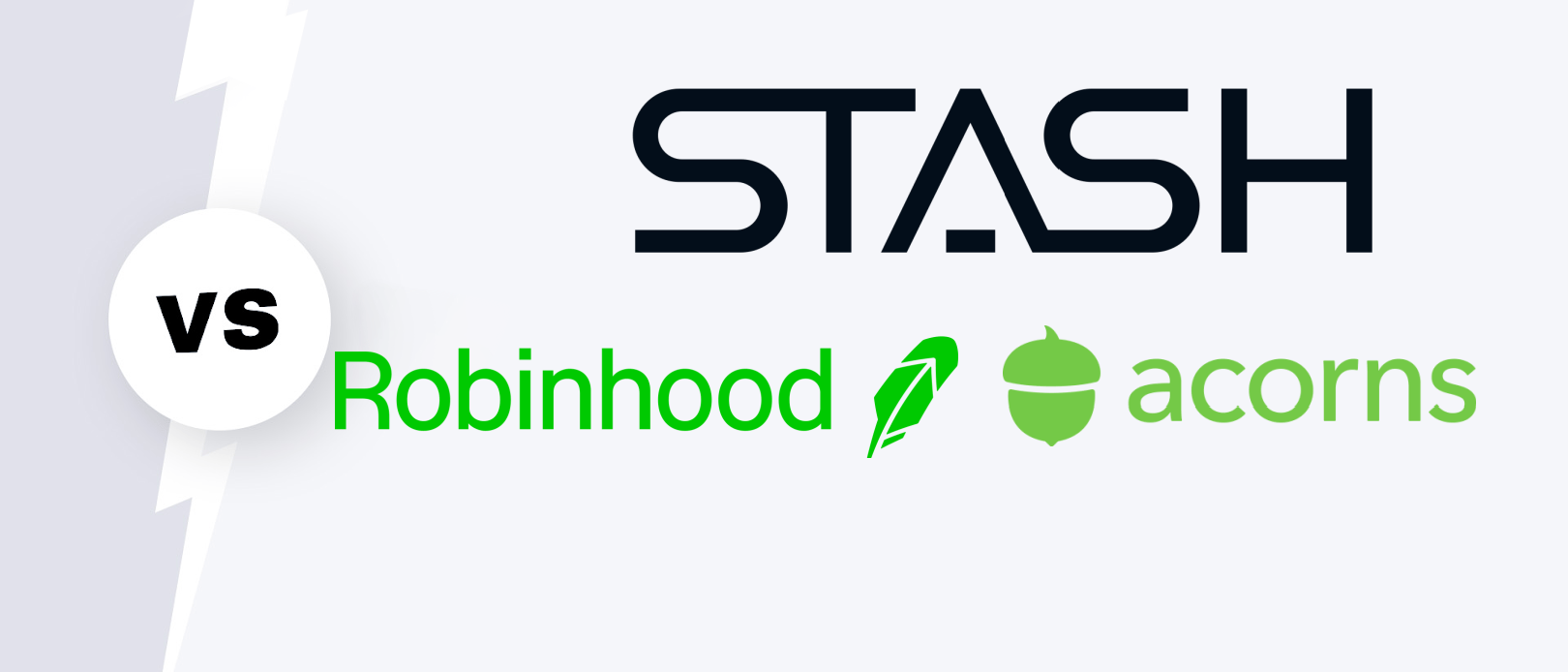 Stash vs. Robinhood vs. Acorns comparison
Moneywise / Moneywise.com
We adhere to strict standards of editorial integrity to help you make decisions with confidence. Please be aware that some (or all) products and services linked in this article are from our sponsors.
We adhere to strict standards of editorial integrity to help you make decisions with confidence. Please be aware that some (or all) products and services linked in this article are from our sponsors.
While virtually every major brokerage offers online and mobile account management, a small crop of brokers take a mobile-first approach, putting most of the power of your investment account on your smartphone. Stash, Robinhood, and Acorns are three leaders in the mobile-first investment landscape.
All three brokers tout low costs and excellent user experience but do they live up to the hype? Let's investigate whether they may be a good fit for your investing needs. Here's our Acorns vs Robinhood vs Stash Invest comprehensive comparison.
Stash vs. Robinhood vs. Acorns: overview
Investing apps like Stash, Robinhood, and Acorns are accessible and easy to use. Using these types of investing platforms can help you regularly save money and invest.
These apps also allow you to link your credit and debit cards to make recurring deposits. When you spend, a small amount of money is taken from your account and invested into either ETFs or stocks.
When it comes down to which one is best, it depends on your and your individual goals, as well as your compatibility with the platform's features.
Stash is the best for new investors who want to learn and need additional help. It's composed of self-directed and automated features that can help someone get the hang of new procedures.
Robinhood is the best for active traders. This is the platform to use if you have more experience and are looking for an option that is low-cost, self-directed, and has ETF and cryptocurrency compatibility.
Acorns is the best for individuals who don't want to put much effort into investing. You monitor your account leisurely and don't have to think about it too much. This is a long-term, hands-off strategy.
| Category | Stash | Acorns | Robinhood |
| --- | --- | --- | --- |
| Rating | 4.3/5 | 4.3/5 | 4.3/5 |
| Minimum to open account | $0 | $0 | $0 |
| Fees | Growth Plan: $3/month; Stash+ Plan: $9/month | $3 a month for the Personal Plan; $5 a month for the Family plan. | No commission fees |
| Taxable accounts | ✅ | ✅ | ✅ |
| ETFs | ✅ | ✅ | ✅ |
| Socially responsible investing | ✅ | ❌ | ❌ |
| Advice | Automated | Automated | Automated, human assisted |
| Individual stocks | ✅ | ❌ | ✅ |
| Reviews | Stash Invest review | Acorns review | Robinhood review |
| Links | Open account | Open account | Open account |
What is Stash?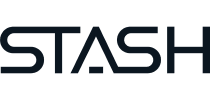 Stash is designed with beginner investors in mind. Their system is simple and easy to use. Plus, you can get started for only $5. They support retirement accounts, custodial accounts, and a taxable brokerage account, allowing you to save for any financial goal.
Stash lets you invest in fractional shares, which is a feature that Acorns also offers. You can also invest in stocks and ETFs, but the transactions only get executed during four trading windows per day. This prevents users from having full control over buying and selling, and discourages them from day trading.
If you're signed up for one of their advanced tiers, you can get access to Stash's Smart Portfolios. These portfolios enable you to diversify into a variety of assets, including crypto. Stash will also rebalance your portfolios and your dividends for you.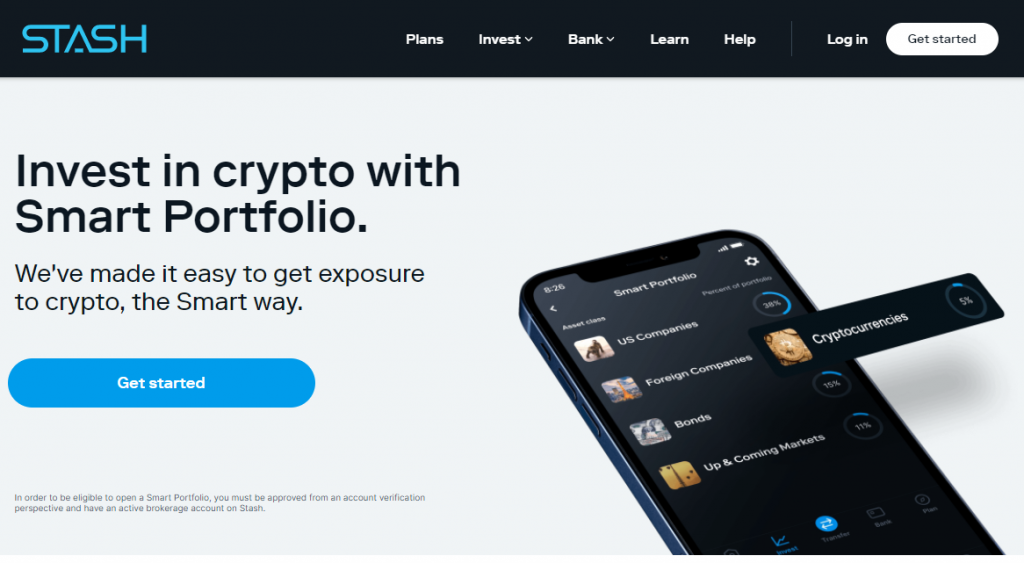 Stash offers a Stock-Back visa debit card with a Stash banking account that lets you earn stock based on your purchases instead of cashback.
In terms of pricing, Stash has costs $3 or $9 per month depending on the plan you select:
Stash Growth: This $3 a month plan lets you invest in a personal portfolio, a retirement portfolio, and even on autopilot with Stash's Smart Portfolio. Plus, you can open a stock-back card that pays you free stock rewards for shopping. Members can also get paid up to two days early.
Stash+: This plan costs $9 per month and includes everything in Stash Growth. The main difference is that it's for family, and you can open two custodial accounts for kids to help them start investing. And, you get premium market research through Stash+ Market Insights.
Top features
Some of the key Stash features include:
Fractional shares
Earn stock back with the Stock-Back card
Automatic recurring investments
Portfolio analysis and recommendations
Stash pros and cons
Pros
Low minimum deposit amount
Stash banking account
Educational materials are provided
Cons
Trading is only allowed during specific times
May be unfeasible and costly for people who want to invest a small amount each month
Sign up for Stash Invest
What is Robinhood?

Robinhood allows investors to buy and sell cryptocurrency, options, stocks, and ETFs without incurring any commission fees.
When Robinhood first started offering its services, commission-free trading did not exist. But, today, many companies have taken Robinhood's lead to offer commission-free trades, so competition has become more fierce.
Robinhood also allows you to buy fractional shares of an investment, meaning you could buy part of a share. And if you want extra features you can sign up for Robinhood Gold for $5 a month and get access to investment research and margin investing.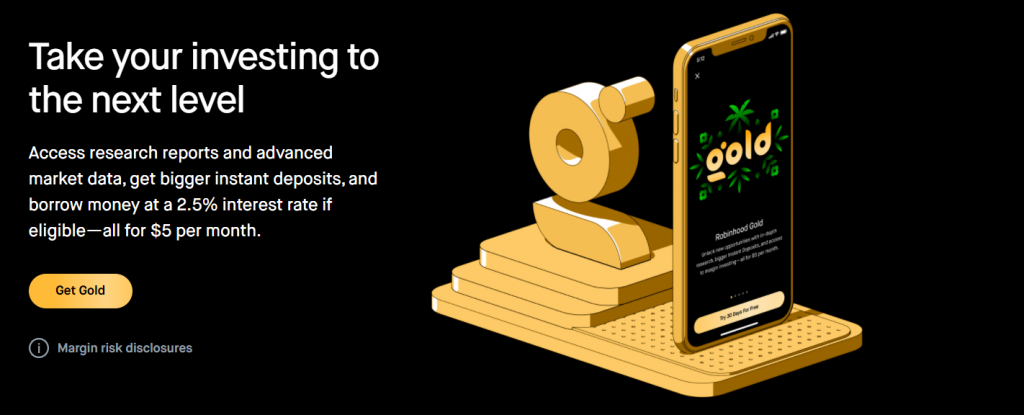 Robinhood does not offer automated portfolio options, automatic rebalancing, or automated investment advisory services like some of the other brokerage apps. Instead, you have to pick which investments you would like to buy and sell and when to make the trades yourself. This might be inconvenient for those who enjoy the recurring system, but it gives you more control over the process.
The company also offers its own Robinhood cash management account, where you can spend, invest, and earn interest on your cash.
It's FDIC insured up to $1.25 million through third-party banks and doesn't require a monthly fee or minimum balance. However, you can't make cash or check deposits and there are no rebates for out-of-network ATM fees. This takes away some of the functionality that would make it feel like a real bank card.
Top features
Top features on Robinhood include:
Fractional shares
Real-time trading
Options sharing
Robinhood Gold ($5/month) provides access to research and margin trading for a fee
Robinhood pros and cons
Pros
No minimum deposit or balance required
Ability to trade and track cryptocurrencies
Trades and transfers are free of cost
Gives you a share of free stock just for signing up
Cons
No advanced options for trading
Doesn't support mutual funds or bonds
Only an individual taxable investment account is available
Some functions are only available to exclusive users
Start trading with Robinhood
Further reading: Robinhood alternatives

Advertiser Disclosure – This advertisement contains information and materials provided by Robinhood Financial LLC and its affiliates ("Robinhood") and Moneywise, a third party not affiliated with Robinhood. All investments involve risk, and the past performance of a security or financial product does not guarantee future results or returns. Securities offered through Robinhood Financial LLC and Robinhood Securities LLC, which are members of FINRA and SIPC. Moneywise is not a member of FINRA or SIPC."
What is Acorns?

Acorns emphasizes the ease and accessibility of micro-investing apps by allowing investors to choose from one of five ETF investment portfolios. They rebalance the portfolios for you to help maintain your target asset allocation.
If you want to keep all of your finances in one app while putting minimal effort into how and when you save, Acorns is the best option. There are multiple investment features available, but they're not free.
One of the most helpful features that come with your Acorns account is its round-up feature, which works by linking a payment card to its service.
The app then rounds up your purchases to the nearest dollar amount and uses the differences to work towards an investment. Once your spare change reaches $5, it gets put into your account. You can also set up automatic recurring investments aside from the round-up feature.
Acorns invests your money based on the portfolio you choose when setting up your account-these range from Conservative to Aggressive. They also recently launched ESG investments.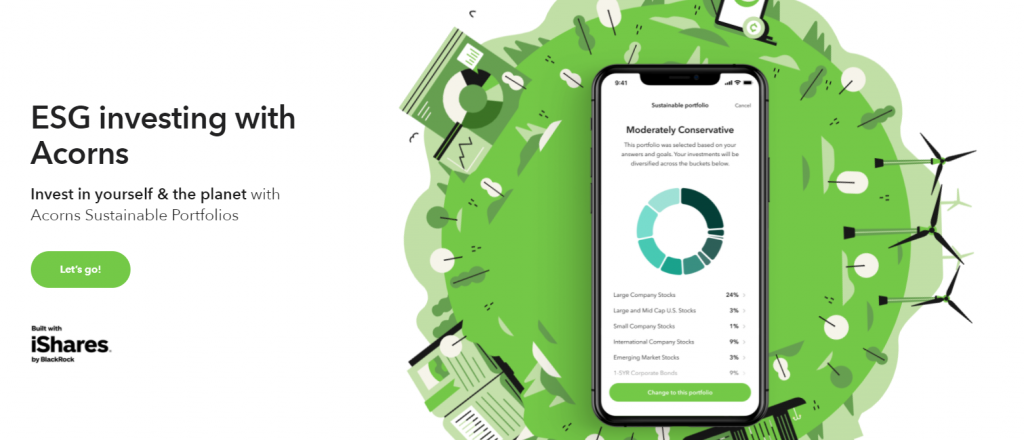 Acorns charges $3 or $5 a month, depending on the features you would like to use. The Personal Plan for $3/month includes the ability to invest using an IRA, known as Acorns Later, and gives you access to a checking account, known as Acorns Spend. The Family Plan is $5/month and adds the feature to use a custodial account to invest for your children.
Top features
Acorns has a number of features including:
Round-ups
Fractional shares
Automated recurring investments
Automatic rebalancing
Acorns pros and cons
Pros
Recurring investments are accessible for all users
Automatic rebalancing
ESG funds
Variety of functions for a bigger range of goals
No surprise fees
Protected by bank-level security
Cons
Fees can be costly if you don't make frequent purchases
Not feasible for contributing to retirement accounts or for other bigger goals like buying a house
Invest your spare change with Acorns
Which investing app is the best—Stash, Robinhood, or Acorns?
All three apps are similar when it comes down to the basics of their investment process. None require a minimum investment and all have a taxable account.
Acorns and Stash are the most alike in terms of functionality. They both have a monthly fee for the advice services and automatic round-up features they offer. Acorns could be a good starting point for users who feel like they need to get used to a more hands-off system.
Stash, meanwhile, is great for users who want more features but still want a hands-off approach. Stash offers stock rewards on the Stock-Back card, which is useful for avid credit and debit card users.
Robinhood is best for users who want to actively invest in stocks, ETFs or crypto. It's also a good option if you're looking to avoid paying any monthly fees.
Bottom line
Investment apps have evolved with the ever-changing world of technology. You no longer have to visit a stockbroker to invest in stocks. Stash, Acorns and Robinhood are some of the top investing apps available today. Depending on your individual needs, any of the three apps could be a good fit for you and your financial goals.
Disclaimer- Paid non-client endorsement. See Apple App Store and Google Play reviews.View important disclosures.Investment advisory services offered by Stash Investments LLC, an SEC registered investment adviser. This material has been distributed for informational and educational purposes only, and is not intended as investment, legal, accounting, or tax advice. Investing involves risk.¹For securities priced over $1,000, purchase of fractional shares start at $0.05.²Debit Account Services provided by Green Dot Bank, Member FDIC and Stash Visa Debit Card issued by Green Dot Bank, Member FDIC. pursuant to a license from VISA U.S.A. Inc. Investment products and services provided by Stash Investments LLC, not Green Dot Bank, and are Not FDIC Insured, Not Bank Guaranteed, and May Lose Value." because the article mentions the debit card.³You'll also bear the standard fees and expenses reflected in the pricing of the ETFs in your account, plus fees for various ancillary services charged by Stash and the custodian.⁴Other fees apply to the debit account. Please see Deposit Account Agreement for details.⁵Stock-Back® is not sponsored or endorsed by Green Dot Bank, Green Dot Corporation, Visa U.S.A, or any of their respective affiliates, and none of the foregoing has any responsibility to fulfill any stock rewards earned through this program.