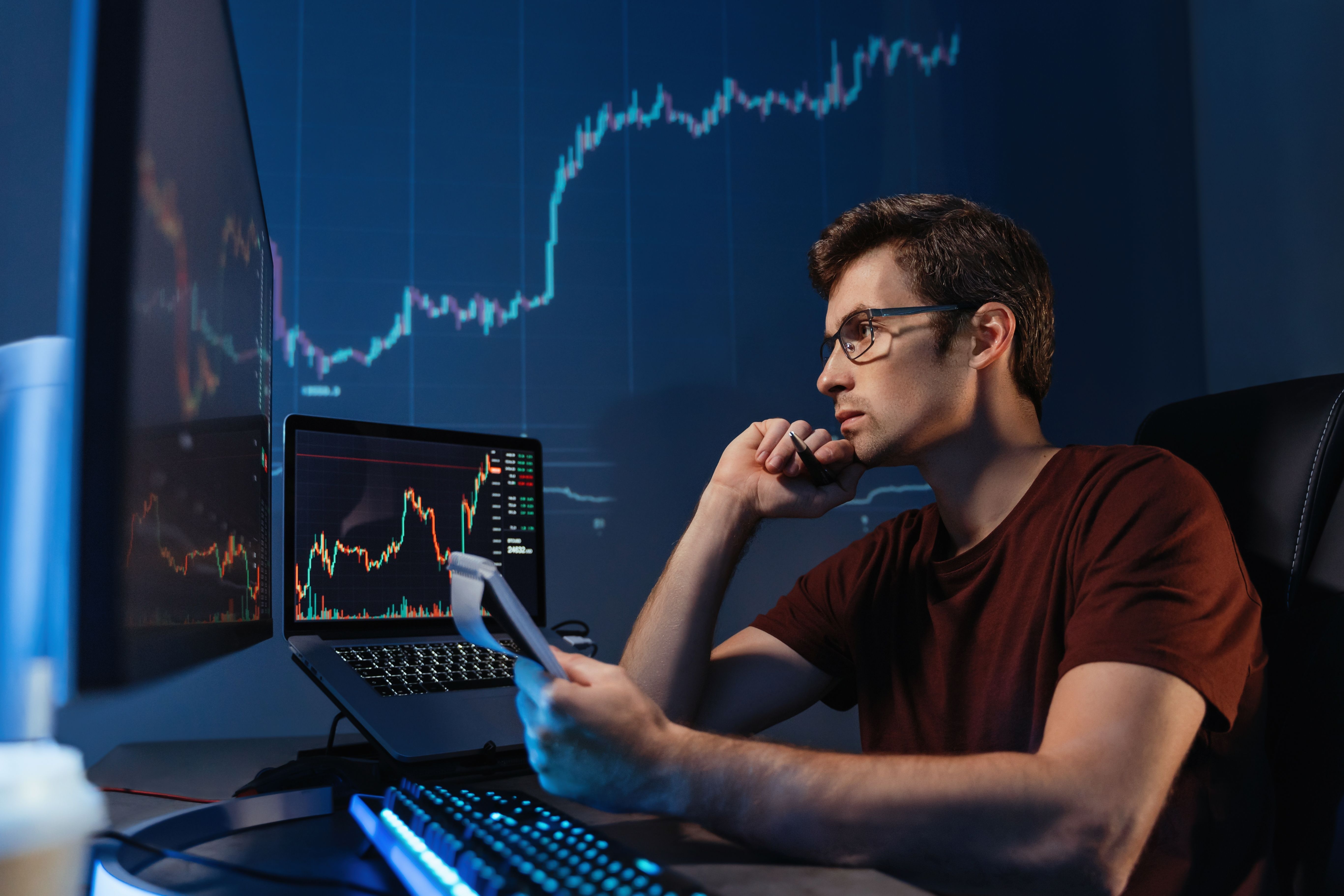 Stacked Invest review: A robo-advisor for crypto investors?
Arsenii Palivoda / Shutterstock
We adhere to strict standards of editorial integrity to help you make decisions with confidence. Please be aware that some (or all) products and services linked in this article are from our sponsors.
We adhere to strict standards of editorial integrity to help you make decisions with confidence. Please be aware that some (or all) products and services linked in this article are from our sponsors.
Stacked is a cryptocurrency platform that offers traders the ability to invest in digital assets using pre-built bots and other automated trading tools. It's not a crypto exchange, but an advising platform. Once you create an account, you're able to connect your existing crypto exchange accounts and start passively trading. Trading with crypto has never been more accessible.
The platform also has pre-built portfolios you can invest in if you need a helping hand. But is this trading style rigth for you?
Our Stacked Invest review is covering exactly how this crypto trading platform works, the pros and cons, and if it's worth it.
What is Stacked Invest?
Stacked was founded with the goal to create the most straightforward way for investors to invest long-term in crypto. As one of the first SEC Investment Advisor firms in the crypto space, they're closer to a robo-advisor than a crypto exchange (they are, in fact, not a crypto exchange).
Rather than giving you complicated charts to sift through, Stacked Invest manages your portfolio for you, using automated allocation and rebalancing tools. You can model your portfolio after ones from hedge funds, crypto investment firms and popular crypto indexes, and apply trading bots that have been specially developed by crypto investment firms to help you invest on autopilot.
Because they're not a crypto exchange themselves, they are also non-custodial—meaning they don't hold your funds. Instead, all your funds are kept with the individual exchanges.
The basic version of Stacked Invest is free and they also offer a Premium account for $8.25 a month which allows for added features.
Read more: How much crypto should you have in your investment portfolio?
How does Stacked Invest work?
Stacked's primary goal as a company was to make crypto trading easier for cryptocurrency investors with varying goals and levels of experience. Their pre-built indices, pre-built bots and automatic rebalancing tools help to maximize profit while keeping the learning curve down.
Once you have created a free account, you will need to verify the connection to your trade account to access all of the Stacked features. On the right side, you want to click on the option that says "Exchange Setup." From there, you select the exchange you would like to connect to, enter the API key that you were given, the API secret, and then you can see the changes.
Once you create an account and have established the connection, you can choose a stack, edit your allocations, and apply a trading bot.
Read more: How to invest in cryptocurrency
Stacked unique features
Stacked supports over 1,300 cryptocurrencies and provides access to crypto indices, trading bots, and automated portfolio management.
Portfolio management
The all-in-one automated portfolio management allows users to connect existing accounts to manage their portfolio without any hassle. This is done by using a simple interface screen that easily connects to existing exchange accounts, wallets, and crypto assets.
Stacked also helps traders manage their portfolios with trading bots, which each have verified performance histories. Each bot follows a different strategy and offers features that help individuals trade the way they want.
There's currently a waitlist for the new Stacked Managed Portfolio program as well. This is going to be a brand new app and automated asset manager, helping to make crypto investing even more hands-off and passive.
Stacks
Stacks are pre-built funds designed by the company's investment analysts. These funds are built to follow themes, making it easier for investors to get diverse exposure. The Stacked team created this design to make investing and trading operations easier for everyone.
Some of the most popular stacks you can invest with include:
The Protos Trend: This index is based on a trend-following strategy and updates weekly.
Robinhood Six: Tracks the total return of the six most popular cryptos people are trading on Robinhood.
Large Cap 10: Tracks the total return of the 10 largest cryptocurrencies by market cap.

There's plenty of other stacks too, like ones based on NFTs, the Grayscale Trusts, and metaverse tokens. But as you can see from the screenshot above, the stacks have pretty poor returns since their inception. Granted, we're going through crypto winter so pretty much any fund has taken it on the chin, but it goes to show that crypto doesn't just move upwards.
The main appeal of stacks is that they provide instant access to portfolios designed after some of the most popular crypto indexes, edge funds, and other investor portfolios on the market. You can keep track of market capitalization similarly to how other popular trading platforms do.
Pre-built trading bots
With Stacked, you have the option to subscribe to a crypto trading bot that is built by some of the top traders. Simply connect to your account and then you can start auto-trading using their strategies.
All bots are created to have a detailed performance history, with the option to backtest to see what your portfolio performance would look like with different allocations.
All trading bots are divided into three main categories:
Scalp, which works more aggressively in an active market
Swing, which takes a more conservative approach
Trend, which analyzes the market's movement and follows trends to come up with the best decision.
Trading bots are filtered by their performance period, mainly subscription cost and supported exchanges.
Read: Best investment strategies (and how to choose the right one for you)
Pre-built crypto indices
This feature is exactly what it sounds like- it's a pre-built crypto portfolio of index coins. Pre-built indices work similarly to ETFs for stocks because investors can passively invest in pre-built indices by allocating funds on a schedule.
Using the pre-built indices is best suited for individuals new to how cryptocurrency portfolios work. This allows users to allocate a portfolio percentage to a pre-made coin index. You can also give any percentage of your portfolio to the indices.
All of the indices support a different set of cryptocurrencies. Also, you can check the performance of each pair according to the coin, which is available for viewing within the portfolio.
Automatic rebalancing
Stacked uses automatic rebalancing software that considers the historical data of each bot you are using to help you find the most profitable strategy for any portfolio. However, this only works if you automatically allow the rebalancing tools to work on the portfolio. The bot follows the strategy that it was set up with.
The rebalancing system works by readjusting the proportions of each asset in the portfolio. This helps improve your asset diversification when you periodically buy and sell your investments and hedges from high-risk cryptocurrency markets.
Stacked Invest pricing
Stacked Invest has two tiers of membership. First, they have a free basic account, Stacked Lite, which offers free portfolio management, standard stacks and basic staking and lending. Stacked Premium, meanwhile costs $8.25 per month and offers auto compounding for lending and stacking, auto-rebalancing, and premium stacks.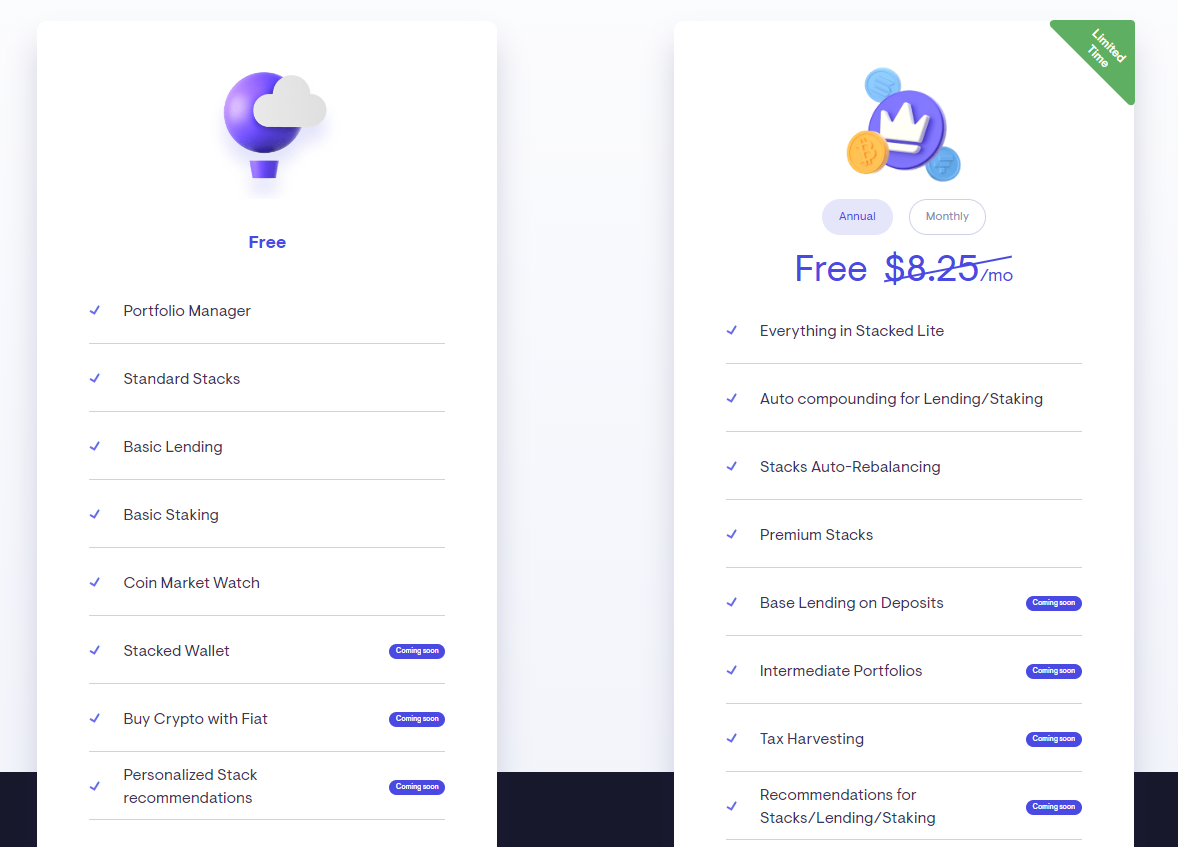 For both tiers, the price to use a trading bot strategy varies and is determined by the finance firms and individual traders who designed them. Stacked Premium is currently free for a limited time, and it's uncertain when the price will return to $8.25 per month.
A new plan called Stacked Select is also in the works and will be available to users with $250,000+ in assets. Perks will include access to select Stacks, more portfolio recommendations, and crypto stocks.
Supported exchanges
As of now, Stacked supports the following exchanges:
They are also rapidly expanding their exchange partners, so users are likely to have more options in the future.
But it's worth noting that currently, users aren't able to trade their assets between exchanges. Any trades you make will be within each individual exchange.
Customer support
Stacked Invest provides a live chat function that runs through Intercom and is available from Monday to Friday. This connects you to their support team who will answer your questions and accept feedback.
If you have a question that's not already provided in the FAQ section, you can type it into the chat and receive an automated response. The FAQ covers questions about the website, cryptocurrency, and trading in general. They also have helpful videos to help you get set up.
Security
Their security setup keeps your crypto in exchanges and never on the actual Stacked Invest platform. So your funds would still be safe if there was ever a security breach on the platform itself.
They also provide the standard user security measures of 256-bit encryption of your data and all API keys, and two-factor authentication (2FA). Their security keys that communicate to execute orders with exchanges are the same ones that provide access to trading options so they can never withdraw any assets for you.
Ease of use
Because this platform was designed for passive investors and new crypto traders, it shines in its user friendliness. You can start trading as soon as you sign up and connect your accounts within minutes. Applying new strategies to your existing crypto portfolios is as easy as online shopping. Just click on the one that appeals to you, take a look at its history and projections, and apply it as you see fit.
Is Stacked safe to use?
Stacked Invest provides the software as a service for users while funds stay in your exchange account. They are non-custodial, meaning that Stacked has restricted access and can't withdraw or access your funds.
They also use the encrypted API to send instructions to your exchange account to execute trades. So you can manage all of your crypto trading and exchanges yourself without interference from the platform.
Pros
Free to sign up — The crypto portfolio, index, and rebalancing tools are free to use
User-friendly — Clean, minimalist interface that shows you everything you need
Variety of strategies — There are different types of bot for every trading strategy
Historical data — Detailed performance history with verified backtest results
Cons
Early days — Limited number of exchanges supported
Inflexible bots — Bot strategies are designed to be followed precisely. If you want to manually change your risk tolerance or time frame, you might not see success.
High strategy fees — Bot authors charge anywhere from $50 to $300+, depending on the strategy.
Limited customer service — Live support is only available Monday through Friday
Best alternatives
Stacked Invest is tackling the problem of making crypto investing more simple and passive. And even though its funds are performing poorly like the rest of the crypto market, it has several unique features that can help you manage your portfolio.
That said, there are other companies and funds in this space trying to offer passive investing solutions. For example, companies like Titan and Domain Money both have their own crypto-focused funds you can invest in. This is similar to popular robo-advisors, and companies like Titan also take on a hedge-fund style approach to investing.
Alternatives like Coinrule also have their own automatic crypto trading bots that you can use to make trades. This is just one of the more popular options, but there's plenty of other crypto bots and algorithmic trading platforms out there.
Ultimately, you have to decide how crypto fits into your overall asset allocation and how active or passively you want to invest. Platforms like Stacked Invest help simplify the process of investing, but you still need an overarching strategy and to feel comfortable with your investments.
Final thoughts on Stacked
Stacked provides features that a traditional cryptocurrency trading platform does not. It could be ideal for traders who either lack the experience or the time for active trading or who simply want a hands-off approach to long-term crypto investing.
Unlike other crypto trading platforms, Stacked Invest is registered by the SEC as a crypto-robo advisor. It allows for easy and reliable managing and automatic rebalancing of your crypto portfolio. Plus, their trading bots and pre-built indices let you trade like a pro without the technical knowhow. Some of the most significant benefits are using the pre-built indices and the trading bots to diversify your portfolio and passively invest.
Anyone can sign up and instantly invest using a pre-made portfolio for free. And with more tools, features and crypto exchanges still to come onto their platform, they will have even more to offer in the future.