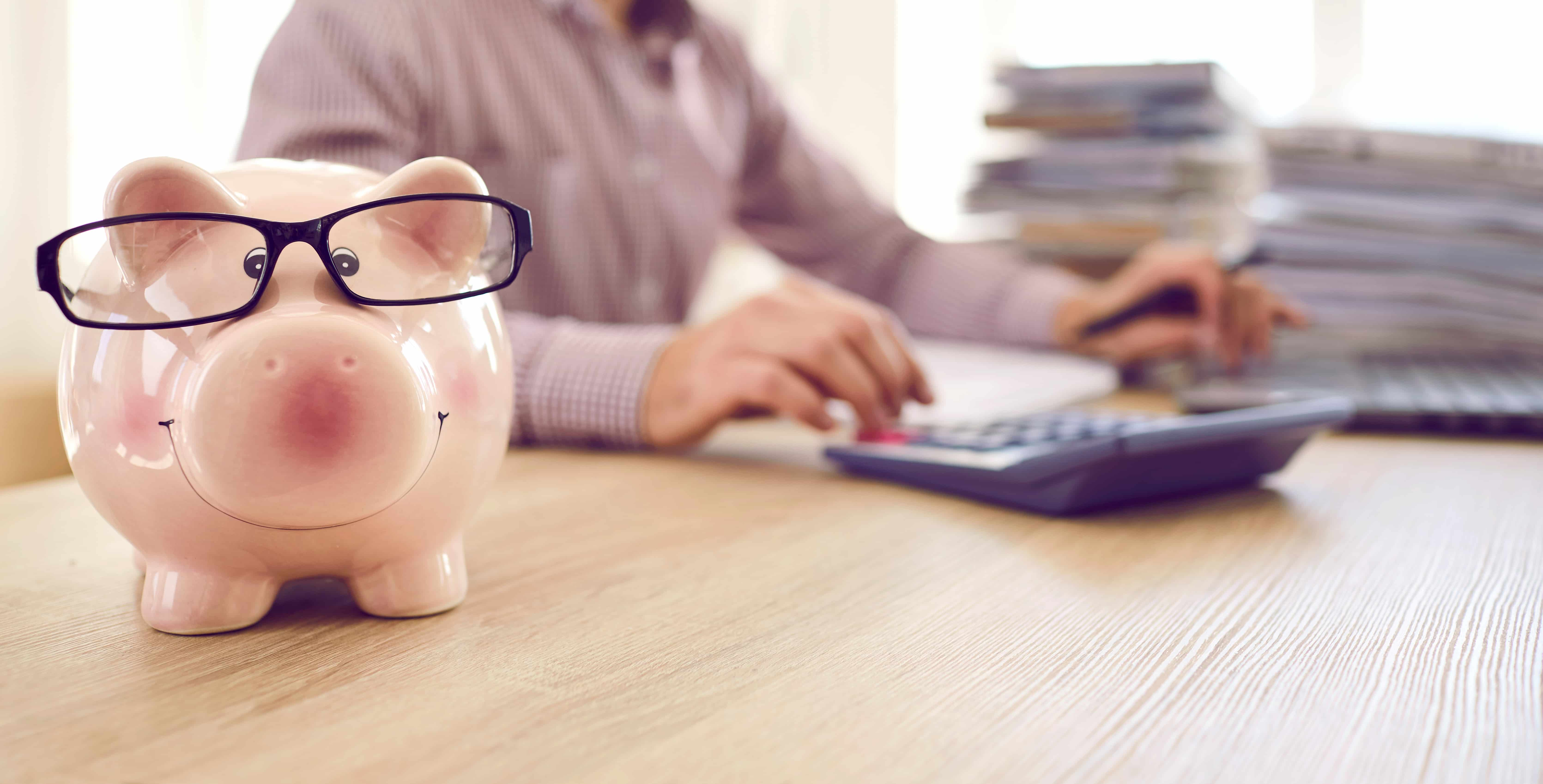 SmartyPig review: simple savings and financial goals
Studio Romantic / Shutterstock
🗓️
Updated: February 21, 2023
We adhere to strict standards of editorial integrity to help you make decisions with confidence. Please be aware that some (or all) products and services linked in this article are from our sponsors.
We adhere to strict standards of editorial integrity to help you make decisions with confidence. Please be aware that some (or all) products and services linked in this article are from our sponsors.
When saving for a financial goal, using the right tools, such as a high-yield savings account (HYSA), can make all the difference. Not only do high-yield savings accounts give you more interest on your money, but you can also find accounts with features that make it easy to set and reach goals.
One of the high-yield savings accounts designed to help you reach your financial goals is SmartyPig. Known as the "online piggy bank," this high-yield savings account by Sallie Mae offers several perks, including a high APY, savings goals tools, no fees, and more.
SmartyPig pros and cons
Pros
No minimum deposit or balance requirements
No upfront or ongoing fees
High annual percentage yield (APY)
Ability to set and track financial goals
Cons
No debit card or ATM access
Online-only
No checking account option
No cash, check, wire, or money order deposits
What is SmartyPig?
SmartyPig is an online bank that helps customers save money for their financial goals — whether they are saving for a big purchase, a vacation or even the down payment on a home.
Michael Ferrari and Jon Gaskill founded the company in 2008 in West Des Moines, Iowa. The idea for the company arose when Ferrari was saving for college for his son. They originally conceived the platform as a high-tech way to encourage people to save for specific goals.
By the end of its second year, SmartyPig had $212 million in deposits. Since then, Sallie Mae has purchased the company and turned the platform into what it is today.
What does SmartyPig offer?
SmartyPig is designed to help its users save for their financial goals. It does that in several ways, which we'll discuss in the sections below.
Online piggy bank
SmartyPig's core feature is its online piggy bank, an HYSA. The account allows you to set up automatic monthly or biweekly deposits from your bank account. You can also make deposits or withdrawals at any time.
Within your SmartyPig savings account, you can set deadlines for specific savings goals. For example, you might have a Christmas savings goal with a deadline of December, a vacation savings goal with a deadline of six months, and a house down payment savings goal with a deadline of two years from now. Once you've set up your goals, you can easily track your progress as you set aside money for those goals.
One of the key features of SmartyPig that sets it apart from many other HYSA is the ability to divide up your savings toward different financial goals. You can see your goals and the amount of money you've allocated toward each.
Not only does a SmartyPig account help you save, but it also enables you to make money while doing so. The HYSA pays an annual percentage yield (APY) considerably higher than most traditional savings accounts. As of September 2022, SmartyPig accounts offer an APY of 1.7-1.8%, depending on the size of your deposit.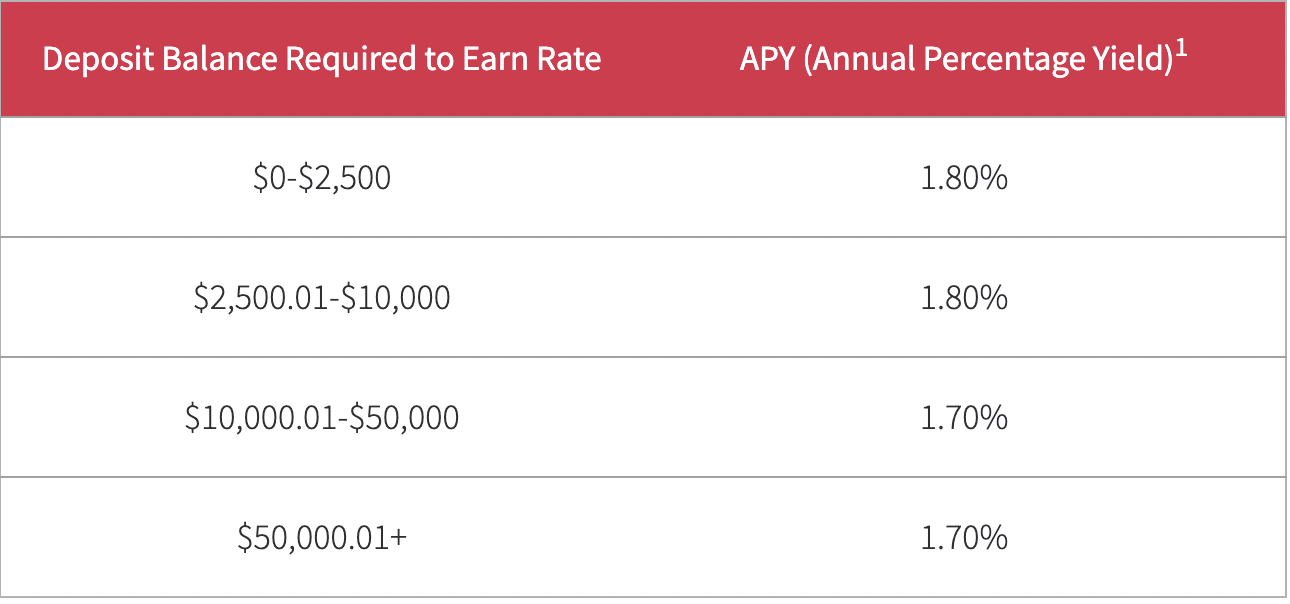 Mobile app
Another feature SmartyPig offers is a mobile app. This app makes it easy to manage your financial goals when you're on the go. Using the app, you can:
View and edit your financial goals
View your transaction history
Transfer money to or from the account
Set up new financial goals
Set up automatic transfers to your account
The SmartyPig app has more than 500 reviews on the Apple App Store, with an average review of 4.6 out of 5 stars. In the Google Play Store, the app has 54 reviews with an average rating of 2.8 out of five stars.
Calculators
SmartyPig's website has several calculators to help you set and reach your financial goals. Here are examples of some of the calculators available on the website:
Emergency fund calculator: Using this calculator, you can plan how much you should have in your emergency fund.
Vacation calculator: This calculator allows you to estimate how much your vacation will cost and how much you'll need to save each month to reach your goal.
Wedding calculator: Using this calculator, you can estimate how much your wedding will cost and how much you'll need to save each month before your wedding.
Kids' corner
SmartyPig was designed by a parent who wanted to save money for his son. Because of that, it seems fitting that the company now offers a Kids' Corner, which provides financial resources to kids. Here are some of the resources included in the Kids' Corner:
DIY piggy bank: This printable tool is designed to help kids build the same savings habits SmartyPig hopes to build in its adult users.
Coloring sheets: SmartyPig has several printable money-themed coloring sheets. These are helpful tools for parents to introduce conversations about saving.
Smarty cash: Parents can use this tool to help their kids get into the habit of saving by turning it into a game.
Word search: This printable word search is a fun activity that includes words related to money and saving.
Interactive jigsaw puzzle: This online activity allows parents to solve a money-themed puzzle with their kids.
Parent tips: Parents can download the guide "How to Teach Kids Great Money Habits" as a tool to help teach kids about money.
Read more: Best savings accounts for kids
SmartyPig fees and pricing
Sallie Mae doesn't charge any fees for its SmartyPig accounts: You won't pay any fees to open the account or any monthly maintenance fees, no matter how much (or how little) you have in your account. Unlike some other HYSAs, there are no account minimums, meaning you won't have to deposit a certain amount when you open the account or maintain a certain account balance.
Is SmartyPig safe?
Like other legit financial institutions, Sallie Mae keeps its customers' money and personal information safe. First, the money in your account is FDIC-insured, meaning if the company goes bankrupt, the Federal Deposit Insurance Corporation will compensate you for your losses up to $250,000. And considering SmartyPig has a maximum account balance of $250,000, you can trust that all of your money is protected.
Sallie Mae keeps the money in your SmartyPig account safe with security measures. First, the company uses secure login to ensure that no one but you can access your account. Additionally, Sallie Mae uses bank-level data encryption to keep your account safe.
How do I contact SmartyPig?
There are several ways to contact SmartyPig customer support. First, you can call the company toll-free at 877-751-6884. Regular business hours are 9 a.m. to 6 p.m. ET, Monday through Friday.
You can also send SmartyPig a secure message using the message center when you log into your account. According to the company's website, you can expect to hear back from someone on the support team within one business day.
Finally, if you want to reach SmartyPig by mail, here's the address: SmartyPig LLC, 175 S. West Temple, Ste 600, Salt Lake City, UT 84101.
Best alternatives
If you've ever researched HYSAs before, you probably know there are many to choose from. While selecting the right account might be overwhelming, the multitude of options means that if SmartyPig doesn't meet your needs, you can easily find an account that does. Below we'll talk about two of the best SmartyPig alternatives.
CIT Bank
CIT Bank — now a division of First Citizens Bank — consistently has some of the best high-yield savings rates on the market. CIT Bank's Savings Connect account offers 4.60% APY, one of the highest you'll find. Unlike SmartyPig, the account does require a minimum opening deposit of $100. But once your account is open, you don't have to worry about monthly fees or balance minimums. See details here.
CIT Bank offers customers many of the conveniences that SmartyPig is lacking. First, it has an eChecking account, making accessing your money easier. Unlike SmartyPig, you'll get a CIT Bank debit card and more deposit and transfer options.
CIT Bank. Member FDIC.
Ally Bank
Ally Bank is another excellent alternative to SmartyPig. It offers one of the market's most popular high-yield savings accounts. And as of September 2022, Ally provides a rate of 2% APY. Like CIT Bank, Ally offers many conveniences that SmartyPig doesn't, including a checking account and more deposit and transfer options.
One feature that makes Ally Bank such an appealing alternative to SmartyPig is its buckets feature. When you open your Ally savings account, you can set up separate buckets within the budget to allocate your money to specific categories. You can also set up savings goals for each bucket and track your progress. And given Ally's more robust technological features, it essentially offers the same service as SmartyPig, but better.
Find the HYSA that works for you: Best high-yield savings accounts
The bottom line
The SmartyPig HYSA by Sallie Mae has several attractive features, including a high APY and the ability to set savings goals.
However, it may not be suitable for everyone. First, each of the perks SmartyPig offers can be found at other financial institutions. As we mentioned above, SmartyPig's APY isn't as high as many competitors, and its savings features don't quite match up with other banks that offer the same service. It's also more difficult to deposit and withdraw money since the company doesn't offer checking accounts and limits how you can make deposits.
That being said, SmartyPig could still be an excellent option for some people. Depending on your financial habits, having a savings account that's entirely separate from your other banking products might be an advantage. It makes it more challenging to spend the money, meaning you're more likely to reach your financial goals. If you feel like that kind of separation could help you on your savings journey, SmartyPig might be worth considering.
Further reading: