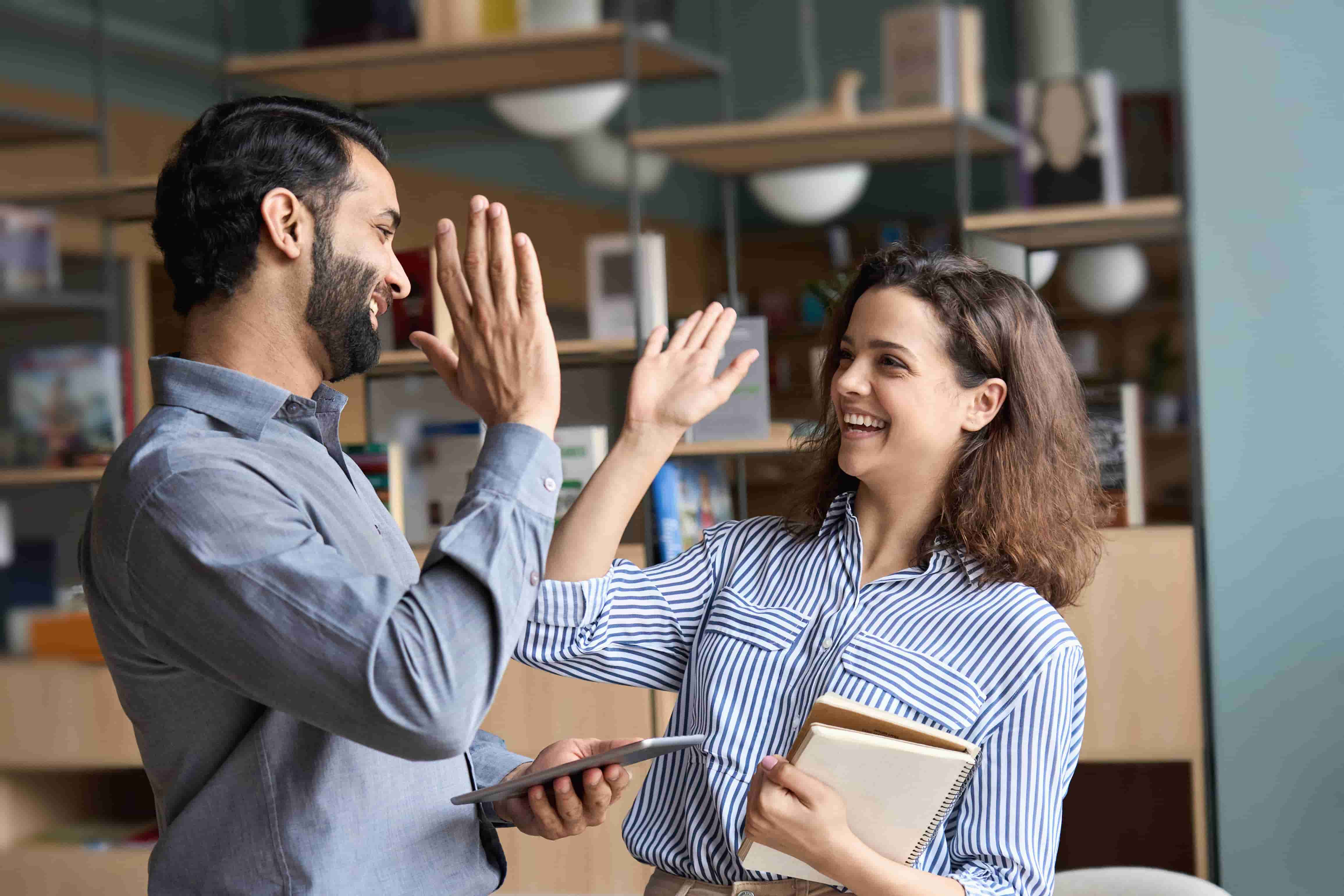 Roofstock review: Invest in single-family rental properties
Ground Picture / Shutterstock
🗓️
Updated: February 23, 2023
We adhere to strict standards of editorial integrity to help you make decisions with confidence. Please be aware that some (or all) products and services linked in this article are from our sponsors.
We adhere to strict standards of editorial integrity to help you make decisions with confidence. Please be aware that some (or all) products and services linked in this article are from our sponsors.
Real estate can be a lucrative investment but it often comes with massive fees and requires a lot of capital to get started. If you want to diversify your portfolio with single-family rental properties, you need to find a way to invest without massive capital risk. That's where Roofstock comes in.
Single-family rental homes can be an appealing investment. But they come with a lot of fees, from mortgages to maintenance, not to mention the work of being a landlord.
The cost of buying multiple properties outright prices many out of the market – for the average investor, real estate is an attractive diversification option that they can't afford.
Roofstock is trying to change that. This online real estate investment platform gives the average investor access to single-family rental properties without eye-watering commission and transaction fees. It aims to minimize the time and effort associated with tracking down high-quality investment properties.
So is Roofstock safe? Should you invest in Roofstock properties, and what is Roofstock One? We break down the company's offering and answer all your questions in this comprehensive Roofstock review.
Roofstock features
| Feature | Details |
| --- | --- |
| Minimum investment | $5,000 |
| Account fees | 0.50% or $500 |
| Time commitment | 0 Months |
| Accreditation required | ❌ |
| Private REIT | ❌ |
| Offering types | Equity, direct ownership |
| Property types | Single family, foreign investors |
| Regions served | More than 70 markets |
| Secondary market | ✅ |
| Self-directed IRA | ✅ |
| 1031 exchange | ✅ |
| Pre-vetted | ✅ |
| Pre-funded | ❌ |
What is Roofstock?
Roofstock started in 2015. The platform's goal is to transform real estate investing into a more accessible, affordable opportunity for ordinary investors.
The founders saw the process of buying and selling real estate as inefficient and used their combined expertise in tech solutions to develop Roofstock. The platform combines AI with input from its experienced team to select the best opportunities for investors seeking rental properties.
Today, the platform has conducted over $4 billion worth of transactions across 70 markets in the U.S.
Get started with Roofstock
How does Roofstock work?
Getting started with Roofstock is easy. There are no sign-up fees. You simply enter your information on the sign-up page, including an email address and phone number – no bank details required.
Once you've signed up, you can start browsing the list of properties available or bring your rental property to the market. There's also the option to work with Roofstock as a broker or agent. You can also list an existing property on the platform.
And you have the option to have your property managed through Roofstock. The platform connects you with vetted property managers. This is a key part of the platform's goal to make property management easy for a wider range of real estate investors – you don't have to be a hands-on landlord to keep a hold of your investments.
Roofstock features
Here are some of the features that Roofstock claims set it apart from traditional estate agents and real estate crowdfunding platforms alike.
Invest in single-family rental properties
Roofstock focuses on helping users purchase single-family rental properties and it does so by making its fees much cheaper than a standard real estate agent. You can browse a variety of properties on the Roofstock marketplace to find potential investment opportunities.

Transaction costs are the biggest barrier to entry for many investors when it comes to real estate investing. Rental properties especially can be intimidating, because the down payment is so high.
While Roofstock can't (and shouldn't) reduce the down payment too much, its transaction fees for single-family rentals are low compared to conventional real estate agents.
Pre-vetted properties
Roofstock vets all its properties thoroughly before listing them on its online marketplace. This is one of the main selling points of the platform since it helps you with due diligence and to find properties that match your investing goals and budget.
Here's what Roofstock provides for its listings:
A walk-through from an independent property inspector and a full inspection report.
An accurate estimate of short-term and long-term repair costs.
A title report produced by a professional title company to ensure listed properties are fit to be sold.
A valuation of the property and the local market. This lets Roofstock compare properties to more viable or profitable alternatives nearby.
A full review of the lease terms including monthly rent, annual gross rent, etc.
A full review of the tenant selection process.
A floor plan, a virtual property tour, and interior and exterior photos.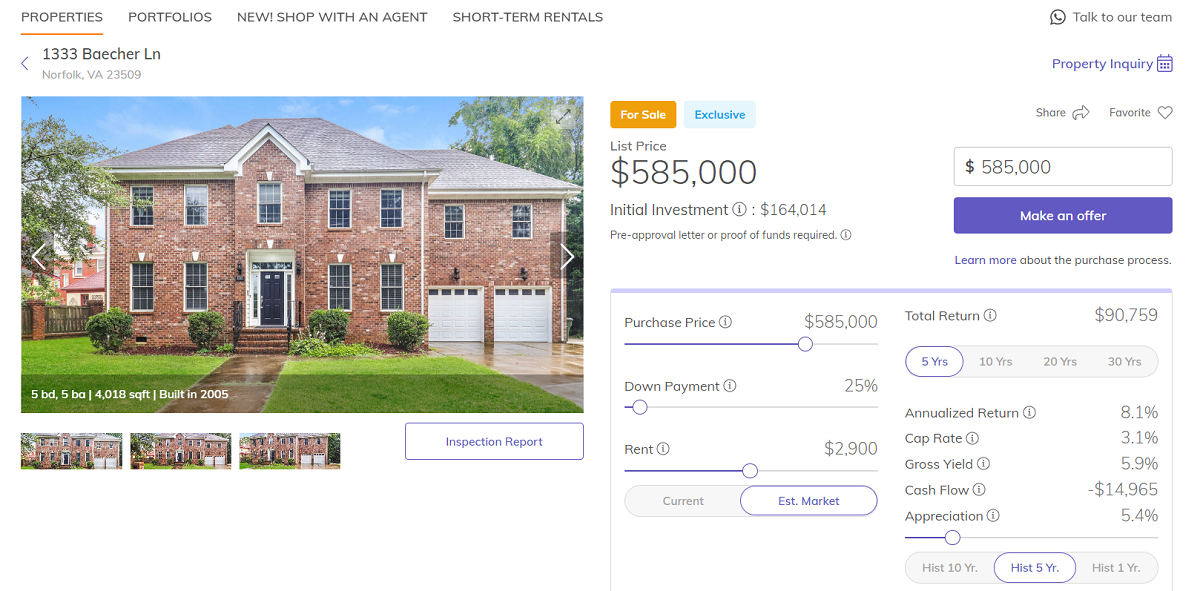 There's also plenty of information regarding the financials of properties, like how net cash flow should play out over the next five to ten years. Overall, Roofstock provides lots of documentation and useful information, and you can schedule a property inquiry call with its team as well if you have questions.
Plus, with its new "shop with an agent" option, you can work with a Roofstock certified agent to find real estate opportunities that match your goals, risk tolerance, and capital.
Rental property management
Roofstock offers users the opportunity to have their property taken care of by experienced property managers. The platform vets its managers as rigorously as its rental properties. If you're looking for a passive real estate investment, this feature is for you.
Property management is an option rather than a mandatory feature. You can manage your Roofstock properties in person, ensure the property meets your standards, and get to know your tenants.
Low minimum investment
Roofstock has a $5,000 minimum investment amount, although there's no fees for actually opening your account. This is a higher fee than certain real estate crowdfunding platforms charge. However, it's very low for the world of single family home investments.
Roofstock academy
Educating customers is a hallmark of a good business, and the Roofstock team hasn't disappointed here. Its Roofstock Academy program helps teach investors the skills they need to invest in real estate, regardless of if they invest through Roofstock or on their own.
There's no free option for study at the Academy, although you can check out free articles via the Roofstock Knowledge Center.
The self-study program costs $399 per year, which will get you access to 50+ hours of on-demand lectures. Upgrading to the Workshop program costs $999 per year and adds group coaching and one-on-one coaching sessions if you want to work with a real estate specialist.
Self-directed IRA
Roofstock works with the New Direction Trust Company to integrate your real estate investing choices into a self-directed IRA (individual retirement account). This allows you to defer taxes on your rental properties, as they become part of your retirement savings – your IRA will be listed as the holder on your title report.
1031 exchange
If you're interested in building a portfolio through the Roofstock marketplace, the platform allows you to make timely 1031 exchanges. This means you can avoid capital gains tax by upscaling your portfolio.
Roofstock One
Roofstock One is closer to a conventional managed real estate portfolio than the platform's main offering. It's available to accredited investors and comes with a minimum investment of $5,000.
Rather than direct ownership, you buy shares of Tracking and Common Stock. Each of these shares is valued at 1/10th of the property's equity. This gives investors more freedom to find properties that suit their long-term investment goals.
Roofstock One also provides more portfolio diversification than just investing in one single rental unit. If you want to diversify risk or invest in several markets, this new feature is excellent news.
It requires a time commitment of at least five years. You'll need to be an accredited investor to participate. That means you'll need to provide evidence of gross income of $200,000 per year or over for the past two years, or $300,000 combined income with a spouse for the same period. You'll also need to show evidence that this income level is set to continue.
Sell your home
If you're looking to sell a rental property, you can also list it through Roofstock. According to its website, most listings receive an offer within 18 days, and you only pay a 3% final sale fee. And the main advantage is that tenants can stay in place, so it's very enticing for other landlors who want to buy income-generating properties right from the start.
Roofstock fees and pricing
Roofstock charges a 0.5% fee or $500 fee, whichever is higher, when you purchase a property on its platform. There aren't any monthly account fees or opening deposit requirement, although there's a $5,000 minimum investment requirement.
For sellers, Roofstock charges 3% or $2,500, whichever is greater, following the sale of your property. This is very low compared to the fees that sellers pay through most traditional real estate agents (typically around 6%), and the selling process is also far more streamlined.
Roofstock's pricing is really what makes it a game-changer for investors looking to access the single-family rental property market.
Just note there are also closing costs such as preliminary title commitments for buyers and sellers – the platform will provide a good-faith estimate of these before you make your investment.
Is Roofstock only for accredited investors?
You don't have to be an accredited investor to buy or sell properties using Roofstock. There's some confusion with Roofstock One, a premium service that the platform has offered since 2019.
The platform aims to open up the real estate market to ordinary investors. Making its service exclusive to accredited investors would defeat the point! Of course, you need to provide evidence of a strong credit score if you want to finance your purchase through the company's lenders.
Roofstock customer service
You can find Roofstock's phone number and email address at the bottom of the page. They have two offices, one in Oakland, California, and the other in Dallas, Texas. You can also send them a direct message through their contact page.
Who should use Roofstock?
Roofstock is aimed at ordinary investors looking to bypass the extortionate transaction fees you'll typically face when investing in single-family rental homes. Its fees are extremely low, and it provides good-faith estimates of any additional costs such as closing fees.
The properties are vetted so you know what you are getting. This is also true of its property management services; you can create a diverse portfolio in markets across the country and have confidence that they'll be taken care of by well-reviewed professionals.
And if you're an accredited investor and want to have long-term passive exposure to single-family real estate, then Rooftstock One is a feature worth considering.
Who is Roofstock not good for?
You don't have to be a real estate expert or business insider to know that any direct ownership purchase comes with a large down payment. There's nothing that Roofstock can do about this – it partners with some top financial institutions as lenders, but the financing terms will always require you to provide 20-30% as a down payment.
For this reason, Roofstock isn't viable for investing in real estate with little money. However, you can still sign up and track properties. You can build investment goals and start saving while tracking properties you're interested in.
Best Roofstock alternatives
If you want to invest in income-generating family homes, Roofstock is one of our favorite companies. The amount of due diligence it conducts and the resources you have to find the right properties are selling points. Plus, you don't have to be an accredited investor.
However, certain Roofstock alternatives might be superior depending on your capital and investing goals.
We like Fundrise as an alternative because of the low minimum investment requirement and the low annual fees. It also pays quarterly dividends, and there's even a secondary marketplace where you can sell shares to help improve liquidity. As for Streitwise, it's another popular option if you're interested in dividend income.
You can read our article on the best real estate investing sites for non-accredited investors for a complete list of your options.
This is a testimonial in partnership with Fundrise. We earn a commission from partner links on Moneywise. All opinions are our own.
Roofstock pros and cons
Pros
Thorough vetting process for all properties
Available in 27 states
Low fees for buyers and sellers
No sign-up fee
Optional property management service
Passive investing option through Roofstock One
Cons
Real estate investments are somewhat illiquid
Requires a large down payment
Roofstock One is only open to accredited investors
Roofstock: the verdict
For buyers and sellers looking to limit their real estate transaction fees, Roofstock is worth considering. It uses technology to simplify the buying process and pre-vetts properties, making it easy for investors to find quality real estate to invest in.
It's a very well-designed platform with an attractive fee structure and great quality control processes. If you're looking to build a real estate portfolio in single-family rentals, Roofstock should be on the top of your list.
Check out Roofstock