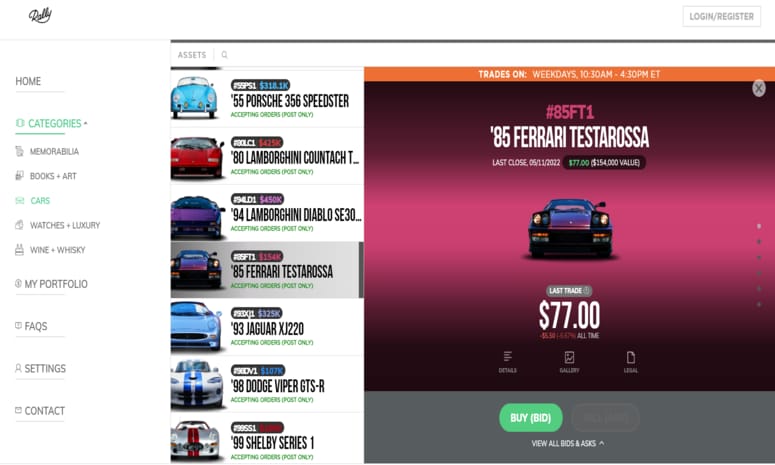 Rally Rd. review: The best place to buy 0.3% of a Ferrari?
Moneywise / Moneywise.com
🗓️
Updated: August 02, 2023
We adhere to strict standards of editorial integrity to help you make decisions with confidence. Please be aware that some (or all) products and services linked in this article are from our sponsors.
We adhere to strict standards of editorial integrity to help you make decisions with confidence. Please be aware that some (or all) products and services linked in this article are from our sponsors.
If you've ever wanted to add a rare, valuable asset to your investment portfolio — whether it's an Andy Warhol, limited edition Jordans, or a classic Porsche — you've probably run into a problem: This stuff is expensive.
Not only do you have to pay to acquire the asset, you also have to pay overhead (cleaning, storage, appraisals) to preserve its value over time. Even then, you may not find a buyer on the other side ready to vindicate your risky endeavor.
Thankfully, the rise of fractional ownership addresses all three problems. By purchasing shares of a collectible, you can spend less, limit your exposure, and let someone else preserve the asset.
Rally Rd., aka Rally for short, is one of several fractional ownership platforms that's cropped up in recent years, standing out for its variety, slick UI, and superb customer service.
So how does Rally work? What are the fees? And how else does Rally address the inherent risk of speculative, collectibles investing? Let's investigate Rally!
Rally Rd. pros & cons
Pros
No fees
Excellent customer service
Nice variety of collectibles
Clean design
Available on desktop and mobile
Cons
Assets can be sold without a vote
Android app instability
Limited analytics
Collectibles are speculative, high-risk, and low liquidity
What is Rally Rd. (aka Rally)?
Rally is a trading platform that lets you buy and sell equity shares in collectibles. So instead of swapping shares of AAPL or VOO, you're swapping shares of rare baseball cards, old Ferraris, or even a Domino's Special Edition Rolex.
Just like equity shares of a company, you can generate profit from your Rally investments by flipping at a higher price than you paid or waiting for a buyout. Heck, you can even earn dividends (more on that in a bit).
Rally is trying to create the ultimate platform for what it calls "passion-led" investing. You can check out the hype video below to gain a better view of how Rally views itself.
What does Rally offer?
Rally offers five collectible asset classes:
Memorabilia (including NFTs)
Comics and Literature
Cars
Watches and Luxury
Wine and Whisky
Here's a breakdown.
Memorabilia
Rally's Memorabilia section can be best described as "stuff you'd be impressed to find in a very wealthy friend's house". For example, you can invest in a pair of Air Jordan shoes, worn and signed by Michael Jordan himself in 1996 ($5.60 per share, $61,560 market cap).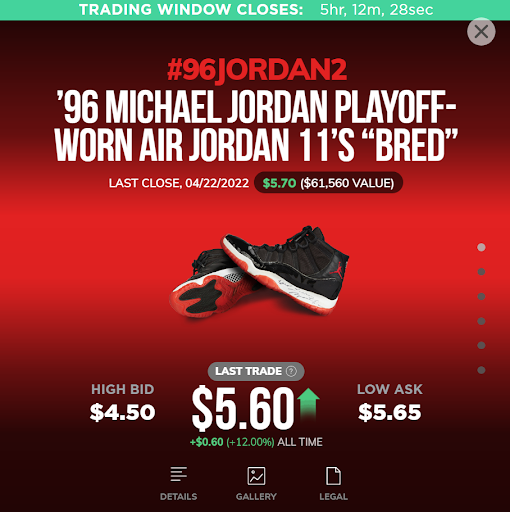 Comics and literature
Comics and literature is a bit of an undersell, since this section contains extremely rare art, classic American novels, and documents ranging back to the founding of the country. This includes an original copy of the United States Declaration of Independence ($37.50 per share, $3,000,000 market cap).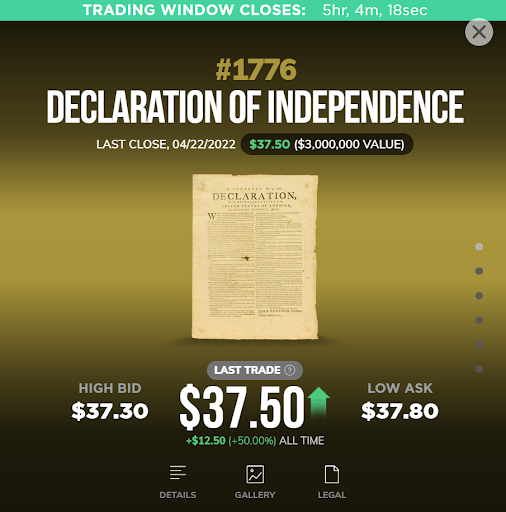 Cars
Rally enables you to invest in ultra rare and/or vintage sports cars like Lamborghinis, Vipers, and classic Porsches. Car nuts will love owning (some of) a Lambo Countach Turbo.
Watches and luxury
At the time of this writing, Rally's watches and luxury section was just 21 items long — but interesting nonetheless. In order for an item to make the list, it can't just be any Rolex – it has to be Joe DiMaggio's Rolex.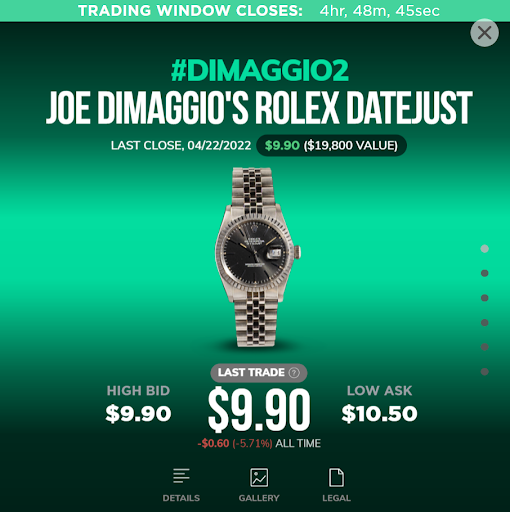 Wine & whisky
Finally, Rally's smallest section features top-shelf hooch commanding used car prices. If you're a sommelier — or sit on the Council of Whiskey Masters — and you know how to spot an underpriced vintage, this may be the asset class for you.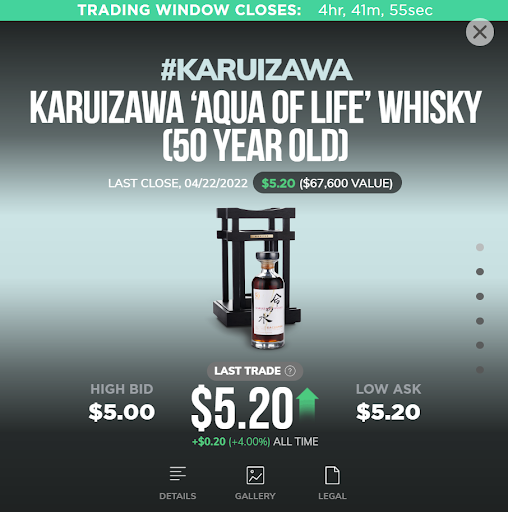 If you're like me, it's easy to get distracted by the impressive collection of stuff that Rally has amassed at its climate-controlled U.S. warehouse.
But Rally isn't simply a museum of exciting collectibles. It's a platform for investors to make money.
So how does Rally work? If you see an opportunity, how do you seize it?
How does Rally work?
Selling at a higher price
Good ol' capitalism at work. Buy low, sell high, retire.
Dividends
How is an old Lambo supposed to produce dividends?
Well, just like a stock!
Rally says that if one of their assets manages to generate profit while it's in their possession — e.g. someone pays $6,000 to rent a Ferrari that costs Rally $4,000 to preserve in the collection — the profit (in this example, $2,000) will be distributed amongst the car's shareholders.
But that's only in theory.
In practice, according to Rally, the only assets generating dividends are their Bored Ape NFTs. That's because Rally sold the Apecoins that Bored Ape-holders occasionally receive as gifts from the developers.
That being said, they're acutely aware of the demand for income-generating assets, so they're "actively investigating" some new asset classes "that would do just that…"
A buyout
Finally, the asset itself can be bought out, resulting in an "exit" and distribution of capital among investors. If a wealthy collector makes an offer for the asset through the app, trading is halted and the shareholders vote via email.
Then, Rally's third-party Advisory Board factors in both the individual- and share-weighted poll results, as well as market conditions, and chooses whether to proceed with the sale.
If the sale goes through, shareholders receive cash. If the sale doesn't go through, the buyer's next offer must be 10% higher.
Rally claims that the Board has never moved forward a sale unless the individual or share-weighted poll results indicated a "Yes."
But they do reserve the right to.
Main features
Live trading
Rally features "Live Trading" where buyers place BIDS and sellers place ASKS. Once they line up in price, a trade automatically executes via an Instant Buy.
That's all pretty standard stuff in the online brokerage world, but it's still cool to see it applied so seamlessly to the world of collectible equity trading.
The Rally app
The Rally Rd. App is available for download on both Android and iOS, with a curious discrepancy in user ratings between the two.
In the Play Store the Rally Rd. app scores 3.6 stars out of 75 ratings, with Android users complaining of app instability and intermittent crashing.
Things are much better on the App Store, where the iOS version scores an impressive 4.7 stars out of 1,200 ratings. It seems the Android version simply has some kinks to work out in a future update.
Rally's process for splitting assets into equity shares is actually pretty clever.
1.

The company verifies and purchases "noteworthy items" from collectors around the world.

2.

They turn the asset into a "company" by jumping through all the requisite regulatory hoops. This enables them to split the asset into equity shares.

3.

Just like an IPO on a stock exchange, Rally promotes and launches an "Initial Offering" of the asset.

4.

After a 90-day "lockup period", the secondary market opens up and investors can buy, sell, and trade shares. All shares purchased on the secondary market are subject to a 5-day lockup period.
Rally Market Hours are Mondays to Fridays, 10:30 AM through 4:30 PM EST minus standard stock market holidays.
So how do you make money on Rally?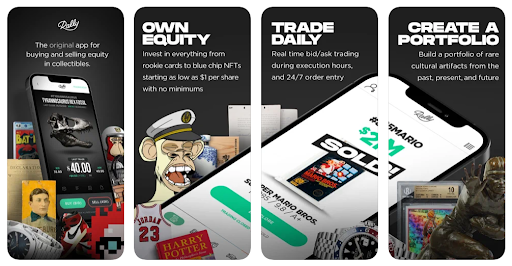 Asset variety
Rally deserves some credit for the sheer variety of collectibles they offer. Competitors like Dibbs (baseball cards) and Masterworks (fine art) only let you purchase equity in specific asset categories. But if you'd like to diversify, Rally's got your back.
Fees & limits
Get this: Rally charges no trade fees. Zero. That means that the price to buy a $5 share of M2 Mutant Ape #9114 is precisely $5.
I know, because I did it. I'm the proud partial owner of one of the ugliest NFTs in history.

How does Rally make money, then? Two ways:
1.

By baking a "sourcing fee" into each initial offering, not unlike an IPO underwriting fee

2.

Profiting from trades, dividends, and buyouts just like everyone else
Let's hope Rally's no-fee structure is sustainable in the long run.
Who is Rally best for?
Rally may be a fit if you're looking to diversify your overall investment portfolio with partial ownership in extremely valuable items.
Even if you're already an experienced investor in collectibles, you might consider a switch to Rally for their asset variety, zero fees, and excellent customer support.
How do I open a Rally account?
Opening a Rally account is just like opening any other brokerage account.
You'll provide all the requisite trader ID info (SSN, birthdate, etc.), check a ton of boxes, scan the broker-dealer's legalese, and Bob's your uncle.
As soon as you link your bank account via Plaid and deposit some play money, you're ready to trade.
Just note that, non-accredited investors are limited to trading 10% of their annual income each year.
How is Rally's customer service & reputation?
Rally's customer service team is accessible via email (hello@rallyrd.com) or by phone or text.
Zooming out, it's hard to gauge what everyone else's experience has been since Rally has just one 5-star Trustpilot review, no presence on BBB, and a humble 500-person subreddit.
However, Katy at Rally responded to my email inquiries rapidly, thoroughly, and cheerfully. I feel pretty confident that Rally won't pull a CoinExchange.io and leave investors high and dry.
Is Rally a safe platform?
I waved my Scam Finder 3000 (patent pending) all over Rally's online presence and it didn't emit so much as a blip.
The company seems to have their ducks in a row, security and regulatory-wise, and the ability to link your bank account via Plaid is a nice touch.
But while Rally itself is a secure platform, you'll want to consider the investments themselves.
Is it a good idea to invest in collectibles?
In general, investors in non-fungibles (read: one-of-a-kind collectibles) have a few challenges and drawbacks to consider — low liquidity, low float, and future values that can be impossible to predict.
Naturally, splitting up a non-fungible piece of artwork into thousands of fungible equity shares helps to ameliorate these shortcomings.
But there will still be far, far fewer people who want a 0.02% stake in a handbag than who want shares of an index fund. We don't suggest liquidating your Rally investment on a moment's notice.
In short, Rally is a safe place to make risky, speculative investments.
Best alternatives to Rally Rd.
Collectable
Collectable is a fractional investing platform focused on sports cards and sports-related memorabilia. If you're looking to capitalize on the rise of sports card investing, you might consider Collectable over Rally since the former will attract more buyers, sellers, and assets in the sport niche.
However, you could argue that competition will be stiffer there. Plus, their third party broker-dealer charges a 1% fee on every trade.
Otis Wealth
Founded by the makers of Skillshare, Otis Wealth may be Rally's closest competition, offering the ability to buy equity in a variety of valuable assets like art, shoes, and collectibles.
Otis does charge a 1% trade fee, but if you have $10,000+ invested, you get access to VIP perks like private drops (which could be big profit opportunities). Plus, Otis actually lets you visit the items you have shares of in their New York gallery (no supercars, though).
The Bottom line
Fractional ownership is fast becoming the go-to method for adding collectibles to your portfolio. It's affordable, convenient, and limits your exposure to the high risks of speculative investing.
The jury is still out on who will become the OpenSea of fractional ownership, but I think Rally has what it takes. No fees, a beautiful UI, and a highly supportive customer service team position Rally to be the one to beat.