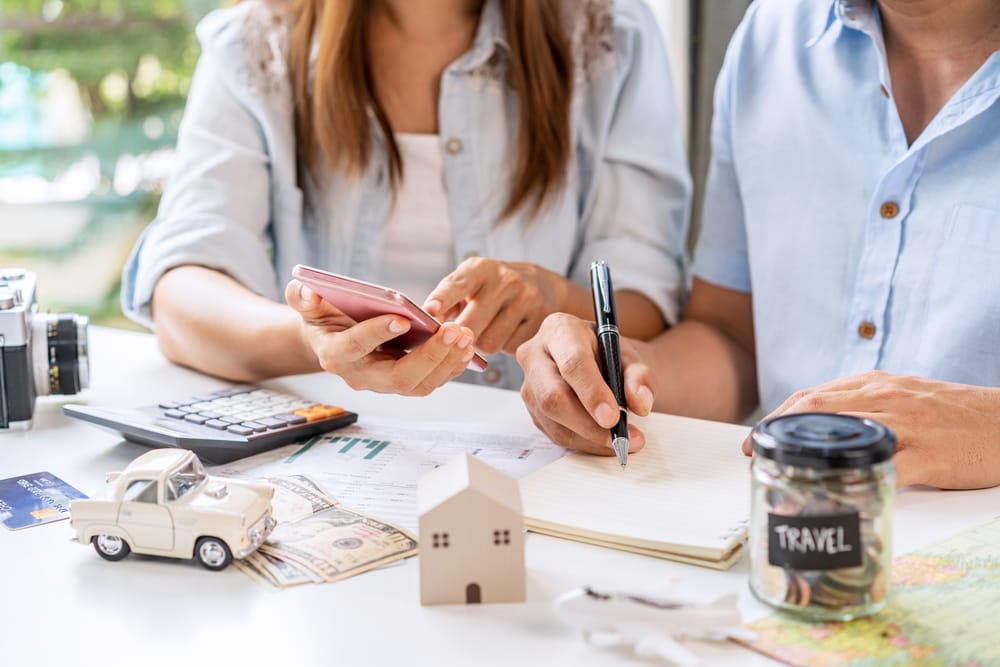 Quicken vs. Mint: Which is better at managing your money?
kitzcorner / Shutterstock
We adhere to strict standards of editorial integrity to help you make decisions with confidence. Please be aware that some (or all) products and services linked in this article are from our sponsors.
We adhere to strict standards of editorial integrity to help you make decisions with confidence. Please be aware that some (or all) products and services linked in this article are from our sponsors.
If you had to think of two personal finance applications, more than likely you would think of Quicken first, followed by Mint. If you want to manage your personal finances better, both are extremely popular. The question, then, in this ultimate battle of personal finance apps is: Which one is better?
At one time Intuit owned both services, but in 2015 they decided to sell Quicken to the private equity firm H.I.G. Capital.
Let's talk about the history of each service first.
Quicken vs. Mint: at a glance
| Features | Mint | Quicken |
| --- | --- | --- |
| Our rating | 4.3/5 | 4/5 |
| Cost | Free | $41.88 to $119.88 per year |
| Budgeting | Yes | Yes |
| Investment monitoring | Yes | Yes |
| Retirement planning | No | Yes |
| Bill payments | No | Yes |
| Manual entries | Yes | Yes |
| Bill management | Yes | Yes |
| Best for | Free budgeting app | Bill Payments and in-depth financial management |
About Quicken

Quicken is a desktop application you install locally on your Windows or Macintosh computer. It's the "grandaddy" of personal finance software, appearing first for MS-DOS and Apple II (remember them?) back in 1983.
Times have changed, and now Quicken has multiple versions of its application — from Window and Mac to apps for the iPhone, iPad, and Android. Quicken's desktop software can sync up with the mobile app.
But changing times have also brought a changing playing field for these types of applications. Whereas Quicken was once the only game in town, now it faces stiff competition from some alternative players, including Mint.
Quicken can help you keep track of your money, pay bills and set — and — keep budgets. It can even help you manage your investments and — in a new feature — track the value of your home.
However, it's not without its faults. I once used Quicken every day, but now I've found that there are much more comfortable and more reliable apps for day-to-day use. However, when it comes to comprehensive financial management, none of these smaller apps have all the features of Quicken.
However, Mint makes for a worthy opponent…
About Mint

Mint is a free online-only personal finance app. It is a cloud-based service, and you can access Mint via any web browser or mobile app on your iPhone or Android smartphone.
The Mint app was started in 2006 and was acquired by Intuit in 2009. While Quicken used to be Intuit's lead product, Mint has become their sole focus since announcing the sale of Quicken.
The platform incorporates all of your financial accounts — bank, investment, credit cards, and loans — in one place and provides a big-picture view of your entire financial situation. At the initial setup, you can add all of your accounts in a pretty seamless download process. After downloading and syncing your transactions, Mint's software automatically separates them into predefined categories.
While you can't modify the top-level categories, you can create and add your own subcategories. Once set up, Mint will remember repeating transactions so it will automatically match the same category in the future.
With Mint, every time you visit the site, your financial data gets updated automatically. The software presents your financial information in a slick easy-to-use web interface, with information and pretty graphs on a user-friendly dashboard.
Features both Quicken and Mint offer
| Features | Details |
| --- | --- |
| Budgeting | Both provide a program that lets you know exactly where you are spending money in an easy-to-understand, graphical format |
| Direct import/synchronization | Both software platforms allow you to link your accounts (bank, credit cards, loans, etc.) and import transactions automatically, synchronizing your entire financial picture in one place |
| Multi-device capability | Changes made to your account on any device (smartphone, desktop, tablet, laptop) automatically carry over to other devices you're using |
| Mobile app | Both Quicken and Mint offer mobile support via Apple iOS and Google Android |
| Credit report monitoring | Both Mint and Quicken allow you to monitor your credit score |
| Weekly email summaries | Find out what's happened in the past week with your finances |
Features unique to Quicken
Reconcile bank statements: Quicken allows you to check your recorded transactions against your current bank statement. Think of this as the online version of balancing your checkbook.
Data stored locally: Quicken keeps your data on your own computer, so you don't need to worry about it being unsecured in the cloud.
The inspector: This feature allows you to see summary information about your budget, as well as provide quick options. It will let you know, for example, whether or not you've budgeted enough for an upcoming expense.
Retirement planning: Quicken has the functionality to help with setting and meeting your retirement saving goals.
Tax reporting: With Quicken you can either directly import into services like TurboTax, or generate tax reports to hand over to your accountant.
Bill payment: You can pay your bills with Quicken, whereas Mint no longer offers this functionality.
Buy Quicken
Features unique to Mint
Alerts via email or SMS: Mint will alert you about pending bills and fees that hit your accounts and will suggest ways to save money on transaction fees.
Credit score tracking: View and monitor your credit score, account usage, payment history and errors at a glance.
Investment tracking: Mint offers investment tracking although it's okay at best. If you're more of a buy-and-hold than an active investor, the investing section offered by Mint may be all you need. Personal Capital is a possible alternative that offers better investment tools.
Net worth report: Mint calculates your net worth and displays that figure prominently at the top of your account.
Apple watch: Mint is accessible via an Apple Watch.
The comparison of Mint and Quicken
We break down the comparison into these categories: Budgeting, Synchronization, Cost, Customer Service and Education, Security, and Mobile Access.
Budgeting
Both apps are stellar at budgeting.
You know where your money is going and can manage your finances well with either one. Both services are versatile enough for any budgeter to stop over-drafting, set up a systematic way to pay off credit card debt, set up savings and manage your spending. Plus get alerts for unusual activity.
Quicken offers a robust budgeting tool that has greatly benefited from recent improvements. Mint's budgeting software is also easy to use and visually appealing.
And both have been around long enough that they're viable options to choose between for basic budgeting. Both are excellent budgeting apps and comparable to each other in most ways.
Tie: Mint and Quicken are both good choices for budgeting.
Synchronization
Both platforms provide automatic synchronization of your bank, credit card and loan accounts with many financial institutions.
While Mint supports a large number of banks and financial services, it also seems to have a lot of technical problems with synchronization. This complaint is an ongoing one among users; you can feel their frustration when you read their comments on synchronization on Mint's forums. Not only does Mint seem to have a lot of disruptive issues, but they also seem to have a bad reputation for not fixing the synchronization issues in a timely fashion.
Synchronization is an area where Quicken is somewhat better than Mint, though because it uses Intuit's online services, it may have similar synchronization issues.
If you cannot use the automatic methods to download your information pretty much every financial institution supports the open standard. QFX format with Quicken. Lastly, If synchronization breaks with Quicken, nothing prevents you from manually entering your journal entries. Whereas with Mint you cannot enter any transactions if synchronization breaks. Therefore, we recommend Quicken over Mint in this category, though from our testing have had a better experience with Personal Capital synchronization.
Quicken vs. Mint Cost
If cost is your primary factor in choosing, then this comparison is an easy one. Quicken retails $41.88 to $119.88 per year (we list the latest Quicken promotions on our site). Plans include Quicken Starter, Deluxe, and Home & Business. If you're just managing your budgets, Quicken's $41.88 Starter plan suffices. But the Deluxe plan for $59.88 per year adds savings goals, debt tracking, and investment tracking.

Mint is free to use, and there are no hidden fees. You might be wondering how Mint makes money. There are several ways:
Mint offers "ways to save" by recommending various financial services from which they get a referral fee.
You'll also find banner ads in various parts of the website, which provide revenue.
You can sign up for premium access to your credit report for a small fee.
Mint also sells the aggregate (not your individual) financial data to various providers. Things like: consumer spending, the average credit card balance, how many retirement accounts a user might have, etc. The data is collected anonymously and does not refer back to any individual user.
You can also pay $4.99 per month to unlock Mint Premium. This plan removes ads from the platform and adds some extra data visualization tools. Premium users can also use Mint's partner BillShark to negotiate various subscriptions and recurring bills, like a phone or internet bill, to potentially save more money.
Customer service and education
When you click on the support button on Mint's website, there is a list of common questions and issues you can scroll through. If you can't find the answer to your question, you can either email the team or hit the chat button for online help. Response to my specific inquiry from Mint was slow. Spotty customer service seems to be a recurring experience of users who post on their website forum.
Quicken has had a notorious history of poor customer service. Hopefully, the app's new owners will address the problems that so many customers have complained about. They do offer free 24/7 technical service via phone (how useful it remains to be seen). Typically, you get technical support that's from India and reading through scripts to help with your problems. As has been reported by many comments on Investor Junkie, their phone support is more than useless for all but for the simplest of issues.
In addition, with Quicken (and previously with Intuit) there would be many software upgrades of the product to fix various bugs that in some cases should have been resolved before releasing the new version.
Based on issues with both products, I cannot recommend either product as superior in customer service. From our testing, we've had better customer service with Personal Capital and YNAB.
Tie: Mint and Quicken are equally poor choices for customer service.
Security
Security is an important issue for anyone using a personal financial program since your entire financial life could be exposed.
In comparing Mint and Quicken in terms of security, it's all about an internet-based service versus locally installed software on your computer.
With traditional Quicken software, all of your information is stored right on your computer. However, when using the application's online features, Quicken uses the following to safeguard your info:
Secure Socket Layer (SSL) technology and encryption to make your information unreadable as it passes over the internet.
Firewall-protected servers.
Integrity checks to be certain messages have not been changed in any way between the sender and recipient.
Users can protect their accounts with secure passwords.
Mint also is concerned about the security of your personal and stored information. Key site security measures:
Two-factor authentication: In addition to password protection, Mint won't let you access your account until you validate the device you're using either via the email address you used when you signed up or by an SMS text message to your cellphone.
Touch ID sensor for iOS: This quickly reads your fingerprint and unlocks your phone, allowing you quick access to the Mint.com app.
We believe Quicken's local data storage makes it superior when considering security protection.
Mobile access
Both apps are very user-friendly when you're on the go. While there are differences in the display of your information, it really comes down to the personal preference of which one appeals more to you as a user.
Quicken pros and cons
Pros
Quicken has a bill payment feature unlike Mint
Track the value of your home on the Deluxe and Home & Business plans
Track investment cost basis and use Quicken to create Schedule D tax reports
Use the Home & Business plan to track business and property management income and expenses
More investing and retirement planning features than Mint
Cons
There isn't a free plan, just a 30-day free trial
Expensive pricing of $39.99 to $94.99 per year
Some limited features for Mac
Mint pros and cons
Pros
Incredibly easy to use
Has a free version with most features unlike Quicken
Free credit monitoring service
Create custom alerts
Create custom budget categories
Cons
Customer service can be slow
Some account syncing issues
Lackluster investment tracking
Sparse retirement planning tools
Doesn't support online bill payments unlike Quicken
Quicken vs. Mint: Which is better?
Between just these two services, we would have to pick Quicken over Mint (Even though I've switched to Personal Capital). Quicken has much more functionality and can grow with you over time. It's also better than Mint if you're a small business owner or are managing rental properties. Quicken is also better than Mint for tracking investments and planning your retirement.
If you just want a simple and free budgeting app, Mint is all you need. The free plan has everything you need to track your spending and set savings goals. It's not nearly as comprehensive as Quicken, but the free price tag is the main selling point. And if you need even more budgeting tools, you can always explore Mint alternatives like You Need A Budget instead.
Both Mint and Quicken are designed to show you how and where you spend your money. Both provide a user-friendly tool to improve your money management skills — and financial future — by helping you budget effectively. Both are now online services and compatible across all the devices you might choose to use.
However, Quicken's pricing can be off-putting, especially to Millennials who just want a quick, free app to handle simple personal finance functions. For this audience, Mint is a better deal.