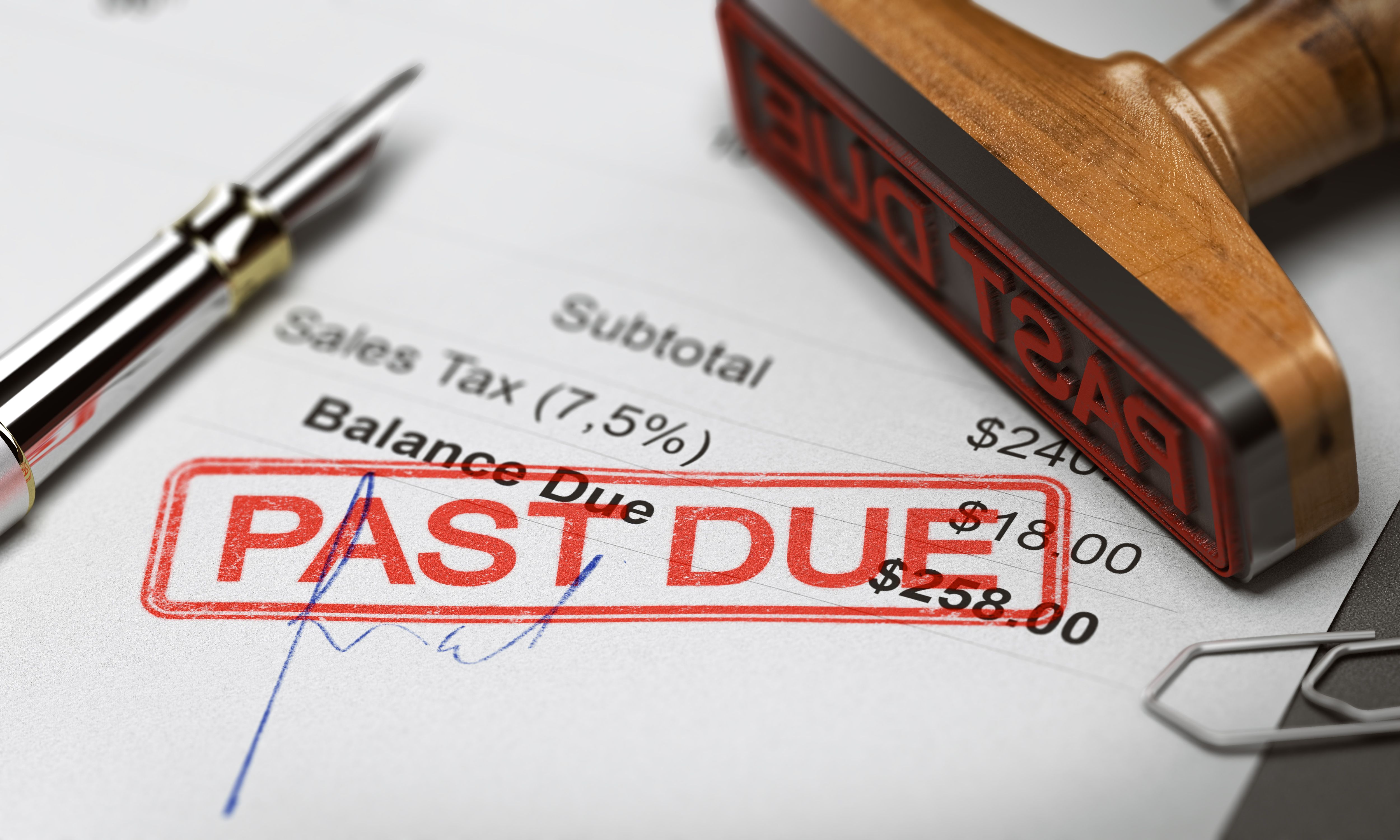 Olivier Le Moal / Shutterstock
🗓️
Updated: August 03, 2023
We adhere to strict standards of editorial integrity to help you make decisions with confidence. Please be aware that some (or all) products and services linked in this article are from our sponsors.
We adhere to strict standards of editorial integrity to help you make decisions with confidence. Please be aware that some (or all) products and services linked in this article are from our sponsors.
Paying off debt can be one of the best investments someone makes. This is true from a financial perspective since paying off debt quickly means you pay less in interest. And becoming debt free can also lead to a massive mental lift and reduced stress.
This is the philosophy that Qoins, an automatic savings and debt payoff tool, takes. While many microsaving apps focus on investing, Qoins' goal is to help its members become debt-free as fast as possible.
However, Qoins doesn't have some of the budgeting tools you might be familiar with if you've used similar apps. In our Qoins review, we're covering exactly how the app works, what features it has, and the pros and cons.
Pros
Helps you pay off debt automatically
Potentially save money in the long-run by paying less in interest
Numerous saving options for putting money aside
Cash-back rewards are coming to the Qoins debit card
Cons
There isn't a free trial or plan
Lack of budgeting features
Its marketplace promotes many personal loan providers
What is Qoins?
Qoins is a microsavings app that helps its members automatically save money and pay off debt. The company began in 2016 with the goal of helping people become debt free faster. This is a much different approach than most microsaving apps like Acorns and Stash that focus on investing, not becoming debt free.
Since its inception, Qoins has helped its members pay off over $30 million in debt. The app is available for Android and iOS and has a web version as well.
How does Qoins work?
The Qoins platform focuses on two main goals: automatically saving money and automatically paying off debt. You create the rules, and Qoins helps keep you on track with automatic payments and moving money around for you.
Create savings goals
Once you sign up for Qoins, the first step is to create different savings goals. This could range from building your emergency fund to saving up for a downpayment on your first house. Once you create your goals, you choose the savings method for different goals so Qoins helps you automatically work towards your goals.
There are four different savings methods you can use to fund goals:
1.

Roundups: This feature rounds-up your purchases to the nearest dollar and moves the extra change towards your savings. For example, if you buy a coffee for $2.45, Qoins rounds your purchase to $3 and saves the extra $0.55. This is the same system apps like Acorns use to help you invest.

2.

Smart Savings: You set a savings level that helps Qoins determine how aggressively to save. From there, it uses AI to detect when it can move money into savings. Whenever Smart Savings reaches $5, it transfers the funds into your savings goal.

3.

When I Get Paid: Choose a percentage or dollar amount to move towards a savings goal whenever you receive a deposit of $100 or more.

4.

Weekly Recurring Withdrawals: Choose a dollar amount to contribute towards different savings goals on a specific day of the week.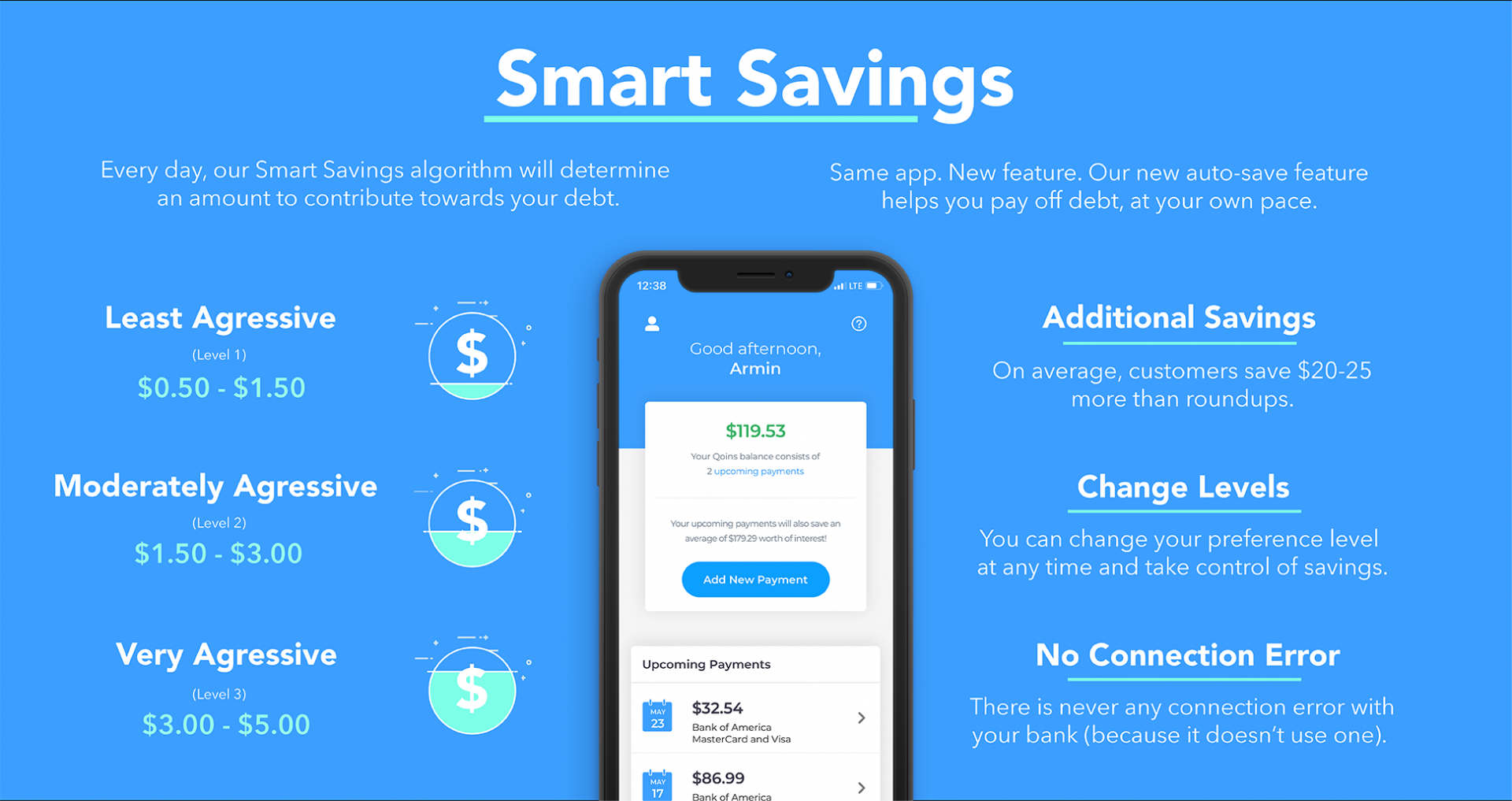 You can edit, pause, or remove goals at any time. And the variety of saving options is nice since you set the pace you want to save at and Qoins simply automates the process to keep you on track.
Create debt goals
Like savings goals, you can also create different debt payoff goals with Qoins. Currently, you can pay off up to five debt balances at once, including debts like:
Credit cards
Car loans
Mortgage
Student loans
The idea is to save money in the long-run since when you pay off debt faster, you reduce the total amount of interest you pay.
As for how you make payments, Qoins sends out payments once per month that you select. If you're paying off multiple debts, you can also enter how much money Qoins should send towards each debt. Note that payments can take up to 10 business days to process with your lender but usually process much faster.
Reduce debt With the Qoins card
The Qoins card is a prepaid Visa debit card that helps you reach your different debt payoff goals faster. At the time of writing, the cash-back rewards program isn't available. But when it launches, Qoins plans to pay cardholders 10% cash-back on round-ups so you can become debt free faster. The company also plans to offer additional cash-back rewards through partnerships with merchants, so you'll double-dip on rewards.
You can use your Qoins card anywhere that accepts Visa, and there aren't annual fees. Virtual cards are also available, and you get up to $250,000 in FDIC insurance on your cash balance. Plus, you don't pay ATM withdrawal fees at StarNetwork and MoneyPass ATMs. Out-of-network ATM withdrawals cost $2.50.
Just note that your Qoins card has both daily and monthly spending limits:
Daily Spending Limit: $2,500.
Daily ACH Withdrawal Origination Limit: $2,500.
Monthly Spending Limit: $10,000.
Monthly ACH Withdrawal Origination Limit: $10,000.
At this time, you can't fund your Qoins card with checks or cash, which is a small downside.
Browse the Qoins Marketplace
One final feature is the Qoins Marketplace, a database of partners you can use to tackle other areas of personal finance like:
Credit reporting
Insurance
Loans
Side hustles
Tax relief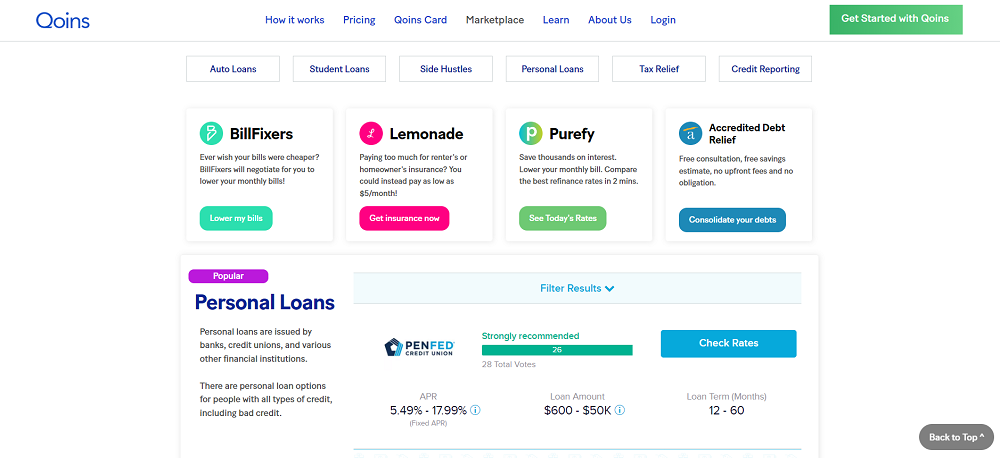 I like that Qoins helps its members find useful partners like side gigs to increase their income, or cheaper insurance. But on my marketplace, loans are heavily promoted, and personal loans are the first list of partners I see.
For an app that specializes in helping members save money and become debt free, I think this is somewhat hypocritical. And, of course, Qoins probably gets compensated if they refer customers to these various partners, which isn't a great look. This is my least favorite part of the app by far, and I was very surprised to see loans promoted so heavily.
How much does Qoins cost?
Qoins has two different plans: A Qoins Monthly plan for $4.99 per month or the Qoins Annual plan for $49.99 per year. Both plans offer identical features, but you save $10 if you pay for the annual plan. There's no free trial at the time of writing.
Is Qoins safe?
Qoins is a safe app to use and, according to its website, it uses industry-standard encryption to keep your data safe. It doesn't store your banking information on its servers either. Plus, you get up to $250,000 in FDIC insurance.
One benefit of Qoins is that it has a "payment guarantee" that refunds your payments to your bank account if payments don't successfully process.
How to contact Qoins
You can reach customer support by emailing support@qoins.io. Alternatively, you can text 770-765-2930 for help. You can also call customer support, but Qoins says it has a small team and you might have to leave a message. Customer service hours are Monday through Friday from 9 AM to 5 PM EST with limited availability on weekends.
Best alternatives
If you want automatic help with saving money and paying off debt, Qoins is a useful app. However, its main purpose is to keep you on track with payments. But some Qoins alternatives offer more budgeting and wealth planning features, providing a more holistic approach to saving money and becoming debt free.
YNAB is a better alternative to Qoins if you want budgeting features. With YNAB, the goal is to assign every dollar a job, whether it's paying off debt or topping up your savings account. And it also lets you tackle multiple debts and financial goals at once.
You can also consider apps like PocketSmith for a nice middle ground between all these services. It has excellent forecasting tools that help you visualize how your spending habits impact your net worth. And it also has numerous budgeting features you can use to reduce your monthly spending.
Finally, you can also use platforms like Empower in conjunction with Qoins or a similar app. It has a host of free tools like a budget planner, investment fee analyzer, and net worth tracker. It can't pay your bills for you, but it's a useful tool for planning your investments while you also work on your savings.
Bottom line
There are plenty of microsaving and round-up apps on the market, but most of them focus on investing or budgeting. With Qoins, the goal is to become debt-free as fast as possible. And if you end up eliminating high-interest debt more quickly, putting money towards debt can be one of the best financial and mental investments you make.
If you want help with actually creating a budget, options like YNAB or Mint are better options. However, you can give Qoins a try if you want to stay on track with your debt payments and create a budget using other apps.