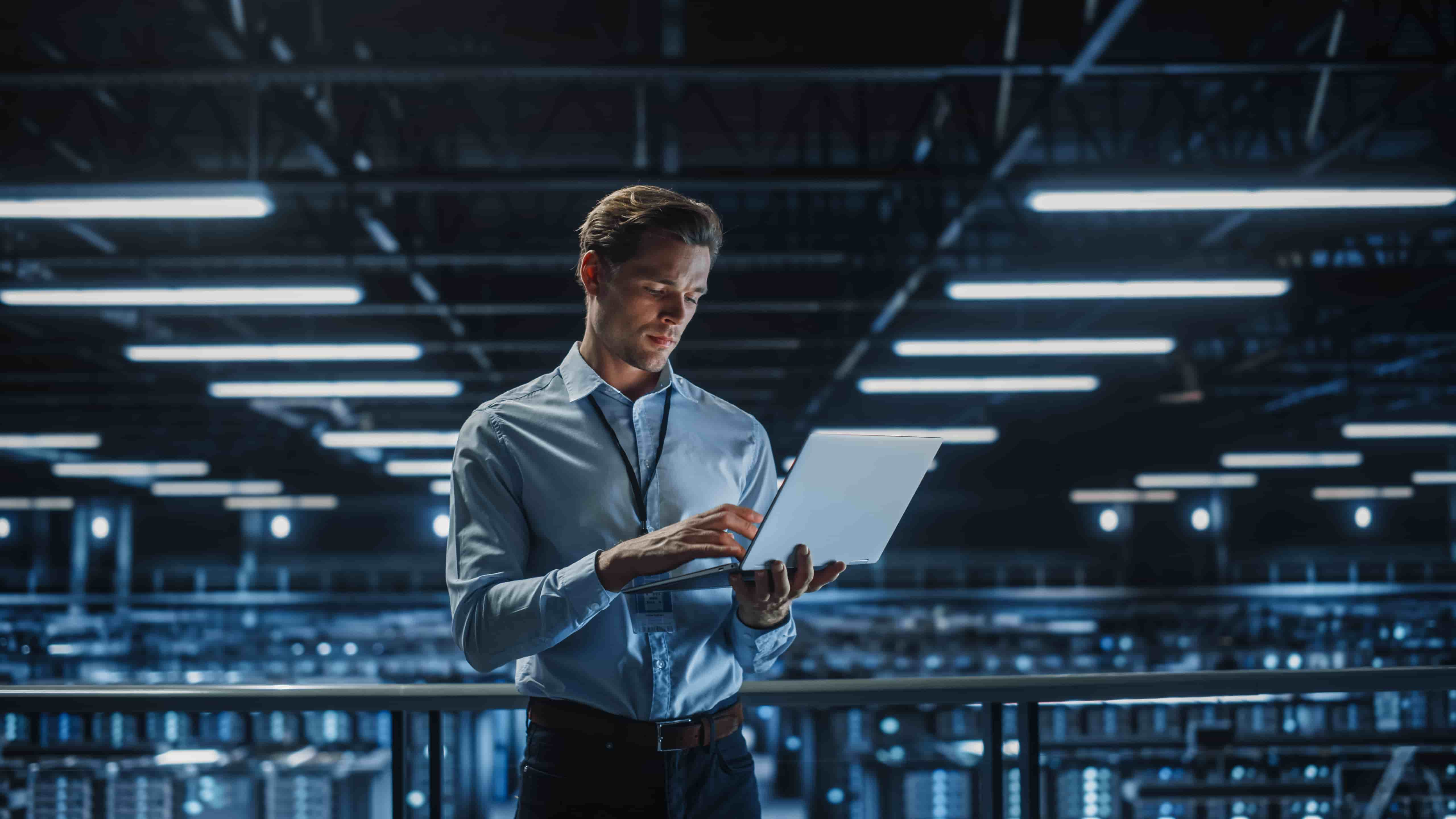 NordVPN review: Protect your online privacy and security
Gorodenkoff / Shutterstock
🗓️
Updated: August 12, 2021
We adhere to strict standards of editorial integrity to help you make decisions with confidence. Please be aware that some (or all) products and services linked in this article are from our sponsors.
We adhere to strict standards of editorial integrity to help you make decisions with confidence. Please be aware that some (or all) products and services linked in this article are from our sponsors.
In this day and age, investing in a quality virtual private network (VPN) is the norm rather than the exception. The purpose of VPNs is to hide your real IP addresses when you're surfing the web. With premium VPN providers such as NordVPN, you don't have to worry about getting hacked or spied on by third parties while making sensitive financial transactions.
In this review, we'll highlight the powerful specs, features, pros and cons associated with NordVPN. We'll also shed valuable insight on the speeds, performance, support, and updates available for the latest NordVPN on the marketplace.
What is NordVPN?
NordVPN is a popular tool that protects users from hackers, malware, viruses, and other Internet breaches. This long-standing industry champion protects data by encrypting it before relaying it via secure and anonymous IP portals.
NordVPN is a global enterprise based in Panama, which has no data retention laws. The tech firm has grown by astonishing leaps and bounds to become the preferred VPN provider for over 14 million customers. As of writing, NordVPN has over 5,300 high-grade servers in 59 countries. It's compatible with most operating systems, and pairs with up to six simultaneous connections for enhanced versatility.
What does NordVPN offer investors?
Many investors often overlook the need to have a premium VPN, which is undoubtedly one of the most thoughtful decisions they can make. Here's why:
Privacy
As an investor, having a VPN increases your online safety and privacy when surfing the Internet. With NordVPN, your data remains safe and 100% secure when you're trading or logged into your bank. No digital imprints will be left behind when browsing — the tool doesn't track your logs, which means no information is recorded, monitored or stored. Additionally, NordVPN won't pass any of your information on to any third parties.
Security
NordVPN operates on a 256-bit encryption technology, which the NSA recommends to secure classified government information. NordVPN's dynamic protocols — including IKEv2/IPsec, OpenVPN and NordLynx — offer an added layer of security. The VPN also has an in-built system that regularly changes the encryption so even if a hacker successfully infiltrates a session, they would need to hack the VPN all over again to log in the second time. This feature deters hackers from even attempting to gain access to your private systems.
Apart from encryption, the technology routes inbound and outbound data via secondary relays known as Onion Over VPN. Before your traffic reaches its final destination, it passes through the Onion network and then to Nord's private networks before being relayed to the end-users. This blanket protection is an extra assurance of security.
Internet freedom
You're better off having VPN as an investor, especially if you do business in countries with Internet censorship regulations. The VPN allows you to access content remotely from any location, even if there are restrictions on the site. This translates to increased productivity, better conversions and higher revenue for your business.
User friendly
NordVPNs are incredibly easy to install. You won't need to recruit expert IT staff to tinker and configure the networks to work as desired. If you run into any set-up complications, It has several informative set-up tutorials, which can quickly help you install the VPN.
Download NordVPN
NordVPN features
This award-winning VPN stands out for its impressive online browsing safety features, including:
Next-generation encryption: The tool uses next-generation encryption software to protect your sensitive and private data from hackers, malware, and third parties.
Automatic kill switch: NordVPN has an automatic kill switch to further bolster your security by preventing any data leaks if your connection accidentally drops. You can also disable this feature.
Onion over VPN: Onion Over VPN acts as a gateway to ultimate privacy on the Internet. With a click of a button, you'll be routed to an Onion network and get the privacy you need. Best of all, you get data encryption and privacy from your Internet service provider.
No-logs policy: NordVPN ensures your private data doesn't get tracked, monitored, or collected for enhanced security. And because the company is based in Panama, they are not legally required to hold onto your data.
No buffering or throttling: With NordVPN, you can enjoy uninterrupted streaming services regardless of your location. You can stream HD movies all day without annoying buffer delays, and most importantly, your data will remain secure at all times.
Countless VPN servers: The Service operates on over 5,300 servers in 59 countries.
Multiple device access: One NordVPN account allows you to connect to up to six different devices simultaneously, regardless of the operating system you're using. You can use Nord on laptops, desktops, smartphones, and tablets.
Dual encryption: NordVPN makes it possible for users to switch their IPs on demand. The tool combines Onion Over VPN and double encryption of Double VPN for enhanced browser anonymity.
CyberSec: NordVPN turns off malware-populated websites with intuitive botnet control automatically. You'll enjoy ad-free browsing with the VPN for added productivity.
Browser extension: NordVPN supports lightweight browser extensions such as Firefox and Chrome.
DNS leak protection: NordVPN has a powerful and efficient domain name system (DNS) leak test to ensure your Internet traffic goes through secure tunnels. With this, you can browse the internet much faster.
24/7 support: Whether you're having difficulties logging into the app, slow connection, or can't access some websites, NordVPN can answer your questions 24 hours a day, seven days a week via email or live chat support. Nord also has a comprehensive FAQ support system.
Who's NordVPN best for?
NordVPN service is best for investors and stock brokers that deal with sensitive financial data and information. It's also ideal for regular users who tend to operate on public Wi-Fi. NordVPN also comes in handy for those working in countries with Internet censorship. People living in such countries might need to own a secure VPN to log on to their favorite websites or social media pages with restrictions.
How does NordVPN work?
The amount you pay determines the functionality you get from your VPN service provider. For instance, you can pay for one static address to get unfettered private and anonymous access to a specific geographical location. However, for an additional fee, you can get more advanced features such as access to more geographical IP locations, secured passwords and file encryption services.
NordVPN software uses the NordLynx protocols implemented via the WireGuard technology to parse traffic from popular platforms such as iOS, macOS, Windows apps and Android OSs. Apart from the robust WireGuard VPN protocols, NordVPN also works on the IKEv2 and OpenVPN technologies for guaranteed privacy and security. These open-source protocols serve to boost your systems' performance and safety.
NordVPN offers a high level of privacy due to its robust AES-256-GCM encryptions. These encryption technologies work in tandem with the 4096-bit Diffie-Hellman protocols. Together, they confer you a double security system that's very hard for hackers to penetrate. With NordVPN, you can be sure your privacy and security on the internet are taken care of.
Fees and limits
In the past, customers used to access NordVPN for free. However, the free offer was discontinued due to the rising number of imposters who took the advantage to rip off unsuspecting customers.
Today, the Panama-registered company operates with the 30-day money-back guarantee offer. The purpose of the offer is to let you familiarize yourself with the prowess of the NordVPN systems as you make up your mind. To get started, you need to sign up for NordVPN at their official website.
The best thing about NordVPN is that there are no hidden fees. NordVPN has three subscription plans:
One-month plan: $11.95/month
One-year plan: $4.92/month when paid annually or $59 for the first year
Two-year plan: $4.89/month when paid annually or $99 for the first two years
To get extra features such as the NordPass password manager and NordLocker, you'll need to cough up a few extra bucks per month or annum. The standard charge for these features is $1.49 per month.
Keep in mind that every NordVPN account can connect up to six different devices simultaneously.
Download NordVPN
How do I open an account?
Opening a NordVPN account is pretty straightforward. The platform offers flexible payment plans such as AliPay, WeChat, Amazon Pay, Google Pay, Bitcoin, and UnionPay, making it easy for everyone to get started. Here's how to go about the initial setup process:
1.

Visit the official NordVPN website

2.

Click "Get NordVPN" in the upper right-hand corner

3.

Choose a subscription plan

4.

Select your payment method and fill in your payment information

5.

Nord will send you an account registration link to your provided email address

6.

Download/install NordVPN and sign in
Installing NordVPN is an easy process. From the official download page, the system automatically detects your operating platform and proceeds to install the software that's compatible with your device. Ordinarily, the automatic download takes less than a minute. Once auto-detected, you only need to click on their location to get connected.
Alternatively, you can click on the drop-down menu to select their IP locations from the list of servers provided. You can also type in your exact geographic location to choose your preferred servers. NordVPN also gives you the option to connect or login to your favorite or recent dedicated geographic areas to get started.
How's the customer service?
NordVPN has a world-class customer support service that's convenient for its users. For starters, you have the option of browsing through the myriad of support articles to find helpful content. You also have other options, such as "get instructions," "contact support," "FAQs," or the "troubleshooting now" pointers to help them get the necessary help.
NordVPN has a chatbot feature to help you get detailed instructions on how to proceed with any queries. Plus, there's 24/7 live chat support where real humans will assist you with your concerns. If you fail to get the answers you seek, you can use email support as well. The customer agents will provide you with feedback in a couple of hours, at most. The only downside is that there is no phone support.
Is NordVPN safe?
As is the case with any online service, there's always a chance that the service can get hacked. But, NordVPN is continually taking measures to safeguard its services from attacks. Their servers are all in RAM, which means that as soon as the application is closed, the information is removed from the server. They regularly update their systems with advanced security features to deter potential vulnerabilities. NordVPN also doesn't store any user activity logs.
In addition, NordVPN has a bug bounty program that rewards users for finding any bugs, flaws or vulnerabilities. If someone finds a flaw, they can report it through HackerOne. Once the dev and admin teams evaluate the report, NordVPN will pay depending on the severity of the issue identified.
NordVPN is also part of the VPN Trust Initiative, which aims to establish industry-wide standards for all VPN providers and educates the public about the benefits of VPNs.
Download NordVPN
NordVPN pros and cons
Pros
Improved browsing speeds: NordVPN hides your traffic, so your ISP might send it along a different path. This can increase your internet speed.
Unimpeded internet freedom: NordVPN doesn't store your activity logs and is out of U.S. jurisdiction so your data is safe.
Advanced online security: With 256-bit encryption technology and three dynamic protocols, your online sessions are secure.
Easy to use: The VPN is really easy to download and use.
Cons
Quite pricey: If you go for the monthly plan you'll pay $143 a year. While the one and two-year plan is cheaper, you'll need to pay upfront.
The network occasionally experiences delays: Because of the popularity of VPNs, there can be delays on some servers or in some countries.
Best alternatives to NordVPN
ExpressVPN, ProtonVPN and Surfshark are three alternative VPNs with features such as simultaneous connections. If you're looking for a VPN provider, it's wise to shop around not only to get the best deal but also to see what competitive companies have to offer.
The bottom line: Is NordVPN worth it?
Overall, NordVPN is a great VPN provider, with tons of features, world-class customer service and a money-back guarantee. Though it's on the pricier side, this service is a powerful option that's guaranteed to serve your privacy needs. Additionally, it's continually undergoing upgrades and improvements to ensure it keeps up with the market trends.
Download NordVPN