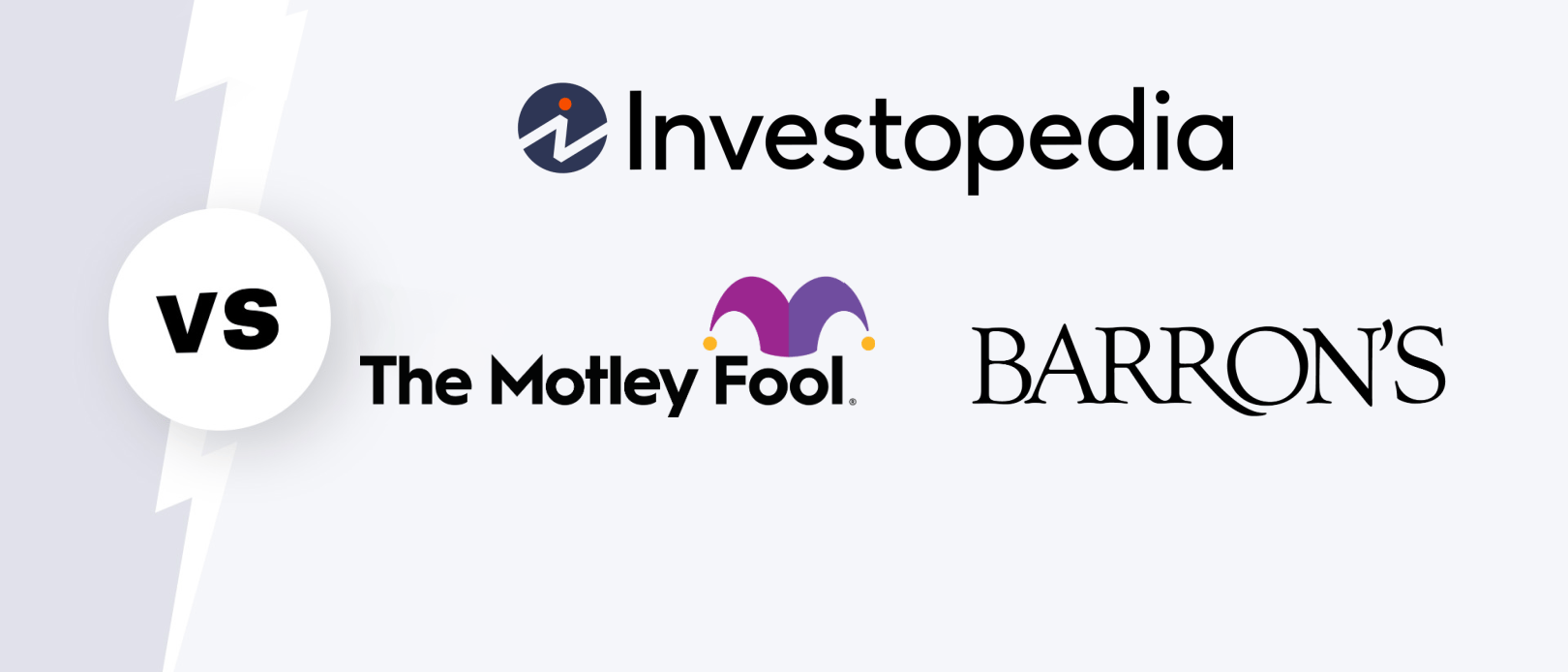 Investopedia vs. Motley Fool vs. Barron's
🗓️
Updated: July 25, 2023
We adhere to strict standards of editorial integrity to help you make decisions with confidence. Please be aware that some (or all) products and services linked in this article are from our sponsors.
We adhere to strict standards of editorial integrity to help you make decisions with confidence. Please be aware that some (or all) products and services linked in this article are from our sponsors.
When you start investing, information is vital. Understanding how investing works, and getting ideas for how to build your portfolio, can be one way to find success.
There are different websites and publications available to help you get the latest information and learn more about investing in a way that suits your style. Three places you can go for information include Motley Fool, Investopedia, and Barron's. Let's compare Investopedia vs. Motley Fool vs. Barron's.
Barron's vs. Motley Fool vs. Investopedia overview
Barron's is one of the premier investing publications, with a print magazine and online presence. Barron's analysis is aimed at those who have some experience with investing and want insight into potential picks.
The Motley Fool mainly functions as a stock picking service, making recommendations and offering access to picks chosen by the founders and others.
Finally, Investopedia is a basic investment education website. While there are subscriptions that go beyond basic advice, Investopedia doesn't make stock recommendations.
About Barron's
Barron's is one of the most trusted publications in the investment world, with market news, insight, and stock pick in one place. Every week, Barron's features a major story about an industry or company and also includes an analysis of trends and company fundamentals. In addition to major stories and analyses, Barron's offers specific stock picks for investors to try in their own portfolios.

About The Motley Fool

Rather than being specifically a publication about investment and industry, the Motley Fool is mainly a stock-picking service. There are a number of different subscriptions available at a variety of price points. Depending on what you sign up for, you can receive different types of stock picks, news and information. The website also has free investing content, including educational content and news articles.
About Investopedia
Investopedia is part of a family of educational websites that focus on different aspects of finances. Investopedia has free newsletters, as well as paid offerings that include courses on various investment how-to topics in the Investopedia Academy. There are numerous articles defining investing terms, providing news and offering other information. While you might find news-related analysis, Investopedia generally doesn't make stock recommendations.

How does each service works
How Investopedia works
Investopedia is a mostly free educational website. You can find general news related to investing and a variety of resources, including a market simulator so you can try out different scenarios and a section for financial advisors.
Investopedia also offers a glossary of terms and basic articles describing different investment concepts. You can subscribe to a variety of newsletters, ranging from those that offer different investing terms each day or those that sum up the market. There are also paid courses in which you figure out how to engage in different investing styles.
How The Motley Fool works
While The Motley Fool offers a variety of newsletters and subscription options, one of the most popular offerings is its Stock Advisor. With this subscription, you get access to emails (or even text alerts) to let you know when the weekly stock recommendations are published. The Fools' founders, Tom and David Gardner, also share their weekly stock picks and you can then add them to your portfolio. The Motley Fool claims their picks have returns that far exceed the performance of the S&P 500.
How Barron's works
When you subscribe to Barron's, you can decide whether you want the print or online version — or get both. Each weekly issue of Barron's has a major cover story and regular sections. This includes weekly stock picks with fundamental analysis (Barron's doesn't use technical charts when making its recommendations). In addition to picks and the cover story, Barron's usually features an investment manager and has a recap of the previous week.
Unique features of Barron's vs. Motley Fool vs. Investopedia
All three of these resources can help you make decisions about investments and provide guidance while building your portfolio. However, they all have different approaches.
How are they the same?
All three services offer some type of publication, whether it's a newsletter or a weekly magazine.
Barron's, The Motley Fool and Investopedia offer platforms for learning about different investments and provide analysis. Each website also has tools that you can access to make the most of your money.
How are they different?
Barron's takes a journalistic approach to investment news and research, providing in-depth data that can be used for fundamental analysis. Barron's also has a special section on its website called Penta, which focuses on the investment aspect of arts and culture stories such as Jay-Z auctioning rare bottles of cognac and auction prices of Picasso paintings.
The Motley Fool has a playful feel in writing and tone. It focuses heavily on the stock picks of the founders, but also offers weekly stock picks in its Stock Advisor newsletter. Other newsletters can help you find stocks based on your style of investing.
Investopedia is mainly educational, with straightforward and basic explanations of investing concepts, as well as easy-to-understand articles that put investing in context with news events. The platform has different newsletters designed to help you learn more about investing or get stock market news delivered to your inbox, and offers paid courses to learn more about investing strategies. Investopedia also provides a variety of calculators and simulators to help you learn more about investing and see the impact of your decisions.
Pricing and plans
The Motley Fool
Stock Advisor newsletter: $199 per year (Special Stock Advisor offer: 55% off – now only $89/year! Promo offer expires 4/30/22).
The Rule Breakers newsletter: $299 per year
Rule Your Retirement newsletter: $149 per year
Stock Advisor + The Rule Breakers bundle: $498
Barron's
Digital: $19.99 a month
Premium Digital: $27.99 a moth
Print + Digital: $29.99 a month
Investopedia
Investopedia has a number of free newsletters and offerings. However, there are also paid offerings. Courses through Investopedia Academy range from $20 to $199.
Customer service
None of these platforms necessitate much customer support. However, your options include:
The Motley Fool: Email customer service, or phone available Monday-Friday 9 a.m. to 5 p.m. EST.
Barron's: You can email Barron's and use the masthead to find information about who to email, as well as the customer service number.
Investopedia: Offers a contact page through Zendesk.
Who are they best for?
When considering Investopedia vs. Motley Fool vs. Barron's, carefully consider your own goals and investment preferences.
In general, The Motley Fool is a good choice for those who want suggestions for an active stock portfolio. On the other hand, for those interested in in-depth fundamental analysis for long-term buy-and-hold portfolios, Barron's can be a good choice. Finally, Investopedia is likely to be a solid pick for beginning investors just learning how to invest and getting a handle on the terms.
Alternatives to The Motley Fool, Barron's and Investopedia
Investor's Business Daily (IBD)
Seeking Alpha
There's a lot of free content from Seeking Alpha, including articles written by a variety of contributors. You can pay $29.99 for a monthly subscription to their premium service with investment data and ideas, or $19.99 a month when billed annually. Read our comparison between Seeking Alpha and The Motley Fool.

The bottom line: which is the best?
What works best for you depends on your investment goals and strategy. The Motley Fool is best for those who want the latest stock picks and trade a little more frequently. Barron's is a good choice for those looking for buy-and-hold additions to their portfolios. Investopedia, with its education and simulator, is a good choice for beginners just learning the basics.