Ledger vs. Trezor Review: How do they compare?
wee dezign / Shutterstock
🗓️
Updated: July 24, 2023
We adhere to strict standards of editorial integrity to help you make decisions with confidence. Please be aware that some (or all) products and services linked in this article are from our sponsors.
We adhere to strict standards of editorial integrity to help you make decisions with confidence. Please be aware that some (or all) products and services linked in this article are from our sponsors.
Ledger and Trezor rank among the most popular and affordable cryptocurrency hardware wallets. Ledger and Trezor both offer extremely secure digital wallets for offline storage — or cold storage — of your valuable cryptocurrencies, non-fungible tokens (NFTs) and other crypto assets. Here's an in-depth look at Ledger vs. Trezor so you can decide which is better for your crypto needs.
Note from the author: Ledger and SatoshiLabs hooked me up with free wallets to review.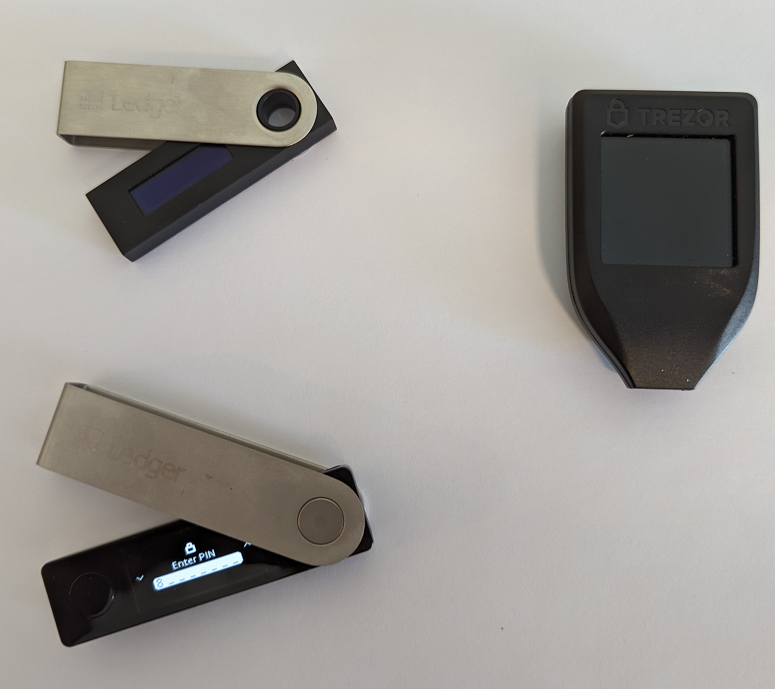 Ledger is a hardware wallet manufacturer based in Paris, France. It offers the Ledger Nano S and Ledger Nano X hardware wallets. Both wallets work with the companion Ledger Live app for desktop or mobile. The Ledger Nano is a top pick for budget-friendly hardware wallets, selling for $59 directly from Ledger. Both versions support the same list of more than 5,500 cryptocurrency coins and tokens.
Trezor is a hardware wallet made by SatoshiLabs, based in Prague, Czech Republic. Like Ledger, Trezor comes in two versions, the Trezor One and Trezor Model T. Trezor One supports more than 1,000 cryptocurrencies, with the Model T including a slightly larger list. The premium Model T is a touchscreen device that's more fun to use if you're willing to shell out over $200.
Find out more: Hot wallets vs. cold wallets
How do Trezor and Ledger work?
Ledger and Trezor are hardware cryptocurrency wallets. This means the wallets (and companion software) can securely store your cryptocurrency wallet address and private key entirely offline. Your data is stored away from potential hackers looking to access your computer or phone. In cryptocurrency community slang, a hardware wallet that stores your wallet keys offline is called a cold storage wallet.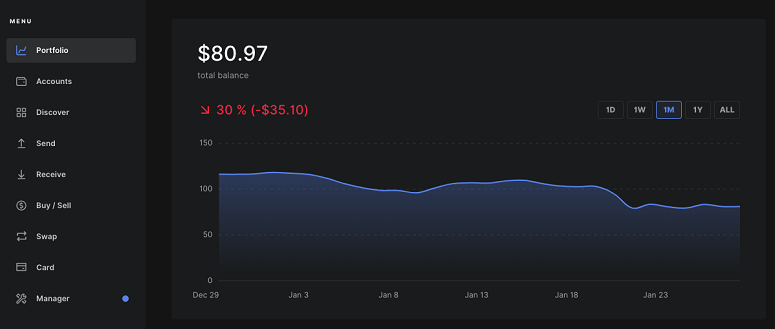 Depending on which wallet you choose, you can connect to your computer or smartphone using a USB wire or Bluetooth. To withdraw funds or interact with the wallet, it must be connected to your computer or phone and then unlocked using your unique PIN. Once unlocked, the companion app has access to your keys, enabling you to enter a transaction.
Other cold wallets are also available and may work differently. For example, Keystone wallets are completely air-gapped. This means they never connect to your computer. Tangem uses unique wallet cards that pair to your computer using NFC, the technology used for Apple Pay and Android Pay. However, Ledger and Trezor set a high crypto wallet standard to follow.
Wallet features
Now we're going to get into the nitty-gritty of wallet hardware and software features for a more thorough Ledger vs. Trezor review.
Ledger
Ledger Nano wallets are about the size of a USB thumb drive. Each has the option to connect to your computer using a USB cord. But the higher-end Nano X also works via Bluetooth. Both require you to install an app for each currency you want to use, though they can hold currencies without the app installed. Nano S has enough storage for three apps at a time, while Nano X can hold up to 100.
Both devices use extremely strong security and encryption, including a Ledger-designed chip meeting CC EAL5+ security standards. Both wallets support an impressive list of more than 5,500 coins and tokens. Odds are good that it works with whatever cryptocurrency you're trying to store.
In addition to Ledger Live, Ledger Nano wallets are compatible with more than 50 additional software wallets, such as MetaMask. Wallets are unlocked with a PIN code and you get a 24-word recovery phrase when setting up the wallet for the first time. This can be used to retrieve your wallet keys if you ever lose access to the hardware device.
Trezor
Trezor's Model One and Model T connect to your computer with a USB cable. The native software for Trezor devices, Trezor Suite, makes it easy to send, receive and trade supported currencies. The touchscreen Model T is easy to unlock with your personal PIN directly on the device, while Trezor One requires you to enter your PIN on your computer or phone. Both devices do a very good job of making cold storage user-friendly.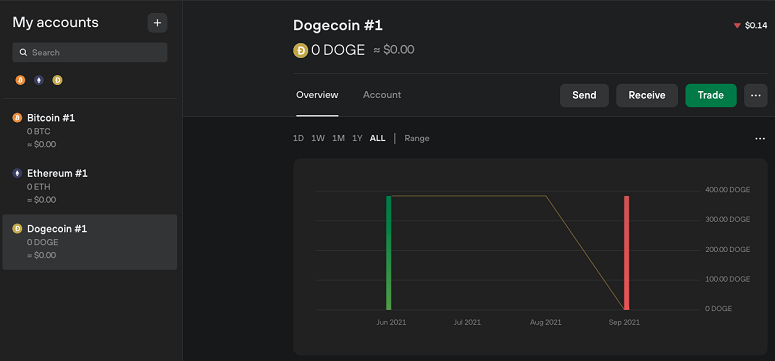 Trezor uses multiple authentication and encryption standards to keep private keys safely locked away until you enter your PIN. Security buffs may also appreciate that Trezor uses open-source software, allowing anyone to look for bugs and security issues.
Trezor supports 1,800 currencies and tokens, with a few missing on the lower-cost Trezor Model One. The device works with popular software wallets, including Exodus and Electrum. Recovering currency from a lost or broken device requires a backup seed phrase of 12 to 33 words. But if you treat the device well and keep it somewhere safe, that shouldn't be an issue.
Currencies
Ledger is the winner here if your priority is support for the largest number of currencies. Ledger works with an incredible list of more than 5,500 coins and tokens. Because it works with other wallets and blockchains, including Binance Smart Chain and Ethereum wallets, you can store obscure coins without direct support.
Trezor lists 1,816 supported coins and tokens. While the list is less than half the size of Ledger's, chances are still good that it works with whatever currency you're considering. The most significant gaps are the lack of support for cryptocurrencies cardano, ripple, tezos, monero and EOS on the Trezor One.
Regardless of which you choose, popular coins like bitcoin and ethereum are well supported and easy to buy, sell, swap and store using either wallet.
Security
The biggest reason to choose a hardware wallet over a software or paper wallet is security. Both companies do a very good job with security and you should feel safe using Ledger or Trezor to keep your valued digital assets safe.
The companies take different approaches to security, which could influence which you prefer. Ledger handles everything in-house, using closed-source software, a Ledger-designed chip and a fully Ledger-controlled experience.
SatoshiLabs prefers an open-source system for Trezor wallets. Trezor follows a philosophy of sharing its code with the public to build trust and open up its software for anyone to find problems and opportunities to improve.
Ledger does have one bad mark in its security history. Its user database was hacked in 2020, exposing customer details for past orders. This information didn't expose Ledger devices or user keys but did leave some questioning Ledger security practices. And it exposed past customers to phishing attacks.
Price
Ledger and Trezor wallets are priced as follows:
Ledger Nano S: $59
Ledger Nano X: $149
Trezor One: $63
Trezor Model T: $220
As far as costs go, Ledger Nano S is the most affordable option, though the Trezor One costs not much more. If you're willing to pay $220, the Model T offers a premium experience thanks to the touch screen. Ledger fans will find a sweet spot of extensive features and a slightly more modest price tag with the $149 Ledger Nano X.
Ease of use
If you're not as tech-savvy, ease of use could be an important consideration. Both wallets are reasonably straightforward once you read the basic instructions, but Trezor is a bit easier to navigate and use, thanks to device design and the Trezor Suite software. The big touch screen on the Trezor T makes it the easiest to use of these four hardware wallets.
Among the higher-end devices, the option to connect a Ledger Nano X via Bluetooth is unique and makes the experience a little easier. However, you will need to plug it in at least occasionally to recharge.
For the typical cryptocurrency enthusiast who is generally comfortable with computers and the web, any Trezor wallet or Ledger wallet should do just fine.
Who should use Trezor vs. Ledger?
If you're still on the fence, here are some insights into which wallet may be better for different types of users and goals.
Ledger wallets are best for those looking to save a little money while getting support for the largest number of currencies and outside wallets. They are best for higher-tech users who want flexible options to use the device in several ways.
Trezor wallets are a little pricier and easier to use but support fewer currencies and outside apps. They are best for users looking for the best experience and who don't mind the higher cost and shorter list of compatible coins and features.
For what it's worth, if I were chatting with my friends, I would recommend a Ledger Nano S for the best low-cost experience and Trezor Model T for the best user experience.
Ledger vs. Trezor review: Final thoughts
While the companies don't provide numbers that allow us to know which is more popular, both are clear market leaders for cryptocurrency hardware wallets. For the typical cryptocurrency user, you can't go wrong with either. Digging into the details on cost, supported currencies and additional software wallet support can help you pick the right one for your cryptocurrency portfolio goals.