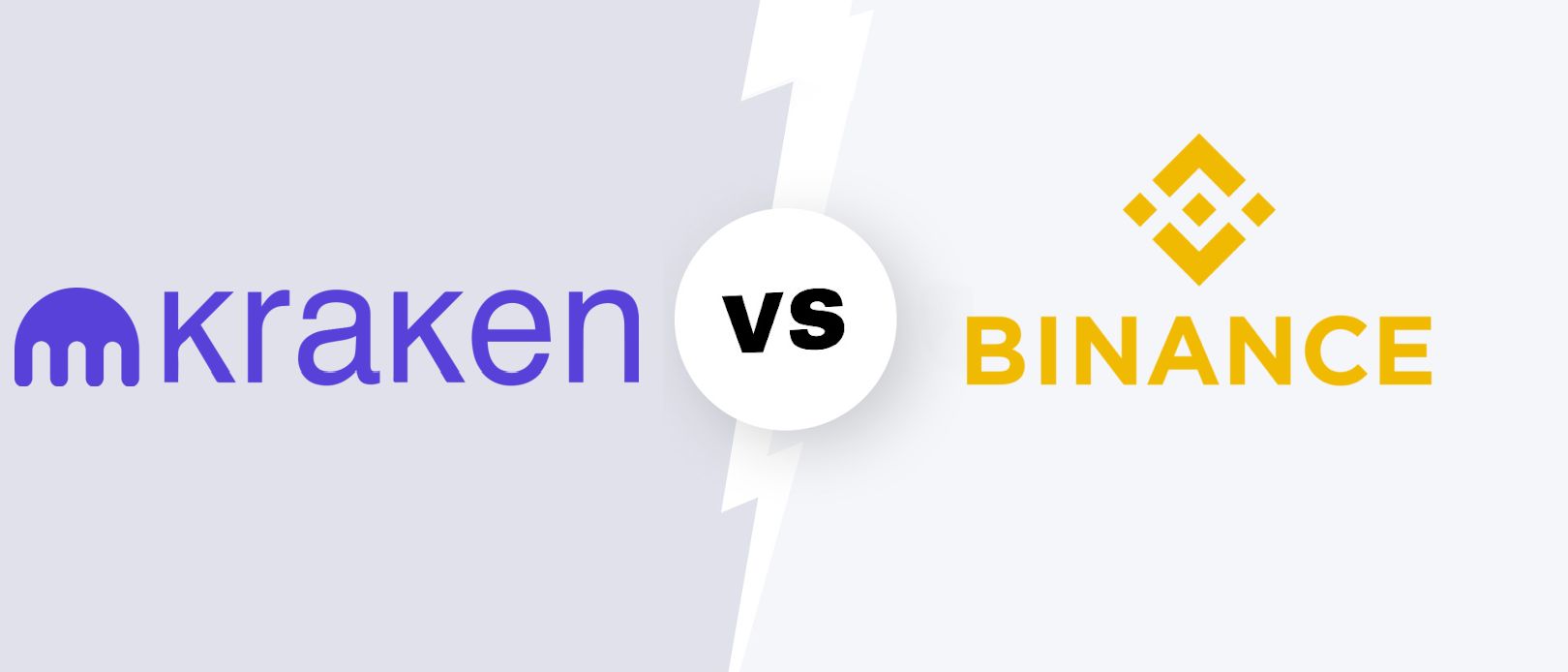 Kraken vs. Binance: Which is better for you?
Moneywise.com / Moneywise.com
We adhere to strict standards of editorial integrity to help you make decisions with confidence. Please be aware that some (or all) products and services linked in this article are from our sponsors.
We adhere to strict standards of editorial integrity to help you make decisions with confidence. Please be aware that some (or all) products and services linked in this article are from our sponsors.
Kraken and Binance are two of the world's most popular crypto exchanges. Both platforms offer considerably low fees, a wide range of coins, and other attractive benefits.
While both crypto companies could be excellent choices, which platform is right for you? This review is a head-to-head comparison of Kraken vs. Binance to help you choose the most suitable crypto exchange platform for your cryptocurrency trading needs.
The short version
Kraken could be a great choice for a relatively new crypto traders or investors, while Binance might be the better choice for more experienced traders.
Both crypto exchanges offer low trading fees with excellent trading features.
Kraken supports 120+ digital assets worldwide and over 65 in the U.S. It also offers advanced trading features like futures trading for users who are located outside of the United States.
Binance.com supports over 500 cryptocurrencies (Binance.US supports 75+) and offers a wide variety of trading services for non-US investors and institutions.
Kraken vs. Binance: Overview
What is Kraken?
Established in 2011, Kraken is a US-based bank and cryptocurrency exchange, providing trading between fiat currency and cryptocurrency. Kraken is one of the largest cryptocurrency exchange platforms, serving more than 170 countries across the globe and 48 states in the US.
The cryptocurrency exchange has an average daily trading volume of over $1.1 billion according to CoinMarketCap.
What is Binance?
Binance only appeared on the crypto scene in 2017. Yet within a year of its launch, Binance became the world's largest cryptocurrency exchange when it comes to trading volume. It currently boasts an average daily trading volume of over $18 billion.
Beyond trading, Binance Coin can be used for booking travel arrangements, various payment processing, and exchange for other types of cryptocurrencies.
Further reading: Binance vs. Coinbase
Kraken vs. Binance: accepted countries
No matter the impressive range of services it offers, a crypto exchange won't be of any use to you if you can't access the platform. This is why it's important to first determine that the crypto trading platform you choose supports your country or state of residence.
Kraken cryptocurrency exchange is accessible to all US states except Washington and New York. Currently, Cuba, North Korea, Japan and Iran are the only countries not supported on the Kraken crypto exchange platform.
On the other hand, Binance does not accept US-based users on its global platform Instead, US investors must use a separate website – Binance.US. Unfortunately, the trading features available on Binance.US are more limited than what the international platform offers.
Don't miss: Our tax guide to cryptocurrency investments
Kraken vs. Binance: supported coin and fiat currency
Worldwide, Kraken supports over 120 cryptocurrencies and stablecoins. Meanwhile, crypto traders in the U.S. have access to more than 65 assets on the Kraken exchange. In addition to Bitcoin, here are some of the more popular cryptocurrencies supported on the Kraken exchange:
Augur REP tokens (REP)
Dash (DASH)
Dogecoin (XDG)
Ethereum (ETH)
Ethereum Classic (ETC)
Gnosis (GNO)
ICONOMI (ICN)
Litecoin (LTC)
Melon (MLN)
Monero (XMR)
Ripple (XRP)
Stellar/Lumens (XLM)
Tether (USDT)
Zcash (ZEC)
In terms of fiat currency, Kraken supports seven currencies, including USD, EUR, GBP, CAD, JPY, CHF and AUD.
Binance has one of the widest selections of coins, comprising more than 500 virtual tokens, alt-coins, and stablecoins for trading. This includes the more popular Bitcoin, Ethereum, Litecoin, Dogecoin, and hundreds of other lesser-known coins. Just keep in mind that the list of supported assets for Binance.US is far more modest at 75+ cryptocurrencies.
Binance has its own coin – Binance Coin (BNB), which currently ranks among the top five crypto coins in the world. BNB has a market cap of over $63 billion as of February 2022.
The Binance platform supports 46 different currencies for fiat currency, including USD, AUD, AED, CAD, EUR, and more.
Kraken vs. Binance: transactions, fees and charges
Transaction types
In addition to buying and selling cryptocurrencies and using a wide range of market orders, Binance supports staking and OTC trading for all users. And if you live outside the U.S., you can access even more advanced features, such as:
Margin trading
Options trading
Futures trading
Kraken also offers similar transaction types as Binance besides buying and selling cryptocurrencies. These include:
Margin trading (in the U.S., margin trading is only available to clients who meet certain requirements)
Futures trading (not available to U.S. residents)
OTC trading
Staking
Spot trading
Fees & Charges
Fees and charges
Both cryptocurrency exchanges use a maker/taker fee structure and are considerably more affordable than many other platforms.
Binance traders are graded into different VIP levels and are charged accordingly. This makes the crypto exchange fee schedule a bit more complex and difficult to understand, while Kraken's fee schedule is a bit more straightforward.
While its fee structure isn't as easy to follow, Binance charges less per order than Kraken. The spot trading fee on Binance ranges between 0% and 0.10%, while it's 0% to 0.26% on Kraken.
Note that if you're just looking to buy or sell crypto with Binance (rather than trade coins with someone else), you'll pay a higher fee of 0.50%. Users who opt to pay with Binance Coin enjoy a 25% fee discount on fees. And the higher the balance of BNB that you hold, the less you'll pay in trade fees.
The withdrawal fees on both platforms vary depending on the region or country and the currency that's being withdrawn.
Find out: How much crypto should you have in your investment portfolio?
Kraken vs. Binance: features and account perks
With Binance, international users have access to far more coins and transaction options. But there are fewer differences on Kraken between the experiences of U.S. and global traders. Notably, U.S. Kraken traders can still trade on margin provided that they meet certain requirements.
However, those who live outside of the U.S. will find that Binance offers a far more expansive ecosystem. In addition to trading and investing in crypto, Binance offers features like swap farming, derivatives, the Binance Visa Card and an NFT marketplace.
Both Kraken and Binance provide robust charting using real-time data, with Kraken featuring an additional Cryptowatch standalone platform for technical analysis junkies or those who want to trade on multiple exchanges from a single screen.
Kraken vs. Binance: signup process
US residents must comply with stringent verification procedures on both Kraken and Binance.
That said, the signup process on the Kraken cryptocurrency exchange is pretty straightforward, and the verification can be completed within minutes or a maximum of five days for the Kraken Pro level.
On the other hand, the advanced verification process on Binance may take as much as 15 days to complete.
Kraken vs. Binance: user-friendliness
Both Kraken and Binance could potentially feel overwhelming for completely new crypto traders. However, of the two, Kraken's trading platform is a bit easier to navigate while the Binance platform is more clearly designed with experienced traders in mind.
Kraken vs. Binance: mobile apps
Traders and investors can access both the Kraken and Binance crypto exchange platforms via mobile apps on Android and iOS devices.
Kraken exchange has two mobile applications, namely Kraken (designed for newbie crypto traders) and Kraken Pro (more suitable for advanced traders). Users rate both mobile apps very highly and Kraken goes all out to respond to almost every review users leave to improve their experience.
Like Kraken, Binance also offers two mobile apps; one for international users and another for Binance US for US residents. Compared to its web-based platform, the user interface for Binance mobile apps is rather user-friendly. However, beginners may still find it a bit tricky to find their way around the app.
Also, the user interface for the Binance US mobile app is not as easy to use as the app for the main exchange platform.
Read more: Best crypto staking and lending platforms
Kraken vs. Binance: customer support
Kraken says that it provides one-on-one account manager support and expert consultations. But it appears that its overall customer support could use some improvement. Many users have complained online about long response times.
The customer support for the Binance platform is available round the clock and, in our test, was extremely responsive. Users can either submit a support request or find answers on the trading platform using the search option.
Kraken vs. Binance: security
In terms of security measures, both exchange platforms have strict know your customer (KYC) standards. Also, both hold the vast majority of their clients' assets in cold storage, use SSL encryption to protect private data, and support two-factor authentication.
Necessary reading: How to Spot a Crypto Scam
Pros and cons of Kraken
Pros
Intuitive trading interface: Users can easily navigate and find what they are looking for because the trading platform is designed with beginner crypto traders in mind.
Low fees: Lower taker fee and trading fee than many other beginner-friendly crypto exchanges.
Simplified verification process: Getting started is relatively straightforward with a shorter customer verification process.
Worldwide access: Kraken exchange is accessible to crypto traders in nearly all the countries of the world, including 48 US states.
Cold storage for assets: A large percentage of all assets (95% to be exact) on the Kraken cryptocurrency exchange are held in cold storage to minimize hacker attacks.
Cons
Lacks wallet: Kraken exchange does not provide users with standalone wallets.
Not accessible to all US residents: Kraken is currently unavailable in Washington and New York.
Pros and cons of Binance
Pros
Wide selection of coins: Binance supports trading with an extensive offering of coins, including all the major stablecoins, hundreds of alt-coins, and a host of other less-known coins.
Even lower trading fees: Binance's trade fees, which range from 0.00% to 0.10% are some of the lowest in the industry.
Binance Academy: New traders and users can get up to speed with the rich educational resource available on the crypto exchange through the Binance Academy
Wide range of payment options: Binance platform accepts payments through debit card, credit card, wire transfer, and ACH.
Cons
Limited trading options for US residents: The Binance main website is not accessible to US residents. US traders and investors can only use the Binance.US platform, which has fewer features and supported assets.
User interface could feel overwhelming: While a wide range of features and trading options are great, beginners may find the crypto exchange to be a bit disorienting.
The bottom line
Ultimately, choosing the right crypto exchange for you will come down to your personal preferences and needs. Binance takes the lead when it comes to worldwide popularity, trading volume, coin support, and fiat currency options. But Kraken is more accessible to every trader, regardless of their country of residence.
Kraken might seem like the obvious choice if you're a US resident. However, Binance.US could also be a worthy choice if it supports all of the coins you want to trade and you don't need access to advanced features like margin trading.
Not sure that either of these platforms are right for you? Then check out our full list of the best crypto exchanges here.