Kiavi review: bridge and rental loans for real estate investors
PaeGAG / Shutterstock
🗓️
Updated: August 01, 2023
We adhere to strict standards of editorial integrity to help you make decisions with confidence. Please be aware that some (or all) products and services linked in this article are from our sponsors.
We adhere to strict standards of editorial integrity to help you make decisions with confidence. Please be aware that some (or all) products and services linked in this article are from our sponsors.
Kiavi – formerly known as LendingHome – is a digital lending platform that helps real estate investors access financing for their investment properties. Its mission is to give real estate investors the capital they need to grow their portfolios or rehabilitate old homes.
When it operated as LendingHome, Kiavi provided crowdsourced loans to real estate investors. Accredited investors could buy a "Platform Note" for a property they wanted to invest in — basically an opportunity to invest in an already fully-funded investment property. The platform would issue these loans to borrowers while giving investors the opportunity to generate cash flow by investing in those loans.
However, in November of 2021, LendingHome rebranded as Kiavi and the company changed its positioning to focus almost exclusively on real estate financing.
This article will dive into what Kiavi is, the lending products they offer, and how real estate investors can get started.
Kiavi pros and cons
Pros
Simplified and streamlined lending process
Offer flexible short-term and long-term lending products
Cons
Loans are only available to investors operating under a business entity
Bridge loans can have higher APR
Poor customer reviews
What is Kiavi funding?
Kiavi is a lending platform that reduces financing barriers facing real estate investors while giving them access to the capital they need to help them scale. Under the name LendingHome, Kiavi used to provide crowdsourced loans to investors. The platform has shifted into a new direction, now exclusively offering short- and long-term lending products for established real estate investors.
One of the pain points Kiavi is trying to address are barriers that investors face applying for financing for building projects. According to their website, 65% of homes are more than 30 years old. Many of these homes need repairs to make them move-in ready for the next generation of home buyers.
Using automation, Kiavi gets rid of human decision-making and paper-based application processes. Traditional mortgage applications require documents provided by the applicant, appraisers, realtors, and mortgage brokers. Waiting for individuals to receive different sets of documents, reviewing them, and signing off on them adds a lot of time to the decision making process.
By eliminating manual tasks, Kiavi promises they can speed up the closing process to get capital into the hands of borrowers much faster than traditional lenders.
Related: Should you pay off your mortgage or invest?
What does it offer?
To address the capital needs of investors, Kiavi offers bridge loans and rental loans. Loans are available for most single-family and multi-unit properties including condos.
Bridge loans
Bridge loans – or "fix-and-flip" loans – offer short-term financing for investors looking to purchase a property or make repairs. These loans are designed for borrowers who are looking to flip, or resell, a home after renovations are completed, rather than renting it out. Kiavi offers these loans at up to 90% loan-to-cost ratio in 10 days or less. Loans can range in value from $100,000 to $1.5 million. Rates for these loans can be as low as 6.95%.
Bridge loans can be used on non-owner occupied dwellings such as multi-unit properties and condos. A borrower can use the funds to purchase a new home, delay refinancing, or provide extra runway on an existing project.
Kiavi does not require appraisals for bridge loans. By eliminating this requirement Kiavi is able to make lending decisions quicker than traditional banks. Additionally, Kiavi does not require income or employment verification and they do not charge an application fee.
Rental loans
Rental loans are designed for a longer time horizon. These loans are designed for new property purchases, refinancing an existing property, or freeing up capital in a larger investment portfolio.
Borrowers opting for a rental loan are typically looking to buy a property to generate cash flow rather than flipping it for a quick return on investment. This loan option more closely resembles a traditional mortgage with more flexibility. Rates start at 7.00% with flexible loan options including adjustable rate mortgages, a 30-year mortgage, and an interest-only loan.
Learn more about rental properties: How to invest in single-family rental homes
How do I apply for a loan with Kiavi?
Investors who are interested in financing their next real estate investing project with Kiavi can get started by applying online. Kiavi will ask a few questions about your project plans and location before prompting you to create an online account.
After going through Kiavi's prompts investors will be provided with an estimate and the best loan option. Kiavi does not offer pre-approvals.
At this time, Kiavi only offers lending products to borrowers who hold title to investment properties as a business entity. If you do not meet this criterion you will be asked to leave your information so that Kiavi can follow up with you in the future.
What are the risks of using Kiavi?
Despite priding itself on transparency, Kiavi is quite opaque when it comes to defining loan terms and the risks investors could face. There is very little information available on their website regarding loan requirements and financing risks.
Not enough documentation is required
Kiavi prides itself on its use of technology to automate the decision-making process. According to the bridge loan page on their website, Kiavi doesn't require an application fee, appraisal, income or employment verification, or asset verification. While less documentation might be enticing, it can increase the risk of a borrower taking out a loan they aren't actually qualified for.
Kiavi simplifies the lending process by eliminating paperwork like appraisals and income verification. While these data points may be mundane, banks use them to ensure a borrower is qualified for a loan. Although a seasoned real estate investor may understand financing risks, a newcomer might not. Without these items, a borrower could inadvertently find themselves overleveraged on a loan, especially if a rehab project goes awry.
Know the risks: What are the risks of investing in real estate?
Reported dropped loans
According to customer reviews on TrustPilot, Kiavi does not provide good customer service. This is unfortunate, especially because as a lender, they have reportedly struggled with meeting their loan obligations in a timely manner. Despite their promise to provide quick lending decisions, Kiavi borrowers report constant tardiness. Many also report deals falling through after funds weren't received or loans were suddenly canceled.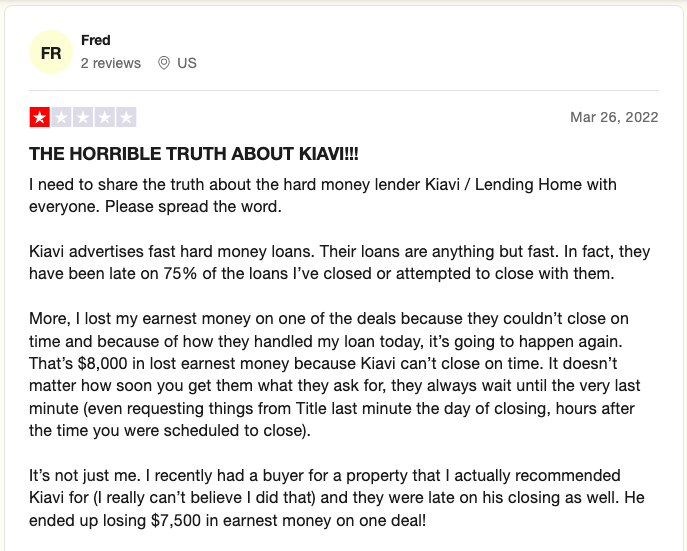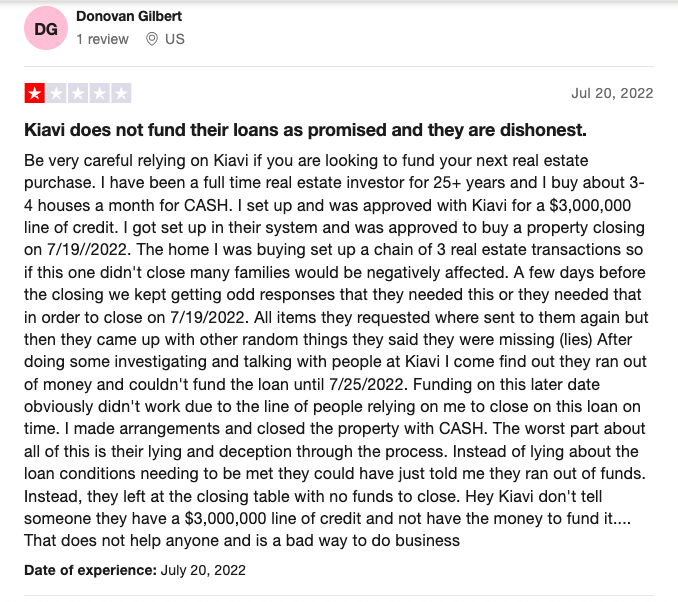 Higher rates on rental loans
Kiavi's rental loans have higher rates than similar products from traditional lenders. According to Kiavi's website, rental loans can have an APR of as low as 7.00%. Assuming an investor is issued a loan at that rate (and not at a higher rate), it is at least 2-3 points higher than the current market rate. With the Federal Reserve expected to continue increasing rates into 2023 and a cooling housing market, a high-interest rental loan with Kiavi is a risk real estate investors may not be willing to take right now.
What states does Kiaivi lend in?
Kiavi currently lends to entities operating in the following states: AL, AR, AZ, CA, CO, CT, FL, GA, IL, IN, KS, KY, MA, MD, MI, MN, MO, NC, NJ, NV, NY, OH, OK, OR, PA, SC, TN, TX, VA, WA, WI, WV and Washington D.C.
Kiavi recently expanded operations in Alabama, Arkansas and Wisconsin in June 2022.
How do I contact Kiavi?
Kiavi can be contacted via their toll-free number: +1 (844) 415-4663. They do not offer customer support services through their website.
Best alternatives
Fund That Flip
Fund That Flip is a direct lending platform that connects real estate entrepreneurs with financing to reinvest in their communities. It offers bridge loans and pre-approvals of up to $5 million.
Similar to Kiavi, bridge loans are short-term loans for investors to rehabilitate properties in order to flip them or rent them out. To qualify for a bridge loan, investors must put 10% down and the property cannot be owner-occupied. It takes about 7 to 10 days to close on loans with APRs starting at 9.99%.
Fund That Flip also offers similar passive investing opportunities that Kiavi used to offer as LendingHome. Accredited investors can invest in individual bridge notes and passively earn a yield as a result.
Read our take: Fund That Flip Review
Rocket Mortgage
Rocket Mortgage is an online-based mortgage provider. They offer traditional real estate loans like mortgages, refinancing, and cash-out refinancing.
Instead of leveraging a bridge loan to fund a rehab project, an investor with an existing real estate portfolio can use a home equity loan from a traditional mortgage provider. This type of loan is usually at a lower interest rate which can save investors money in the long run.
Additionally, a traditional mortgage can meet the same needs as a Kiavi rental loan. Real estate investors can use a traditional mortgage to purchase investment properties they plan to keep and rent out. While the closing process might not be as fast as a lending platform like Kiavi, the interest rates are typically lower.
The takeaway: should you trust Kiavi?
Kiavi has been in the lending business since 2013 and claims that 95% of projects they've funded have made successful exits. Using modern decision-making technology and eliminating cumbersome administrative requirements, Kiavi streamlines the lending process to give real estate investors access to capital quicker.
Kiavi might be a good option for someone who is looking for a fast decision and a simplified application process to get short-term financing. An alternative option, like a home equity loan from a traditional mortgage broker, might be the better option if someone is just looking to build – or grow – a real estate portfolio.
However, there are some red flags investors should consider before using Kiavi. Limited information on their website and a plethora of negative customer reviews suggest Kiavi might be more of a hassle than it's worth. Investors should consult a more established lender to learn about all of their options first.
Read up on real estate investing: