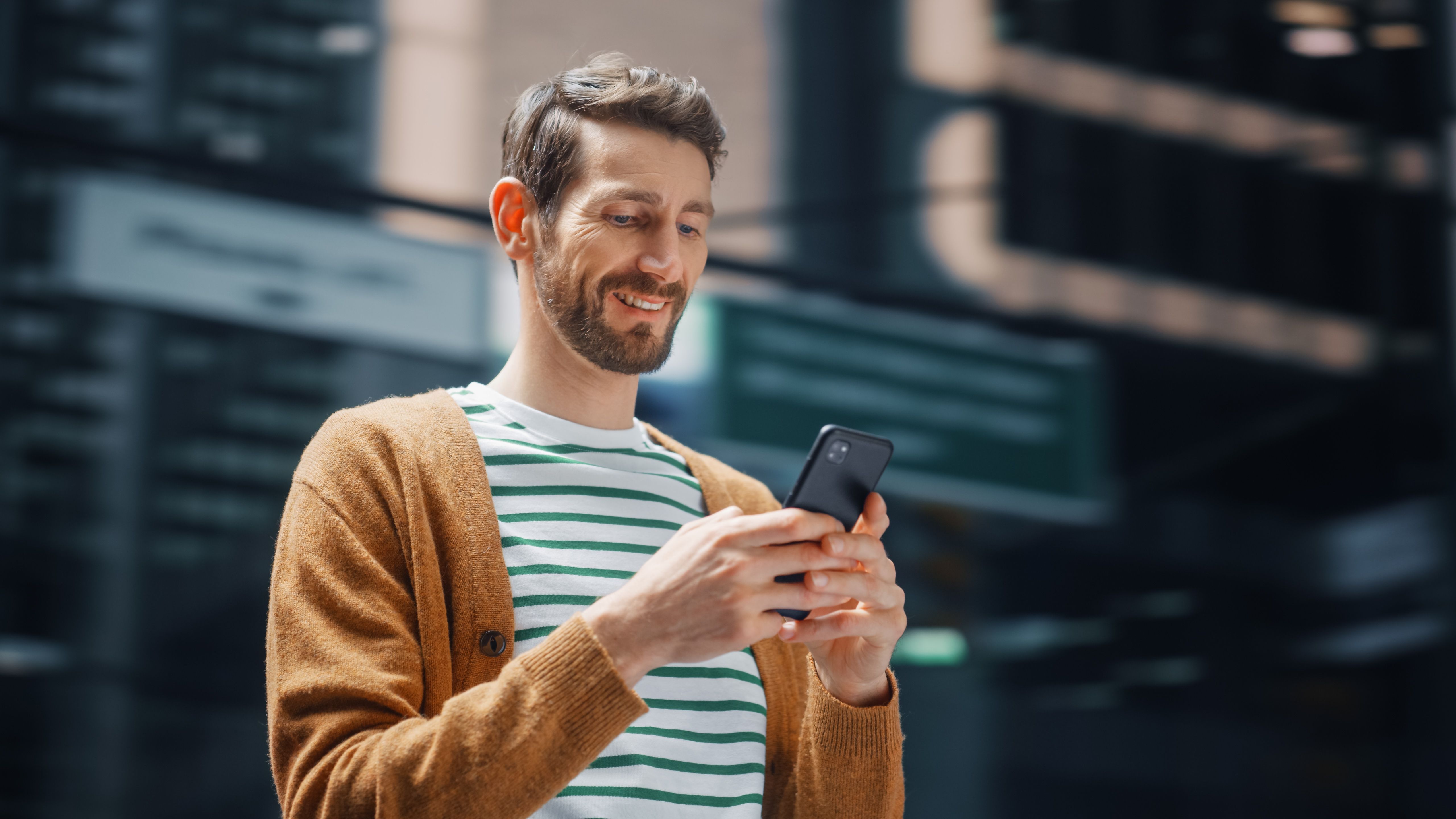 eToro vs. Robinhood: Which one Is better for you?
Gorodenkoff / Shutterstock
🗓️
Updated: July 17, 2023
We adhere to strict standards of editorial integrity to help you make decisions with confidence. Please be aware that some (or all) products and services linked in this article are from our sponsors.
We adhere to strict standards of editorial integrity to help you make decisions with confidence. Please be aware that some (or all) products and services linked in this article are from our sponsors.
Advertising disclosure: This article/post contains references to products or services from one or more of our advertisers or partners. We may receive compensation when you click on links to those products or services.
When deciding on a trading platform, it's important to consider your individual needs, as well as the features offered by different platforms. Two popular platforms for trading both cryptocurrencies and stocks, are eToro and Robinhood.
While eToro and Robinhood are very similar in regards to the assets that they support, they differ when it comes to trading tools and fee transparency. Let's take a closer look at eToro vs. Robinhood.
eToro vs. Robinhood
eToro and Robinhood are both brokers that offer access to a variety of assets, but are especially popular for cryptocurrencies. The main differences right now are that eToro eToro supports more cryptocurrencies while Robinhood supports options trading and margin accounts.
About eToro
eToro was founded in 2007 and is based in Tel Aviv, Israel, although there are also registered offices in Cyprus and the United Kingdom. One of the specialties offered by eToro is social trading, where you can see what others are doing and copy their strategies.
Get started with eToro
About Robinhood
Robinhood was founded in 2013 and is based in Menlo Park, California. The company aims to democratize investing by making it accessible and easy to trade. Robinhood offers access to equities, options and cryptocurrencies.
Open Robinhood account
eToro vs. Robinhood: Overview
Free stock when you open an account, free stock rewards for referrals
Depends on the assets and exchange, but 24/7 for crypto
Regular trading hours for stocks, extended trading hours until 6 pm eastern for stocks, 24/7 for crypto
Leverage fees are calculated as overnight fees based on LIBOR (for non-U.S. clients)
$5 for $1,000 of margin, 2.5% for margin over $1,000
No commissions on stocks or ETFs; 1% fee on crypto trades
$0 for stocks and ETFs; cryptocurrency prices include a spread
Debit card, online banking, wire transfer
Encryption, best practices
Encryption, best practices
Minimum and maximum trade
$25 minimum, 20% of equity maximum
Minimum and maximum trade varies based on asset
FCA, CySEC, FSC, ASIC, MiFID
How eToro vs. Robinhood work
Both eToro and Robinhood offer U.S. traders access to cryptocurrencies. They are straightforward and easy to use. You sign up for an account and you can begin trading. With eToro, you can find other investors and follow their strategies. Robinhood offers the ability to trade options, while eToro is allowing only investors to trade stocks and ETFs in the United States. Take a peek at the web-based platform here.
Unique features of eToro vs. Robinhood
Both of these brokers offer access to cryptocurrency trading and various tools that make trading simple. But where they stand out from each other are their variety of trading options and educational features.
Let's dive further, shall we?
How are they the same?
First, their commonalities:
✅ Access to cryptocurrency, ETFS and stocks
✅ Trading is easy and intuitive
How are they different?
eToro:
Currently supports 40+ cryptos
Offers social trading, where you can see others' investment strategies and automatically copy them.
There's a demo account available, so you can practice with $100,000 in play money.
Curious about eToro? Read our full review here.
Disclaimer: InvestorJunkie is compensated if you access certain of the products or services offered by eToro USA LLC and/or eToro USA Securities Inc. Any testimonials contained in this communication may not be representative of the experience of other eToro customers and such testimonials are not guarantees of future performance or success.
Robinhood:
Supports just seven cryptocurrencies (BTC, BCH, BSV, DOGE, ETH, ETC, LTC)
Unlike eToro, which requires a minimum deposit, there's a much lower minimum to get started.
Access to a cash management account in addition to investing.
Read more: Our full review of Robinhood
eToro vs. Robinhood: Pricing
Neither platform charges commissions on stocks or ETFs. However, there are trade costs for trading crypto. Robinhood is frustratingly vague about its crypto spreads. But eToro is more straightforward, stating clearly that all trades incur a 1% fee.
Robinhood also offers a Gold account, which is $5 per month. With Gold, you get access to margin trading, as well as resources like Morningstar insights.
eToro vs. Robinhood: Paper trading
eToro offers a practice account, so you can try out strategies and learn the ropes ahead of time. Robinhood, on the other hand, doesn't have a public demo account, so you can't practice — even with options. This means more of a learning curve for traders on Robinhood when they're using their own money.
eToro vs. Robinhood: Mobile apps
Both eToro and Robinhood offer apps for iOS and Android, as well as the ability to make trades using a desktop. Both are easy to use and make for an intuitive experience in trading. Robinhood, especially, makes it easy to buy and sell with a few swipes. You can even trade options on the Robinhood mobile app.
eToro vs. Robinhood: Research and resources
Stocks
eToro offers financial news and analysis, looking at the latest trends in the stock market and providing analysis related to stocks.
Robinhood offers access to Morningstar research reports on stocks, offering access to in-depth analysis on more than 1,700 stocks. For Gold members, this can be a valuable resource.
ETFs
Traders can access ETF research through Robinhood's Morningstar partnership, as well as learn about ETFs and other funds in the learning section of Robinhood's website.
eToro offers different educational resources, including webinars and articles that can help you learn about different aspects of trading, including ETFs.
Interested in learning about ETFs? Check out our guide here
Mutual funds
With both of these platforms, information on mutual funds is kept in the education section Neither Robinhood nor eToro offer access to mutual funds.
Options
Robinhood offers tutorials on options trading providing helpful information on how to get started and use different strategies.
Customer service
Neither eToro nor Robinhood offer phone-based customer service. Instead, you can search a wide database with FAQs. eToro does have a process for opening a support ticket, but it can take up to 14 days to hear back from them. Robinhood answers questions and offers helpful tips on its social media accounts, so you could reach out that way if needed.
How safe are they?
Both Robinhood and eToro use best practices of encryption and do their best to protect your data. Robinhood has come under fire in the past for blocking trades and making it difficult to get at money, however. In fact, some states are looking to revoke Robinhood's broker license due to some of its practices.
It's also important to note that cryptocurrencies, especially, are volatile and you could potentially lose more than you put in, especially if you trade on margin. On top of that, cryptocurrencies aren't protected by SIPC insurance. So, while your data is probably reasonably safe, it's important to carefully consider whether crypto trading makes sense for you.
Read more: How to spot a crypto scam
Who are they best for?
If you're only into crypto, eToro can be a good choice since it currently offers offers a wider variety of coins. With their paper trading accounts and social investing features, eToro is also highly recommended for beginners.
On the other hand, Robinhood offers access to options in addition to stocks, ETFs, and cryptos. And when you're ready to grow as an investor, Robinhood Gold is right there waiting.
Further reading: How to sell Bitcoin and cryptocurrencies
Other alternatives
Public
Public also offers access to social trading, so you can see how others are making trades. It also has more access to commission-free and fractional stocks and ETFs. However, unlike eToro, Public doesn't offer crypto.
Visit Public
WeBull
Not only does WeBulloffer access to stocks, ETFs, options and cryptocurrencies, but it also offers an IRA, which isn't offered by eToro. You can also trade on margin with and it doesn't charge any commissions.
Visit WeBull
Bottom Line: Which is the best for you?
When it comes to choosing between eToro vs. Robinhood, the best option for you depends on your goals. Both offer commission-free trading. However, if you want to access to options or margin trading, Robinhood is probably a better fit. On the other hand, if you're a newbie trader looking to pick up some strategies from the pros, eToro might be for you. It's a fun and educational platform that is always adding to their list of cryptos, ETFs and stocks.
Read more: Best online stock brokers
Advertiser disclosure– This advertisement contains information and materials provided by Robinhood Financial LLC and its affiliates ("Robinhood") and InvestorJunkie, a third party not affiliated with Robinhood. All investments involve risk and the past performance of a security, or financial product does not guarantee future results or returns. Securities offered through Robinhood Financial LLC and Robinhood Securities LLC, which are members of FINRA and SIPC. InvestorJunkie is not a member of FINRA or SIPC."
InvestorJunkie is compensated if you access certain of the products or services offered by eToro USA LLC and/or eToro USA Securities Inc. Any testimonials contained in this communication may not be representative of the experience of other eToro customers and such testimonials are not guarantees of future performance or success