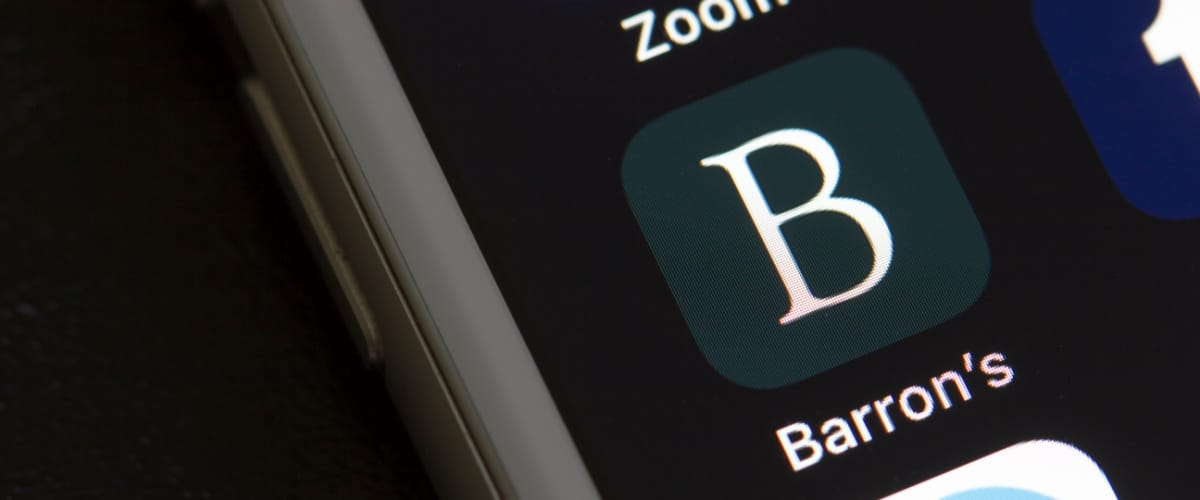 Barron's Magazine review: A treasure trove of investing ideas
Tada Images / Shutterstock
🗓️
Updated: July 27, 2023
We adhere to strict standards of editorial integrity to help you make decisions with confidence. Please be aware that some (or all) products and services linked in this article are from our sponsors.
We adhere to strict standards of editorial integrity to help you make decisions with confidence. Please be aware that some (or all) products and services linked in this article are from our sponsors.
Barron's Magazine
Visit Barron's ►
Quick Facts
Barron's is one of the country's most trusted financial publications. Readers get weekly articles containing investing ideas, trends and concepts. The articles are well written yet not too complicated. The only drawback may be Barron's relatively high price tage, but the quality more than makes up for the cost.
After only a few weeks of Barron's I was ready to call the single best financial publication out there. It is comprehensive, inexpensive, and dedicated to a single topic: the financial markets.
I'll break Barron's down into a sum of the parts to go through what you get with each issue and explain and review the publication as a whole.
First things first: Barron's focus
Barron's is entirely dedicated to investing, differentiating the magazine from the Wall Street Journal (our review here), which is a business and world news with some investing content and other magazines like Money Magazine, which focus primarily on personal finance.
Each week, Barron's highlights a major cover story, usually about a single industry or company. In the October 22, 2012 edition, Barron's featured a story titled "Death Knell for Desktops."
Each edition is full of investment ideas in the main weekly edition. These investment ideas come from authors' own research, and may be topical (the company has been a recent critic of Facebook) or not so topical analyses of lesser-followed businesses.
Barron's offers five investment ideas each week for individual stock pickers. Investment ideas are entirely fundamentally driven; you'll find analysis of businesses, not their charts or so-called "technicals."
Each issue also contains a weekly profile of an investment manager, an interview of a CEO, Q&A with an asset manager, and finally an editorial commentary. Spanning 58 pages in the most recent edition, it's certainly not thin for a weekly.
Market week
Inside each edition is a pullout known as "Market Week." Market Week focuses on news-driven analysis from the previous week. Market Week features several different trading ideas, which run the gamut from options strategies to ETF trades of whole industries. This differs from Barron's in that Market Week follows the "big ideas," with macro perspectives on international markets taking center-stage.
Market Week also lists closing prices for the most active stocks, ETFs, mutual funds, closed-end funds, bonds as well as prices for foreign stocks, indexes, bonds, commodities. Investors who remember eagerly checking newspapers for daily closing prices will enjoy this bit of black-thumbing nostalgia.
It also collects various economic data points to an extent you won't find in many other resources. For example, on page M54, I learn that for the week ended October 13th, the United States produced 70.3 billion kilowatt hours of electricity.
Oh, and if you wanted to know the line-up for corporate conference calls in the next week, it has that, too, with dates and times for each call. Market Week is 56 pages from cover-to-cover, though much of this is dedicated to lists of securities prices and data from economic events, which may or may not be useful to every investor.
Writing style
Barron's makes the assumption that its readers are familiar with investing analysis and ideas. The target audience includes senior managers and executives, institutional investors, finance professionals, and dedicated individual investors.
Make no mistake — Barron's is not a resource for personal finance. It rarely, if ever, covers issues involving individual tax law or asset allocation. The magazine presumes the reader is familiar with these concerns and is looking solely for investments to actively-select.
Readers will need some familiarity with investing ideas, trends, and concepts; however, articles are not overly technical. Writers use plain-language and I've always been satisfied with the content of each article, feeling as though I was left with a solid explanation of individual companies as well as a quick and dirty valuation of each company based on the explained metrics.
A subscription you'll actually use
I have subscriptions to most business and finance publications, but Barron's is the only one I can say that I truly read from cover-to-cover. Each article is interesting and informative, and I'm left with the feeling that, even if I do not follow its trade recommendations, I have learned something actionable from each article in every weekly edition.
Barron's is more expensive than most other publications, coming in at $99 for 30 weeks, or $179 for the full year for print and online access. Online-only subscriptions (for computer or iPad users) are $99. Quality more than keeps up with the cost, however. Investors actively-involved in the markets will find the subscription price easy to justify. Do note that Barron's does not have an Android app, so readers will have to use the mobile site on Android devices.
All in all, Barron's is an excellent read for anyone interested in true investing analysis and news. Due to its extreme focus on all things investing, I would recommend pairing it with a subscription to a business news weekly like Business Week to stay fully-informed. For a pure publication on the financial markets, there is no better choice.
Get Barron's