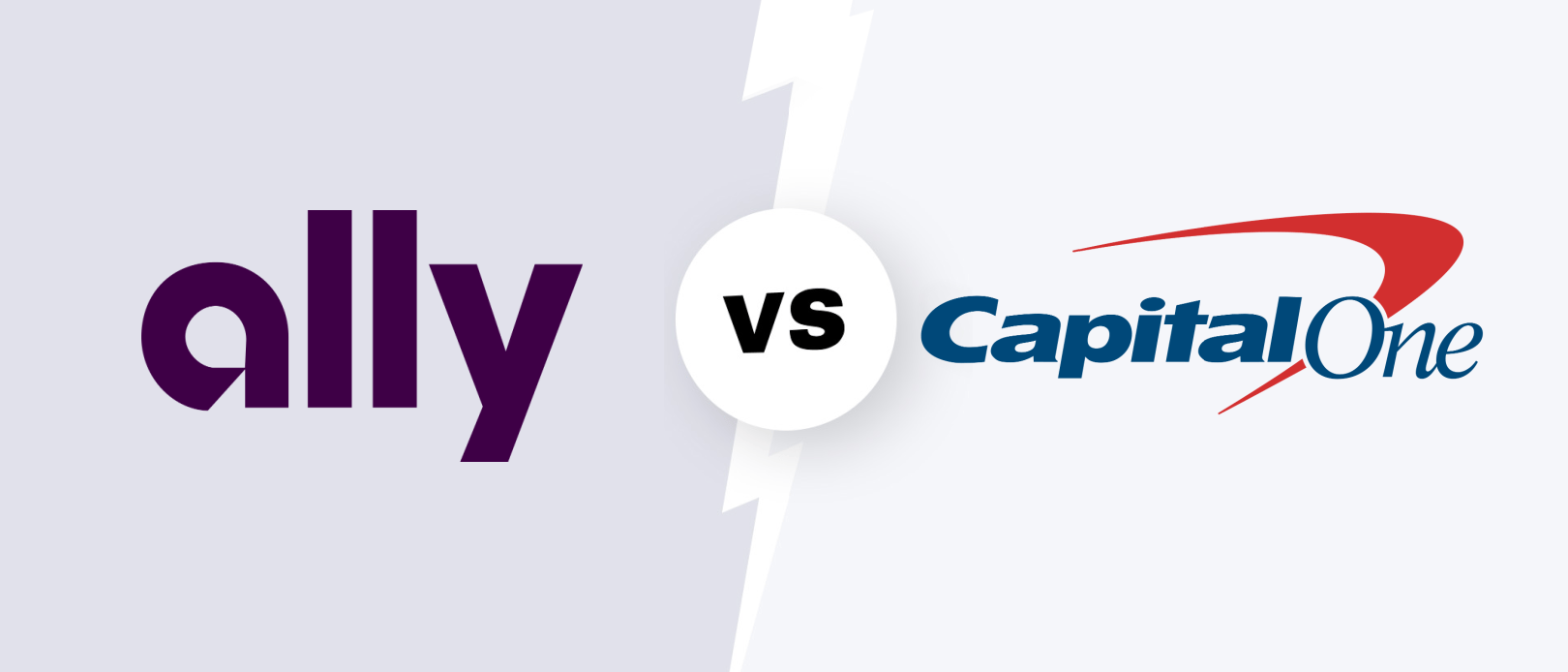 We adhere to strict standards of editorial integrity to help you make decisions with confidence. Please be aware that some (or all) products and services linked in this article are from our sponsors.
We adhere to strict standards of editorial integrity to help you make decisions with confidence. Please be aware that some (or all) products and services linked in this article are from our sponsors.
Online banking is the wave of the future. And Ally and Capital One 360 are two of the hottest online banks out there. But which one is better? We put them head to head in this battle of the banks. Read on to find out which one is the right choice for you.
Highlights
Capital One 360
Ally Bank
Savings, Checking, Money Market, CDs
About Ally Bank and Capital One 360
About Ally Bank

Ally Bank is one of the best-known and most trusted online banks. More than 1 million customers have taken advantage of its interest-paying checking and savings accounts, as well as a suite of mortgage and auto loans.
What do people love best about Ally? Well, its no-fee policy is a good place to start. That's right — there are no pesky maintenance fees to eat away at your hard-earned money.
Plus, there are the generous interest payouts from Ally's savings accounts, as well as a checking account that pays interest too!
Because Ally doesn't have a single brick-and-mortar branch location, it can pass these savings along to you.
There's good reason to trust this bank too. Its history stretches back 100 years, when General Motors founded Ally's "ancestor," GMAC, to help everyday folks finance a car. Today Ally Bank is a subsidiary of Ally Financial (which also owns Ally Invest). Together, these products can give you a one-stop-shop for all of your savings and investing needs.
About Capital One 360

Capital One 360's history doesn't go back nearly as far as Ally's. Its parent, Capital One, was founded in 1995 to offer credit cards. In 2012, Capital One bought the ING Group's banking operations and rebranded them as Capital One 360.
Now, Capital One 360 is mainly an online bank, but there are brick-and-mortar branch locations as well. You'll find them in Connecticut, Delaware, Louisiana, Maryland, New Jersey, New York, Texas, Virginia and Washington, D.C.
However, the rates and features the bank offers are in line with other online banks, rather than the typical old-school brick-and-mortar operations. And as with Ally Bank, Capital One 360 charges no maintenance fees ever.
How are they the same?
Both banks offer a lot of features. First, let's discuss the similarities between the companies.
Checking, savings, money market and CD accounts
Both banks offer to reimburse your fees if you use an out-of-network ATM
Both banks allow you to make deposits online
Both banks offer FDIC insurance of up to $250,000 per account
Neither bank charges maintenance fees on accounts
Next, let's check out how these banks compare when it comes to account options.
Checking account comparison
Even among online banks, it can be rare to find a checking account that pays interest. But with both Ally Bank and Capital One 360, you're in luck!
Now, keep in mind annual percentage yields (APYs) for checking accounts won't be as great as what you'll get with a high-yield savings account or CD account. But it's certainly better than what you'll likely get elsewhere — nothing!
In addition to paying interest, both Ally Bank and Capital One 360 checking accounts include a debit card that you can use free at select ATMs. If you use an out-of-network ATM, both banks will reimburse you up to a point. You don't pay monthly fees or overdraft fees either.
Ally Bank Interest Checking
Ally is the better choice if you want a higher interest rate. And it has a nifty spare change round-up tool you can enable to automatically move money to your savings account after shopping. This is similar to microsaving apps like Acorns, and it's a useful tool for consistent savings.
Capital One 360's checking account pays less. However, you can get paid up to two days early with its early pay feature, which might be a selling point.
Also note: Capital One 360 has some excellent kid and teen checking accounts that have zero fees and also pay interest. If you want to start your teen with a bank account, we recommend considering Capital One 360 over Ally Bank.
TIE — Ally Bank has a higher APY but Capital On 360 has more options for kids and teens.
Savings Account comparison
If you want an interest-paying savings account, it's good to know that both banks pay more than the national average.
With Ally's savings account, you currently earn 1.25% APY. In contrast, Capital One 360 Savings currently pays 3.00% APY.
Both mobile banks are still an excellent option for parking your emergency fund or some idle cash. But if you're hunting down the highest interest rates possible, options like Current and Varo are better choices since you can earn 4% and 5% APY respectively.
Money Market account comparison
Money market accounts are enhanced savings accounts. They offer higher interest rates, but you're prohibited from making more than six withdrawals via check, debit card or automatic bill pay per month. (You're not limited when it comes to ATMs.)
Capital One 360 Money Market
Ally Bank's money market account currently pays 1.25% on all balance tiers. This makes it one of our favorite money market accounts right now, and there's no minimum deposit requirement. Unfortunately, Capital One 360 has ended its money market account offering, so the clear winner here is Ally.
WINNER — Ally Bank is the winner since it offers MMAs unlike Capital One 360.
CD account comparison
Certificates of deposit (CDs) are extremely popular savings tools. Although they tie your money up for a predetermined term, they generally offer higher APYs and are a popular fixed-income investment.
Ally Bank offers a couple of CD options, but here we've chosen to compare the most basic CD accounts. See our Ally review for more information on additional CD products.
Both Ally and Capital One 360 have very similar CD rates. Ally is better for a short-term investment since it offers a three month CD. However, Capital One 360 is slightly better for longer terms since you reach higher rates faster.
WINNER — Ally Bank is the winner since it offers 24/7 customer support.
Customer Service
Ally Bank is strictly online only. There are no branch offices anywhere that you can go into if you have a pressing question about your account. That might bother some folks. But others will find that to not be an issue, especially since Ally Bank offers plenty of other ways to contact customer service. You can give the bank a call or open a live chat from 7 am – 10 pm, 7 days a week (Eastern Time).
With Capital One 360, on the other hand, you can find support at more than 550 local branches, including trendy branded cafes. However, the support you find may be limited. For full support, you can call Capital One from 8 am to 8 pm Eastern Time, seven days a week.
Security
Both banks take your security seriously. And both banks are FDIC insured.
Ally Bank uses two-step authentication and other strategies to protect your private information. In addition, the bank offers a security center, where you'll find tips on identifying fraud and identity theft, safely using social media and even protecting your mobile device from malware.
Capital One 360 pioneered the SwiftID system. It's a bit complicated to explain, but basically, it bypasses the usual pesky security questions ("What's the name of your great-aunt's second favorite cat?"). The SwiftID system can identify your particular device with a swipe of the screen.
TIE — Both Ally Bank and Capital One 360 take security seriously.
Promotions
Currently, neither Ally Bank nor Capital One 360 is offering a promotion. Keep an eye on this space in case that changes!
Ally vs. Capital One 360 – which bank is right for you?
If you want a full-service banking solution, we recommend going with Ally. It has an excellent high-yield savings account and very competitive rewards checking account. Plus, it has an active investing service and even a robo-advisory service so you can invest in whatever style you prefer.
In contrast, we think Capital One 360 is better than Ally if you're looking for a bank account for your kid or teen. It also has slightly better CD rates at the time of writing and some branch locations, which could be a selling point.
Of course, you can always invest through an online broker and deposit your cash in a variety of online banks to track down the highest interest rates.