Farmland — a historically defensive and uncorrelated asset
During economic turmoil, many investors go on the defensive — preserving capital gets higher priority than yield hunting or capital appreciation. Farmland, however, could be in a position to deliver all three.
Farmland's unique characteristics have made it a traditionally stable asset class that may attract defensive investors in 2023. Many of its characteristics, such as inflation-linked returns and passive income, are similar to regular real estate. However, farmland tends to have an advantage over other real estate when it comes to stability.
Historically, farmland has had low volatility while delivering attractive absolute returns. Between 1992 and 2022, the standard deviation of farmland prices was 6.64%, according to data collected by farmland investment manager FarmTogether. That's 98 basis points lower than private real estate and only 104 basis points higher than bonds over the same period. The asset was also significantly less volatile than publicly listed real estate and equities.
Even gold experienced more volatility than farmland over this period. Based on the LBMA Precious Metal Prices index, gold had a volatility (or standard deviation) of 14.52% over this 30-year period. That's more than double the volatility of farmland for an asset class that is traditionally considered a safe haven. Source: FarmTogether — Introduction to Farmland Investing
Like traditional real estate, farmland's value comes from two sources: income and capital appreciation. In farmland's case, income is generated from selling crops, while capital appreciation is driven by structural factors such as population growth and the increasing scarcity of arable land.
Powered by these fundamental trends, farmland's total return has been net positive almost every single year since 1992. Even in challenging times, like the fourth quarters of 2001 and 2019, losses were only 0.1%. Over the past three decades, farmland's average total annual return has been 10.71%. Source: FarmTogether — Introduction to Farmland Investing
However, farmland's historically attractive risk-adjusted returns are only part of the equation. The other aspect of farmland investors may find appealing is its historic lack of correlation with other asset classes.
Between 1992 and 2022, farmland had a positive but low correlation with private real estate of 0.42, according to statistics collected by farmland investment manager FarmTogether in its paper "Introduction to Farmland Investing." That means the headwinds currently faced by many segments of the CRE market have not impacted farmland values or performance. Farmland had negative correlations with US-based stocks (-0.05), bonds (-0.17) and REITs (-0.01) during the same time frame.
Farms have also been somewhat correlated to the rate of inflation. From 1992 to 2022, U.S. agricultural land values had a positive correlation of 0.17 with the Consumer Price Index.
Low correlation — coupled with historically low volatility and stable returns over extended periods of time — have made farmland an attractive choice for investors looking to diversify their portfolio. This is why sophisticated investors like Bill Gates, Ted Turner, Jeff Bezos and Warren Buffett have allocations to this asset class.
The Oracle of Omaha is very familiar with this niche asset class. Buffett purchased a farm a few miles north of his native Omaha in 1986 — an investment in which he saw "no downside and potentially substantial upside" — and his son Howard Buffett spent half his life as a farmer.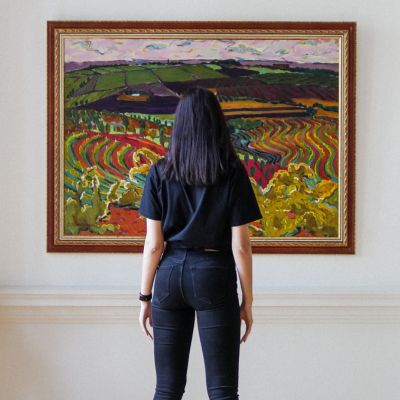 Contemporary art has outperformed the S&P 500 by 131% for the past 26 years. Join the exclusive platform to invest in million-dollar works by artists like Banksy, Basquiat, and more. Get started today and diversify your portfolio with art.
Learn More
How a 1031 exchange can make a good deal better Another concept Buffett is very familiar with? Tax deferrals. The billionaire investor has compared tax deferrals to interest-free loans from the government. And, like traditional real estate, farmland, under certain circumstances, may qualify for a tax deferral under the 1031 exchange option.
A 1031 exchange, also known as a like-kind exchange, is a mechanism that enables the potential to defer realization of capital gains, depreciation recapture and other federal tax liabilities on an investment property when it is sold – as long as another "like-kind property" is purchased with the profit gained by the sale of the first property.
Under this program, an investor may swap one investment property with farmland — a like-kind replacement property — or invest in a real property interest to enable tax savings at the time of sale. If implemented correctly, this strategy can be valuable for real estate investors and can be frequently repeated to maximize the tax advantage.
That said, the Internal Revenue Service's rules for this exchange are complex and subject to change. To keep up with the changes and execute the deferral correctly, investors may need a team of financial planners, tax advisors, licensed 1031 exchange advisors or qualified intermediaries.
For farmland investments, such professional assistance is easily available through the farmland investment manager FarmTogether.
Investing through FarmTogether FarmTogether offers multiple crowdfunding opportunities for accredited investors and is also available to work with investors who want direct deals or sole ownership of specific farmland properties.
In these bespoke deals, the investor works with the FarmTogether team to create personalized parameters for the hold period and risk-return profile of each farmland investment opportunity. Meanwhile, the team can help structure the deal to make it eligible for a 1031 exchange.
Professional tax planning and due diligence could help investors unlock the real potential of this niche asset class.
Learn more about investing in farmland at FarmTogether.com.
Disclaimer:
This communication is not intended to be relied upon as advice to investors or potential investors and does not take into account the investment objectives, financial situation, or needs of any investor. All investors should consider such factors and risks in consultation with a professional advisor of their choosing when deciding if an investment is appropriate. Historical data is not indicative of future results and may not reflect fees which may reduce actual returns. Any historical information is illustrative in nature and may not represent future results, therefore any investor investing through the FarmTogether platform may experience different returns from examples and projections provided herein.
Data representative from January 1992 through December 2022. Sources: Privately Held U.S. Farmland - NCREIF Farmland Index; Privately Held U.S. Commercial Real Estate - NCREIF Real Estate Index; Stocks - S&P 500; Bonds - Bloomberg Barclays U.S. Aggregate Index; Gold - Federal Reserve Bank of St. Louis Economic Data (FRED). Indexes are unmanaged and not available for direct investment.
Sponsored
Meet Your Retirement Goals Effortlessly
The road to retirement may seem long, but with WiserAdvisor, you can find a trusted partner to guide you every step of the way
WiserAdvisor matches you with vetted financial advisors that offer personalized advice to help you to make the right choices, invest wisely, and secure the retirement you've always dreamed of. Start planning early, and get your retirement mapped out today.