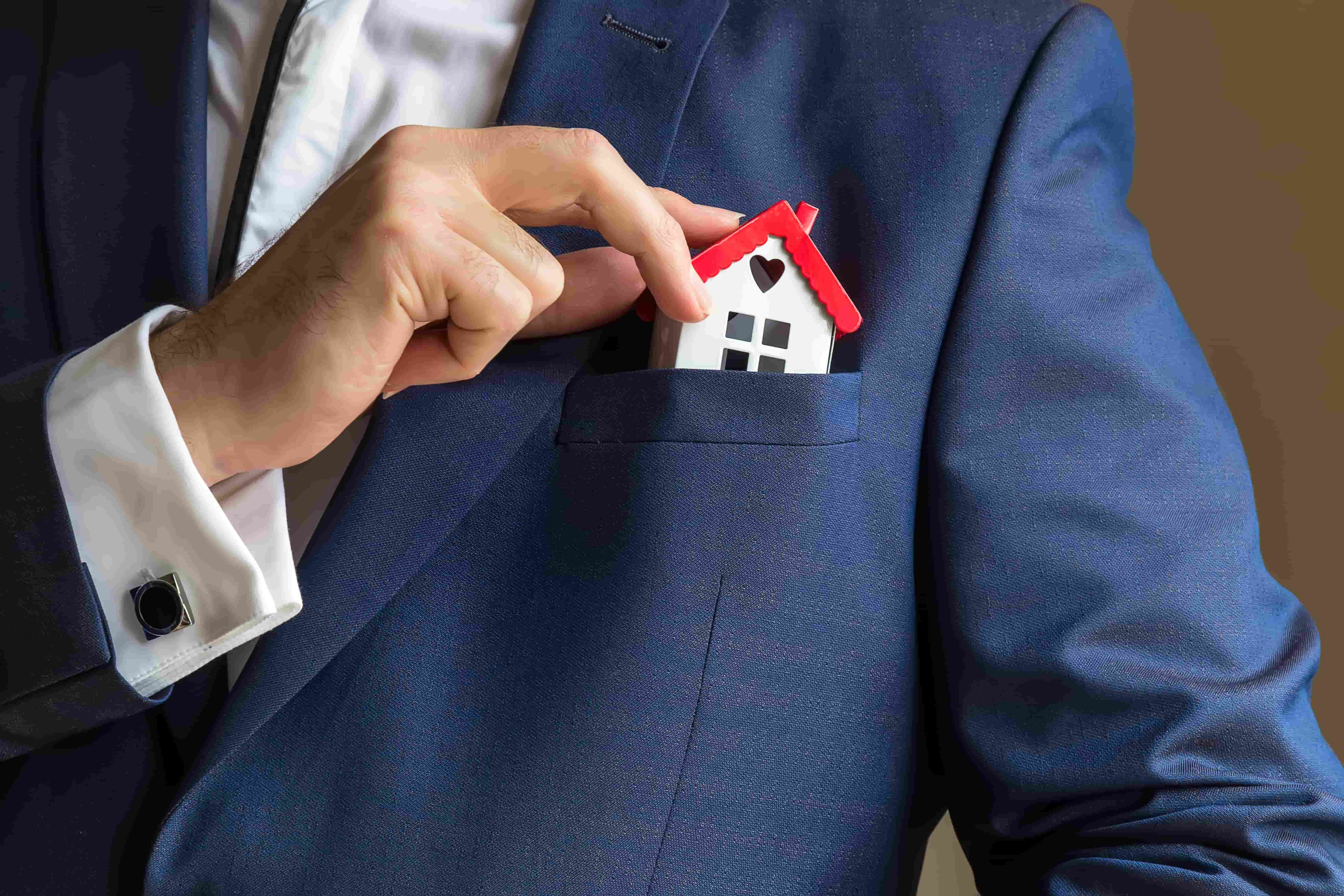 Pocket Properties review: What we know so far
🗓️
Updated: November 18, 2022
We adhere to strict standards of editorial integrity to help you make decisions with confidence. Please be aware that some (or all) products and services linked in this article are from our sponsors.
We adhere to strict standards of editorial integrity to help you make decisions with confidence. Please be aware that some (or all) products and services linked in this article are from our sponsors.
What if you could "own" properties in 15 different cities without spending more than $150? And what if you could buy, sell, and trade "shares" of a house almost instantly? And without the need for a realtor or a loan officer?
Fractional investing is finally coming to real estate and it may just change everything. Similar to how your stock portfolio has 162 shares of VOO and 17 shares of TSLA, you might have 11 shares in a strip mall in Phoenix and 93 in a home in Vale. Some of your holdings may even generate passive income through your share of the rent from tenants.
The only question is: who will become the Robinhood or OpenSea of fractional real estate investing? Pocket Properties is one such contender that promises to leverage blockchain tech, minimize fees, and even offer "social investing" features.
But how does it all work? What do we know so far? And is Pocket Properties the one to watch (or even invest in) Let's cover what we know so far about Pocket Properties.
The short version
Pocket Properties is a new app that plans to democratize real estate investing by leveraging blockchain technology and allowing users to trade fractional equity shares of specific properties.
The company is still in the "building phase" and the app is not yet available to download. But one unique feature that has been promised is a grading system that will rank investors by their experience and success levels.
The jury is still out on whether or not Pocket Properties will be successful, but it will be interesting to see how the platform develops in the coming months and years.
What is Pocket Properties?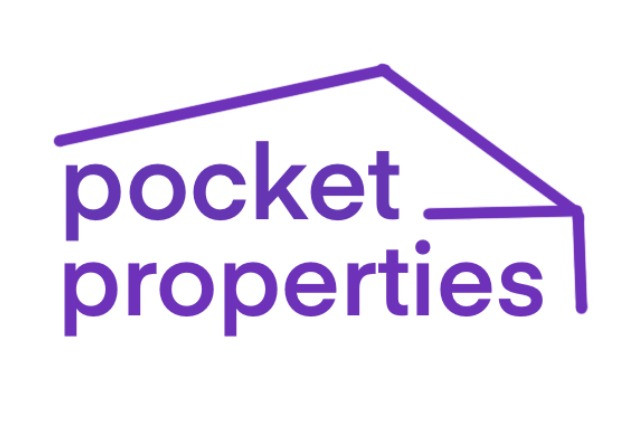 Pocket Properties seeks to bring fractional real estate investing to everyday investors by leveraging blockchain technology.
In the words of CEO Joshua Rufolo, Pocket Properties is "the first mobile-focused platform that will allow our users to invest in either the debt or the equity side of real estate transactions for less than $10."
Pocket Properties was organized as a company in June 2021. In May 2022, Pocket Properties raised $58k of operating capital on WeFunder. In the campaign details, Pocket's team said that their waitlist has been growing at an average rate of 40% per month.
What is fractional investing, again?
As the name implies, fractional investing is when you own or invest in a portion of an equity. For example, let's say you can't afford – or simply don't want to invest in – a full share of Tesla at $860. Historically, you'd have to wait for a stock split – like a 20-for-1 that would bring the price of an individual share down to $43.
But since modern brokerages introduced fractional shares in the mid-2010, you no longer have to cross your fingers for a stock split. Instead, you can just log into online investing platforms and buy 1/20th of a share, or $132.53 worth, or however much you'd like to invest without having to buy predetermined amounts or full shares.
In the stock world, the introduction of fractional shares investing brought three key benefits:
1. Convenience
2. Increased liquidity, and
3. A lower barrier to entry for low-cap investors to buy in
However, the percentage of investors who withheld capital from the markets because they couldn't afford a single share is probably rather small. This is evidenced by the fact that after a stock split, new investors don't suddenly come rushing in to buy "discounted" shares. The company's market cap tends to remain steady.
That's not to say fractional share investing isn't awesome, because it is. It just wasn't a game-changer that enabled a whole new population of investors to flood into the markets. But in real estate, that's exactly what fractional investing could do.
Here's why fractional investing in real estate could be a game-changer
One inescapable truth of real estate investing is that you'll need deep pockets. There is no VA loan or zero down payment program for investment properties. You'll have to put 20% down to get your name on the title. And with the average American home price hovering just shy of $350,000 in 2022, that means you could be pouring $70,000 cash into a single asset.
Even if you can afford the down payment, it could be mighty risky. Sure, residential home prices tend to appreciate in the long term. But insurance, repairs, and eviction woes could eviscerate your bottom line. And on the commercial side, there's risk from the wavering demand for office and retail space.
Yes, you could always invest in REITs or try your hand at real estate crowdfunding. But REITs don't allow you to hand-select individual properties. And crowdfunding typically requires a high buy-in ($5,000+), accredited status, and long investment horizons (3-10 years).
But what if you wanted to build a diversified portfolio of ownership in dozens of properties, without too much exposure tied to one specific address? That's precisely what fractional real estate investing companies like Lofty AI, Fractional, and Pocket Properties are trying to pull off. Through the power of blockchain, you can own a partial share of a property, profit from its resale, and even earn a split of the rent collected from tenants.
And if one of these companies can truly pull it off on a large scale, it could completely revolutionize (and democratize) how we invest in real estate. It could allow for investors of all levels to own bits and pieces of property all over the country, even the world, without pouring new Corvette money into a single address.
How will Pocket Properties work?
To preface, Pocket Properties offers a solid and concise explainer in their WeFunder pitch video. If you're more of a visual learner, head to this video and skip to 1:22.
But here's a TL;DR of how Pocket Properties works, combining data from their pitch deck and various interviews over the past year:
1.

Real estate investors apply for a loan to purchase a property through Pocket Properties.

2.

Pocket Properties underwrites the loan and assigns a rating to it base on a proprietary algorithm.

3.

Investors on the Pocket Properties app can browse a project's expected returns, timeline, etc. and invest for as little as $10.

4.

Pocket Properties originates the loan and funds the project/purchase.

5.

The borrower keeps their investors up-to-date through the app so they can monitor their investment's progress.

6.

When the property sells, the borrower pays back the loan to Pocket Properties with interest. The Pocket Properties team targets projects with a 3- to 6-month horizon.

7.

Pocket Properties takes a small cut and distributes the capital to the investors commensurate with their stake.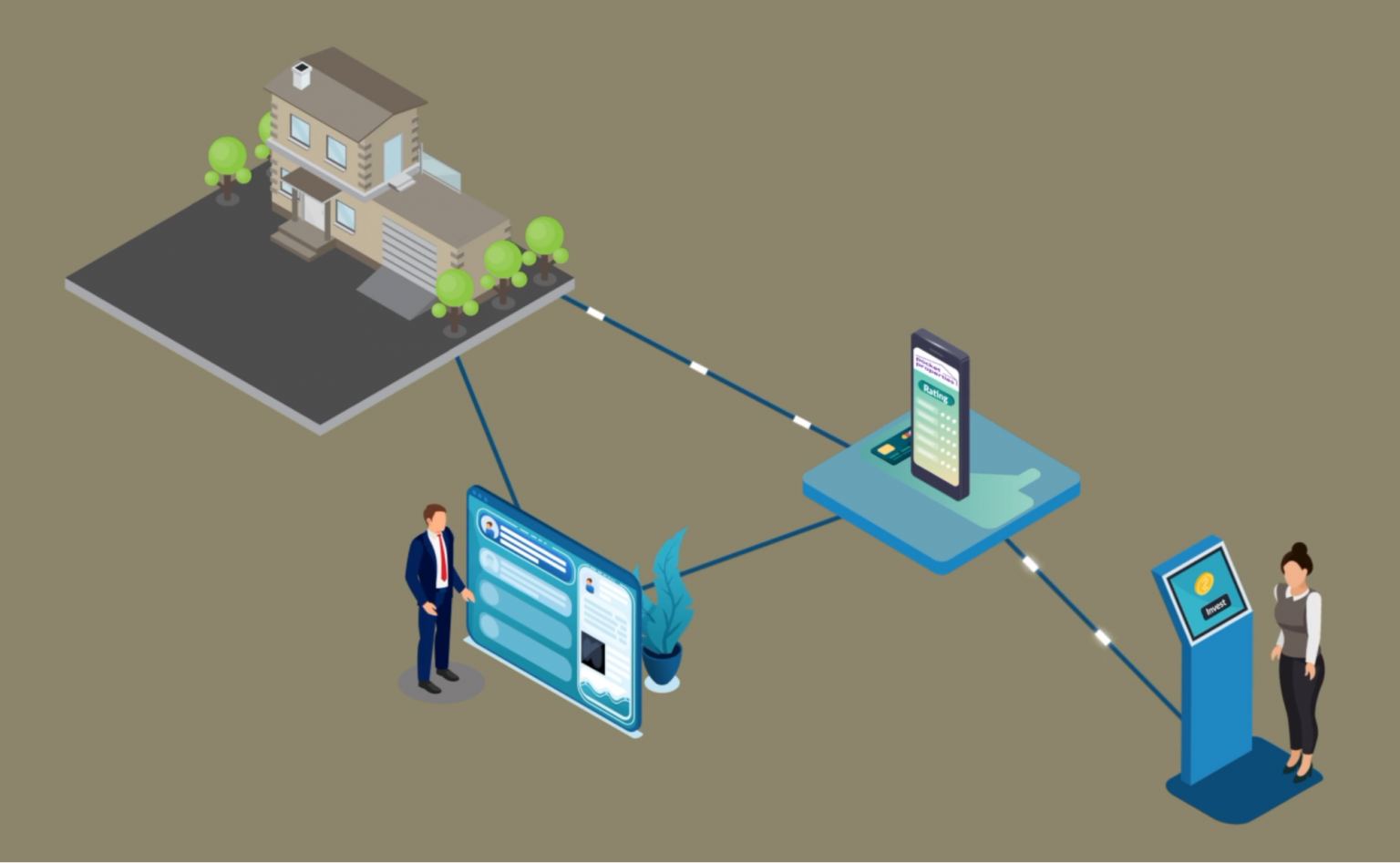 How is Blockchain involved?
For now, Pocket Properties is keeping the nitty gritty close to the chest. But it's safe to assume that like most blockchain-based startups, the app is looking to improve efficiency, boost transparency, and reduce fees.
It's a logical fit. The real estate world is filled with intermediaries and cumbersome overhead that many feel could be greatly streamlined through clever implementation of smart contracts.
So while we don't know details yet, Rufolo claims that the blockchain solution they've found is "fluid, transparent, and open." Their website also says that the platform will be "cryptocurrency compatible," meaning that you'll be able to invest using popular tokens such as Bitcoin and Ethereum.
What's the incentive for borrowers to come to Pocket Properties?
Pocket Properties' entire business model depends on having a steady stream of qualified borrowers coming to the table. So what sort of incentives does the company have in place to attract them?
"These are going to be qualified borrowers who go the traditional route – to a bank or a private lender – but both have hurdles to overcome. We're looking to be that alternative."
Rufolo wasn't clear on what those barriers were (aside from a flat denial). But he did say that investors like you and me would be able to see everything about a borrower to guide our investing decision.
In addition to the details on the project and loan, you'll be able to view information about the project leader such as their past investing history, resume, successes, failures, and more.
What makes Pocket Properties stand out from similar platforms?
Rufolo came to bat with one of those clever charts that highlights everything they do better than the competition.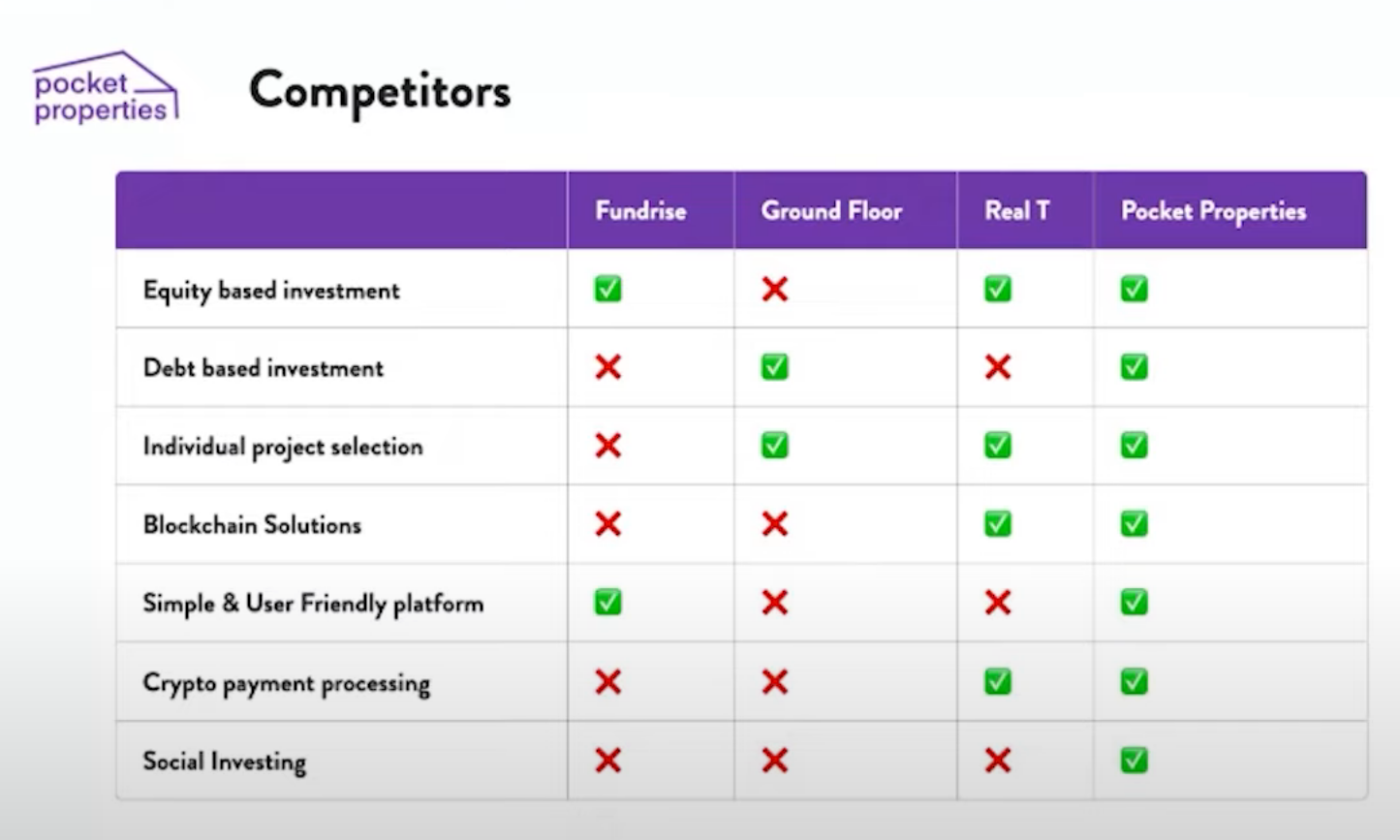 Perhaps the only bit on this chart that isn't self-explanatory is the "Social Investing" piece. There's nothing set in stone yet, but Rufolo's various descriptions sound a lot like what eToro and Public do for stock trading. Both of those platforms allow users to Like and Follow other investors which leads to the the natural emergence of "investing influencers" within their communities.
Hopefully, Pocket Properties will also draw influence from eToro's best social feature — copytrading. Copytrading allows users to automatically copy the trading activity of the platform's most profitable investors.
A more unique social feature that Pocket Properties plans to implement is an investor grading system. More experienced and successful investors will rank higher than the rest. Presumably, this would help users identify experienced investors who may be worth paying attention to (and the newbies who it may be wiser to ignore).
What's the current status of the Pocket Properties app?
According to moderators on the project's Discord, Pocket Properties is still in a "building phase" without a concrete launch date. The app is not yet available on the App Store or the Play Store.
As for a web presence, the company just launched a new website on August 9th, 2022 – but it's still pretty threadbare. Lots of "coming soon" and concept shots.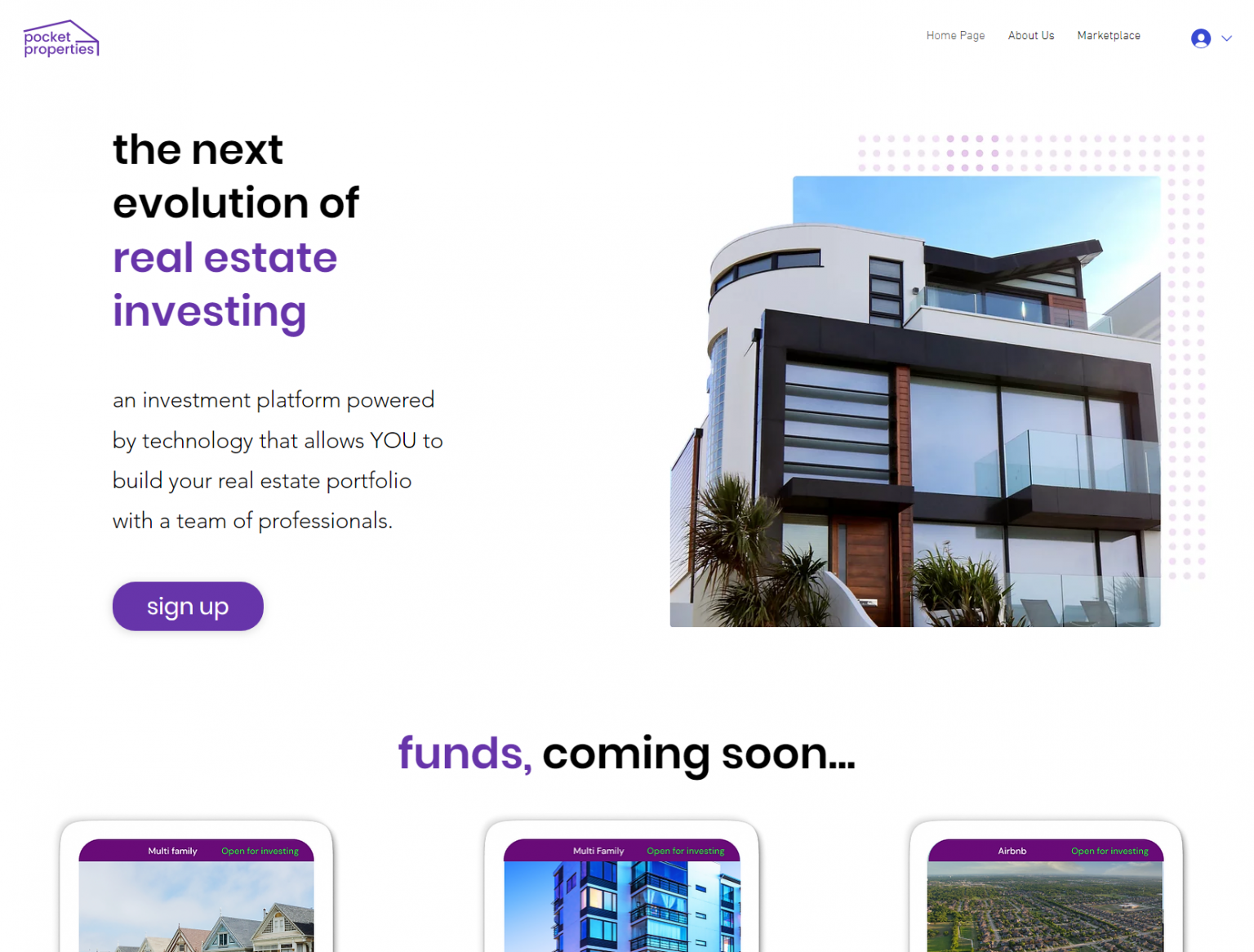 As for a possible timeline, the team shared this back in November of 2021. While the dates are obviously erroneous at this point, the steps may still be relevant.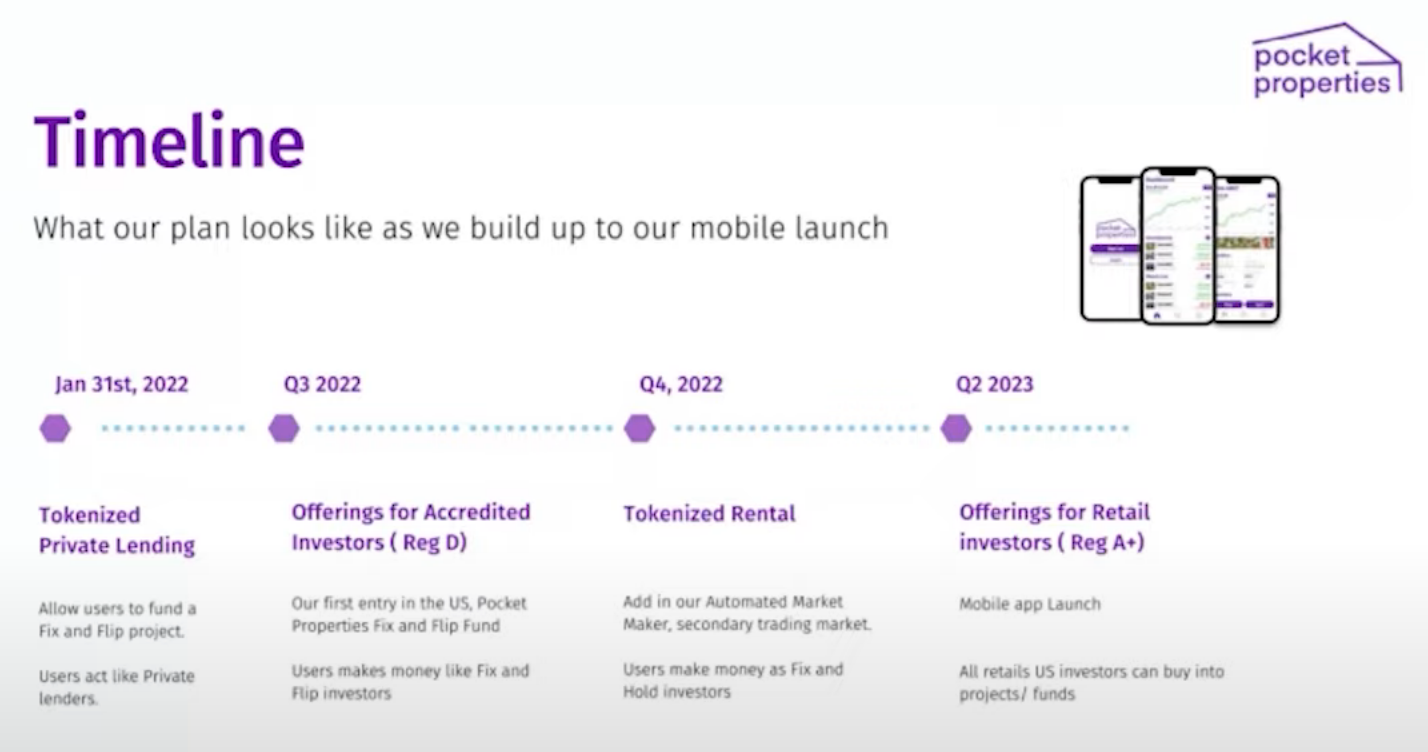 To stay tuned for updates, the Pocket Properties team seems most active on TikTok and Discord. At the time of this writing there are just 178 users in the Discord. So you'll probably have a good shot at connecting directly with the project team there.
My personal take on Pocket Properties
Throughout the 2010s, we watched stock apps like Robinhood democratize investing. It's only a matter of time before someone democratizes real estate investing in a similar way, enabling us to trade equity shares of specific properties in a way that REITs and crowdfunding don't quite offer.
That being said, I'm not quite convinced that Pocket Properties is going to be the go-to platform in this new world. For one, Lofty AI has already beaten them to the punch. Sure, sometimes second to market wins in the long run. But I'm not sure that Pocket Properties is the underdog worth betting on just yet. With so much of Pocket Properties' inner workings still under wraps, it's just too early to call.
If I'm being honest, I also have some concerns that Joshua Rufolo lacks the resume to revolutionize the real estate investing industry. While the 29-year old may be a great leader, it appears that he has little to no prior experience in either real estate or investing. Rather, it looks like he cut his teeth leading a few small, unrelated startups and by working Ops for Amazon.
To be fair, Zuck had no experience leading a social media company before he started Facebook. And that didn't stop him from building Meta into one of the most valuable companies in the world. So the jury's still out. But one thing's for certain: the race for the fractional real estate investing throne will be essential viewing in the coming months and years. And Pocket Properties is one the many players worth following.