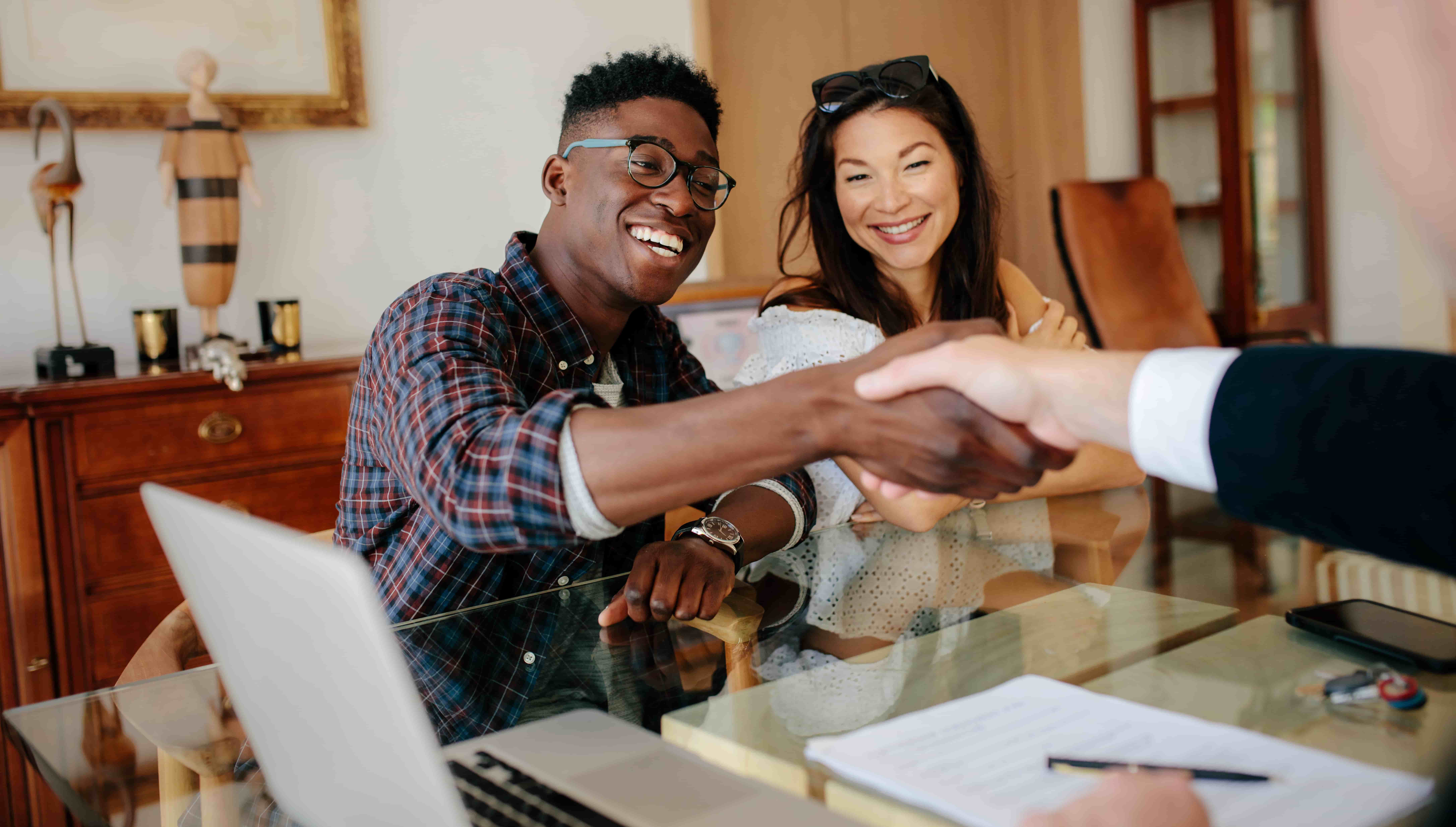 Mynd review: All-in-one real estate platform for investors and renters
Jacob Lund / Shutterstock
🗓️
Updated: December 06, 2022
We adhere to strict standards of editorial integrity to help you make decisions with confidence. Please be aware that some (or all) products and services linked in this article are from our sponsors.
We adhere to strict standards of editorial integrity to help you make decisions with confidence. Please be aware that some (or all) products and services linked in this article are from our sponsors.
Real estate investing has long been a rich investor's game. It's easy to see why: buildings in major cities that house hundreds of people often cost hundreds of thousands, if not millions, of dollars.
In recent years, many companies have made a name for themselves by making real estate investing more accessible. Mynd is one company doing that in a truly unique way.
The real estate platform was founded in 2016. and was funded by significant venture capital firms like Lightspeed, Canaan, Jackson Square, and QED. Recently Mynd announced a $5 billion deal with Invesco Real Estate. With more than 11,000 properties under management and counting, Mynd is the largest buyer of single-family rental homes in the U.S.
Pros
All-in-one management system for property investors
Easy to browse for properties to buy or rent
Insurance coverage through Ives Insurance Services
Guaranteed results for investors
Accepts Section 8 and housing vouchers in California, Colorado, Oregon, Washington, Nevada, Arizona, and Alabama
Cons
Not available in all 50 states
Poor customer reviews from renters and investors
Property management fees on top of your monthly mortgage payments
What is Mynd?
Mynd is a real estate platform that offers property owners and renters an easy way to buy, finance, insure, sell, and rent properties throughout the country. Currently, Mynd operates in just over 25 markets throughout the U.S. and offers both single-family and multi-family units, although it focuses much more heavily on single-family properties.
The company aims to eliminate many of the difficulties that come with real estate investing through its all-in-one platform.
Read more: Pros and cons of real estate investing: a comprehensive overview
What does Mynd offer?
Mynd covers every single aspect of the real estate investing process. From browsing real estate listings to financing to insuring to renting. It even handles selling the property when the time is right.
Property listings portal
Mynd provides a seamless shopping portal. It allows you to shop for properties by neighborhood, purchase price, estimated monthly rent, cap rate, and cash flow. You can also zero in on single-family homes and high-interest investments.

Once you've found homes that interest you, click on the listing to see a ton of information on the property. This info includes:
List price
Rent estimate
Projected return
Occupancy status
Market highlights
Price trends
Nearby schools
Mortgage offerings
Mynd Mortgage is a full-service mortgage broker that can help you buy any property you're interested in. It partners with multiple lenders to offer buyers the best rates they can qualify for. The process is simple, at least as Mynd explains it: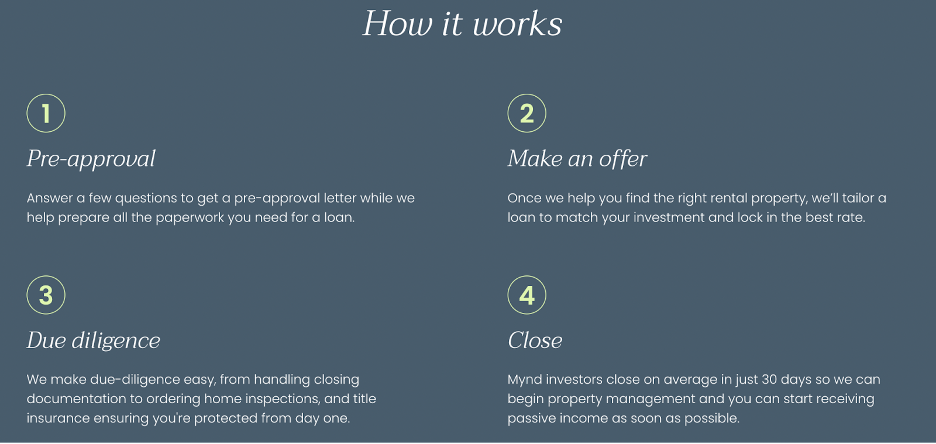 Additionally, Mynd Mortgage offers three main types of mortgages:
Traditional: As the name suggests, these are your typical loans offered through Fannie Mae and Freddie Mac. You can opt for 15- or 30-year mortgages with a 20% downpayment.
Investor-centric: For those already part of the real estate investing market, you can leverage your equity and buy properties quickly through Mynd. These loans come with less documentation, flexible underwriting, and a short closing time. Additionally, your loan amount is partly based on your other properties' rental income rather than your income.
Portfolio financing: If you're ready and willing to finance multiple properties at once, Mynd makes the process as easy and efficient as possible. You could close on these properties in as little as five days. Mynd will only do a soft credit pull so it won't impact your credit score.
Property management
One of the biggest draws of Mynd is that everything is taken care of, including property management. Mynd property management finds your renters for you and responds to any concerns you or your renters might have. They promise to respond to the property owner within four hours and renters within eight hours. They also don't accept renters with credit scores under 720 to ensure you get the best candidates.
Read more: How to manage your rental property
Insurance
Mynd offers everything you'd need to operate a property, including insurance. The program is provided through Ives Insurance Services.
Hassle-free selling
If you want to sell your property, Mynd has a network of individuals and other investors ready and willing to buy it. The best part is that these offers are typically all-cash and come with fast closings compared to the traditional market.
To sell directly to Mynd's pool of more than 100,000 investors, you'll pay a 1% listing fee. Those looking to sell outside of Mynd's market pay a 2.5% listing fee. Mynd takes care of your entire selling process, so you're paying for that convenience.
Guaranteed results
Mynd offers a $5,000 rental income guarantee to cover if a renter misses a payment. Additionally, if Mynd ever has to evict one of your residents, it offers an eviction protection plan. Mynd will cover court costs and any legal fees you incur up to $5,000. Considering that an average eviction case costs more than $3,000, this $5,000 can go a long way.
What are Mynd's fees and limits?
Mynd offers some impressive features, but they come with a price. Both investors and renters should be prepared to pay for Mynd's easy-to-use system.
Property management fees
The fees associated with buying and running your property through the Mynd platform will vary from location to location and depending on the specific service. For example, for a rental home in Tampa, you'll pay $99/month if Mynd manages just one of your properties, $89/month per house for two, and $79 per house for three.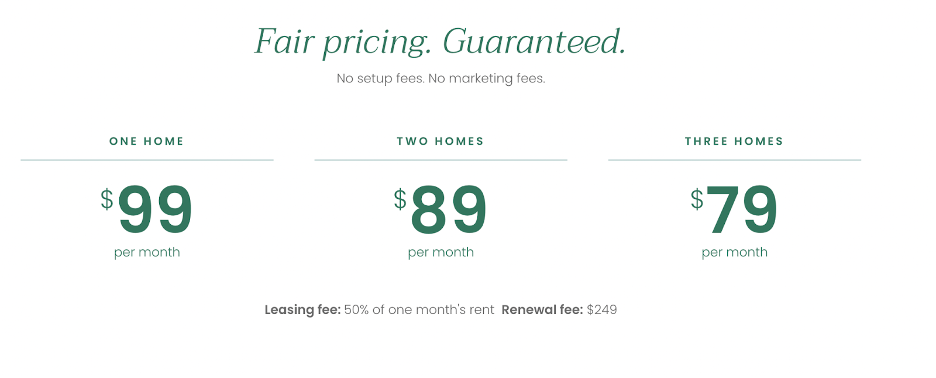 The prices tick up a bit for Austin, starting at $139. And, for even more expensive locations like Portland, Oregon, the price starts at $199/month.
Note that Mynd's flat fee model is a bit unusual in the property management world. More often, property managers charge a percentage of rent collected, typically between 8% to 12%.
If the rent on your investment property is $1,250 or above, Mynd's flat fee model should save you money. We say that because even with an 8% property management fee, you'd be paying $100/mo on $1,250 in monthly rent ($1,250 x 0.08=$100). But if you charge less than that, Mynd may actually cost you a few dollars more per month than a company that uses a percentage-based pricing model.
Sellers' fees
You'll also have to pay fees when you want to sell your home. Mynd's fees are pretty competitive, with a 1% fee for those who choose to list exclusively on Mynd or a 2.5% listing fee when you list on the traditional market.
Renters' fees
Renters of Mynd-managed properties pay the usual fees associated with renting any apartment. For most of their properties, these fees include:
Application fee: For each application, renters pay a non-refundable $49.
Pet fees: Many properties allow pets, but most properties also charge fees for these pets. These fees vary depending on the property and may come in the form of pet deposits or monthly fees.
Security deposit: All properties will require a security deposit, typically worth one month's rent but maxing out at two months' rent.
Monthly rent: Monthly rents vary by location, and price wise is in line with other single-family homes for rent.
Renters insurance: Mynd requires their renters to have renters insurance. Since most properties are single-family homes, this insurance protects Mynd from having to pay for certain things your renters will cover
Utilities: The specific utilities renters will pay will depend on the property owner, but renters should expect to pay their own utilities on top of the monthly rent.
What is the sign-up process?
If you're looking to buy a property and start investing through Mynd, you'll be led straight to their marketplace, where you'll be prompted to enter your name, email, and password.
From there, you can browse properties Mynd offers.
If you eventually find a property that meets your needs, you can hop over to the "Lending" tab on your account, where you'll find an explanation of how the process works.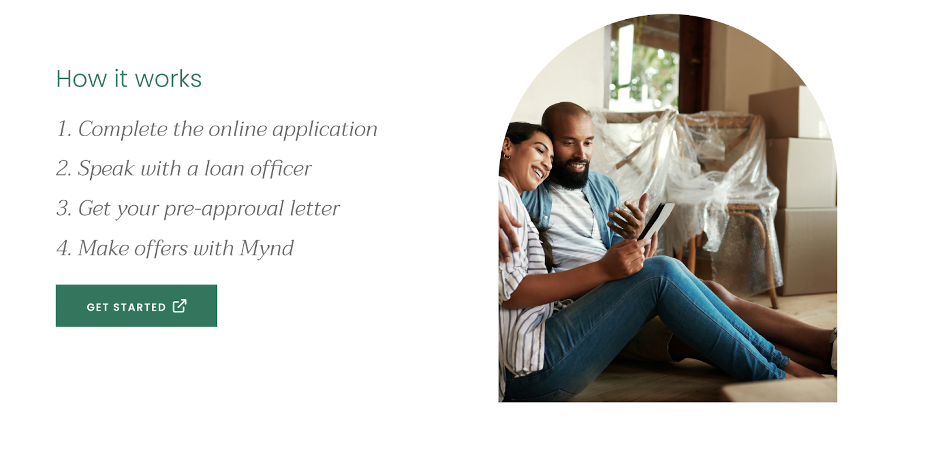 The process is relatively simple and works similarly to other online mortgage lenders. According to the website, it takes about 30 days to close with Mynd.
However, you don't need to purchase a property through Mynd to work with Mynd's property management service. Those who already own properties can work just with the property management company.
How do I contact Mynd?
You can contact Mynd in different ways. They have a contact page where you can submit any non-urgent questions. Additionally, whenever you're on the site, a handy chat box will appear in the right-hand corner asking if you need assistance. You can ask the automated bot any questions you have, which will point you in the right direction.
Here are the numbers for all of the different departments: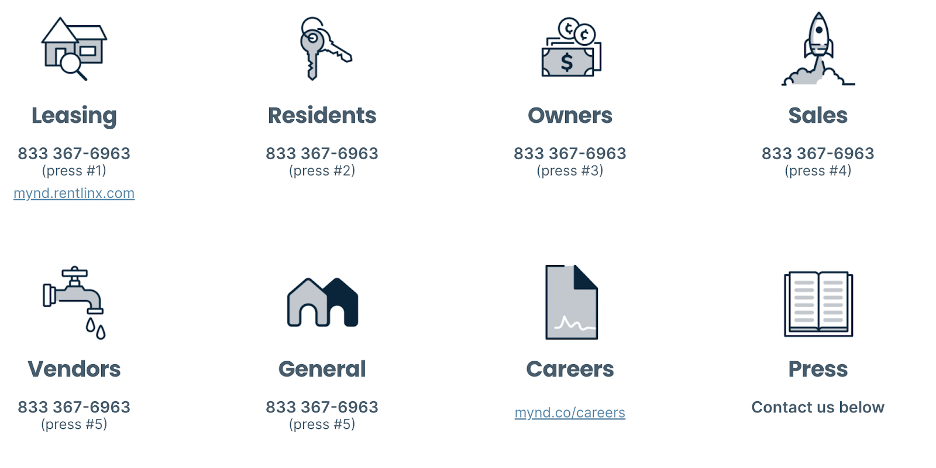 However, Mynd doesn't have the greatest track record regarding customer service. On the Better Business Bureau, customer reviews cite unexpected fees and difficulty contacting customer service. Renters also note a slow response to necessary repairs.
It should also be noted that Mynd is rated "B with the BBB and that actually doesn't have anything to do with the negative reviews. Instead, the rating is based on the fact that 225 complaints have been filed against the company (as of writing) and that government action was taken against Mynd in 2021 from the California Department of Real Estate. In the Accusation, the state said that it had uncovered shortages in five different trust accounts and also alleged that Mynd had received secret compensation from Wells Fargo that was not disclosed to its property owners. A settlement agreement was reached for the Accusation on April 18, 2022.
Is Mynd legit?
Mynd is a legitimate company offering reputable homes for sale and rent. That said, I want to take a moment to mention the genuine risks that come with real estate investing in general and the additional risks you could take on using Mynd.
For starters, all of your passive income depends on Mynd doing everything correctly. You're putting a lot of money and trust in a relatively new company. Does that mean they're going to fail? Not at all. But the housing market is anything but smooth, and there's no money if there are no renters or if you get bad tenants.
Additionally, while investing through a company like Mynd does take all the work out of your hands, this is not the perfect model for everyone. You pay a premium to access these services. Plus, you have substantially less control than a small-time landlord who deals with renters and maintenance issues independently.
Read more: What is due diligence in real estate? (best practices, tips)
Best alternatives to Mynd
While Mynd's ability to provide a full-service platform is impressive, other options operate similarly. Here are just two alternatives to Mynd you may want to consider:
Doorvest
Doorvest is Mynd's closest competitor. It offers investors single-family home rental opportunities. While its offerings for renters aren't as comprehensive as Mynd's, it does have a streamlined service.
Doorvest starts with a short questionnaire that directs you toward your ideal property. Doorvest matches you with homes that match your questionnaire answers, and once you find the perfect one, you can start the buying process.
While it takes a few months to close on your property officially, the Doorvest team does the dirty work for you. Once you close on your home, you'll pay a 10% management fee, which covers taking care of the property. You get to sit back and receive your passive income.
The bottom line
Mynd is a unique platform that, for the right investor, offers a fast, simplified investing process. Its goal of helping first-time and seasoned real estate investors more easily access the market is well-intentioned but, in my humble opinion, misses the mark a bit.
Does Mynd make the real estate investing experience quick and easy? Absolutely. Is it best for first-time buyers? Probably not. You still need to invest a considerable amount of money that many beginner investors don't have. Small-time investors may be better served to manage their properties and reap the rewards entirely for themselves.
Keep it real (estate):