First things first: Don't panic!
Lovers of science fiction (and comedy) know that The Hitchhiker's Guide to the Galaxy has the words DON'T PANIC "printed in large friendly letters on its cover."
This is good advice no matter where you are in the galaxy, and it certainly applies to a stock market downturn. Even on a day when the Dow drops as low as 1,000 points — or more — don't let fear rule your decisions.
We rarely make good decisions when our minds are clouded by strong emotion. Selling while in a panic, or even buying while in a state of euphoria, can be detrimental to your portfolio.
Before you give into the sensationalism of the media, take a deep breath, turn off the TV (or the Internet) and prepare to consider your situation with as little fear as possible.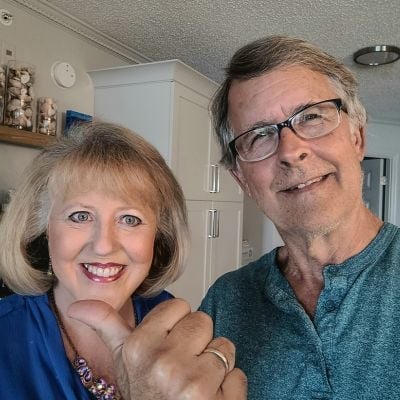 Remember: Downturns are a natural part of the cycle
No market is going to go up perpetually. Remember that downturns are a natural part of the cycle. Stocks will go down, and later they will go up. And then they'll go down again.
Keep this in mind when a downturn comes. Over time, history indicates that the stock market is likely to move higher overall. The short-term trend line looks choppy, but if you look at the trend line over a period of decades, it tends to smooth out.
Yes, you can see where drops took place, but you can also see how the drops are followed by recovery — and that recovery often leads to higher levels. Even if the Dow were to drop 4,000 points tomorrow, it would still be at a higher level than it was at five years ago.
When you realize you have the chance to buy while the market is relatively low, and profit during a subsequent recovery, you can start laying the foundation for profiting from a market downturn.
Look for bargains
The easiest way to profit from market downturns is to look for bargains. For the most part, when the market drops, most equities are going to drop as well. Even good companies drop in price during a market downturn.
This means it's your chance to make some sale purchases. We comparison shop and buy on sale in other areas of our lives. Investing should be no different.
One way to look for bargains is to buy high-quality stocks when they drop in price due to market conditions. In order to do this effectively, you need to identify companies with strong fundamentals ahead of time. You don't want to buy just anything.
When times are good, pay attention to company valuations, and look at balance sheets and management. Identify a few companies that are strong, and likely to weather most storms. Then, watch those stocks.
When the market downturn hits, you can watch the price drop. Buy when you think the price has reached a respectable level. The stock might drop further during the downturn (if you have the money, maybe you can buy more), but that doesn't mean that it's a long-term loser. As the market enters its recovery phase, you can watch your portfolio value grow, knowing you got a good deal.
Another strategy works well for indexers like me. I don't buy individual stocks, but I do invest in index ETFs. I profit from market downturns by purchasing index shares when they drop in price. This helps build my portfolio by allowing me to purchase more shares for less. When the index recovers in time, my cheaper price means that I can sell later (when it's time to rebalance or during retirement) and see a larger profit.
Bargain hunting can work long-term or short-term. This is also a good time to reallocate some assets. If you have other assets that have improved in value during the market downturn, you can sell those high, and use the proceeds to purchase assets that are now priced low.
Trade your favorite stocks any time
Investing doesn't have to be hard. Robinhood is the only place you can trade stocks, options and ETFs 24 hours a day, 5 days a week, all still commission-free. Start building your portfolio with as little as $1.
Get Started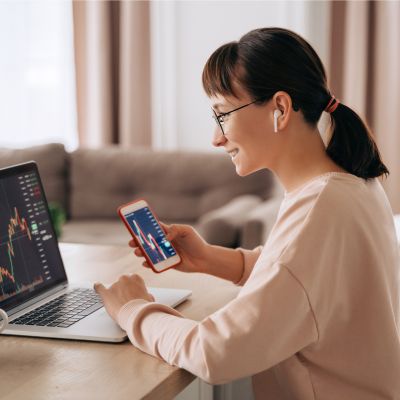 Dividend investing
You can also profit from market downturns with dividend investing. Companies with solid dividend payouts of between 3% and 5% are likely to continue paying dividends, even during a downturn. In fact, there are dividend aristocrats that have increased their payouts consistently for at least 25 years. There are some companies that have increased their payouts each year for more than 40 years.
Choosing one of these can boost the chances that you keep receiving payouts, even during a downturn. If you reinvest your dividends, the low prices during a downturn mean that you can boost your portfolio profits even more by getting more bang for your reinvestment buck.
It's also possible to invest in funds and ETFs that pay dividends if you prefer indexing.
Shorting the market and using the VIX
For those with higher risk tolerance and those interested in the short-term, it's possible to profit from market downturns by shorting the market or by investing in the VIX. Investments that allow you to short the market basically offer gains when the market goes lower.
So you are basically "betting" that the market will drop. If you are right, and the market drops for a while, you can see good returns. However, you need to make sure that you leave your short position before the market starts recovering, or you could offset your former gains.
You can also invest in the VIX, which is a measure of market volatility. There are investments related to the VIX, and when the market is behaving erratically, these types of investments can yield returns. Again, though, you need to be careful to sell while your position is still profitable.
There are a number of ways to profit from market downturns if you keep your head about you and make good choices. Even if all you do is stay the course with your dollar-cost averaging plan, you can come out ahead in a down market.
Readers: how do you profit from a market downturn?
Sponsored
Follow These Steps if you Want to Retire Early
Secure your financial future with a tailored plan to maximize investments, navigate taxes, and retire comfortably.
Zoe Financial is an online platform that can match you with a network of vetted fiduciary advisors who are evaluated based on their credentials, education, experience, and pricing. The best part? - there is no fee to find an advisor.