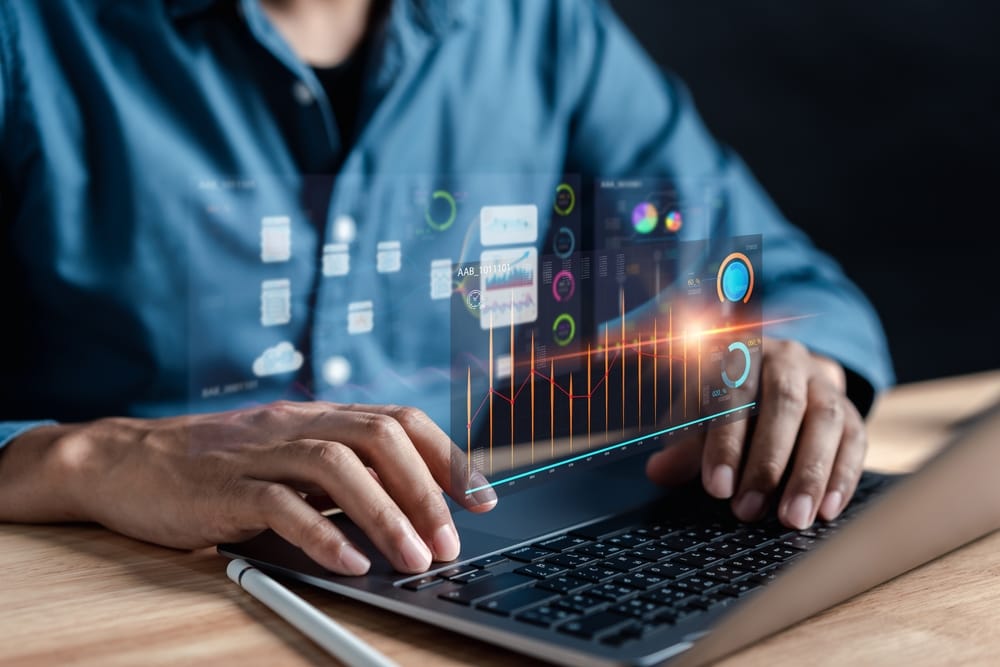 Investing in technology: How to invest in tech companies
🗓️
Updated: August 15, 2023
We adhere to strict standards of editorial integrity to help you make decisions with confidence. Please be aware that some (or all) products and services linked in this article are from our sponsors.
We adhere to strict standards of editorial integrity to help you make decisions with confidence. Please be aware that some (or all) products and services linked in this article are from our sponsors.
Technology influences everything we do today. From our smartphones and computers to advances in medical devices to satellites and cars, technology is everywhere. It's part of nearly every sector. So it's only natural for investors to think about investing in technology.
Let's dig deeper into how to invest in tech companies.
What Is the technology industry?
Companies in the tech industry can be engaged in a variety of aspects of technology. When we think of tech companies, we generally think of hardware like computers, tablets, and smartphones. But tech companies can also be engaged in artificial intelligence or research related to software. Technology has become integrated into just about every industry segment today.
Areas for investment
Investors looking to invest in technology, look at companies engaged in one or more aspects of technology. Some tech examples include:
Software companies provide the programs and code that power software and devices. Microsoft is considered one of the largest software providers. But this industry segment also includes companies like Oracle and IBM.
Hardware companies manufacture or sell computers, laptops, modems, routers, and other products for individuals and businesses. This segment includes companies like Apple, Cisco, and Samsung.
Semiconductor companies make the chips that run computers and other devices. Some of the top players in this space include Intel, Micron, and Broadcom.
Internet companies include those in media and content production, cloud computing, and the ever-growing e-commerce segment, including Amazon. But social networking sites like Facebook and Twitter and shared economy businesses like Uber and Lyft are also tech companies.
Telecommunications companies are those that enable us to communicate with each other and include Verizon and AT&T.
The definition of a tech company or how to invest in companies in the technology sector is constantly evolving. And investors interested in this segment of the stock market need to keep up with these continual changes.
Technology ETFs
One way to invest in the technology sector is via technology-based exchange-traded funds (ETFs). According to the Morningstar database, there are 75 ETFs in the technology category.
The Vanguard Information Technology ETF (ticker VGT) is the largest ETF in this category. According to Vanguard, this ETF "includes stocks of companies that serve the electronics and computer industries or that manufacture product based on the latest applied science." And the top two holdings are Apple and Microsoft.
The next largest ETF in this category is the Technology Select Sector SPDR Fund (ticker XLK). The fund includes internet companies, IT services, semiconductor companies, and computers. It invests in Apple, Microsoft, Visa, Intel, and Cisco, with Apple and Microsoft, comprising nearly half of the portfolio's funds.
Another ETF worth mentioning is the Invesco QQQ Trust (ticker QQQ). This is not a tech ETF per se, but rather, an index that tracks 100 stocks listed on the Nasdaq, which tends to be a tech-heavy index. The top holdings in the fund are Apple, Amazon, Microsoft, and Facebook.
Both VGT and XLK track technology sector indexes that have rules for the inclusion of stocks, as well as when the index is rebalanced and reconstituted. VGT and XLK are the two largest technology ETFs by far, with $41.3 billion and $35.6 billion in assets, respectively. The next largest fund in the Morningstar database (First Trust Dow Jones Internet ETF, symbol FDN) has $10.6 billion in assets and is the only other ETF with over $10 billion as of this writing.
ETFs can be purchased through most brokers, including Ally Invest, Public.com, and TD Ameritrade. Here's a quick comparison between the three:
What metrics matter the most?
When it comes to investing in stocks, there are certain metrics to keep in mind. ("Metrics" refers to measurements for assessing and comparing companies.) As with any industry or market sector, technology has its own set of business metrics, including:
Switching costs. Is it easy and cheap for users to switch from the company's services, or is this a difficult and restrictive process? The latter is, of course, better for the company.
Network effects. This refers to the value of adding more users to the service or application. This applies especially to social media companies like Facebook and Twitter.
Costs. As with many industries, a company that can produce its product or delivers its service at a low cost has a potential competitive advantage. Keeping costs low allows such companies to offer customers lower-priced products or services while still making a nice profit.
Copyrights, patents, etc. These intangible assets can be a key differentiator for the company and add value to the stock if used correctly.
What are the risks involved with tech stocks?
As with any stock, there are always market and economic risks associated with investing in the stock market. Beyond this, some of the risks with tech stocks include:
Product or service obsolescence. Tech, by its nature, is a fast-moving and ever-changing business. Consumers and businesses want the latest and best products. If a tech company's technology isn't cutting edge, then the business may suffer.
Economic factors. These can impact spending on technology by both businesses and individuals. An economic slowdown can impact even high-flying tech stocks.
The company's financial strength. Like any stock, the underlying financials of tech companies are crucial. Is the company profitable? How is their balance sheet? Do they have sufficient cash flow?
Who should invest in tech stocks?
Whether tech stocks are (or are not) right for you as an investor is, of course, something we can't say. This is a decision that each investor must make on their own or in consultation with their financial advisor, based on their unique individual situation. That said, some might want to think about adding tech stocks to their portfolio.
For example, growth investors might want to consider tech stocks as well as ETFs and mutual funds that focus on tech. Many of the brightest growth names in the current stock market are tech names such as Apple, Microsoft, and Amazon.
However, just because a stock is a tech stock does not mean that it will automatically deliver growth and outsized returns. An investor in any individual stock must do their homework and research before investing. Zacks Trade offers excellent free stock research tools for investors.
Income investors need to look at tech stocks they might be considering on a stock-by-stock basis. Some tech stocks pay dividends. For example, Apple's current dividend yield is 0.68%. But this is low in large part due to the recent run-up in the share price.
As an investor, you may already have a significant stake in some of the larger technology stocks via investments in index mutual funds and ETFs that invest in major indexes such as the S&P 500 or in funds that track the total U.S. stock market. These funds primarily track market-cap-weighted indexes, and many large tech companies have huge market caps in today's environment. For example, the Vanguard Total Stock Market Index Fund ETF (ticker VTI) current technology weighting is over 23% as of this writing.
Some tech stocks to consider
Many technology stocks have performed well so far in 2020. A few prominent names in this sector include:
Apple
Microsoft
Alphabet (Google's parent; note there are two share classes)
NVIDIA
PayPal
Adobe
Intel
Cisco
Salesforce
These are just a few names investors might consider as starters. This is not meant to be an endorsement of these stocks in any way, shape, or form. Keep in mind that things change. And these companies could easily go the way the proverbial buggy whip manufacturers of the past. Investors need to stay informed and constantly do their homework when it comes to tech or any other sector.
Technology stocks are just one of many investing options
Technology pervades all aspects of our lives and our business activities. So it should be no surprise that technology is a key segment in the investing world. Investors might consider investing in technology directly or via managed investments like ETFs and mutual funds. But as with any type of investment, investors must understand what they are investing in, including the risks and potential rewards.