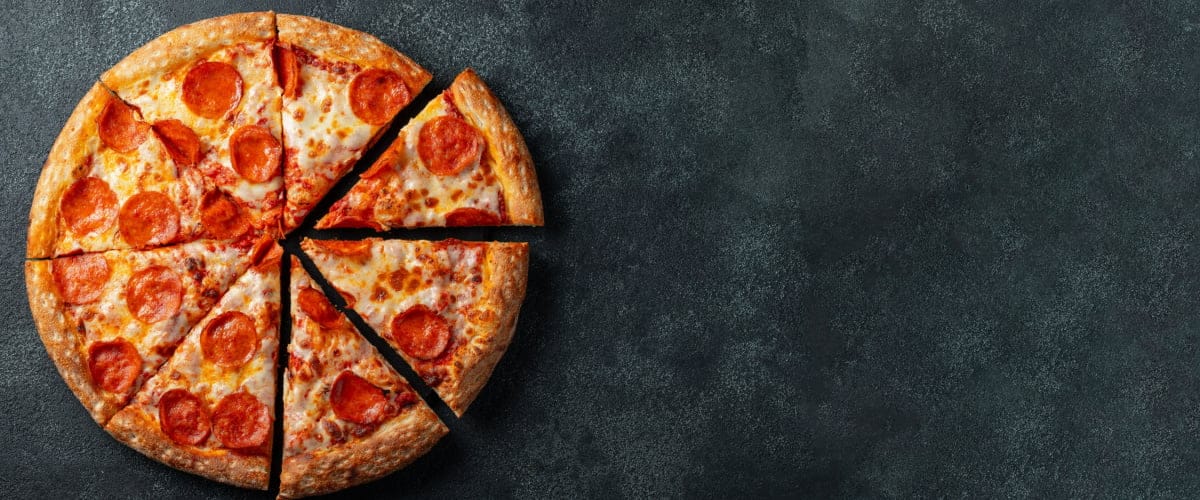 Best M1 finance pies: Our 5 faves for 2023
VasiliyBudarin / Shutterstock
We adhere to strict standards of editorial integrity to help you make decisions with confidence. Please be aware that some (or all) products and services linked in this article are from our sponsors.
We adhere to strict standards of editorial integrity to help you make decisions with confidence. Please be aware that some (or all) products and services linked in this article are from our sponsors.
New investors and seasoned veterans alike could find a good fit for their needs at M1 Finance. M1 is a brokerage with no regular investment fees and a delectable twist.
They offer the ability to allocate your portfolio using Pies, a visual tool to divvy up your portfolio by percentages into stocks and ETFs, and even pre-built Expert Pies designed by M1 Finance pros.
Here's a closer look at how M1 Expert Pies work and which are the best Expert Pies to consider for your portfolio. If you want to learn more about M1 Finance, check out our detailed M1 Finance review here.
The short version
M1 Finance is an investment app that offers portfolios called "Pies."
M1 Finance doesn't charge any recurring account fees or trading fees.
Investors can build their own Custom Pies or choose Expert Pies for all or part of their portfolio.
Beginner investors may want to use pre-built Expert Pies while experienced investors may prefer a combination of Custom Pies and Expert Pies.
What Is an M1 Finance Pie?
M1 is an investment app that offers pre-selected portfolios called "Pies." Each Pie is made up of slices. These slices represent stocks, ETFs, or even other existing portfolios called Expert Pies (like a pizza but the topping is other tiny pizzas!).
Each account can hold five Pies, and each Pie can hold up to 100 slices.
Beginner investors may want to sign up and choose an Expert Pie based on a topic or theme they want to hold in their portfolio. Categories make it easy to find a Pie that's right for your goals, such as general investing, retirement, income, or responsible investing portfolios.
More advanced investors are likely best off mixing and matching Expert Pies with their own investment strategy, or a mix of more Expert Pies. For example, you could build a Pie that's 25% stocks and 75% Expert Pies, or any other combination you choose.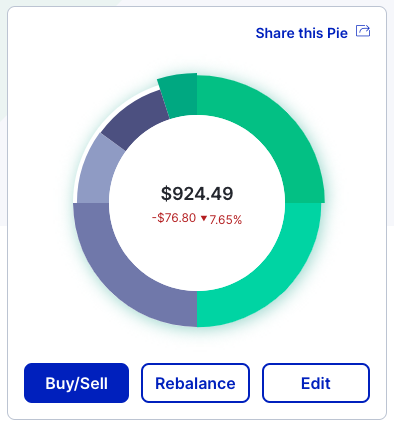 My personal M1 Pie is made up of hedge fund and specialty strategy investments
By default, M1 Finance investment accounts and Pies are completely free to use, with no recurring account fees or trade fees. However, some Expert Pies may charge a modest annual fee. Be on the lookout for those if you're aiming for a no-cost investing experience.
How do M1 Finance Pies work?
As mentioned earlier, each slice of an M1 Pie represents a stock, ETF, or Expert Pie. Every slice is given a percentage of the total Pie. Your slices must add up to 100% for each Pie. You can divide that 100% up any way you want with up to the 100 assets per Pie.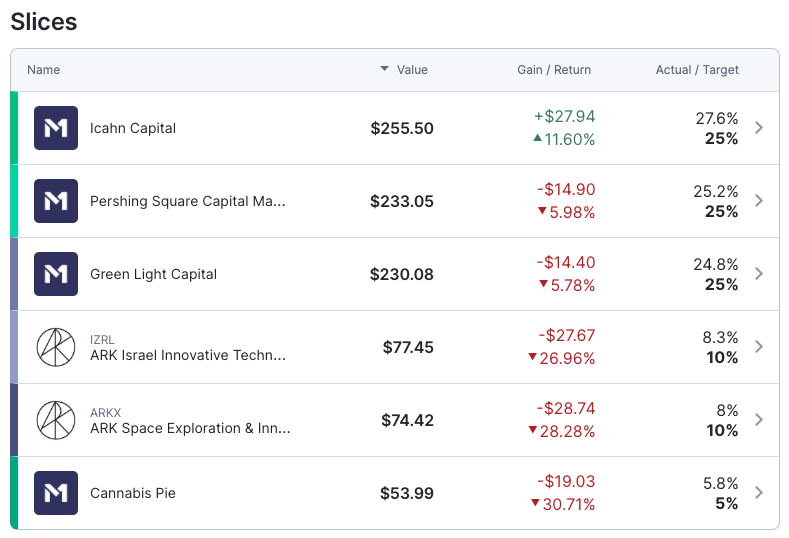 My Custom Pie started with $1,000 divided up into six different Expert Pies and ETFs
When you add funds to your account or withdraw, the Pie is rebalanced automatically to stay in line with your target percentages. If you earn dividends or employ a recurring investment plan, M1 strategically purchases investments to keep your portfolio lined up with your plan.
You can make adjustments at any time. Trades are all executed by default at 6:30 a.m. (PT) every morning. M1 Plus account holders get an additional trading window every weekday afternoon.
Related >>> Should I rebalance my portfolio?
What are Expert Pies?
Custom Pies work like a regular brokerage account in most ways, but with a unique circle graph interface instead of a traditional table format. Expert Pies function somewhat uniquely, however. They offer a combination of features that work like an ETF and a robo-advisor in a single investment.
Expert Pies are designed by investment professionals in line with specific investment themes.
Categories include:
General investing
Plan for retirement
Responsible investing
Income earners
Hedge fund followers
Just stocks and bonds
Other strategies
Expert Pies are particularly helpful if you're new to investing. However, advanced investors may also like access to creative strategies, such as mimicking specific hedge fund managers or a portfolio of cannabis-related stocks.
Custom and Expert Pies help you maintain a diversified portfolio with the option to pick your own single stocks or go with the suggestions of an expert in the same account. And with no fees for most investors, it's likely a better option than traditional robo advisors with annual fees.
What are the Best M1 Finance Pies?
1.

General investing by risk tolerance: Okay, we cheated here. This is actually a category made of seven different Pies, ranging from Ultra Conservative to Ultra Aggressive stock holdings. Each holds six to 10 ETFs, which each hold a mix of stocks and bonds aligning with your risk tolerance selection.

2.

Target date retirement pies: The Plan for Retirement section includes more than a dozen Expert Pies mimicking popular target date fund investments from major portfolio management firms. Here, you can choose a Pie aligned with your target retirement year with aggressive, moderate, or conservative options.

3.

Income earners: These six Expert Pies give investors exposure to dividend stock and bond funds. They're useful for cash flow in retirement (or early retirement).

4.

Socially responsible investing: The Responsible Investing and International Responsible Investing Pies exclusively hold ETFs from the Nuveen ESG fund family. Learn more about ESG investing here.

5.

Hedge fund followers: If you have a favorite "celebrity" hedge fund manager you want to follow, you'll find eight popular options here. Those include stocks and investments held by Warren Buffett's Berkshire Hathaway, Icahn Capital, Pershing Square Capital Management, Tiger Global Management, and others.
You can also choose portfolios of ETFs targeting a mix of stocks and bonds by percentage, such as an 80/20 or 40/60 split between stocks and bonds. The "Other Strategies" section offers growth and value Pies, a Cannabis Pie, and a Pie of popular ARK Investment Management ETFs.
How to decide which Pie is right for you?
Choosing Expert Pies or what to put in your Custom Pies is up to you. Consider your financial goals, risk tolerance, and investment knowledge when deciding how to divide up your funds. Lastly, don't forget to factor in any fees that may apply to your chosen Expert Pie.
Some Pies are poised to follow the markets closely, while others may carry high risk due to concentration in specific industries or high-risk stocks. If you can't make heads or tails of your investments, a full-service investment advisor or robo-advisor could make more sense for you.
The takeaway: which Pies will you pick?
For Thanksgiving, many people buy pecan and pumpkin pies. For a trip to New York City, pizza pies are a popular item. But for your investments, you should know about M1 Pies.
With potentially fee-free investment accounts for new and seasoned investors, the best M1 Finance Pie varies by investor. Because there's no cost to open an account, why not decide for yourself if M1 is right for your investments?
Hands-on investing tips >>>>
M1 Invest Disclosure: This article is not investment advice. All investing involves risk, including the risk of losing the money you invest. Past performance does not guarantee future results. Brokerage products and services offered by M1 Finance, LLC Member FINRA/SIPC, and a wholly owned subsidiary of M1 Holdings, Inc.
M1 Plus DIsclosure: M1 Plus is a $125 annual subscription offering products and services from M1 Spend LLC and M1 Finance LLC, both wholly-owned, separate but affiliated subsidiaries of M1 Holdings Inc.