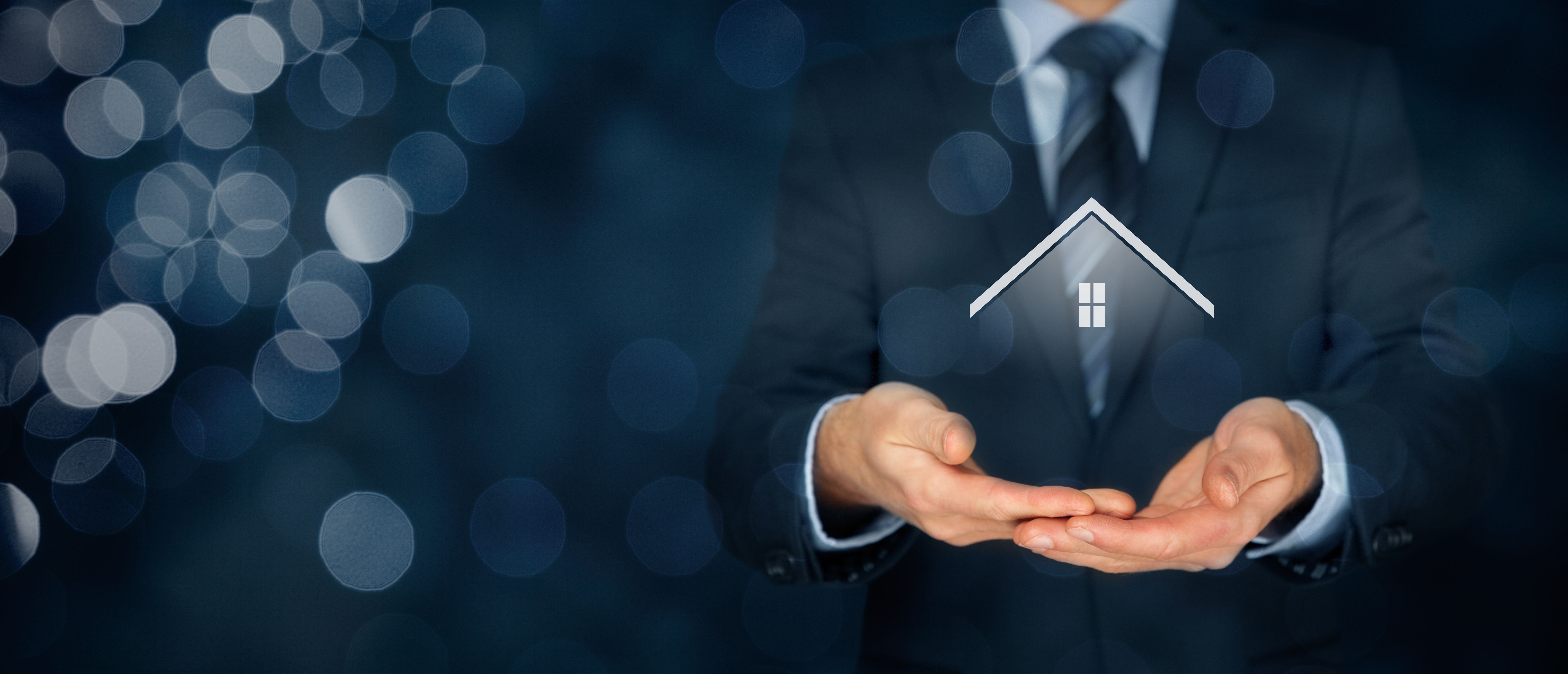 reAlpha review: Real estate investing for short-term rentals
Jirsak / Shutterstock
🗓️
Updated: July 12, 2023
We adhere to strict standards of editorial integrity to help you make decisions with confidence. Please be aware that some (or all) products and services linked in this article are from our sponsors.
We adhere to strict standards of editorial integrity to help you make decisions with confidence. Please be aware that some (or all) products and services linked in this article are from our sponsors.
If you've been thinking about getting into the short-term rental game and then you remember that, oh wait, you don't have the funds to buy a whole property outright, let's talk about your options. One of them is reAlpha.
reAlpha offers fractional ownership in investment properties, specifically short-term rentals, and uses AI-based tech to pass on savings and valuable analysis info to investors. It's a unique real estate investment platform that's friendly to beginners and fun and rewarding to be a part of.
Find out more about the benefits and drawbacks and if reAlpha is right for you.
Pros
Lower minimum investment. You need $2,500 to start investing with reAlpha, which is lower than many other platforms.
Beginner-friendly. reAlpha does not require accreditation or experience to get started, making it ideal for everyday investors new to real estate.
Social. Prospective investors can openly discuss offerings in a forum to help give each other perspective.
Cons
Limited portfolio. As a relatively new company, reAlpha is a much smaller fish and doesn't offer many short-term rental properties to choose from.
Confusing. There's a lack of clarity regarding details of investing with this platform, such as liquidity, projected revenue, exit options, etc.
Quarterly dividends. Other platforms offer more frequent payouts than reAlpha.
Who is reAlpha for?
Alternative investors
If you're interested in alternative investments that aren't closely tied to the stock market, real estate can be a good asset class to get involved in. Like other alternative assets, real estate can offer advantages over more inflation-prone and volatile traditional investment classes. Compared to stocks, bonds, and mutual funds, real estate can give more stable returns.
reAlpha takes advantage of a growing vacation rental market. While this is definitely not the only way to invest in real estate, short-term rentals may offer higher yields.
>>> Find out more: The best real estate investing sites for non-accredited investors
Who is reAlpha not ideal for?
REIT investors
REITs or real estate investment trusts are investment vehicles made up of income-generating properties. When you invest in a REIT, you're essentially investing in an entire portfolio of properties along with other shareholders. It's kind of like holding stock in a company in that if the value of the properties in the trust goes up, so does the value of your share.
If you prefer this to direct fractional ownership in particular properties, you'll want to look into adding REITs to your portfolio.
>>> Find out more: How to invest in REITs: Should you add them to your portfolio?
Active real estate investors
If you want to play a role in choosing properties and deciding what should be done with them, reAlpha isn't for you. This platform takes management off your hands and makes all the decisions about renovations, upgrades, improvements, and sales.
What is reAlpha?
reAlpha is an Ohio-based real estate investing platform founded in April 2021 with the goal of making real estate a more accessible asset class to the average investor. The company is doing this by lowering barriers to entry, such as investment minimums and management requirements, and using technology to efficiently vet and select properties.
From October 2021 to January 2022, reAlpha offered up to $75 million in common stock under Regulation A and was able to raise over $5 million, then over $9 million after being requalified as an active securities issuer by the Securities and Exchange Commission.
reAlpha has also entered into a joint venture with Singapore asset management firm SAIML Pte. Limited with the intent to invest up to $200 million in short-term rentals in California, Arizona, Florida, and Tennessee, but none of these have been purchased yet.
How does reAlpha work?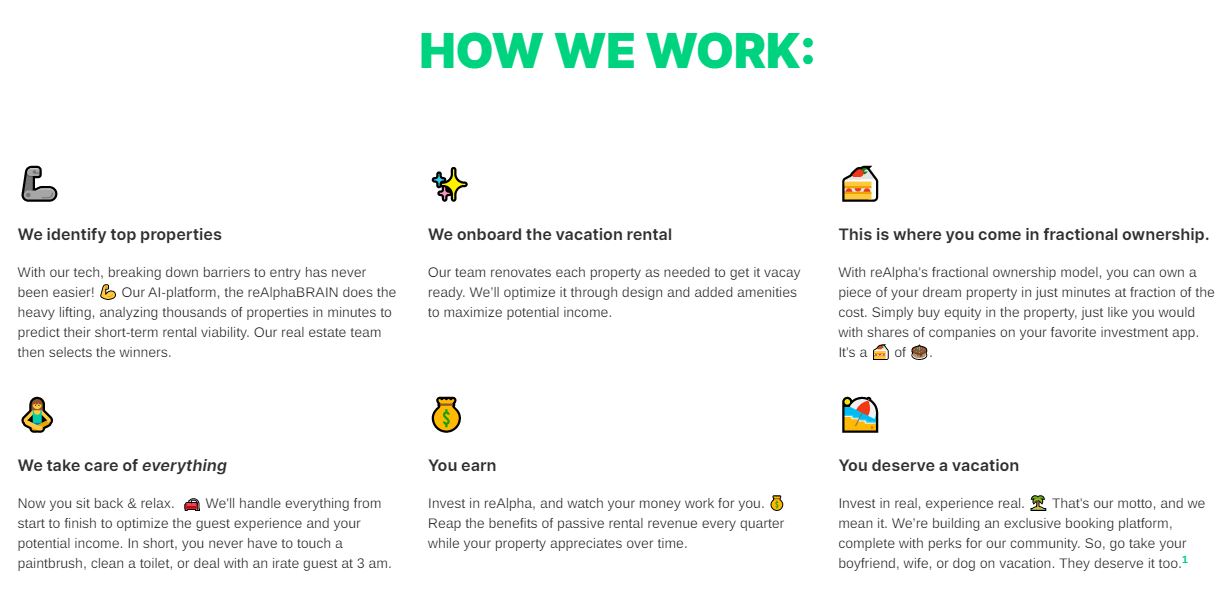 When you invest with reAlpha, all you really have to do is fund your account. reAlpha's platform takes care of the rest.
To choose properties with growth potential, reAlpha's AI algorithm, reAlphaBRAIN, scans thousands of properties available on the wholesale real estate market and assigns each of these properties a score using more than 28 different metrics. Here are a few examples of data points reAlphaBRAIN looks at:
Purchase price relative to comparable properties in the area
Miles to the nearest airport
Number of attractions within a five-mile radius
As of March 2023, reAlpha has analyzed and scored nearly 500,000 properties using its machine-learning algorithm.
Only a select few short-term rental properties make it to the next step, which is analysis by a team of experts. This team carefully studies the advantages and disadvantages of any potential investment and decides which real estate deals are worth making. From there, reAlpha adds these offerings to its platform and compiles the necessary info about purchase price and so on.
reAlpha maintains up to 51% equity in each investment, but how much exactly depends on how many investors purchase shares. Each available property shows the total number of shares available, the target number of shares to be held by individual investors, and the number of shares funded so far. Whatever shares are left after the public has purchased what it's going to, reAlpha keeps.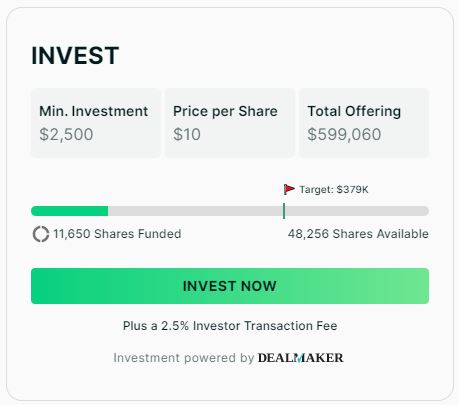 You can see the potential range of reAlpha's Equity in the Offering Details for each property.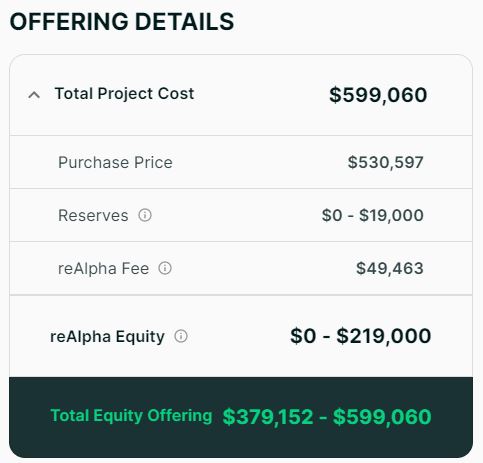 Once you sign up to invest with reAlpha, you'll have access to all available offerings and can choose the ones you're interested in adding to your portfolio by meeting the investment minimum for these.
reAlpha features
reAlpha marketplace
When you visit the reAlpha marketplace, you'll be able to see all investments currently available. Here's a sample of what one of these may look like.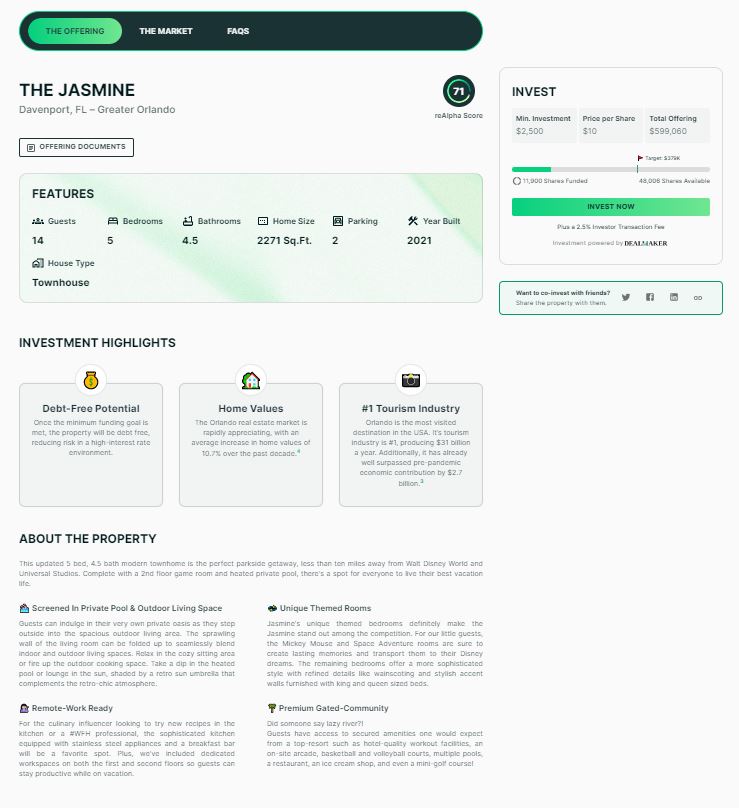 Each listing is made up of the following sections:
Investment Highlights — Lists stand-out features about a property that might give it advantages over other investments.
About the Property — Gives high-level property details about features that actual renters might be interested in.
Market — Map of the area with notable destinations nearby.
Market Data — Provides the average daily rate, occupancy rate, yearly revenue, and annual average appreciation for the area provided by a third party.
Hosted by — Whichever property management company is responsible for overseeing and managing the property, along with their reviews and response rate.
Amenities — Features included with the property (like what you'd read if you were searching for an AirBnB for yourself).
Guest Reviews — Real reviews from guests.
reAlpha BRAIN Score — A score out of 100 assigned by reAlphaBRAIN.
Offering Details — Overview of the financials that shows the total cost of the project, the purchase price, the reAlpha Fee, and the range of reAlpha's equity.
For each property, you can view documents if you want to know more about the legal side of things or read the offering memorandum or offering statement.
reAlphaBRAIN
As mentioned, reAlphaBRAIN is the algorithm behind the whole platform. It does most of the pre-vetting to scout potential investments and give them overall scores. reAlphaBRAIN then passes off viable investment opportunities to the analysis team.
This system maximizes the amount of time the team is able to spend putting together opportunities. Hopefully, this will translate to more offerings in the not-so-distant future.
reAlphaBRAIN puts together a score for each investment property. In the platform's own words:
"The BRAIN Score is a metric to gauge the investability of a property, taking into account various factors such as financials, market conditions, and neighborhood characteristics."
In other words, this grade attempts to define how promising an investment is based on information currently available.
Quarterly payouts
Each quarter, you'll receive revenue from your investments calculated based on the total percentage of your share in the property. You can calculate your ownership percentage by dividing the total offering price by the price per share. This gives you the total number of shares for the property. Then, divide this by your number of shares to figure out your interest.
Benefits
Low minimum
reAlpha requires an investment of just $2,500 to purchase partial ownership of a property. Compared to other real estate investing platforms, this is fairly low.
Vacation booking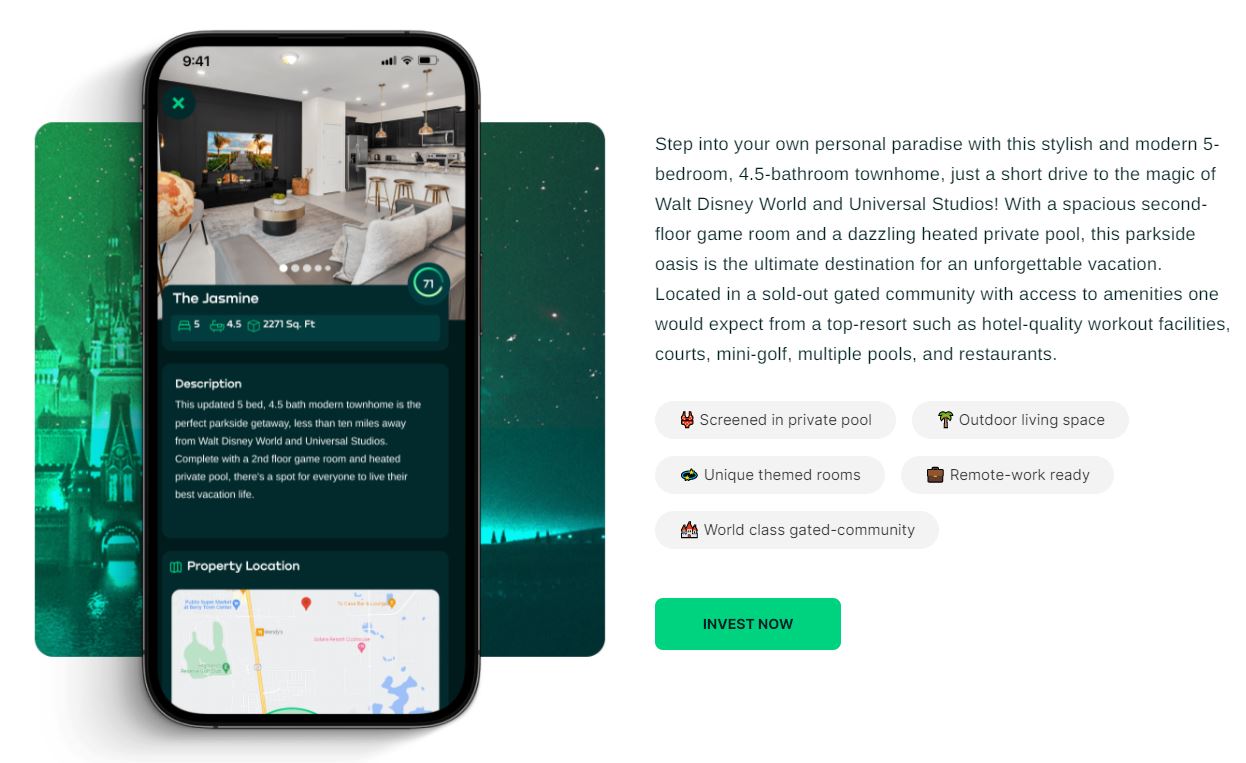 reAlpha has its own booking platform in the works that will give investors exclusive access to rental properties. We don't know much about this yet, but this could be an intriguing addition to the platform and it'll be unlike anything we've seen from competitors.
Drawbacks
Risk
Real estate carries risks that other investments don't. These are not specific to this platform but still worth noting. reAlpha could also do better at laying these out and being more transparent about revenue expectations, cash flow projections, and exit options for investors.
>>> Find out more: What are the risks of investing in real estate?
Hold period
reAlpha expects investors to hold their investments for a minimum of five to 10 years. This is the same period expected by many competing platforms, but it still might be longer than an everyday investor wants to commit to.
reAlpha's pricing & fees
reAlpha charges a handful of fees to cover property scouting, purchasing, management, and sales. These are:
Transaction fee: 2.5%
Maintenance fee: 25% of revenue
Disposition fee: 1%
How to contact reAlpha
You can email reAlpha at support@realpha.com to get tech help or at invest@realpha.com to contact a representative from the investment team. The company is also pretty responsive in the forum below offerings.
Best alternatives
reAlpha is not without competitors. Arrived Homes, Lofty.ai, and Fundrise are just a few other big names in the real estate space using a fractional ownership model.
Arrived Homes
Arrived Homes is another platform that allows users to invest in rental homes through fractional ownership of short-term vacation rentals. But unlike reAlpha, Arrived Homes only requires an investment of $100 to purchase shares. Both pay quarterly dividends and charge comparable fees, but Arrived Homes is older and therefore has a much greater selection at this time.
If you don't have $2,500 to invest or want more options, consider Arrived Homes.
Lofty.ai
Unlike both reAlpha and Arrived Homes, Lofty.ai purchases long-term rental properties. Lofty's minimum investment is just $50, even lower than Arrived Homes'. This platform also pays daily rent, so this might be a better option than reAlpha for investors who need more regular passive income.
Lofty.ai is probably better for more experienced investors because it offers trading features and is more hands-on overall.
Fundrise
Fundrise has been investing in commercial real estate since 2010, so it's much larger than the others here. But it's also pretty different since you're talking about a completely different market from short-term rentals, and these are REITs, not individual properties.
Fundrise requires $10 to get started. It offers a huge number of investments and strategies to choose from, with consistent and solid returns on its portfolio. It's one of our most-recommended real estate investing platforms if you're interested in REITs.
This is a testimonial in partnership with Fundrise. We earn a commission from partner links on Investor Junkie. All opinions are our own.
Bottom line
reAlpha is different from other platforms not only because it focuses on the short-term rental market but also because it leans heavily on AI to analyze and score properties. Hopefully, this will allow the company to scale and get to a place where there are more offerings available. Because right now, one of its biggest shortcomings is lack of opportunities. That said, one of its greatest strengths is accessibility and growth potential.
We're not sure where reAlpha is going from here, but it's clear there are many possibilities on the table for this growing company. We'll certainly be keeping an eye on this promising platform.
Read more: