Filing taxes online and using mobile banking and investing apps have all become part of our day-to-day financial lives. These convenient products and services all fall under the umbrella of "fintech." Fintech companies have been around for a couple of decades. But the last few years have seen massive growth and innovation in the industry.
The rate of growth has been astounding. According to a 2021 mass adoption survey by the financial services startup, Plaid, 88% of Americans use fintech to manage their finances, a major jump from the previous year, which saw only 58% of respondents using fintech. This makes fintech more widely used than either video streaming or social media.
And fintech has still much more space to grow. This article will serve as a primer for this exciting tech category and share a few ways for investors to sink their own fangs into fintech.
The short version
Fintech refers to a range of financial technology that includes mobile banking, investment apps and digital payments.
But the sheer number of fintech companies and services make it difficult for investors to figure out how to invest in this fast-growing sector.
Prospective investors can pick up fintech exchange-traded funds (ETFs), buy individual stocks and directly invest in crypto.
Like any rapidly developing industry, fintech companies are exposed to varying degrees of volatility. So investors should practice proper due diligence and research thoroughly before investing.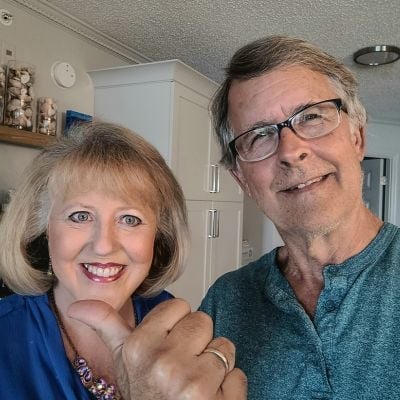 What is Fintech?
Fintech is a blend of the words "financial technology." The term refers to novel technologies that improve financial services through automation. If you've ever used digital payments, mobile banking, online brokerages or investment tracking apps, you have interacted with fintech.
In the past few decades, fintech has completely revolutionized the finance world. For example, it used to be very important to have at least some cash on you. But today with the rise of mobile and online payments, even credit cards are not always required. You can thank fintech for your lighter pockets.
Increasingly, fintech encompasses blockchain technologies and the automation of other aspects of finance such as insurance and risk management. The following brief list of common products and services shows how broad this tech sector is.
Payment processing
Online and mobile banking
Financial software
Financial services
P2P payments
Online P2P lending
And that's only the beginning. Fintech startups have successfully disrupted the finance industry. And some have even become household names outside of the financial space. Just think back to the last time you mindlessly swiped your Apple Pay app over a coffee counter or sent a couple of bucks to a friend through Venmo.
How to invest in Fintech
So now we know that fintech is not just a developing space but a fully developed one, with way more room to grow. Prospective investors may find it helpful to know that despite these technological advancements, the finance industry is still, in some ways, very traditional.
As such, there are virtually unlimited opportunities for adoption of technology that looks to streamline its various processes. Many lauded and well-funded fintech startups have positioned themselves as disruptors to the status quo in the financial industry. Many offer services that are less costly, more convenient or faster (and in some cases — like tax-prep platforms — all three!).
With a variety of fintech companies, it can be difficult to hone in on what to invest in. In the next section, we explain how the average non-accredited investor can get in on the action.
More: How to diversify your investment portfolio
Trade your favorite stocks any time
Investing doesn't have to be hard. Robinhood is the only place you can trade stocks, options and ETFs 24 hours a day, 5 days a week, all still commission-free. Start building your portfolio with as little as $1.
Get Started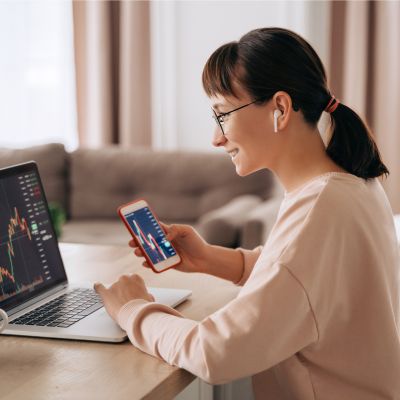 3 best ways to invest in Fintech
You can invest in fintech the way you invest in anything else: through funds, stocks and alternative investments like crypto. Here are three ways to start.
1. Exchange Traded Funds (ETFs)
ETFs can be a good way to invest in fintech as it will help you gain exposure to a portfolio of fintech stocks instead of a single one. Two examples of fintech ETFs are:
Global X Fintech ETF (FINX) — This ETF seeks to invest in innovative and leading fintech stocks in spaces such as insurance, third-party lending, fund raising and investing. Top holdings as of April 28, 2022, include Intuit (INTU), Block Inc. (SQ) and Coinbase (COIN).
Ark Fintech Innovation ETF (ARKF) — Cathie Wood's Fintech Innovation ETF invests primarily in companies that produce a new product or a service that potentially changes the way the financial sector works. Top holdings as of April 28, 2022, include Block (SQ), Coinbase (COIN), Shopify (SHOP) and Twilio (TWLO).
2. Stocks
As previously mentioned, "fintech" encompasses a wide range of companies. If you are looking for exposure to a specific type of fintech, individual stocks can be a good way to achieve that. For example, if you are looking specifically at payment systems, below are two stocks that offer exposure to that.
Block (SQ) — Formerly named Square, Block was created in 2009 by Jim McKelvey and Twitter founder Jack Dorsey. Block sought to create a technology that rolled merchant services and mobile payments into one simple service. Today it allows millions of small businesses to process payments via smartphone, track sales and inventory, and obtain financing. Block also includes mobile payment service Cash App.
PayPal (PYPL) — With over 300 million active accounts as of 2021, most readers will be familiar with this online payments giant. The company offers payment processing for personal use and businesses. It also owns complementary businesses including Venmo and the ecommerce tool Honey.
More: Learn how to get into stocks
3. Blockchain
The blockchain offers many potential new applications including providing new ways to send, receive, store and manage currency. Investors can buy cryptocurrencies or directly invest in stocks such as Coinbase (COIN) to gain exposure to this rapidly developing space. But note that blockchain tech is still highly volatile and prone to scams (such as rugpulls). When considering blockchain investments, be very careful with your portfolio allocation.
Since fintech can encompass a broad range of finance products, investors should carefully consider what exactly they would like to gain exposure to. For example, investing in an innovative payment processing system can be vastly different from investing in a fundraising technology. Investing in a broad spectrum of fintech stocks may also yield different results from concentrating on just one fintech stock.
Regardless, being well versed and conducting proper due diligence to what fintech sector you invest in is important.
The future of Fintech
Fintech has definitely made how we handle our finances more convenient. Many fintech companies are disrupting traditional finance by using technologies to improve processes. As the industry continues to grow, it's likely to bring better products and services to consumers.
Investors looking to gain broad exposure to fintech in their portfolio can invest in ETFs, while investors looking to hone in on a specific type of fintech cam consider directly investing in the companies through stocks or cryptocurrency. As with any type of investment, it's important to exercise caution and perform proper due diligence.
Disclaimer: The content presented is for informational purposes only and does not constitute financial, investment, tax, legal or professional advice. If any securities were mentioned in the content, the author may hold positions in the mentioned securities. The content is provided "as is" without any representations or warranties, express or implied.
Sponsored
Follow These Steps if you Want to Retire Early
Secure your financial future with a tailored plan to maximize investments, navigate taxes, and retire comfortably.
Zoe Financial is an online platform that can match you with a network of vetted fiduciary advisors who are evaluated based on their credentials, education, experience, and pricing. The best part? - there is no fee to find an advisor.