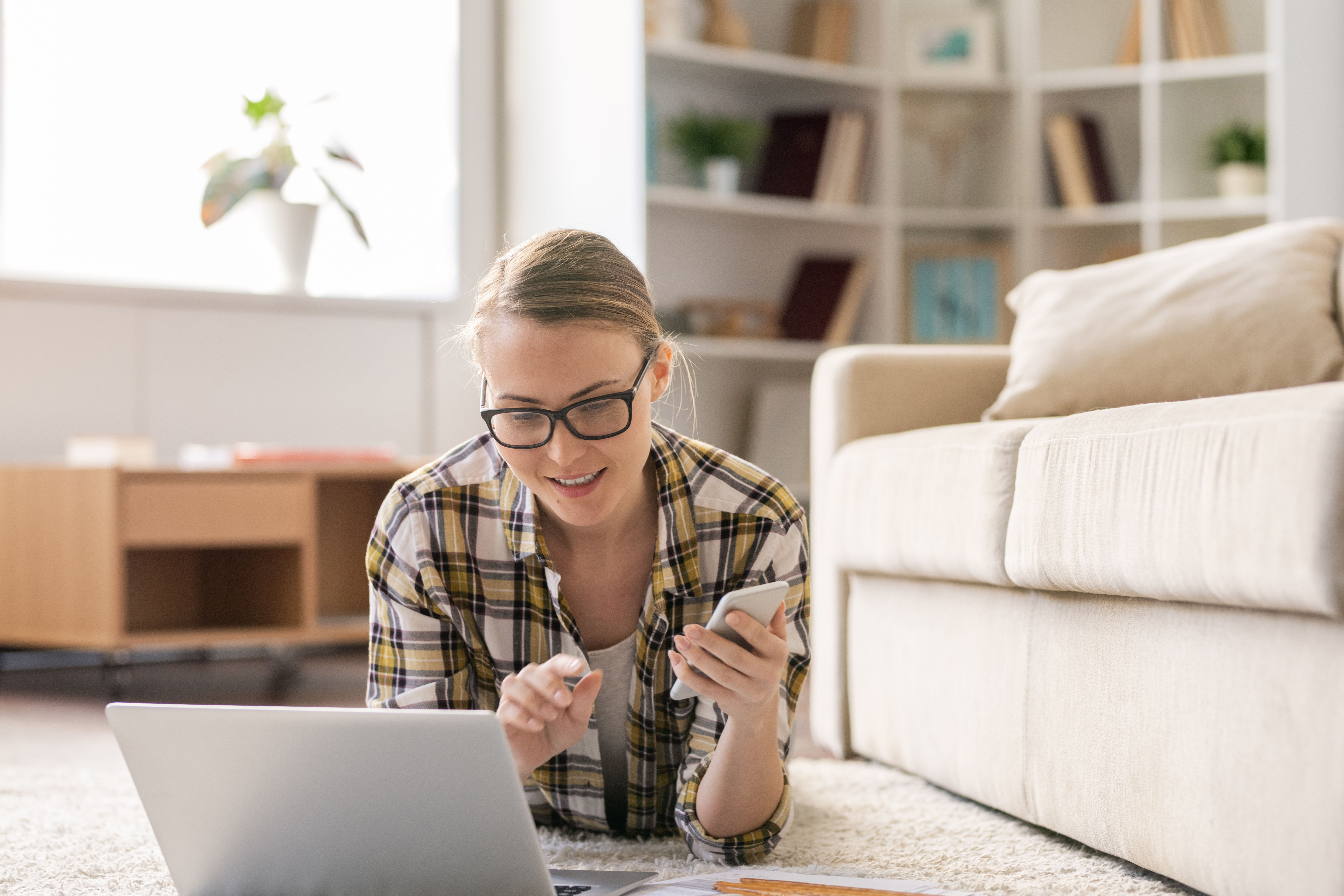 Empower Cash™ review 2023
Pressmaster / Shutterstock
We adhere to strict standards of editorial integrity to help you make decisions with confidence. Please be aware that some (or all) products and services linked in this article are from our sponsors.
We adhere to strict standards of editorial integrity to help you make decisions with confidence. Please be aware that some (or all) products and services linked in this article are from our sponsors.
*Personal Capital is now Empower.
A cash management account (CMA) provides similar interest rates to a high-yield savings account and the flexibility of a checking account. If you're looking for somewhere to hold your idle cash where it still earns something, a CMA could be exactly what you're looking for.
And with Empower Cash™, you can earn over 2% APY with its fee-free cash management account. Plus, you get to leverage the wealth of other tools the platform provides, all without paying a cent.
Our Empower Cash review is covering how this account works, its pros and cons, and some of the best alternatives you can consider.
What is Empower Cash?
Empower Cash is a cash management account from Empower, an online wealth management company. It provides a fee-free way for you to earn meaningful interest on your extra cash. Plus, it pays even higher interest rates if you're using Empower's Advisory service.
It's not the best cash management account out there if you want check writing abilities or a debit card. But it does provide a competitive interest rate and plenty of other useful tools under Empower's umbrella.
What does it offer?
The main reason to even open an Empower cash account is to earn interest on your idle cash. Currently, it pays 3.35% APY to start and 3.45% APY for Empower Advisory clients. This rate is much higher than your average checking or savings account, and it's an excellent place to stash your emergency fund or some money you're not quite ready to invest yet.
You need to invest at least $100,000 to use Empower's Advisory service, but even the base 3.35% APY is competitive with many other popular cash management accounts.
Other perks of Empower Cash include:
Aggregate FDIC insurance of up to $1.5 million ($250,000 per program bank)
No minimum balance requirement
No annual fees
Unlimited number of monthly transfers
Wire up to $1 million without paying fees
Set up direct paycheck deposit and link your account to your checking account to pay bills
Just note that there's a maximum deposit limit per transaction of $250,000. There's also a daily withdrawal limit of $25,000 unless you're a Empower Advisory client or your account was open and funded more than 60 days before withdrawal, in which case the daily limit is $100,000.
Sign up for Empower
Other useful Empower features
Empower Cash is an excellent place to earn interest on extra cash. But Empower is also one of our favorite wealth management tools due to the range of free features it offers like:
An investment fee analyzer to examine the fees you're paying with your 401(k) and other account types
Saving and budgeting tools
A retirement planner
All of these tools are free as well, and it's just the advisory service that requires investing at least $100,000. But if you're looking to invest, you can consider the advisory service and work with an Empower advisor to build a custom investment plan to match your goals and risk tolerance.
Pros and cons
Pros
No minimum balance requirements
No account fees
Still earn 3.35% APY as a non-advisory client
Empower Cash provides unlimited monthly withdrawals
Joint accounts are available
Cons
Many high-yield savings accounts and mobile banks pay higher interest rates
Unlocking the highest APY requires investing with Empower
No physical branches
You can't deposit checks or write cash
You don't get a debit card
Best alternatives
Empower Cash is a leading cash management account because of its high interest rate. And the variety of free tools you get to help you manage your finances is another selling point.
However, Empower Cash doesn't pay as much interest as some of its competitors. And some other cash management accounts also come with debit cards to make spending your money that much easier.
Wealthfront

APY: 4.55%
Minimum deposit: $1
Fees: $0
Wealthfront is a popular robo-advisor that also has one of the best cash management accounts, Wealthfront Cash. It currently pays 4.55% APY and has a $1 funding requirement. You don't pay account fees either like with Empower Cash, and you get up to $5 million in FDIC insurance.
Another advantage is that this account comes with a free debit card to make transacting easier. Plus, you get free ATM withdrawals at 19,000+ ATMs and can receive checks.
Betterment Cash Reserve

APY: 2.25%
Minimum deposit: $10
Fees: $0
Betterment is another popular robo-advisor that has its own cash management account called Betterment Cash Reserve. This account pays 2.25% APY and doesn't charge monthly fees. Like Wealthfront, you get up to $1 million in FDIC† insurance and up to $2 million for joint accounts.
There's no direct debit card for Betterment Cash Reserve. However, Betterment also has a checking account you can use to make spending easier and to also earn cash-back rewards.
Betterment Cash Reserve APY Disclosure - Annual percentage yield (variable) is as of 9/26/2022. Cash Reserve is only available to clients of Betterment LLC, which is not a bank, and cash transfers to program banks are conducted through the clients' brokerage accounts at Betterment Securities.For Cash Reserve ("CR"), Betterment LLC only receives compensation from our program banks; Betterment LLC and Betterment Securities do not charge fees on your CR balance.
Aspiration Spend & Save

APY: 3.00% or 5.00%
Minimum deposit: $10
Fees: $5.99-$7.99 per month for Aspiration Plus
Aspiration Spend & Save is another alternative to Empower Cash that also pays a much higher interest ate. This account pays 3.00% APY for regular customers and 5.00% APY if you're an Aspiration Plus customer. The basic plan uses a pay-what-is-fair model, so you decide what Aspiration costs. The Plus plan costs $7.99 per month or $5.99/month if you pay annually.
Other perks include earning cash back for shopping at eco-friendly companies and free ATM withdrawals at 55,000+ locations.
The bottom line
If you're an existing Empower Advisory customer, using its cash management account is a pretty smart move. This lets you earn meaningful interest on your excess cash, and you can always move the money into your investments when the time is right.
But even non-customers can benefit from Empower Cash. And the number of free tools the company provides to help people manage their finances is why we like it so much. Earning over 2% APY is really just the cherry on top.
Of course, don't leave various online-only high-yield savings accounts out of the running. Banking options like Current and Varo pay higher rates than Empower Cash, although you lose some flexibility by going with a savings account.
Empower Personal Wealth, LLC ("EPW") compensates Webpals Systems S. C LTD for new leads. Webpals Systems S. C LTD is not an investment client of Personal Capital Advisors Corporation or Empower Advisory Group, LLC.
†Betterment Cash Reserve Disclosure - Betterment Cash Reserve ("Cash Reserve") is offered by Betterment LLC. Clients of Betterment LLC participate in Cash Reserve through their brokerage account held at Betterment Securities. Neither Betterment LLC nor any of its affiliates is a bank. Through Cash Reserve, clients' funds are deposited into one or more banks ("Program Banks") where the funds earn a variable interest rate and are eligible for FDIC insurance. Cash Reserve provides Betterment clients with the opportunity to earn interest on cash intended to purchase securities through Betterment LLC and Betterment Securities. Cash Reserve should not be viewed as a long-term investment option. Funds held in your brokerage accounts are not FDIC‐insured but are protected by SIPC. Funds in transit to or from Program Banks are generally not FDIC‐insured but are protected by SIPC, except when those funds are held in a sweep account following a deposit or prior to a withdrawal, at which time funds are eligible for FDIC insurance but are not protected by SIPC. See Betterment Client Agreements for further details. Funds deposited into Cash Reserve are eligible for up to $1,000,000.00 (or $2,000,000.00 for joint accounts) of FDIC insurance once the funds reach one or more Program Banks (up to $250,000 for each insurable capacity—e.g., individual or joint—at up to four Program Banks). Even if there are more than four Program Banks, clients will not necessarily have deposits allocated in a manner that will provide FDIC insurance above $1,000,000.00 (or $2,000,000.00 for joint accounts). The FDIC calculates the insurance limits based on all accounts held in the same insurable capacity at a bank, not just cash in Cash Reserve. If clients elect to exclude one or more Program Banks from receiving deposits the amount of FDIC insurance available through Cash Reserve may be lower. Clients are responsible for monitoring their total assets at each Program Bank, including existing deposits held at Program Banks outside of Cash Reserve, to ensure FDIC insurance limits are not exceeded, which could result in some funds being uninsured. For more information on FDIC insurance please visit www.FDIC.gov. Deposits held in Program Banks are not protected by SIPC. For more information see the full terms and conditions and Betterment LLC's Form ADV Part II.
Related reading: