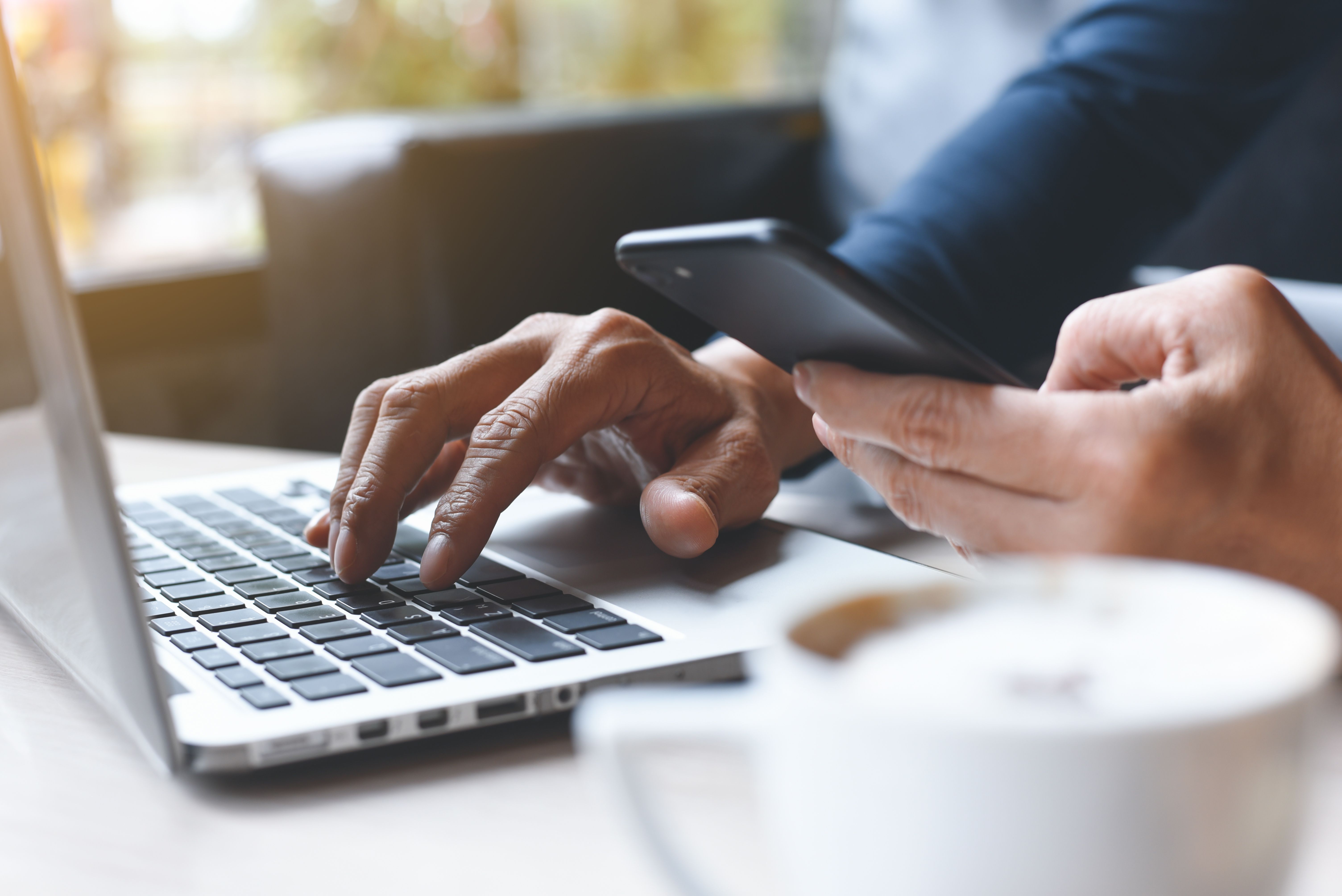 🗓️
Updated: March 03, 2023
We adhere to strict standards of editorial integrity to help you make decisions with confidence. Please be aware that some (or all) products and services linked in this article are from our sponsors.
We adhere to strict standards of editorial integrity to help you make decisions with confidence. Please be aware that some (or all) products and services linked in this article are from our sponsors.
Which one is right for your small business?
Founded in 2013, Bluevine is an online financial institution that provides online banking services to small businesses. Bluevine has quickly become an industry leader with its Bluevine Business Checking account and secured business financing.
If you're a small business owner, you may decide that Bluevine is right for you, and we'll go over some ways to tell if you're a good fit. But if this institution doesn't quite check all of your boxes for one reason or another, we'll share six great alternatives to consider too.
6 Bluevine alternatives we've found interesting
What is Bluevine?
Bluevine was created with the goal of providing small businesses with more accessible banking solutions. Since small businesses have vastly different financial needs than larger, more established companies, Bluevine aims to cater specifically to these individuals.
In October 2019, Bluevine launched its Bluevine Business Checking. In just the first year, over 20,000 business owners signed up for new accounts. In the summer of 2020, Bluevine joined in on the Paycheck Protection Program and poured $4.5 billion into supporting small businesses.
Today, Bluevine provides bank accounts and lines of credit to small business owners and operates completely online.
Visit Bluevine
What does Bluevine offer?
Bluevine offers two primary products: business checking accounts and lines of credit. Both of these are fairly unique compared to similar offerings.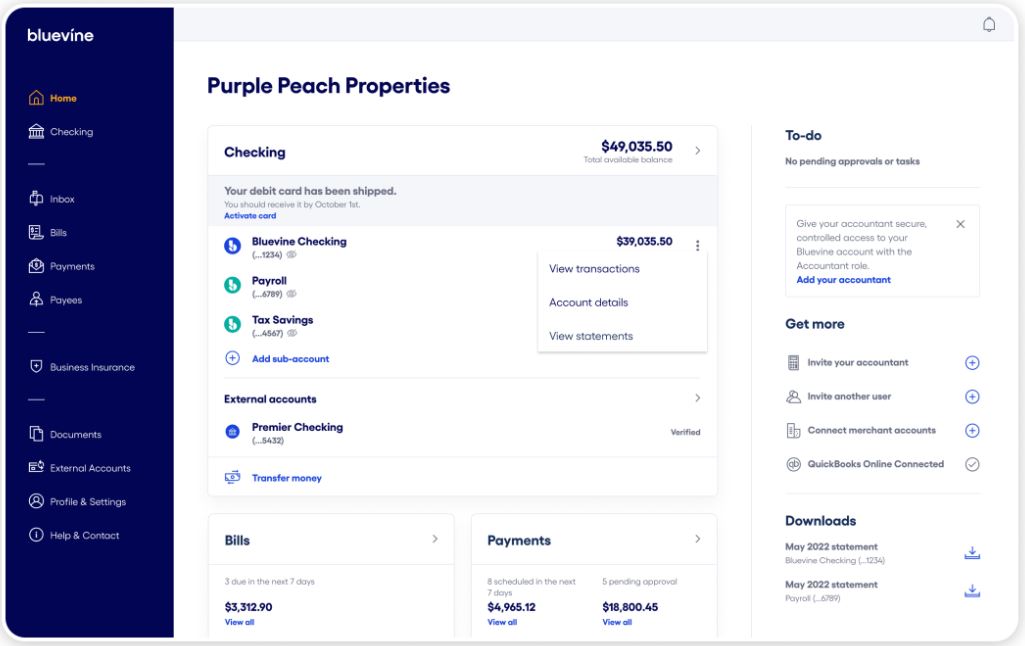 The Bluevine Business Checking account combines the benefits of both saving and checking with a competitive interest rate and tons of features – with none of the fees.
Features of this account include but are not limited to:
No monthly fee, overdraft fees, or bill pay fees
No minimum balance requirements
Unlimited transactions
2.00% on balances of $250,000 or less if you meet activity requirements
The ability to make cash deposits and withdrawals
Faster, easier payments with Bluevine Bill Pay (compatible with QuickBooks Online)
The option to create up to five sub-accounts
To earn the posted interest rate, you need to either receive $2,500 a month in customer payments to your Bluevine account or spend $500 or more on your debit card. You can withdraw up to $2,000 per day from an ATM.
Bluevine gives business owners flexibility and choices in its checking account without requiring high balances to get the most benefits.
Lines of credit
A line of credit is a type of revolving debt, similar to a credit card. Basically, you can borrow up to a certain amount whenever you need to, pay it back, and borrow again. You can use some or all of a line of credit and it'll reset every time you repay your full balance. When you no longer need the funds, you can close the account.
Bluevine's lines of credit are available for up to $250,000, but your credit line depends on what you're approved for. You won't pay any fees for opening an account and can make weekly or monthly payments for either six or 12 months. To qualify, your business needs to be at least two years old and making $40k or more in revenue each month.
Who is Bluevine for — and who is it not for?
With fee-free, interest-bearing checking and straightforward lines of credit, Bluevine will be a good fit for a lot of small business owners
But Bluevine accounts could be missing some features for certain people, and business owners with larger companies may find Bluevine too restrictive. For example, if your business is rapidly expanding, you may outgrow some of Bluevine's transfer and transaction limits (like up to $5,000 in incoming transfers via mobile app or website per month and $2,000 in cash withdrawals per day).
Bluevine also doesn't have dedicated solutions for self-employed people. And if you're looking for a type of business account not offered by Bluevine, such as savings products or credit cards, you will need to look elsewhere.
For anyone looking for a different option, here are some of the top Bluevine alternatives.
Best Bluevine alternatives by feature
If Bluevine doesn't seem like a good fit for your business, there are plenty of alternatives that offer similar benefits.
1. Novo
Novo offers business checking accounts with many of the same outstanding features as Bluevine's. Its checking accounts make it easy for customers to send invoices and get paid.
You can get paid by debit or credit card through Stripe, and it is beta testing accepting invoice payments via Square.
You can also accept payments by check, which you can deposit free.
Novo also makes it easy for small businesses to send money, with the ability to make payments via ACH, paper checks, and international transfers.
Another selling point of Novo's business checking account is its Novo Reserves feature. It's like having a separate savings account; you can set aside money apart from your working capital. This feature makes it easy to set aside money for taxes or to save for a rainy day.
It's worth mentioning that though Novo offers robust business checking accounts, it doesn't have the financing features that Bluevine does.
Visit Novo Bank
Get more information at Novo's website | Our Novo Bank review
2. Lili Bank
Lili offers bank accounts specifically designed for freelancers. The accounts come with features such as financial insights, expense management, and expense reports. Similar to Novo Reserves, you can set aside money in a "tax bucket" so you aren't scrambling for cash when tax time rolls around. If you get a direct deposit from an online payment platform like Stripe or PayPal, you can get your money up to two days sooner.
But Lili doesn't have as many features as either Bluevine or Novo for accepting payments. And like Novo, Lili doesn't currently offer any business financing options.
Visit Lili Bank
Get more information at Lili Bank's website | Our Lili Bank review
3. NorthOne
NorthOne offers banking services to businesses and freelancers. It makes it easy to send payments through ACH or wire transfers, both of which you can do from your phone. NorthOne makes it equally easy to accept payments, including by check and cash deposits. And you can withdraw cash at over one million Cirrus® branded ATM locations, including MoneyPass® ATMs.
Best of all, NortOne is offering three month's free to Investor Junkie readers!
Like other competitors, NorthOne offers a dedicated account to set aside money for taxes or other major expenses, called envelopes. You can create an unlimited number of envelopes to manage your finances. It also has cash flow reporting and the ability to connect with other small-business tools like Square, Stripe, and PayPal.
NorthOne normally doesn't offer business financing, but it's participating in the PPP and is currently accepting applications.
Visit Northone Bank
Get more information at NorthOne's website | Our NorthOne review
4. Kabbage
Kabbage is a favorite when it comes to small business banking. Kabbage's primary product is its business checking account. Like Bluevine, this account offers plenty of robust features, as well as the APY of a high-yield savings account. Features include a virtual card, bill pay, and no monthly fees.
But one downside is that Kabbage now has a waitlist for its business checking account.
Kabbage also offers business financing. However, this is currently on hold. Kabbage focuses on offering PPP loans.
5. Fundbox
If you're looking for business financing rather than a checking account, Fundbox is worth your consideration. Fundbox offers revolving lines of credit of up to $150,000. It takes only a few minutes to apply and get approved, and you can have the funds in your bank account as soon as the next business day. Then you pay your credit line back over the course of 12 or 24 weekly installments. As you pay back your credit line, it replenishes so you can borrow again.
Fundbox also offers term loans where you borrow a lump sum to be paid back over a specific period of time. It charges no application fee, no origination fee, and no prepayment penalty. Fundbox's term loan program is currently in beta testing and isn't available to all applicants.
6. OnDeck
OnDeck offers small business financing in the form of term loans and credit lines. Its term loans are available in amounts from $5,000 to $250,000 with repayment terms of up to 18 months. The company offers same-day funding, meaning you can get a loan on short notice.
OnDeck also offers lines of credit. These let businesses borrow and pay back the funds on a revolving basis. Its credit lines range from $6,000 to $100,000 and have 12-month repayment terms after each withdrawal.
The bottom line
Bluevine is a popular option for small business banking. And with both checking accounts and lines of credit, many entrepreneurs will get what they need from this financial tech company.
But if you're looking for a loan for your company rather than a line of credit, you need a checking account that can handle larger transactions, you want banking features specifically for freelancing and side hustling, or you just need a type of account that Bluevine doesn't offer, one of these Bluevine alternatives should do the trick.