1. Miranda Kerr and Snapchat's Evan Spiegel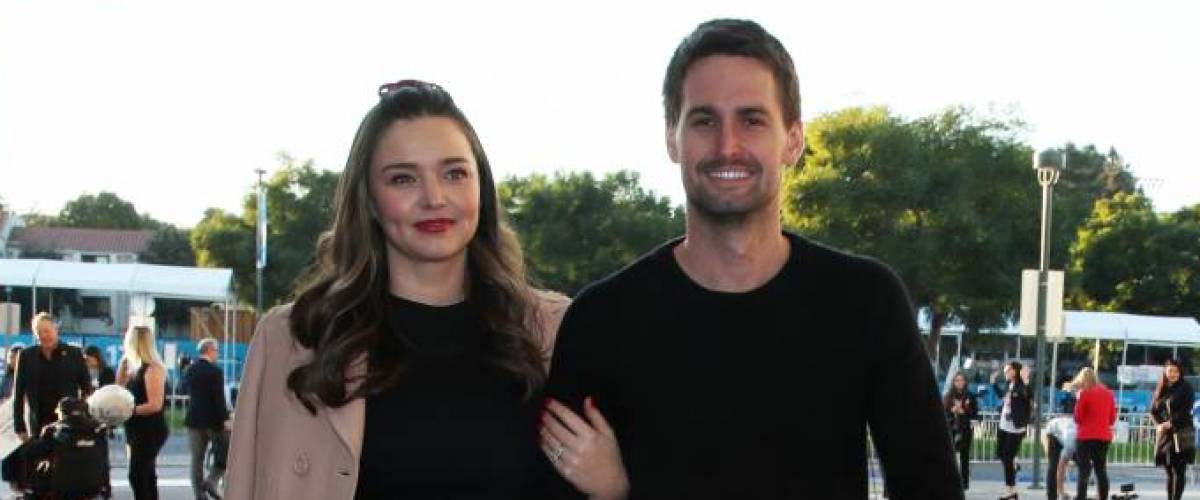 The founder of Kora Organics skin care — and the first Australian model for Victoria's Secret — tied the knot with the co-founder of Snapchat in 2017.
Evan Spiegel, who became one of the world's youngest billionaires at 25, first met Kerr at a Louis Vuitton event at the Museum of Modern Art in New York. The supermodel told him her favorite song was Estonian composer Arvo Pärt's "Spiegel im Spiegel."
Kerr was previously married to actor Orlando Bloom, and the pair has a son together. On Spiegel and Kerr's first date, the Snap billionaire gifted her a homemade gingerbread house with her and her son's names written on it in frosting.
Today, Spiegel has a net worth of $11.3 billion, according to Forbes. The couple has two children together.
2. Priscilla Chan and Facebook's Mark Zuckerberg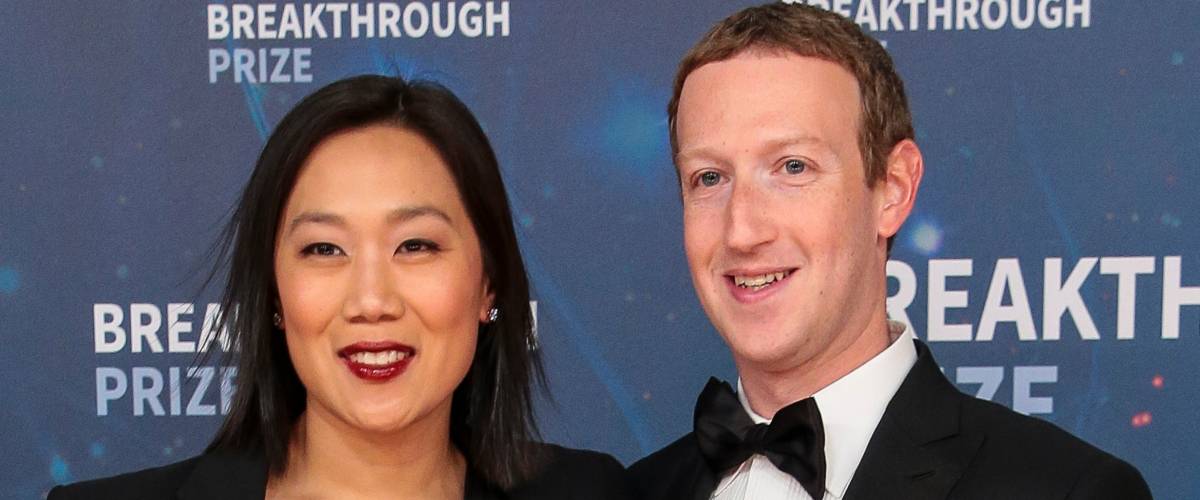 Priscilla Chan met "nerdy" sophomore Mark Zuckerberg back in 2003 while waiting in line for the bathroom at his "going-away" party. He'd launched a prank website he thought would get him expelled from Harvard.
Despite the not-so-romantic beginning, the pair started dating. Zuckerberg wasn't expelled but did end up dropping out to work full-time on Facebook. Zuckerberg's net worth is currently a whopping $100.8 billion.
Chan married Zuckerberg in a surprise ceremony in 2012, after she graduated from medical school. The duo co-founded the Chan Zuckerberg Initiative in 2015, pledging 99% of their wealth from Facebook shares toward building a better future through education, the justice system and health care. Chan and her husband also created nonprofit disease research center CZ Biohub in 2016.
Chan eventually quit her job as a pediatrician to devote her time to the Chan Zuckerberg Initiative. The pair has two children, as well.
3. Salma Hayek and Gucci's François-Henri Pinault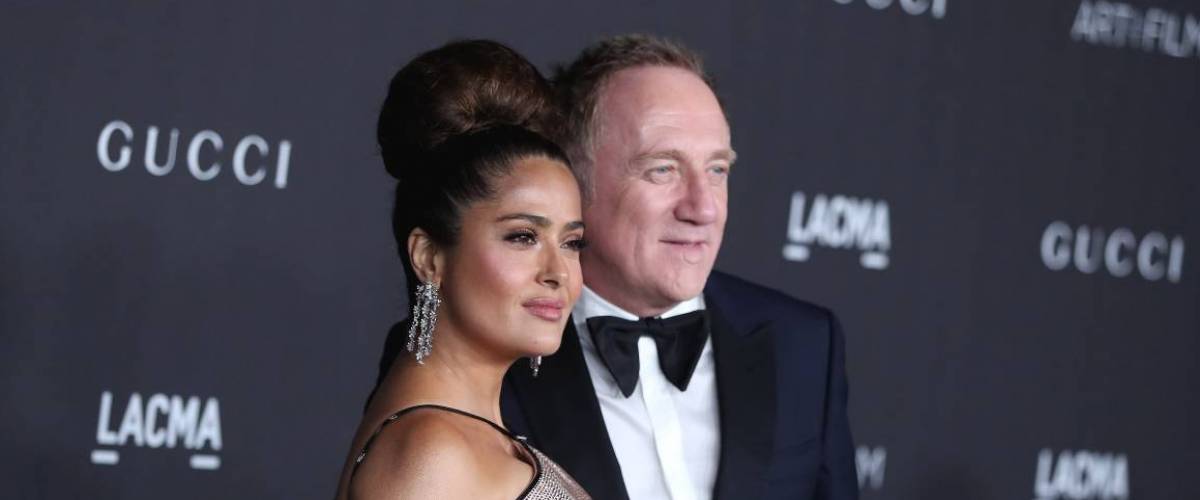 By most standards, this Frida star and film producer is incredibly wealthy — but not when compared to her husband. François-Henri Pinault belongs to the Pinault family, which has an estimated fortune of $45.5 billion, Forbes says.
Salma Hayek met Pinault at a Palazzo Grassi gala in Venice in 2006. The pair was married twice in 2009 — once in a quiet city hall ceremony in Paris on Valentine's Day, and the second time in a star-studded event in a Venice opera house, complete with a masked ball at historic art museum Punta Della Dogana.
Pinault is CEO and chairman of luxury group Kering, which his father founded in 1963. The conglomerate owns brands like Gucci and Balenciaga. Hayek favored the latter, wearing a stunning, ivory gown for her fairytale Venice wedding.
4. Grimes and Tesla's Elon Musk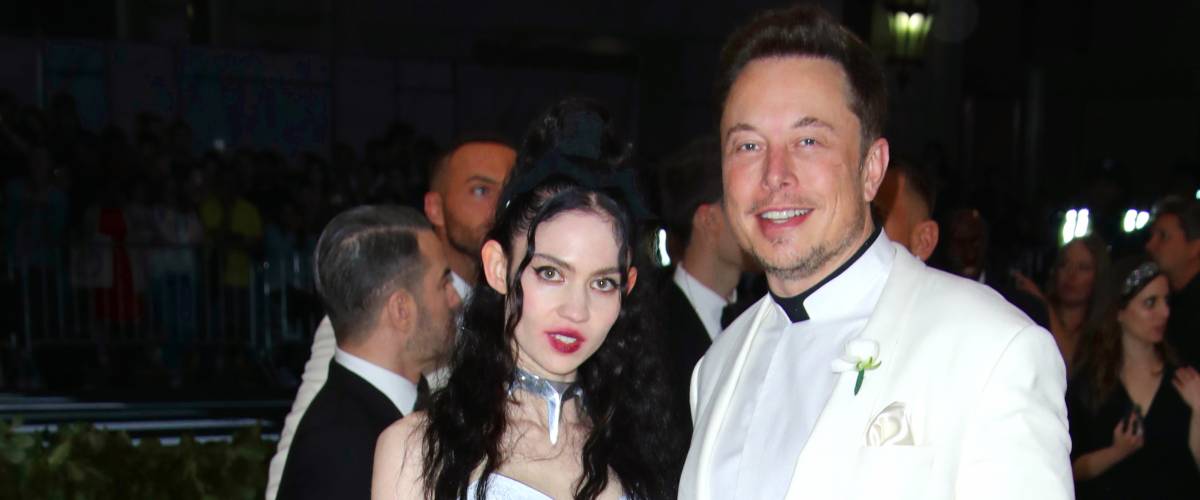 Canadian musician Claire Boucher reportedly met Tesla CEO Elon Musk on Twitter, bonding over a joke involving an AI-powered dystopia and a French 18th century art style. (Of course.)
Grimes' music uses an eclectic mix of styles, which The Wall Street Journal once described as "the kind of music you imagine a group of vampires would listen to if this group of vampires also happened to be on a cheerleading squad."
While the couple has occasionally perplexed the public by unfollowing and refollowing each other on social media, they welcomed baby boy X Æ A-12 — pronounced "X Ash A Twelve", in case you were wondering — in 2020.
5. Nicole Systrom and Instagram's Kevin Systrom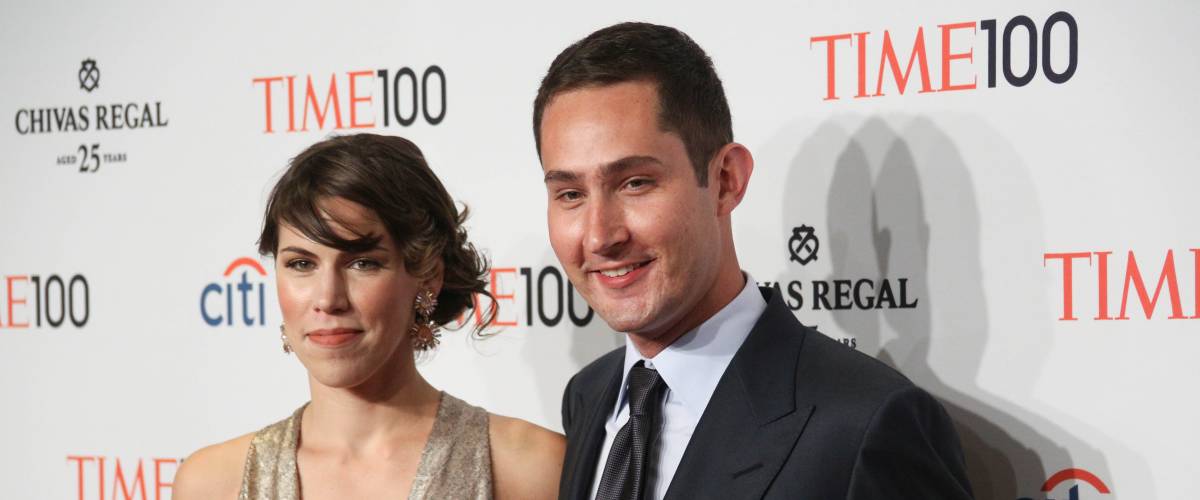 Nicole Schuetz, founder of clean-energy investment firm Sutro, married billionaire Kevin Systrom at a jazz-age Halloween masquerade in Napa that one might deem Insta-worthy.
Kevin, founder of Instagram, has a net worth of $2 billion. The pair reportedly met at their alma mater, Stanford, and got engaged in 2014, the same year Schuetz founded her own firm.
The proposal was indirectly facilitated by their Instagram-famous golden retriever, Dolly, says Vogue. Kevin tricked her into thinking Dolly had run away, so he could lead her to just the right spot in front of the sunset.
Nicole, who has an MBA/MS in Environment and Resources, created her consultancy to help channel funds into climate and clean energy solutions.
6. Nikita Kahn and Oracle's Larry Ellison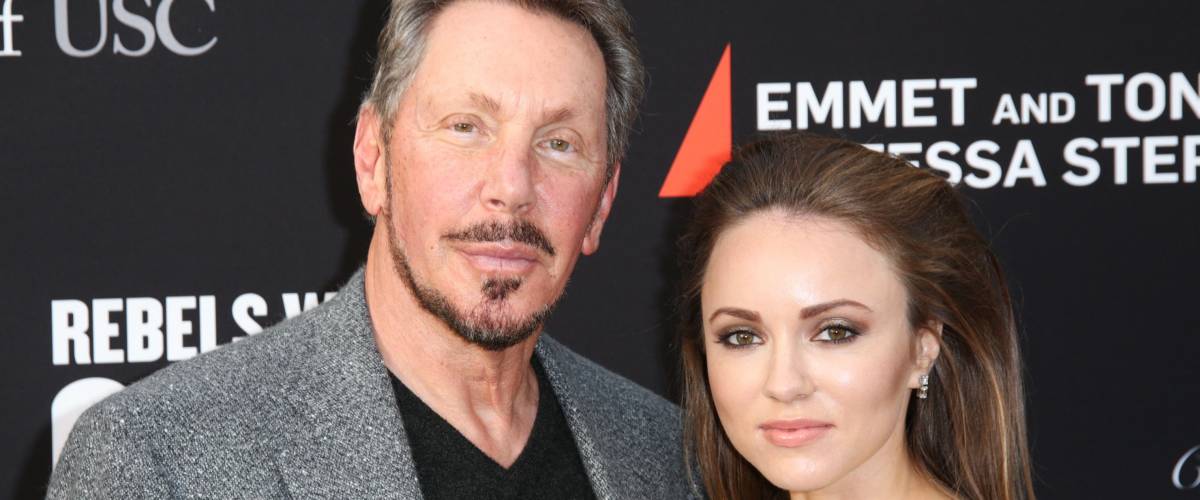 This businesswoman and animal rights activist has been dating Oracle founder Larry Ellison for over a decade.
Ellison, one of the richest men on the planet, has a net worth of $91.7 billion, owns almost all of Hawaiian island Lanai and sits on the board of Tesla.
In 2013, he opened Malibu restaurant Nikita — yes, named after his girlfriend — with Mediterranean/Italian fare like Kobe beef sliders and lobster salad. The Hollywood Reporter dubs it "Gazillionaire Grub."
Kahn runs a real estate agency and has worked with the California Wildlife Center. She and her boyfriend made headlines in 2016 for donating $1.16 million to the San Diego Zoo Safari Park's Rhino Rescue Center — and the rhino that's named after her, as well.
7. Lucinda Southworth and Google's Larry Page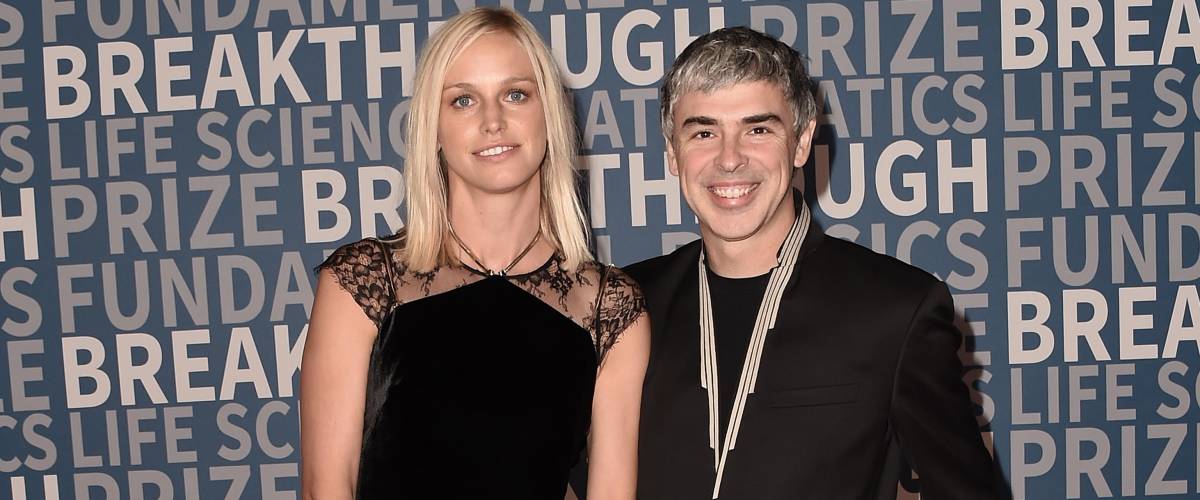 Google co-founder Larry Page booked an entire private island when he wed Lucinda Southworth in 2007 — with fellow billionaire Sir Richard Branson attending as best man.
Southworth, who has a PhD in Biomedical Informatics from Stanford and holds degrees from the University of Pennsylvania and Oxford, is a research scientist and philanthropist. The couple founded the charitable Carl Victor Page Memorial Foundation in 2004 and donated $15 million to fight Ebola in West Africa in 2018.
Page stepped down as CEO of Alphabet, parent company of Google, in 2019 but remains a board member and controlling shareholder and has a net worth of $92 billion.
8. Penny Knight and Nike's Phil Knight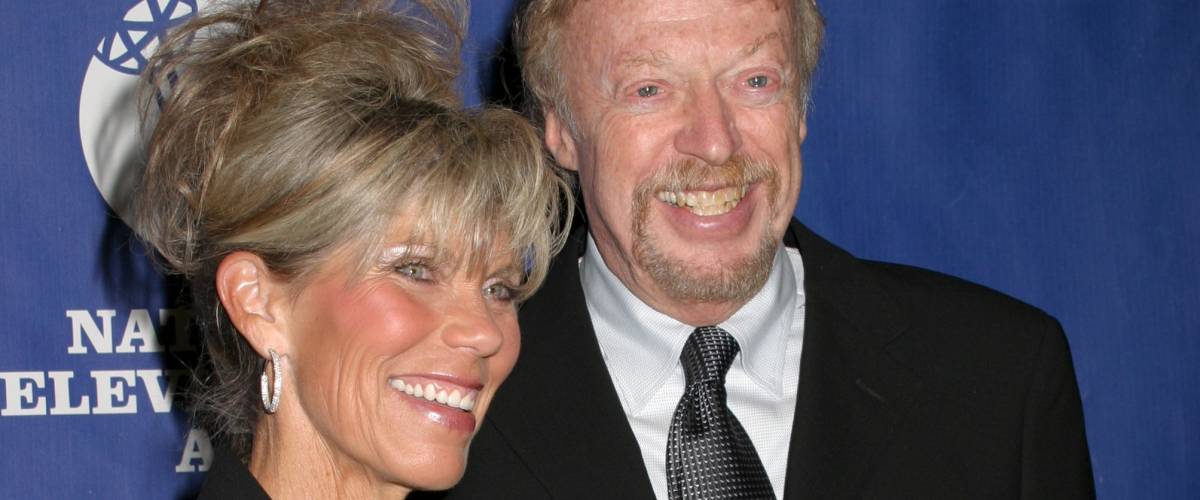 In 1968, before Phil Knight made his billions, he was teaching Accounting 101 at Portland State University to help support a modest side-business. There he met star student Penelope Parks and asked her to join his imported shoe company, Blue Ribbon Sports.
Parks, who worked on administrative tasks like bookkeeping and typing, began dating Knight, and the pair got married the same year.
Three years later, Blue Ribbon Sports was rebranded to Nike, the footwear empire everyone knows today. The Knight family has a collective net worth of over $52 billion, Forbes says.
In 2020, Phil and Penny made the second and third largest charitable donations of the year in the U.S., with $900 million toward the Knight Foundation and $300 million toward the University of Oregon. Part of that money is speculated to fund the Phil and Penny Knight Campus for Accelerating Scientific Impact.
9. Lauren Sanchez and Amazon's Jeff Bezos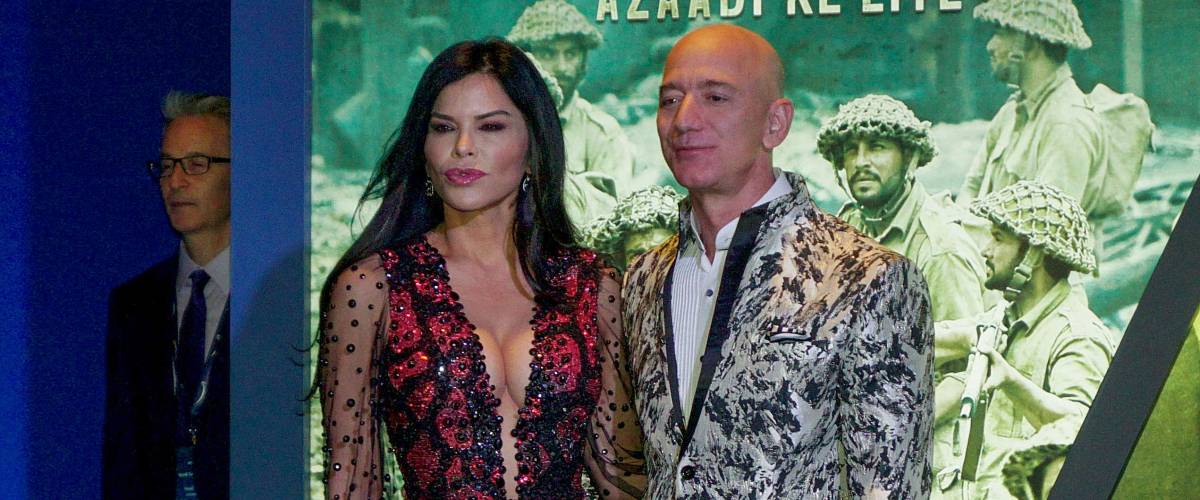 The wealthiest man in the world made headlines in 2019 for his $38 billion divorce with long-time wife Mackenzie Scott, but Jeff Bezos has since been spotted with TV anchor and host Lauren Sanchez.
Sanchez and the soon-to-retire Amazon CEO — who is worth over $186 billion — reportedly began dating while separated from their previous spouses in 2018.
Sanchez is a licensed helicopter pilot and founder of Black Ops Aviation, an aerial film and production company. People reports she's worked as a consultant on Christopher Nolan's Dunkirk and Catherine Hardwicke's Miss Bala and she's done some aerial shots for Bezos' aerospace company, Blue Origin.
10. Ricky Lauren and Ralph Lauren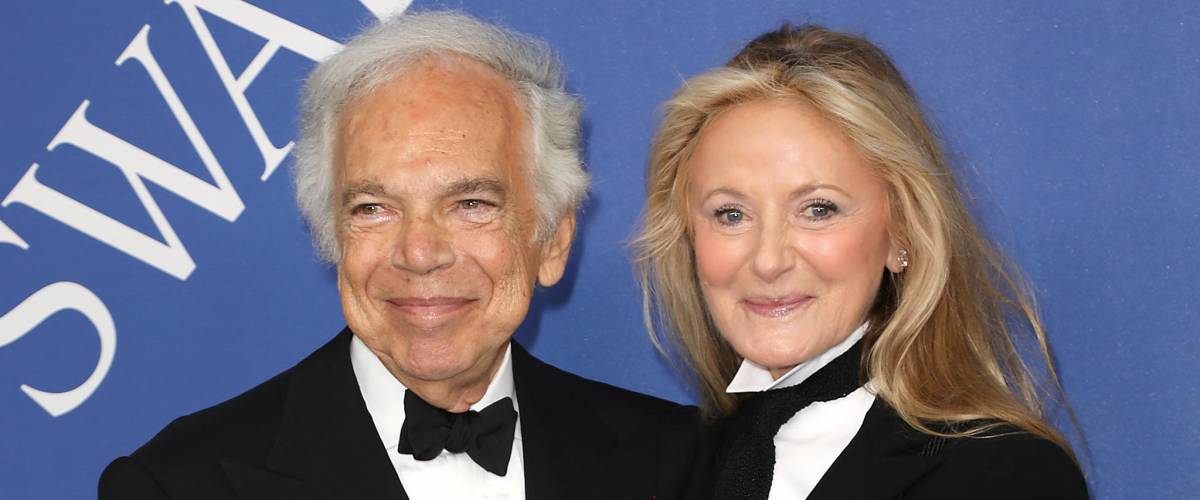 Author and artist Ricky Lauren has been married to fashion designer Ralph Lauren for over half a century.
Ricky was working as a receptionist at a doctor's office in 1946 when Ralph came in for an appointment, says Port magazine — which also claims that he proposed on their very first date.
They didn't actually marry until much later — 1964 — and it would still be a few years before he launched his eponymous fashion brand.
Ricky's written five books, featuring her own photography and watercolor illustrations, and she and her husband own several properties, including a lovely stone manor in Bedford, New York and three beachside properties in the Hamptons.
Ralph stepped down as CEO of his fashion company in 2015 but remains executive chairman and chief creative officer, with a net worth of $7.1 billion.
11. Joan Templeman and Virgin's Richard Branson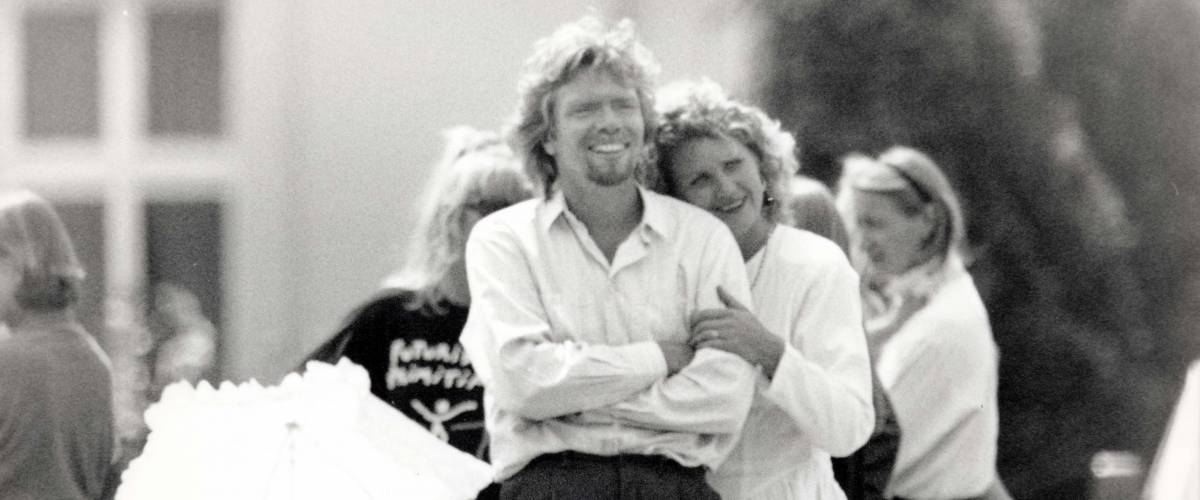 Not much has been written about "Lady Branson," long-time wife of billionaire British tycoon Sir Richard Branson. The investing news site Market Realist says Templeman was raised by a wealthy ship carpenter in Glasgow but worked several jobs to support herself before meeting Branson.
At the time, she was still married to a Scottish keyboard player, Ronnie Leahy — but Branson was not deterred.
The founder of Virgin Group told Page Six that he wooed Templeman with a romantic flyover of Necker Island in the British Virgin Islands. He pretended to be interested in buying the property, but it was mainly an excuse to get her on a helicopter ride.
He actually did end up buying the island in 1978 for $180,000, and the couple still live there today. They wed in 1989 and have two children together.
12. Nicole Shanahan and Google's Sergey Brin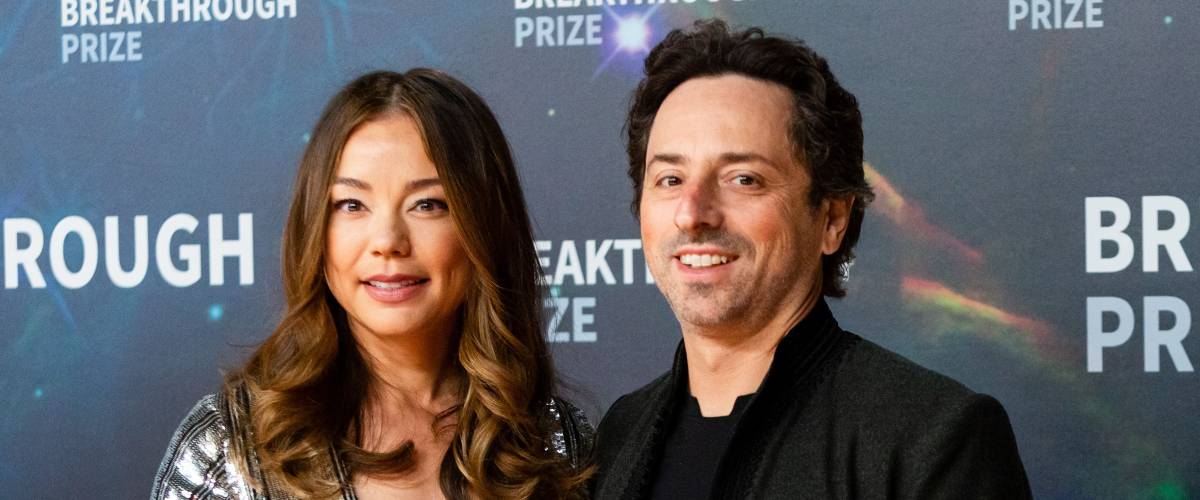 This attorney and entrepreneur is a big player in the legal world, though she seems to value her privacy. She quietly married Google co-founder Sergey Brin in 2018, according to media reports, and didn't announce the news until the following year.
Shanahan is the founder of patent company ClearAccessIP and a research fellow at CodeX, the Stanford Center of Legal Informatics, which develops technologies to support the legal system. She also founded the Bia-Echo Foundation, which invests in social change, such as criminal justice reform and extending female fertility.
Brin stepped down as president of Alphabet in 2019 but remains a controlling shareholder and board member and has a net worth of $87.6 billion. The pair has one child together.
13. Susan Dell and Michael Dell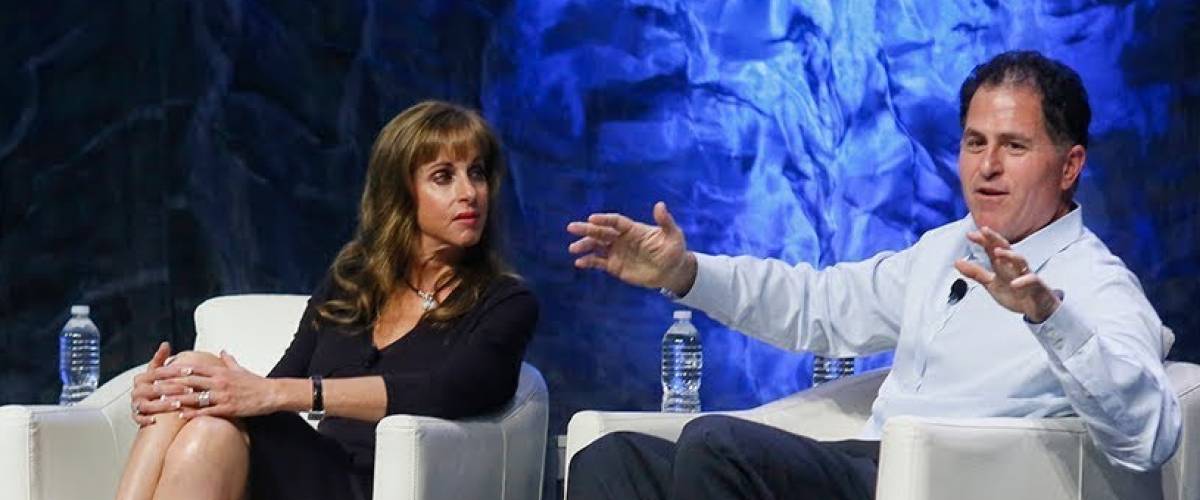 The Dells met on a blind date in 1988, before Michael became a household name. He took his company, Dell Computer Corporation, public that same year, and the couple married in 1989.
Susan Dell comes from a family of athletic and ambitious go-getters, and she is no exception. She's competed in marathons, triathlons and cycling races across the world and founded three fashion labels — including luxury brand Phi, which shuttered during the 2009 recession.
Susan and Michael, who share four children, also co-founded the Michael & Susan Dell Foundation, which is dedicated to helping impoverished children and families. She's also a lifetime trustee of Dell Children's Medical Center and a board member of the scientific research Cooper Institute in Dallas.
14. Wendy Schmidt and Google's Eric Schmidt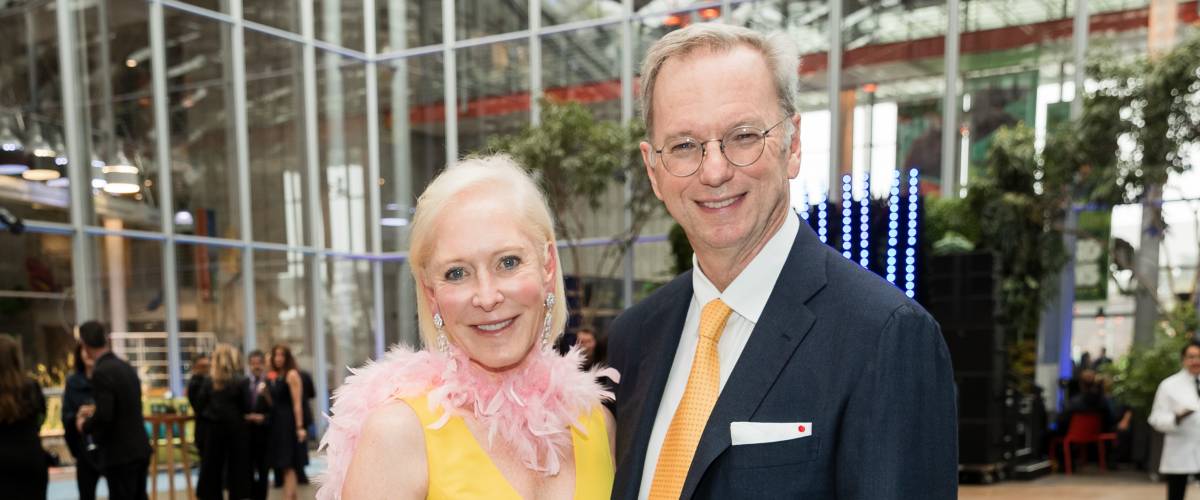 This interior designer turned investor and philanthropist has been married to former Google CEO Eric Schmidt since 1980.
The couple has been busy founding organizations to carry out their philanthropic goals. That includes the Schmidt Family Foundation (which focuses on sustainability), the Schmidt Ocean Institute (which promotes oceanographic research) and Schmidt Futures (which funds efforts to advance society through tech).
Wendy remains president of the Schmidt Family Foundation and is also a competitive sailor. She founded oceans solutions initiative 11th Hour Racing in 2010.
Eric left the board of Alphabet in 2019 and retired from his position as technical advisor in 2020. He still has a net worth of $18.5 billion.