1. Miranda Kerr and Snapchat's Evan Spiegel
The founder of Kora Organics skin care — and the first Australian model for Victoria's Secret — tied the knot with the co-founder of Snapchat in 2017.
Evan Spiegel, who became one of the world's youngest billionaires at 25, first met Kerr at a Louis Vuitton event at the Museum of Modern Art in New York. The supermodel told him her favorite song was Estonian composer Arvo Pärt's "Spiegel im Spiegel."
Kerr was previously married to actor Orlando Bloom, and the pair share a son. On Spiegel and Kerr's first date, the Snap billionaire gifted her a homemade gingerbread house with her and her son's names written on it in frosting.
Today, Spiegel has a net worth of $2.7 billion, according to Forbes. The couple has two children together.
2. Priscilla Chan and Meta's Mark Zuckerberg
Priscilla Chan met "nerdy" sophomore Mark Zuckerberg back in 2003 while waiting in line for the bathroom at his "going-away" party. He'd launched a prank website he thought would get him expelled from Harvard.
Despite the not-so-romantic beginning, the pair started dating. Zuckerberg wasn't expelled but did end up dropping out to work full-time on Facebook. Zuckerberg's net worth is currently a whopping $66.6 billion.
Chan married Zuckerberg in a surprise ceremony in 2012, after she graduated from medical school. The duo co-founded the Chan Zuckerberg Initiative in 2015, pledging 99% of their wealth from Facebook shares toward building a better future through education, the justice system and health care. Chan and her husband also created nonprofit disease research center CZ Biohub in 2016.
Chan eventually quit her job as a pediatrician to devote her time to the Chan Zuckerberg Initiative. The pair has two children, with a third on the way.
3. Salma Hayek and Gucci's François-Henri Pinault
By most standards, this Frida star and film producer is incredibly wealthy — but not when compared to her husband. François-Henri Pinault belongs to the Pinault family, which has an estimated fortune of $40.4 billion, Forbes says.
Salma Hayek met Pinault at a Palazzo Grassi gala in Venice in 2006. The pair was married twice in 2009 — once in a quiet city hall ceremony in Paris on Valentine's Day, and the second time in a star-studded event in a Venice opera house, complete with a masked ball at historic art museum Punta Della Dogana.
Pinault is CEO and chairman of luxury group Kering, which his father founded in 1963. The conglomerate owns brands like Gucci and Balenciaga. Hayek favored the latter, wearing a stunning, ivory gown for her fairytale Venice wedding.
4. Nicole Systrom and Instagram's Kevin Systrom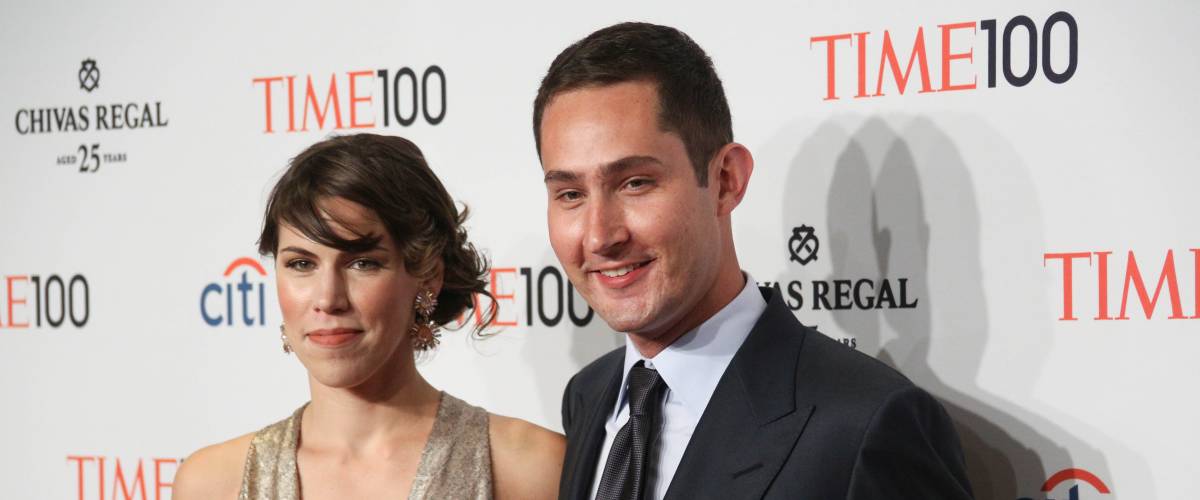 Nicole Schuetz, founder of clean-energy investment firm Sutro, married billionaire Kevin Systrom at a jazz-age Halloween masquerade in Napa that one might deem Insta-worthy.
Kevin, founder of Instagram, has a net worth of $1.5 billion. The pair reportedly met at their alma mater, Stanford, and got engaged in 2014, the same year Schuetz founded her own firm.
The proposal was indirectly facilitated by their Instagram-famous golden retriever, Dolly, says Vogue. Kevin tricked her into thinking Dolly had run away, so he could lead her to just the right spot in front of the sunset.
Nicole, who has an MBA/MS in Environment and Resources, created her consultancy to help channel funds into climate and clean energy solutions.
5. Nikita Kahn and Oracle's Larry Ellison
This businesswoman and animal rights activist has been dating Oracle founder Larry Ellison for over a decade.
Ellison, one of the richest men on the planet, has a net worth of $106 billion, owns almost all of Hawaiian island Lanai and once sat on the board of Tesla.
In 2013, he opened Malibu restaurant Nikita — yes, named after his girlfriend — with Mediterranean/Italian fare like Kobe beef sliders and lobster salad. The Hollywood Reporter dubbed it "Gazillionaire Grub" before it shuttered in 2014.
Kahn runs a real estate agency and has worked with the California Wildlife Center. She and Ellison made headlines in 2016 for donating $1.16 million to the San Diego Zoo Safari Park's Rhino Rescue Center — and the rhino that's named after her, as well.
6. Lucinda Southworth and Google's Larry Page
Google co-founder Larry Page booked an entire private island when he wed Lucinda Southworth in 2007 — with fellow billionaire Sir Richard Branson attending as best man.
Southworth, who has a PhD in Biomedical Informatics from Stanford and holds degrees from the University of Pennsylvania and Oxford, is a research scientist and philanthropist. The couple founded the charitable Carl Victor Page Memorial Foundation in 2004 and donated $15 million to fight Ebola in West Africa in 2018.
Page stepped down as CEO of Alphabet, parent company of Google, in 2019 but remains a board member and controlling shareholder and has a net worth of $81.4 billion.
7. Penny Knight and Nike's Phil Knight
In 1968, before Phil Knight made his billions, he was teaching Accounting 101 at Portland State University to help support a modest side-business. There he met star student Penelope Parks and asked her to join his imported shoe company, Blue Ribbon Sports.
Parks, who worked on administrative tasks like bookkeeping and typing, began dating Knight, and the pair got married the same year.
Three years later, Blue Ribbon Sports was rebranded to Nike, the footwear empire everyone knows today. The Knight family has a collective net worth of over $46.1 billion, Forbes says.
In 2020, Phil and Penny made the second and third largest charitable donations of the year in the U.S., with $900 million toward the Knight Foundation and $300 million toward the University of Oregon. Part of that money is speculated to fund the Phil and Penny Knight Campus for Accelerating Scientific Impact.
8. Lauren Sanchez and Amazon's Jeff Bezos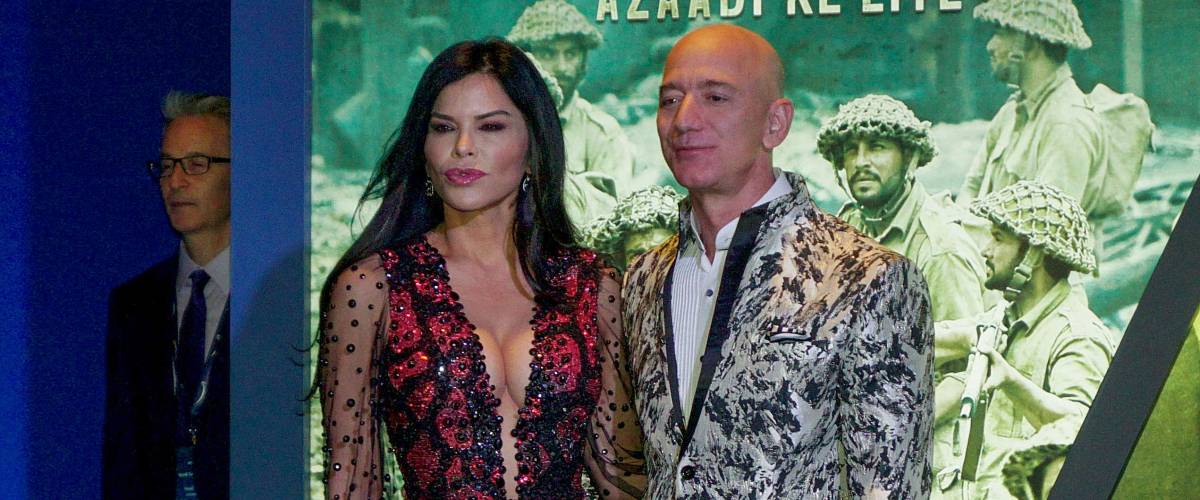 The one-time wealthiest man in the world made headlines in 2019 for his $38 billion divorce with long-time wife Mackenzie Scott, but Jeff Bezos has since been spotted around town with TV anchor and host Lauren Sanchez.
Sanchez and the retired Amazon CEO — who is worth $117.9 billion — reportedly began dating while separated from their previous spouses in 2018.
Sanchez is a licensed helicopter pilot and founder of Black Ops Aviation, an aerial film and production company. People reports she's worked as a consultant on Christopher Nolan's Dunkirk and Catherine Hardwicke's Miss Bala and she's done some aerial shots for Bezos' aerospace company, Blue Origin.
9. Ricky Lauren and Ralph Lauren
Author and artist Ricky Lauren has been married to fashion designer Ralph Lauren for over half a century.
Ricky was working as a receptionist at a doctor's office in 1946 when Ralph came in for an appointment, says Port magazine — which also claims that he proposed on their very first date.
They didn't actually marry until much later — 1964 — and it would still be a few years before he launched his eponymous fashion brand.
Ricky has written several books, featuring her own photography and watercolor illustrations, and she and her husband own several properties, including a lovely stone manor in Bedford, New York and three beachside properties in the Hamptons.
Ralph stepped down as CEO of his fashion company in 2015 but remains executive chairman and chief creative officer, with a net worth of $7.2 billion.
10. Joan Templeman and Virgin's Richard Branson
Not much has been written about "Lady Branson," long-time wife of billionaire British tycoon Sir Richard Branson. The investing news site Market Realist says Templeman was raised by a wealthy ship carpenter in Glasgow but worked several jobs to support herself before meeting Branson.
At the time, she was still married to a Scottish keyboard player, Ronnie Leahy — but Branson was undeterred.
The founder of Virgin Group told Page Six that he wooed Templeman with a romantic flyover of Necker Island in the British Virgin Islands. He pretended to be interested in buying the property, but it was mainly an excuse to get her on a helicopter ride.
He actually did end up buying the island in 1978 for $180,000, and the couple still live there today. They wed in 1989 and have three children together, one of whom died shortly after birth.
11. Susan Dell and Michael Dell
The Dells met on a blind date in 1988, before Michael became a household name. He took his company, Dell Computer Corporation, public that same year, and the couple married in 1989.
Susan Dell comes from a long line of athletic and ambitious go-getters. She's competed in marathons, triathlons and cycling races across the world and founded three fashion labels — including luxury brand Phi, which shuttered during the 2009 recession.
Susan and Michael, who share four children, also co-founded the Michael & Susan Dell Foundation, which is dedicated to helping impoverished children and families. She's also a lifetime trustee of Dell Children's Medical Center and a board member of the scientific research Cooper Institute in Dallas.
Read more: 'Hold onto your money': Jeff Bezos issued a financial warning, says you might want to rethink buying a 'new automobile, refrigerator, or whatever' — here are 3 better recession-proof buys
12. Wendy Schmidt and Google's Eric Schmidt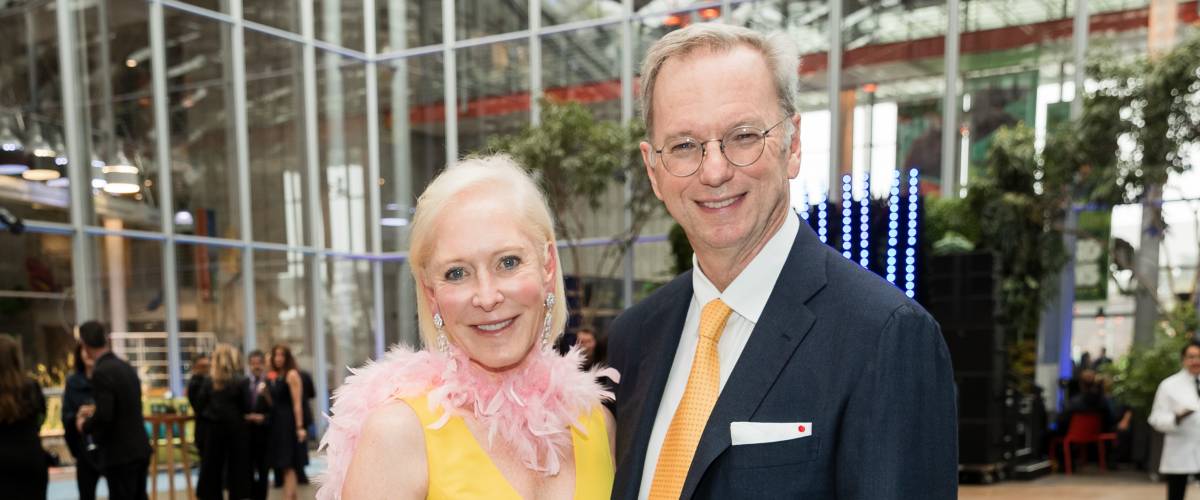 This interior designer turned investor and philanthropist has been married to former Google CEO Eric Schmidt since 1980.
The couple has been busy founding organizations to carry out their philanthropic goals. That includes the Schmidt Family Foundation (which focuses on sustainability), the Schmidt Ocean Institute (which promotes oceanographic research) and Schmidt Futures (which funds efforts to advance society through tech).
Wendy remains president of the Schmidt Family Foundation and is also a competitive sailor. She founded oceans solutions initiative 11th Hour Racing in 2010.
Eric left the board of Alphabet in 2019 and retired from his position as technical advisor in 2020. He still has a net worth of $16.5 billion.
13. Hélène Mercier and LVMH's Bernard Arnault
Internationally renowned concert pianist Hélène Mercier first met the French fashion tycoon at a dinner party in 1989 — and insisted he play the piano for her on a New Year's date later that year.
"His hands were trembling, he was dying of fear, but he was determined to get to the end," Mercier told The Wall Street Journal.
The pair wed in 1990 in a private ceremony in France, with Mercier in a white Lacroix suit and her husband in white jeans and a blue blazer. Despite her busy schedule — she performs at around 20 concerts a year and practices two to six hours a day — she often attends fashion events with Arnault.
Arnault, who had eclipsed Jeff Bezos as richest man in the world in May 2021, is the chairman and CEO of LVMH, an empire that spans brands from Louis Vuitton to Marc Jacobs. He and his family currently have a net worth of $212.8 billion.
14. Nita Ambani and Reliance Industries' Mukesh Ambani
Nita Dalal, a trained bharatanatyam dancer, wed into the wealthiest family in India in 1985.
She's a formidable businesswoman herself, serving as a board member of the family business, Reliance Industries as well as East India Hotels and she is a co-owner of cricket team Mumbai Indians.
She's also a founder and chairperson at Dhirubhai Ambani International School — one of India's top international schools — and Football Sports Development Limited, an organization that aims to develop sports in India through grassroots programs. Recently, she also launched Her Circle, a female-focused, community-building platform.
Her husband Mukesh has a net worth of $85 billion. He inherited conglomerate Reliance Industries, which is involved in natural resources, retail and telecommunications, following the death of his father in 2002, and serves as CEO.
15. Connie Ballmer and Microsoft's Steve Ballmer
Connie and Steve Ballmer wed in 1990 and have three sons together. While Steve's recently been recognized for his generous philanthropic efforts, Connie says she's more of a "save-the-world person" than her husband is.
"I need him to catch up with me. It's all really new for him," she told Forbes, after her husband left the helm of Microsoft in 2014.
Connie is the co-founder of Ballmer Group, which focuses on improving economic mobility for impoverished American children and families, and also serves as a general partner and founding investor at Blue Meridian Partners. She is also on the boards of the Obama Foundation, StriveTogether and the Los Angeles Clippers Foundation.
Connie earned her bachelor's degree in journalism at the University of Oregon and previously served as a founding member of the school's governing board for seven years.
16. Diana Taylor and Michael Bloomberg
The former New York superintendent of banks and unofficial "First Lady of New York City" has been in a relationship with Mike Bloomberg since 2000.
The pair first met at a business luncheon where Bloomberg was speaking and later ended up dining at the same restaurant. "He looked at me and came over and said, 'Would you like to have a drink after this?'" Taylor told The Washington Post. Obviously, she said yes.
Diana Taylor has an MBA and public health degree from Columbia, and she's worked on Wall Street and held a number of high-profile roles, including deputy secretary to former New York Governor George Pataki, managing director at Wolfensohn Fund Management, vice president of KeySpan Energy and vice chair of Solera Capital.
She currently serves on the boards of Citigroup, Brookfield Asset Management and Sotheby's, and some charitable boards and initiatives as well, like the International Women's Health Coalition.
17. Jennifer Gilbert and Quicken Loans' Dan Gilbert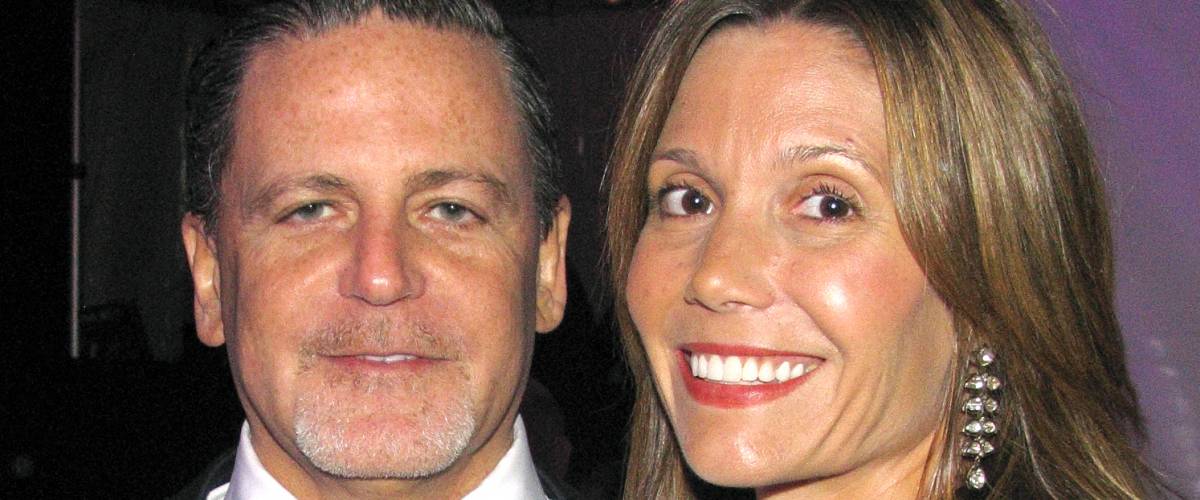 Interior designer Jennifer Gilbert first met the billionaire co-founder of mortgage lending company Quicken Loans when she designed his office.
The Michigan State University graduate stepped back from her career after getting married — she and Dan have five kids together — but began getting back to work when her youngest was in preschool.
She founded online interior design resource Doodle Home in 2010 and Amber Engine, a Detroit-based home furnishings company, in 2015. She's also the founder and creative director at Pophouse, which focuses on workplace design. She has designed spaces for Quicken Loans as well.
She and Dan founded the Gilbert Family Foundation, a nonprofit dedicated to finding a cure for neurofibromatosis — a genetic disorder that one of their children suffers from.
18. Cari Tuna and Facebook's Dustin Moskovitz
This former The Wall Street Journal reporter got set up on a blind date with Facebook co-founder Dustin Moskovitz through a mutual friend. The pair hit it off immediately and later wed in 2013.
Cari Tuna and Moskovitz became the youngest couple to sign the Giving Pledge — Warren Buffet and Bill and Melinda Gates' campaign for billionaires to give away more than half their wealth — in 2010.
Moskovitz, who currently serves as CEO of project management solution company Asana, has a net worth of $8.8 billion.
Tuna, a Yale graduate, quit her job in 2011 when Moskovitz was named the world's youngest self-made billionaire to focus on her charitable efforts full time. The couple founded their philanthropic foundation for helping "humanity thrive," Good Ventures, together that same year and have given away millions of dollars since.
19. Elissa Patel Waverly and Airbnb's Brian Chesky
Indian-American artist Elissa Patel Waverly and Airbnb CEO Brian Chesky swiped right on each other on Tinder in 2013 and have been going steady ever since.
Unfortunately, Patel Waverly's first experience on an Airbnb boat in India was less than appealing. "There were a lot of bugs and I'm very scared of bugs. Brian's one job in our relationship is to kill bugs and he wasn't there," she told Condé Nast Traveller.
She previously worked as a community marketing manager at selfie app Frontback, as a marketing operations consultant at grocery e-commerce platform Mercatus and as an account executive at payment service provider WePay.
She has since moved away from her marketing career to focus on her career as an artist. Her brand East Darjeeling employs local talent and donates to the cause of helping underprivileged communities around the world.
Patel Waverly also has a degree in marketing from Santa Clara University and studied international business at the Imperial College London and finance and economics at Shanghai University.
20. Lady Deirdre Dyson and Sir James Dyson
Deirdre Hindmarsh met fellow student James Dyson at the Byam Shaw School of Art in 1966 and the couple wed two years later — years before Dyson became the billionaire vacuum kingpin he's known as today.
Deirdre used to teach art to support their family as James struggled with his inventions. She's now known as a fine artist and fabric expert and has designed contemporary carpets and rugs for over two decades.
The trained soprano also hosts a charitable opera event each year and the proceeds go toward medical research charities.
The couple founded a charity, The James and Deirdre Dyson Trust, which supports causes like the arts, health care and education.
21. Pam Omidyar and eBay's Pierre Omidyar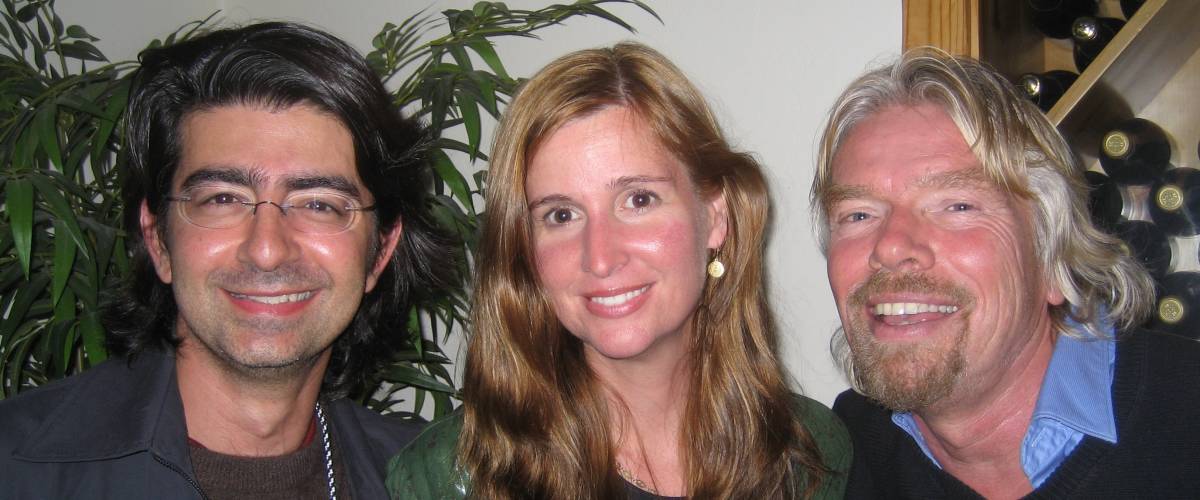 Pam and Pierre Omidyar were college sweethearts before he earned his billions from creating online auction site eBay — however the long-standing rumor that he set up his site to help his then-girlfriend, now-wife collect Pez candy dispensers has been debunked.
Pam, a self-professed ocean lover, has a bachelor's degree in biology from Tufts University and a master's in plant molecular genetics from the University of California, Santa Cruz.
When her husband's company went public in 1998, the couple immediately decided they'd donate most of their wealth within their lifetimes. Pierre currently has a net worth of $9 billion.
Pam co-founded The Omidyar Network, a foundation that supports social and economic change, with her husband in 2004. She also sits on the board of Humanity United, an organization focused on ending human rights abuses, and Hopelab, a non-for-profit that designs technologies to improve the health and well-being of young people, which she also founded.
What to read next