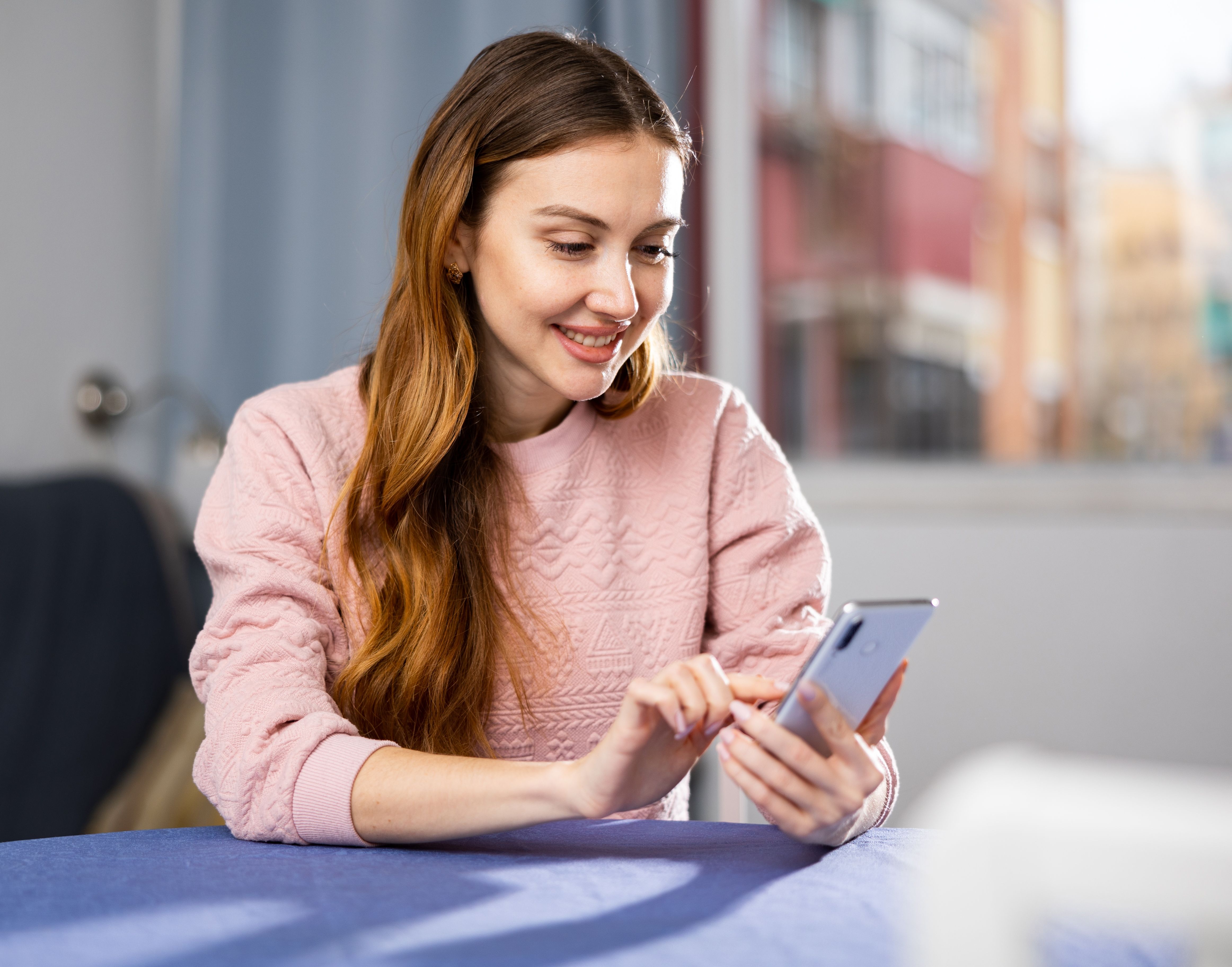 We adhere to strict standards of editorial integrity to help you make decisions with confidence. Please be aware that some (or all) products and services linked in this article are from our sponsors.
We adhere to strict standards of editorial integrity to help you make decisions with confidence. Please be aware that some (or all) products and services linked in this article are from our sponsors.
FAANG is a common investing acronym that refers to a group of extremely successful technology companies: Facebook, Amazon, Apple, Netflix and Google. These household names represent trillions of dollars in market value and rank as some of the world's largest businesses. Read on for a more detailed look at FAANG stocks, how to invest and whether they make sense for your portfolio.
What are FAANG stocks?
FAANG is a group of high-flying technology stocks that saw huge success over the last decade. Facebook, Amazon, Apple, Netflix and Google are all used multiple times daily by millions, if not billions, of people. That means a lot of opportunity for revenue in an industry that can often scale infinitely as new users sign up for their products.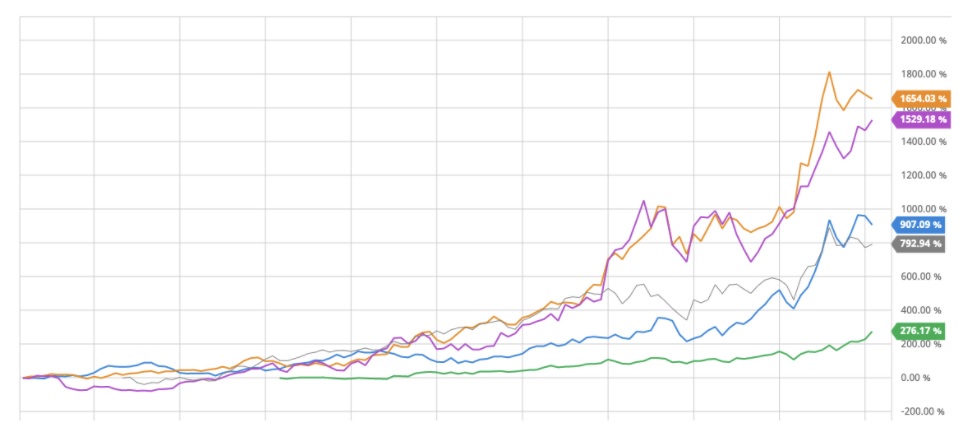 Here's a deeper look at each of the FAANG stocks to help you understand their business model and growth potential.
Facebook (FB)

Facebook started as a social networking website for college students run out of founder Mark Zuckerberg's Harvard dorm room. After dropping out and moving to Silicon Valley, Zuckerberg led the company to become the leading way to connect with nearly anyone you know online. It owns the popular apps Instagram and WhatsApp, which also claim impressive user numbers.
The company employs more than 58,000 workers worldwide. In December 2020, Facebook had 1.84 billion daily active users and 2.80 billion monthly active users.
Most importantly, Facebook generated nearly $86 billion in revenue in 2020, with the vast majority from advertising. The company ended the year with a net income of $29.1 billion, a 58% year-over-year increase.
This stock has yielded investors a 5-year return of 150% and a lifetime return of 630% as of this writing. There's no guarantee the same will continue in the future, but there are very few viable competitors that could take away market share. Even with its history of privacy scandals, users and advertisers continue to flock to Facebook.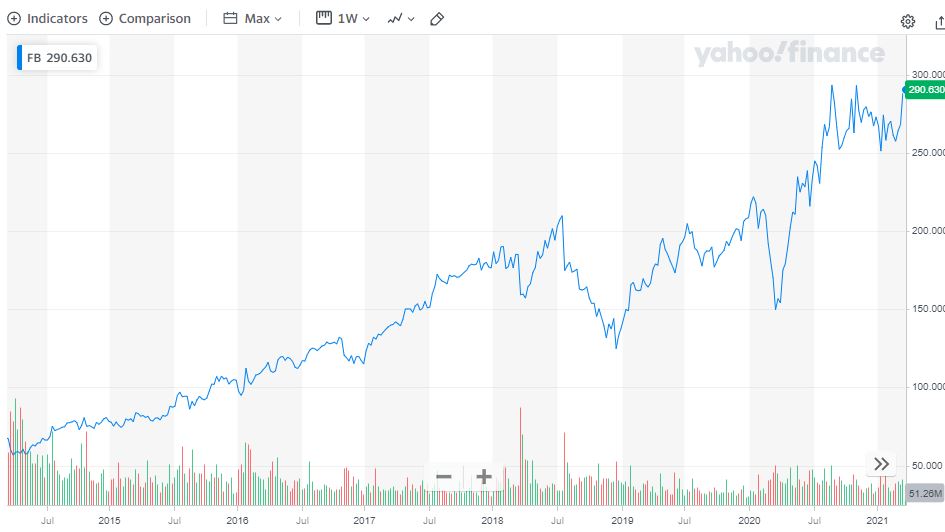 Amazon (AMZN)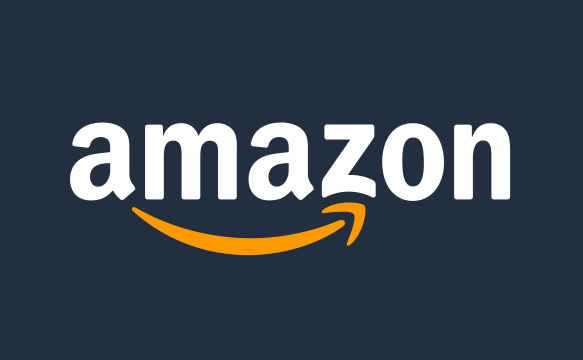 When you want to buy nearly any product made, you can likely have it dropped at your door in two days or less with Amazon. Amazon surpassed 150 million Prime subscribers in the United States in 2019, covering a large percent of the population. Its success was only hastened by the COVID-19 pandemic, making it an essential retailer for households worldwide.
But Amazon isn't just the shopping business established in founder and CEO Jeff Bezos' garage. It also operates one of the largest data center service businesses in the world (Amazon Web Services), sells its own brand of consumer electronics, and connects third-party sellers to buyers on the Amazon Marketplace. Amazon operates additional private label brands for consumer and business products, as well as a video streaming service, and owns grocery chain Whole Foods.
Amazon earned $386 billion in revenue in 2020 and generated a net income of $21.3 billion. It employs 1.3 million full-time workers. The stock rewarded investors with a 5-year return of 460% and has yielded an astonishing 178,793% since its IPO.
Bezos announced plans to step down from his primary role in the near future, naming an Amazon veteran to take his place. It may be hard to fill the shoes of the richest man in the world, but with a tightly-run supply chain and several incredibly profitable businesses, it'll probably continue to do well in the future.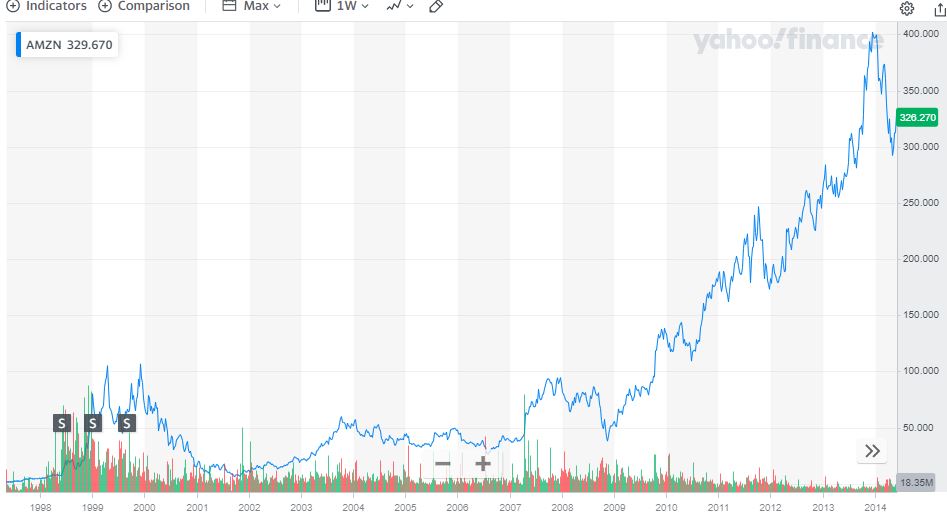 Apple (AAPL)

Apple has experienced an up-and-down history, but in the last decade has seen incredible success. While Apple started in 1976 producing desktop computers, the launch of the iPhone in 2007 put the company in the pockets and purses of a large percentage of the global population.
With successful products including the iPhone, Mac, Apple Music, Apple TV, in addition to other hardware and software offerings, the company is a veritable cash cow. Founder Steve Jobs passed away some years ago, and the company has seen continued success under current leader Tim Cook.
In its most recent fiscal year, Apple generated $274.5 billion in net sales and a net income of $57.4 billion. It's important to note that $213.8 billion in revenue came from product sales, while $46.3 billion came from higher-margin services. As long as people continue buying Apple products and stick with the ecosystem, those service revenues should steadily grow over time.
Apple's 5-year stock performance yielded investors 362%, while those who have been with the company from the start have seen a 111,263% return.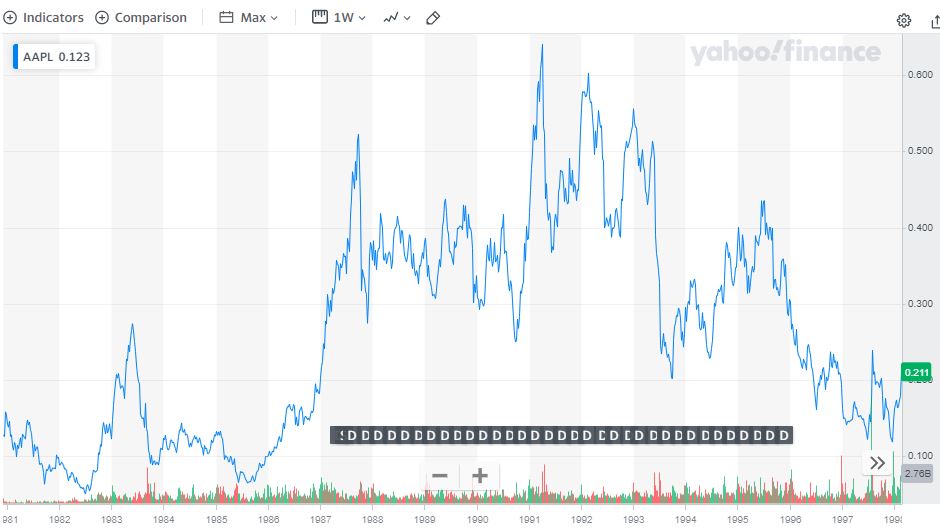 Netflix (NFLX)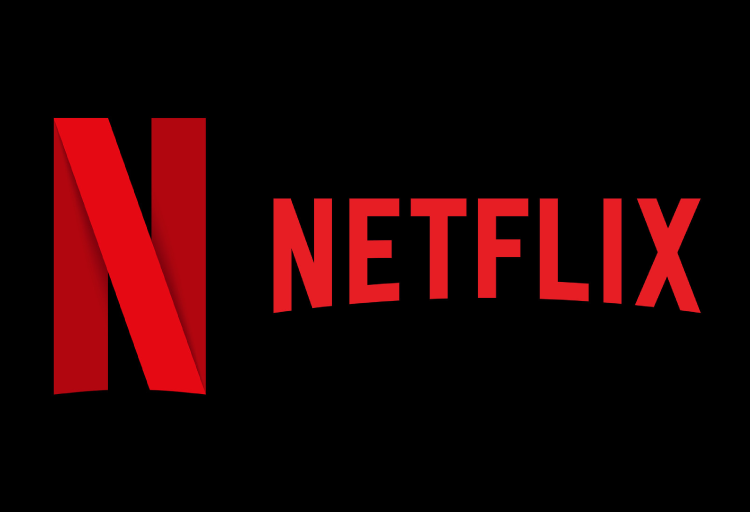 When work is done and the kids are in bed, at the end of the day, what do you do? "Netflix and chill" has become part of the cultural lexicon, showing how widespread the influence of CEO Reed Hastings' Netflix has been since its start as a DVD mailing service.
These days, Netflix makes most of its money from a video streaming subscription service where users can watch an unlimited number of shows and movies made by Netflix or licensed from other content owners.
For 2020, Netflix ended the year with more than 200 million paid subscribers, a net gain of 37 million from the prior year. The company generated $25 billion in revenue in 2020 for a net income of $2.8 billion. As long as the company can keep subscribers around while keeping costs under control, it should continue to do well in the future, though many new competitors continue to join the landscape.
Netflix has yielded a 5-year return of 410% and a lifetime return of 42,581%.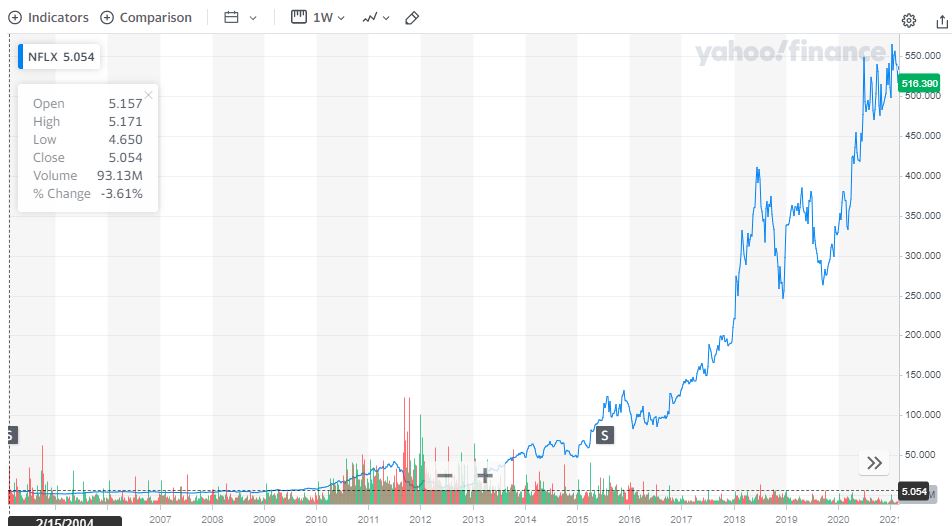 Google (GOOGL)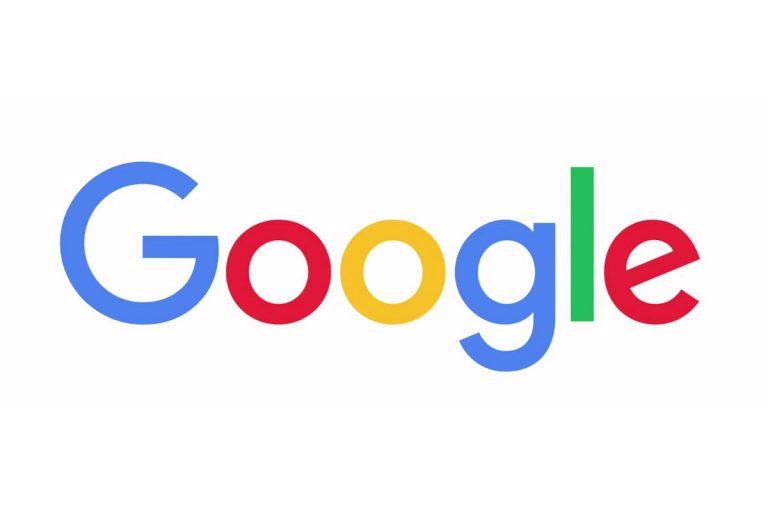 Google is a wholly-owned subsidiary of Alphabet. While the business structure may be a little confusing to some, the value of Google is clear. When you want to just know just about anything, what do you do? You probably Google it.
Founded by a team of Stanford grads working on their Ph.D., Google quickly grew from a search engine to a top information source with popular products like Gmail, Google Maps, Google Workspace, YouTube, Fitbit, Google Cloud and other brands.
For the 2020 fiscal year, Alphabet brought in $182.5 billion in revenue and kept $40.3 billion in profits (net income). This stock has both class A and class C shares. The Class A stock has yielded 171% in the last five years and 3,689% since it went public.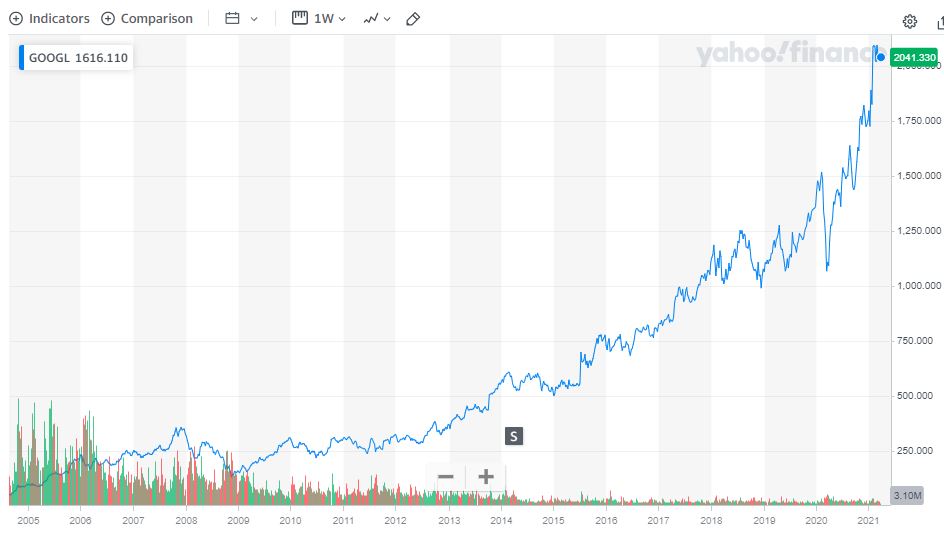 How to invest in FAANG stocks
If you want to buy any of these stocks, all you need is a brokerage account. You don't have to be wealthy to invest. Today, most brokers allow you to buy and sell stocks with no trade commissions, and many even let you buy fractional shares with as little as $5.
You can also buy these stocks as smaller holdings in a diverse portfolio using index funds or more focused investment funds with mutual funds or exchange-traded funds (ETFs).
Here are the best brokers we recommend for stocks and ETF investing:
Further reading: How to invest in stocks
Are FAANG companies a good investment?
Throughout their histories, all five of the FAANG companies have been good investments. I've personally done well from owning shares of Amazon and Google, and my passive index investments generally give me exposure to the whole lot.
There's no telling what the future will hold, but these companies all hold significant market advantages to keep back new competitors. Warren Buffet refers to this as an "economic moat," an excellent feature for any investment.
What makes FAANG stocks so popular?
The FAANG stocks are exceptionally popular because they are well-known consumer brands and have been successful investments. People love investing in the companies they use. With billions of people Googling with their iPhones, ordering products from Amazon, watching shows on Netflix, and talking about it on Facebook, there's no surprise many individual investors like these companies as well.
The track record of success has also made many investors a lot of money. If a small investor like me can make five figures from Amazon and Google, just imagine how much others have made from the stocks. Just as they've been popular for years, they'll likely remain so well into the future.
Are FAANG stocks hard to acquire?
The FAANG stocks are very easy to acquire. When you have an active brokerage account, you can buy shares with just a few taps on your screen. If you are new to investing and want to start with the FAANG stocks or anything else, be sure to start your journey with our free resources designed to help you become an expert investor.
The bottom line
Investing in FAANG stocks may make sense, but it's important to evaluate the value of each before you buy. Compare the value of the stock to its competitors to see if it's still worth investing in. Evaluate your own investment portfolio to make sure it's in line with your own investing goals and values.