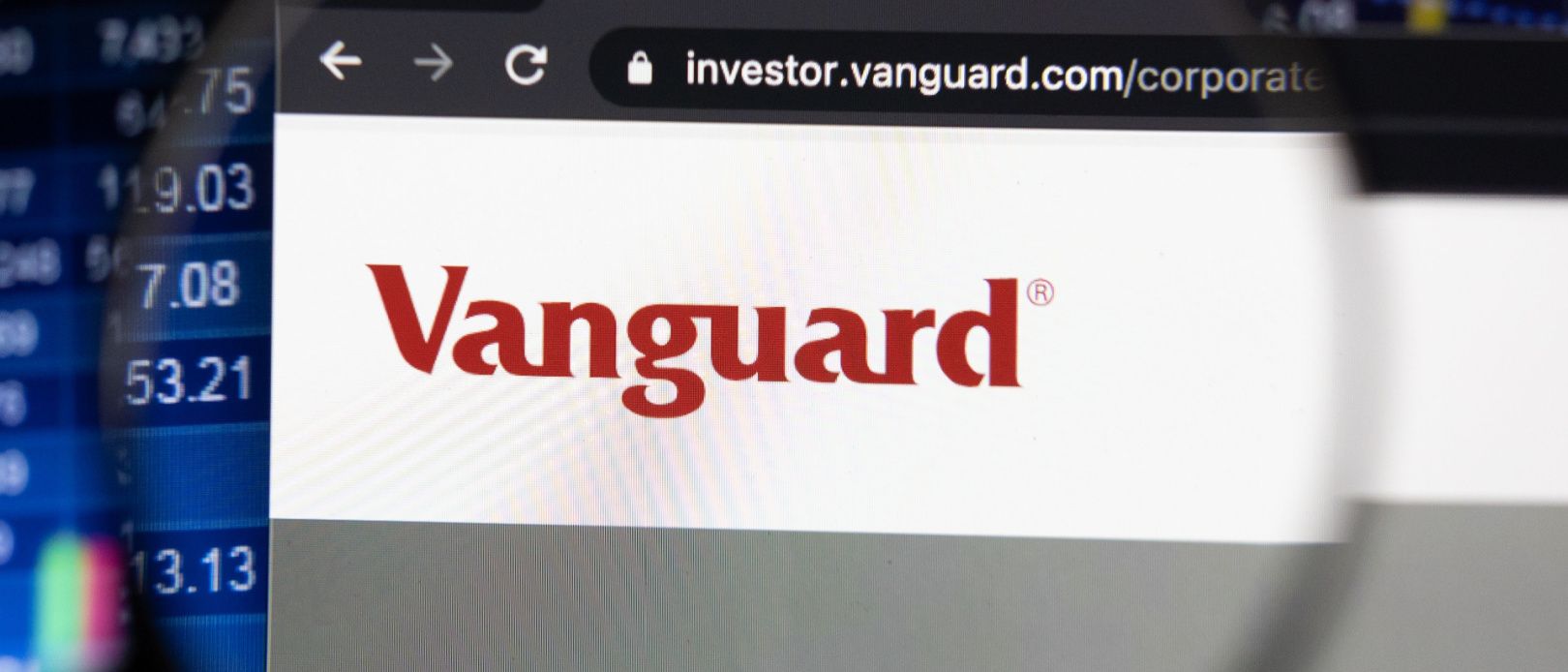 Vanguard Digital Advisor review
Dennis Diatel / Shutterstock
🗓️
Updated: November 10, 2022
We adhere to strict standards of editorial integrity to help you make decisions with confidence. Please be aware that some (or all) products and services linked in this article are from our sponsors.
We adhere to strict standards of editorial integrity to help you make decisions with confidence. Please be aware that some (or all) products and services linked in this article are from our sponsors.
Vanguard is one of the most popular investment advisors in the U.S. In fact, it's possible that if you invest in exchange-traded funds (ETFs), you already invest in a Vanguard ETF. Its new automated advisor service, Vanguard Digital Advisor®, is built off of Vanguard's ETFs and costs just a fraction of a traditional advisor. Beyond investing, the platform offers other services including a debt payoff tool and a retirement plan outlook.
Rating based on review of services on August 17, 2021.
Vanguard Digital Advisor features
Fees
Approximately $1.50 for every $1,500 you invest
Accounts
Taxable, Joint, Traditional IRA, Roth IRA, Rollover IRA, 401(k), 401(k) Guidance
Customer service
Available Monday through Friday from 8:00 a.m. to 8:00 p.m. ET.
Vanguard Digital Advisor's additional key features
The service provides users with a personalized retirement outlook based upon the information entered. This is done via the service's retirement calculator feature.
The Digital Advisor leverages Vanguard's legendary investing expertise and ultra-low-cost index ETFs, a hallmark of the firm.
Vanguard Digital Advisor offers a debt payoff strategy feature, which may be helpful for those with a high credit card or student loan debt.
What is Vanguard Digital Advisor?
Vanguard Digital Advisor is a new robo-advisor service. The service uses four low-cost Vanguard ETFs to build portfolios tailored to each investor's profile, catering to a new generation of investors. As the company notes on its website, "we've made it simpler to prepare for life's big milestones, no matter where you are in your financial journey."
How does Vanguard Digital Advisor work?
Vanguard Digital Advisor uses algorithms to manage client portfolios. This is a 100% digital experience, as there are no human advisors involved. When you sign up for the service, you're asked a series of questions about your income, how much you save towards retirement each month and how much you have saved already. They then dig deeper, asking about your retirement goals and offering a risk assessment test to determine your investing style — i.e. if you're a more moderate investor or like to take risks.
Based on this information, the algorithm constructs a portfolio that aligns with your goals for retirement. The portfolios are comprised of varying combinations of four Vanguard ETFs based on the appropriate asset allocation for the investor:
Vanguard Total Stock Market ETF
Vanguard Total International Stock Market ETF
Vanguard Total Bond Market ETF
Vanguard Total International Bond Market ETF
In order to use Vanguard Digital Advisor, there is an account minimum of $3,000. You can only open three different types of accounts: an individual brokerage account, joint taxable brokerage account, and IRA (Traditional and Roth). However, if your employer's 401(k) is through Vanguard, you can also enroll your 401(k) account in Vanguard Digital Advisor, but only if your employer offers this as an option.
Once you've established your retirement goal and your risk profile, the service will produce your customized portfolio.
There are a few additional restrictions to using the service:
Users must be U.S. residents or have an American mailing address such as one for active military service members, foreign service employees, etc.
The investor cannot be enrolled in Vanguard Personal Advisor Services, a quasi-robo and human advisory service offered by the company.
The investor cannot be a company insider.
The investor cannot be retired or within one year of retirement.
Vanguard also offers a version of its Digital Advisor service to retirement plan participants whose employer's plan is administered on the Vanguard platform. This would be implemented by the employer's plan administrator.
Customer service
Vanguard has an online FAQ service to help you navigate investing and find answers to any question you might have. They also have a toll-free number for customer service issues, which is available Monday through Friday from 8:00 a.m. to 8:00 p.m. ET.
Vanguard Digital Advisor security
The service runs on the Vanguard Investments platform and there have been no major security issues with the site that we are aware of. Vanguard offers two-factor authentication — which adds an extra layer of security for your account — and their platform is encrypted.
You can also use a security key, which is a small device like a USB that you can plug into your computer to access the website, and activate voice verification.
Vanguard will alert you if there is any suspicious activity on your account. If you suspect fraud on your account, Vanguard can walk you through specific steps over the phone or email.
Commissions and fees
Vanguard Digital Advisor has a net advisory fee of approximately 0.15% of assets. The fine print states that the fee starts at 0.20% but will be reduced for revenues received from the ETFs used in the portfolio.
The expense ratios of the four ETFs used to build the portfolios range from 0.03% to 0.08%. There are no trading commissions or transaction fees involved with any trades made in your account.
Overall, the combination of the advisory fees and the expense ratios of the underlying ETFs are quite low.
Vanguard Digital Advisor competitors
If you're looking for a robo advisor, there are plenty of options out there. Here are some of our favorites:
Two-factor authentication
Advice options
Automated, Human Assisted
Automated, Human Assisted
Socially responsible investing
Vanguard Digital Advisor pros and cons
Pros
Low cost
Great platform
Low barrier to entry
Automatic rebalancing
Cons
No access to a human financial advisor
No tax-loss harvesting
Limited investing options
The bottom line
Vanguard Digital Advisor seems like a promising service. It appears to be geared to younger investors and offers some robust features. They do have experience with a quasi-robo advisor, their Vanguard Personal Advisor Service, so it's likely the technology behind this new service is solid. Beyond that, Vanguard is a respected organization and I would be surprised if they would roll out anything before they thought it was ready for investors to use.
This seems like a good option for investors who are comfortable working with an advisor 100% online. This service is likely a better fit for those who are accustomed to using financial and business services completely online. For those who would feel more comfortable with the ability to work with a human advisor when needed, the Vanguard Personal Advisor Service might be a better option.
Vanguard Disclosure – Vanguard Digital Advisor's services are provided by Vanguard Advisers, Inc. ("VAI"), a federally registered investment advisor. VAI is a subsidiary of VGI and an affiliate of VMC. Neither VGI, VAI, nor its affiliates guarantee profits or protection from losses.
Vanguard Digital Advisor is an all-digital service. Digital Advisor's annual net advisory fee is approximately 0.15% across your enrolled accounts for a typical investment portfolio, although your actual net fee will vary depending on the specific holdings in each enrolled account. Vanguard Digital Advisor charges a 0.20% annual gross advisory fee to manage Vanguard Brokerage Accounts. However, we'll credit you for the revenues that The Vanguard Group, Inc. ("VGI"), or its affiliates receive from the securities in your Digital Advisor managed portfolio (i.e., at least that portion of the expense ratios of the Vanguard funds held in your portfolio that VGI or its affiliates receive). Your net advisory fee can also vary by enrolled account type. For more information, please review Form CRS and the Vanguard Digital Advisor Brochure.