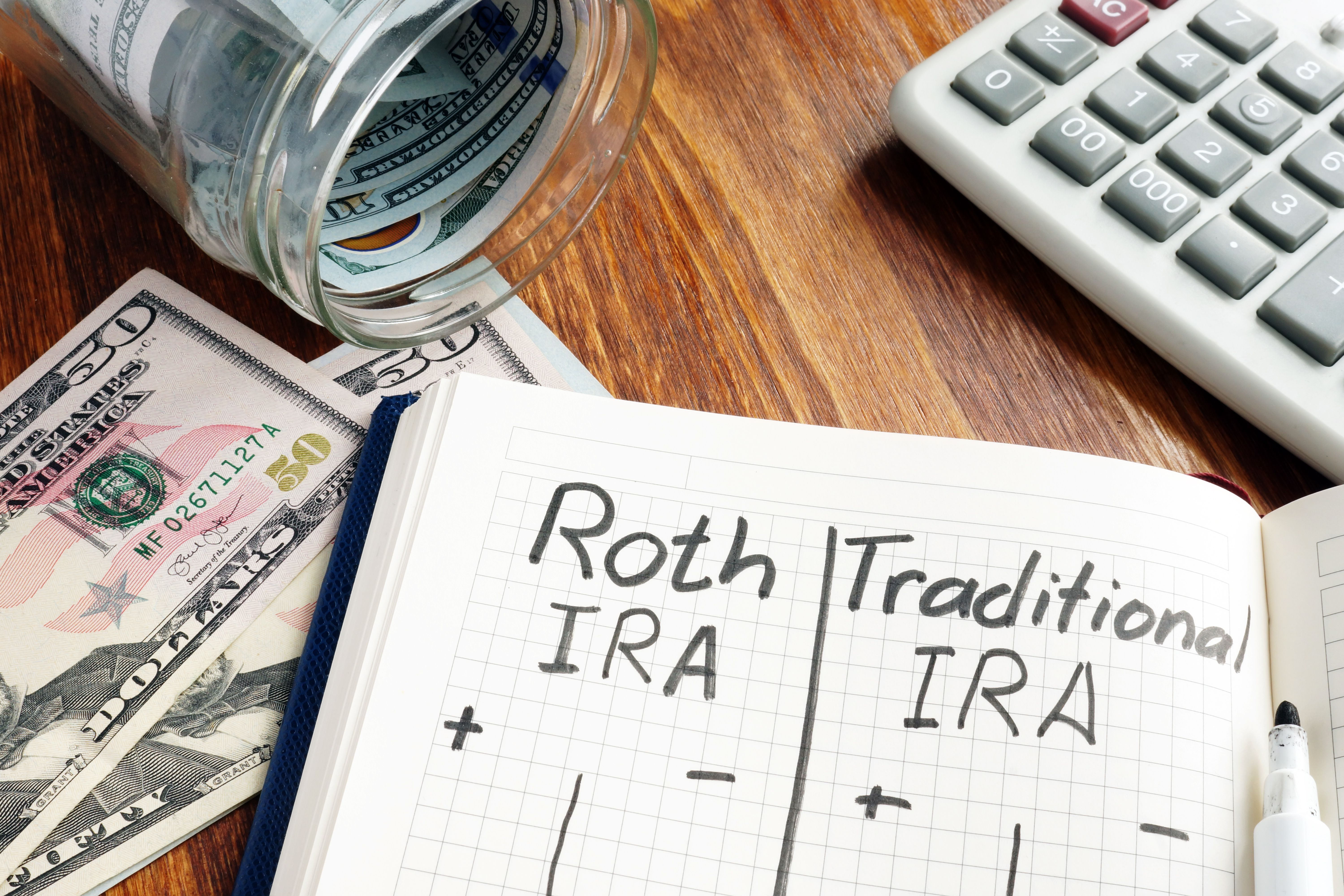 Vitalii Vodolazskyi / Shutterstock
🗓️
Updated: August 14, 2023
We adhere to strict standards of editorial integrity to help you make decisions with confidence. Please be aware that some (or all) products and services linked in this article are from our sponsors.
We adhere to strict standards of editorial integrity to help you make decisions with confidence. Please be aware that some (or all) products and services linked in this article are from our sponsors.
An IRA can be a key part of your retirement savings strategy. For many of us, our IRA account includes a combination of annual contributions and money rolled over from other retirement accounts such as a 401(k) from a former employer. It's important to know how to invest in an IRA, and it can have a big impact on how much you have when you retire.
How to invest in an IRA
1. Know which kind of investor you are
Whether investing in an IRA account or any other type of account, it's important to know which kind of investor you are.
Are you comfortable picking individual stocks and bonds for your portfolio?
Are you more comfortable using managed accounts like mutual funds and exchange-traded funds (ETFs)?
How about your tolerance for risk?
What is your age and time horizon until retirement?
Are you comfortable doing everything yourself or do you need professional guidance?
Honestly assess yourself as an investor. This ensures that you give yourself the best chance for success. And it gives you a better chance of achieving your retirement savings goals within your IRA account. Finding it hard to decide? Consider using Paladin Registry to find a financial advisor to work with.
2. Understand how asset allocation works
Asset allocation is often considered one of the most important factors in determining investor success. Your first priority should be determining your allocation to stocks, bonds, cash, and various sub-asset classes.
When deciding which assets to allocate for your IRA account, you should take into account the allocation of other accounts in your portfolio. These include other retirement accounts such as a 401(k), as well as investments held in a taxable account.
Other factors to consider include:
Your tolerance for risk
How many years there are until you retire
Asset allocation and investment diversification go hand in hand. Diversification fulfills the saying, "Don't put all of your eggs into a single basket." A well-diversified portfolio should include assets that are not highly correlated with each other. For example, stocks and bonds typically have a fairly low correlation, since market or economic factors that impact these two types of investments tend to differ. Often when one is doing poorly, the other may be doing better.
Related: How to invest in stocks
3. Make mutual funds and ETFs a base for your portfolio
Use mutual funds or exchange-traded funds (ETFs) as the base of your IRA portfolio. These professionally managed portfolios allow you to build a well-diversified portfolio with relatively few investment holdings. Index mutual funds and ETFs save you money since they diversify and have low fees.
Once you have your IRA's core taken care of, you can branch out as fits your situation or your desires as an investor. This might be the addition of mutual funds and ETFs in certain asset classes. These focus your account in a specific direction. But they also raise or lower your portfolio's risk profile.
For many investors, mutual funds and ETFs make up their entire IRA portfolio. This makes sense, as many investors do not have the time to research and monitor individual stocks and bonds. Mutual funds and ETFs are an easy way for smaller investors to build a diversified portfolio. But many experienced investors with larger portfolios also use mutual funds and ETFs for their portfolios. Here's a quick comparison between our top-rated brokers:
4. Consider investing some of your IRA in stocks
How Much of Your IRA Should You Invest in Stocks? This will vary based on your situation. Investing in individual stocks can offer the opportunity for solid growth if you pick the right stocks. You can realize outsized gains if you're lucky enough to hold on to a good stock for a long time. Those who invested in and held on to stocks like Apple and Amazon have seen their investments gain substantially in value.
With a traditional IRA, investing in stocks defers the payment of taxes on capital gains until the money is withdrawn in retirement. And in a Roth IRA account, you could entirely avoid tax on these gains.
However, not all of us are lucky enough to buy the next Apple stock before its stock price skyrockets. Financial advisors recommend most people limit investments in any single stock to no more than 10% of their total portfolio.
Related: How to diversify your portfolio
Know these factors for determining amount to allocate to individual stocks
Consider your overall financial situation, including your allocation to stocks in other investment accounts. This affects how much you should allocate to stocks within your IRA. If you have reached your retirement savings goal, you might want to scale back your stock allocation a bit. If you're taking distributions from your IRA, you may allocate a bit less to stocks to ensure you have sufficient cash on the side. This avoids having to sell stocks during a market downturn to meet your distributions' needs.
Your age is another factor determining how much you might allocate to stocks. Younger investors with a long time until retirement might consider a heavier allocation to stocks since they have the time to weather the inevitable stock market corrections that occur. Older investors nearing or in retirement might have a lower allocation in stocks. But most investors in this age range still need some stocks in their portfolio in order to ensure their IRA stays ahead of inflation. It also mitigates the chance that they might outlive their money.
5. Choose your investments
The investments you choose depend on where you are as an investor.
If you are new to investing and are opening your first IRA account, perhaps a managed portfolio like a target date fund is appropriate. Or consider a simple portfolio consisting of a couple of index funds or ETFs.
If you are a more experienced investor and already have experience investing in various types of accounts, your investment choices should be made in the context of your investment goals, your overall portfolio, your risk tolerance, and your time horizon until retirement.
You can expand to other types of assets like commodities or futures, or even invest in specific stocks.
6. Consider getting professional help
Sometimes it makes sense to get the help of a financial professional, depending on your situation. There are many different forms of financial advisors, such as a certified financial planner or wealth manager. Make sure the advisor you choose is a fiduciary. This means they are legally obligated to put your interests first. This contrasts with someone who makes their money selling you investments and financial products with high fees and commissions.
If you've accumulated investments in IRAs and other accounts, a financial advisor might be the right solution for you. They look at your overall financial situation and provide advice on your investments. They also consider all aspects of your financial planning needs. A fee-only financial advisor may be compensated as a percentage of the investment assets they advise on, or on an hourly basis or some sort of flat-fee retainer. Our recommended financial advisor is Fisher Investments, which is best for investors that are looking for traditional full-service investment management, including live contact with investment counselors.
Manage your investments with Fisher Investments
Benefits of investing in an IRA
Investing in an IRA account offers a number of benefits:
In the case of a traditional IRA account, any investment gains accumulate on a tax-deferred basis. The ability to defer taxes allows the account to grow over the years until the money is needed during retirement. For some (but not all) investors, retirement means a lower tax bracket than when they were working. So the distributions will be taxed at a lower rate.
For investors using a Roth IRA, any gains in the account can grow tax-free. Distributions from a Roth IRA are tax-free if the requirements for qualified distributions are met. This includes the first Roth IRA investment being made at least five years prior to withdrawal and being at least 59½ years old, among others. Roth IRAs are also exempt from required minimum distributions. This reduces taxes and offers some estate planning alternatives as well.
There is no federal creditor protection for IRAs. But some states offer creditor protection for funds held in an IRA account.
IRAs can also be a great destination when rolling over a 401(k) or similar retirement plan when leaving an employer.
How to set up an IRA account
If you are new to investing in an IRA, the first step is to choose a custodian and open an account. When looking for the right custodian you should consider:
Account fees
Transaction fees for mutual funds
fees for trading ETFs and stocks
keep in mind the range of investment options that are available to you.
Decide whether you're going to use a traditional IRA or a Roth IRA.
The process of opening an account varies by broker, but usually, you will need your identifying information such as your Social Security number, your address and other personal information. Depending on where you choose to open an account, you may be asked to answer questions about your investing habits to determine your appetite for risk.
Is investing in your IRA right for you?
An IRA account is an essential retirement savings vehicle for many investors. IRAs offer a lot of versatility, and there are tax advantages to having an IRA account instead of a regular brokerage account. Even if you are starting small, it's wise to take the time to plan out your IRA investments. The right investment strategy can pay off down the road when you retire.