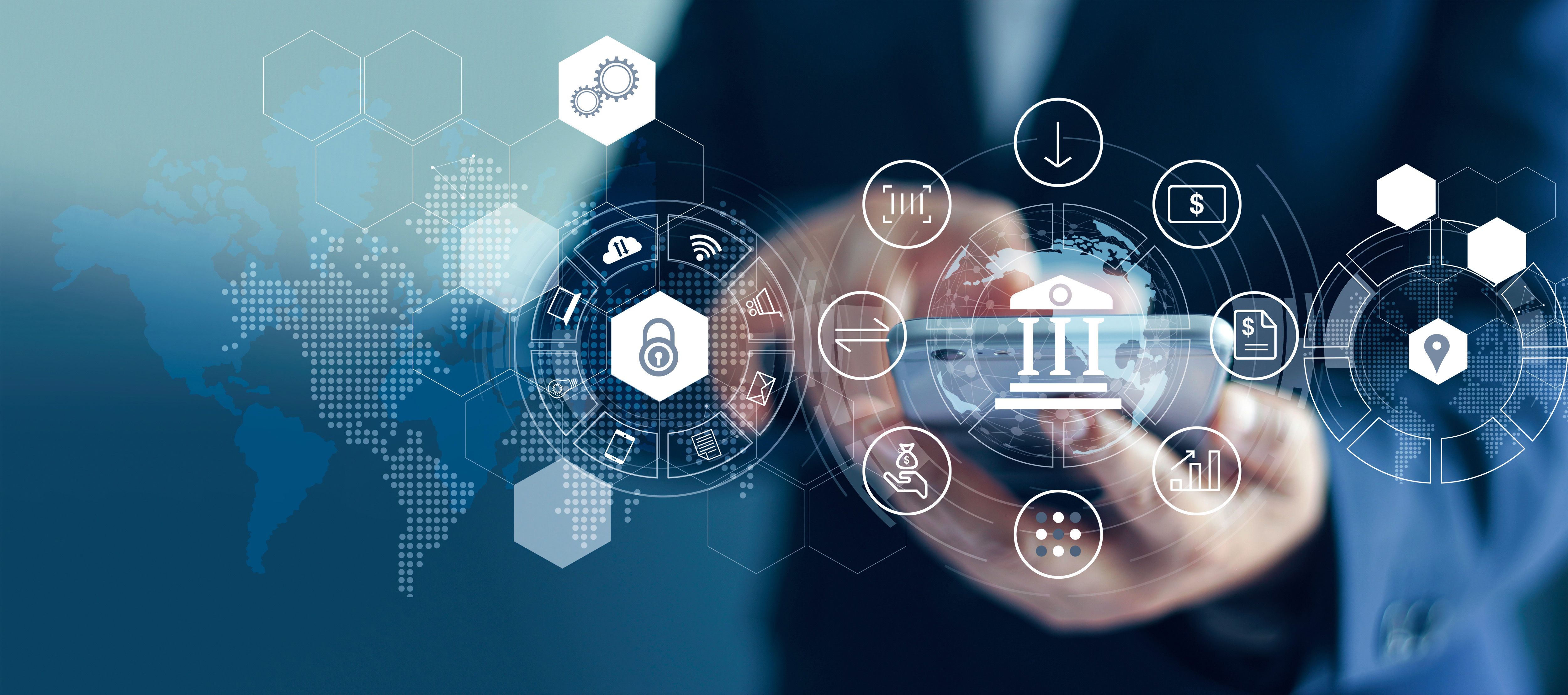 PopTika / Shutterstock
🗓️
Updated: July 17, 2023
We adhere to strict standards of editorial integrity to help you make decisions with confidence. Please be aware that some (or all) products and services linked in this article are from our sponsors.
We adhere to strict standards of editorial integrity to help you make decisions with confidence. Please be aware that some (or all) products and services linked in this article are from our sponsors.
Until recently cryptocurrency investors had few or no options for earning a return on their crypto holdings or using them to access cash. But BlockFi is one cryptocurrency platform that's been working hard to change that.
With BlockFi you can borrow cash against your crypto with same-day funding and no prepayment penalties. And they offer a BlockFi Rewards Visa® Signature Credit Card that gives you Bitcoin back on every purchase. Plus you can get up to $250 in Bitcoin when you fund your account.
Is BlockFi a viable alternative to more traditional financing options like high-yield savings accounts or personal loans? In this BlockFi review, we cover all the key benefits, costs and risks to help you decide.
What Is BlockFi?
Founded in 2017 by Zac Prince and Flori Marquez, BlockFi is a U.S. domiciled cryptocurrency platform. That's a rarity as many of the leading cryptocurrency sites are based overseas where they don't have to contend with oversight and regulations at both the state and federal levels.
BlockFi specializes in offering crypto-backed loans. It also offers crypto trading and has the first crypto rewards credit card. And its model has been incredibly successful at attracting both clients and venture capital funding. It now manages over $15 billion in client assets and has generated over $200 million in interest for those clients.
BlockFi's impressive list of corporate backers includes leading companies such as Valar Ventures, Morgan Creek Capital, CMT Digital, Castle Island Ventures and Coinbase Ventures. In its most recent financing round (Series D), BlockFi received over $350 million of funding at a $3 billion valuation.
BlockFi features
If you're considering opening an account with BlockFi, here are the platform's most notable products and terms that you should know about.
Crypto-backed loans
Do you need cash to cover a large purchase or investment? If you don't have a high income or excellent credit score, it can be difficult to qualify for traditional financing. If you own cryptocurrency, you could sell it to convert it to cash. But this isn't ideal either as you forfeit the potential to earn any future returns on your assets once they're sold.
With BlockFi, however, you can use the crypto that you hold as collateral to borrow up to 50% of its value as cash. Interest rates start at 4.5%. Each loan lasts 12 months with no prepayment penalty. And you can apply for refinancing at the end of your term to move back your payoff date.
Applying for a BlockFi crypto-backed loan takes only about two minutes and the funds can arrive in your bank account in as little as 90 minutes. BlockFi charges a 2% origination fee on all of its loans. But the interest rate that you're charged depends on your loan-to-value (LTV) ratio. Here are the current rates:
| LOAN-TO-VALUE (LTV) RATIO | INTEREST RATE |
| --- | --- |
| 50% | 9.75% |
| 35% | 7.9% |
| 20% | 4.5% |
Note that if the cryptocurrencies you hold decrease in value, you could face a margin call on your loan. The first margin call would occur at 70% LTV, at which point, BlockFI gives you 72 hours to add collateral or pay down some of your balance. However, if your LTV reaches 80%, BlockFi will begin selling some of your assets to bring your LTV back to 70%.
Easy-to-use trading platform
Some platforms require you to purchase your crypto on a separate exchange and then transfer it into your crypto savings account. And you can certainly do this with BlockFi as well. But you don't have to. It's easy to buy, sell or exchange cryptocurrencies on BlockFi.
There aren't nearly as many cryptocurrency pairs available on BlockFi as you can find on some other exchanges. And it doesn't provide any advanced trading tools. But there is an option to set up recurring trades on a daily, weekly or monthly basis.
BlockFi also advertises that its trading platform is "fee free." But while there are no direct fees, you still pay indirect costs in the form of the spread. And BlockFi says that spread is typically around 1%, which is much larger than you'd pay in direct fees on a variety of platforms including Coinbase Pro, Gemini, Kraken and Crypto.com.
BlockFi Wallet
When you invest in crypto, you need a place to store. With BlockFi you can not only buy crypto but also store it on a two-factor authenticated wallet. There is no fee to open an account and no minimum balance requirements. You can trade and store a variety of crypto-assets and utilize the assets in the wallet to use collateral for crypto-backed loans.
Every time funds are transferred or you accumulate rewards from the BlockFi Rewards Credit Card, it's posted in your BlockFi Wallet. There is no rehypothecation of the crypto assets, meaning it's not used as collateral for other loans. You retain full control of your crypto assets.
Strong Security but No FDIC or SIPC insurance
BlockFi's relationship with security is a bit complicated. On the one hand, the fact that it's licensed and regulated throughout the U.S. is reassuring. It also uses strong encryption and offers a variety of tools to keep your account safe including two-factor authentication and allow listing.
With BlockFi's Wallet you can securely store your crypto using two-factor authentication and allowlisting. Plus the assets stored on the wallet are not lent out to other institutions, so there's no need to worry about the companies it lends to defaulting if you use their wallet.
It's important to understand that cryptocurrency is not legal tender. That means BlockFi can't offer the same FDIC insurance that comes with a high-yield savings account at a bank. And there's no SIPC insurance to protect you if BlockFi fails as a business.
BlockFi Interest Account
BlockFi's Interest Accounts (BIA) are only available to customers outside the U.S. These accounts let you earn interest on your crypto that is sitting in your account. Here is the full list of currencies that BlockFi currently pays interest on.
The BIA was scrutinized by the Securities and Exchange Commission and on February 14, 2021, BlockFi received a Cease and Desist Notice (PDF) from the commission, which BlockFi promptly closed to new U.S. clients. Existing customers will continue to earn interest but can't add new assets.
Instead, BlockFi plans to create a new first-of-its-kind SEC-registered product called "BlockFi Yield." We will keep you updated when the new product is released.
Disclosure: BlockFi Interest Account (BIA) are no longer offered to new clients who are U.S. Persons or persons located in the United States. Existing clients that are U.S. persons or located in the United States will be unable to transfer new assets to their BIAs. The BIAs have not been registered under the Securities Act of 1933 and may not be offered or sold in the United States, to U.S. persons, for the account or benefit of a U.S. person or in any jurisdiction in which such offer would be prohibited.
Credit card that earns bitcoin rewards
You've heard of rewards credit cards. But you've probably never heard of a "bitcoin rewards" credit card. But that's exactly what BlockFi now offers its clients.
The BlockFi Rewards Visa® Signature Credit Card earns 1.5% back in bitcoin (BTC) on every purchase that's made with the card and 2% after you've reached $50,000 in annual spending.
And new cardholders earn up to $100 in crypto during their first three months using the card. Plus, the BlockFi Rewards Visa® Signature Credit Card doesn't charge an annual fee or foreign transaction fees.
Exclusive products for institutions
If your corporation or institution is looking to gain access to digital markets, BlockFi can help. It provides loans of cryptocurrency, stablecoins and USD to institutions.
It also offers treasury solutions for corporations that want to use cryptocurrencies as reserve assets. And institutional investors can take advantage of BlockFi Prime, which is an advanced trading platform available 24/7 around the globe.
BlockFi pricing and fees
BlockFi does not charge any deposit fees, regardless of the method that you choose. BlockFi charges a fee to withdraw cryptos and stablecoins, with the exact amount varying by coin. A few are eligible for one free withdrawal per month, which as of March 16, 2022 were BTC, LTC, GUSD, USDC, BUSD, PAX, DAI, and USDT.
There are also withdrawal limits for each of BlockFi's offered currencies. For example, you can't withdraw more than 5,000 ethereum (ETH) within a 7-day period. See all withdrawal limits and fees here.
BlockFi doesn't charge direct trade fees. Instead, it passes costs along to traders through the spread. This spread can vary from trade to trade.
BlockFi says that this spread is usually around 1% but could be higher if the asset's liquidity is low. And borrowers pay a 2% origination fee (taken out after the loan is paid in full) in addition to their loans' interest charges. This makes it difficult to compare BlockFi's buying and selling fees to other exchanges.
Lastly, if you opt in to the "Interest Flex Payment" features, you'll be charged a 1% administrative fee. This feature allows you to choose the currency that your interest payments are made in. This 1% fee will be deducted from your monthly interest payouts.
How to open an account with BlockFi
In our test, it took only about five minutes to open an account with BlockFi. You begin by providing your name and email address. After you've verified your email, you can start the full application process.
Note that you will be asked to provide several pieces of personal information, including your Social Security number, address and phone number. You also need to verify your identity by entering a code sent by SMS to your mobile device. However, in my case, BlockFi didn't require me to upload a photo ID.
Once you've verified your identity, you can immediately connect to your bank account or exchange to fund your account with cash or crypto. Or if you're not ready to add funds, you can skip this final step and begin browsing your account's dashboard and available tools.
Customer service
In addition to its help center, BlockFi offers an AI-powered smart assistant (called BotFi) that is designed to help clients find answers to common questions in minutes. It also offers a contact form for existing loan borrowers to submit a request for assistance.
BlockFi doesn't publish its customer service phone number publicly. But once you've funded your account, you'll find it inside your account dashboard. BlockFi's phone representatives are available Monday through Friday, 9.30 a.m. to 5:00 p.m., Eastern Time.
Is BlockFi safe?
BlockFi doesn't provide FDIC or SIPC insurance like you normally get from your bank or online broker. However, BlockFi is still safe because Gemini, its custodian, uses numerous security practices like holding the majority of crypto in cold storage to keep assets safe.
That said, the recent world of crypto lenders has been shaken up quite dramatically. Popular crypto lending platform Celsius paused withdrawals in June 2022, and BlockFi has removed many free monthly withdrawals. The company's valuation has also dropped by over 80-90% according to some valuations, and there's even a deal on the table where competitor exchange FTX might purchase BlockFi.
The point is, crypto winter and crashing prices have hurt many exchanges and lending platforms. The risk of insolvency for some companies is very real. This means it's extremely risky to deposit money with these lenders right now, especially with some pausing withdrawals and locking up funds.
Honest recommendation
During my test of BlockFi, I was pleased to find that I was able to open my account quickly and with no issues. I also was impressed with the simplicity of the user interface. The clean, uncluttered design makes it easy to find each of the platform's key functions.
I wasn't surprised to find that BlockFi's trading options (for individual accounts) are basic. While it does offer the ability to set up recurring trades, that's where the extra features end. You need to look elsewhere if you want a trading platform that offers advanced charting and technical analysis tools.
What others are saying about BlockFi
BlockFi currently has a 4.0-out-of-5 rating on Trustpilot from 229 reviews. The BlockFi mobile app has a 3.4-star rating on the Apple App store and 4.1 stars on the Google Play store.
Several satisfied customers mentioned the simplicity of the platform. However, several negative reviews mention that the mobile app would often log them out of their account after a few hours. Others complained about slower-than-expected withdrawal times.
BlockFi is not currently accredited or rated with the Better Business Bureau (BBB). However, it is currently in the process of responding to complaints that were posted on the platform.
BlockFi pros & cons
Pros
Licensed and regulated in the U.S. — Many cryptocurrency exchanges are based outside the U.S., but BlockFi is headquartered in Jersey City, NJ, and has willingly subjected itself to the oversight of federal and state regulatory bodies.
Reasonable interest rates on crypto-backed loans — Despite not requiring a credit check, BlockFi's loan interest rates start at just 4.5%.
New "crypto back" credit card — BlockFi's rewards card earns an unlimited 1.5% back in crypto on all purchases.
Financial backing from industry leaders — BlockFi is backed by an extensive list of institutional investors including some of the most well-known names in the cryptocurrency industry.
Customizable services for institutions — BlockFi offers a variety of unique financial solutions for corporations, from cryptocurrency trusts to 24/7 trading and personalized lending options.
Zero-trust security mindset — As it implements its security policies, BlockFi plans for the worst-case scenarios so that it can provide the strongest encryption and best account protection tools to its clients.
Cons
Limited number of supported coins — BlockFi offers only 13 cryptocurrencies and stablecoins, which is fewer than many of its competitors.
No federally backed insurance protection — BlockFi isn't a bank or a broker and assets inside its BIAs are not protected by FDIC or SIPC insurance.
Opaque pricing structure for crypto trades — BlockFi fees are based on a spread, which can vary by trade so it's confusing to know exactly what the fees are.
Withdrawal fees may apply — BlockFi clients are limited to one free crypto or stablecoin withdrawal per month. After that, you pay a withdrawal fee.
BlockFi Interest Account only available to non-U.S. residents — If you live in the U.S. you can no longer sign up for BlockFi's Interest Account.
Alternatives to BlockFi
Nexo
BlockFi clients earn daily interest on their crypto assets, but they have to wait till the end of each month to receive their interest payouts. Not so with Nexo. It sends crypto interest on a daily basis.
Currently, Nexo users can earn up to 12% interest on 20 currencies. It also offers $375 million of custodial insurance and is available in over 200 jurisdictions.
Like BlockFi, Nexo offers only one free crypto withdrawal per month on its Basic account. However, clients can move up to higher loyalty tiers (Silver, Gold and Platinum) to have more free withdrawals up to a maximum of five per month.
Celsius
Celsius is another popular BlockFi alternative that offers more cryptocurrency options and higher rates. It never charges withdrawal fees. It also doesn't charge origination fees or early termination fees on its crypto-backed loans.
Celsius clients are currently able to earn interest on over 30 cryptocurrencies and stablecoins. And the highest yield that it offers is an eye-popping 17%.
Warning: As mentioned, Celsius paused withdrawals in June 2022 and is at risk of insolvency. We don't recommend using its services at this time.
Is BlockFi right for you?
If you're looking for a low-cost crypto platform and a credit card that offers bitcoin rewards, BlockFi could be a great choice. It could also be worth considering if you'd like to get cash from your crypto assets without having to sell them.
However, if you want the best trading tools or the most supported currencies, you may want to consider a different platform. You can check out our cryptocurrency investing guide to see a few more of the exchanges that we recommend right now.
BlockFi Bankruptcy Notice-On November 10, 2022, BlockFi announced that it had to suspend withdrawals from its platform due to the FTX liquidity crisis. As a result, consumers should not be using the BlockFi platform. As of November 28, 2022, BlockFi officially declared bankruptcy.