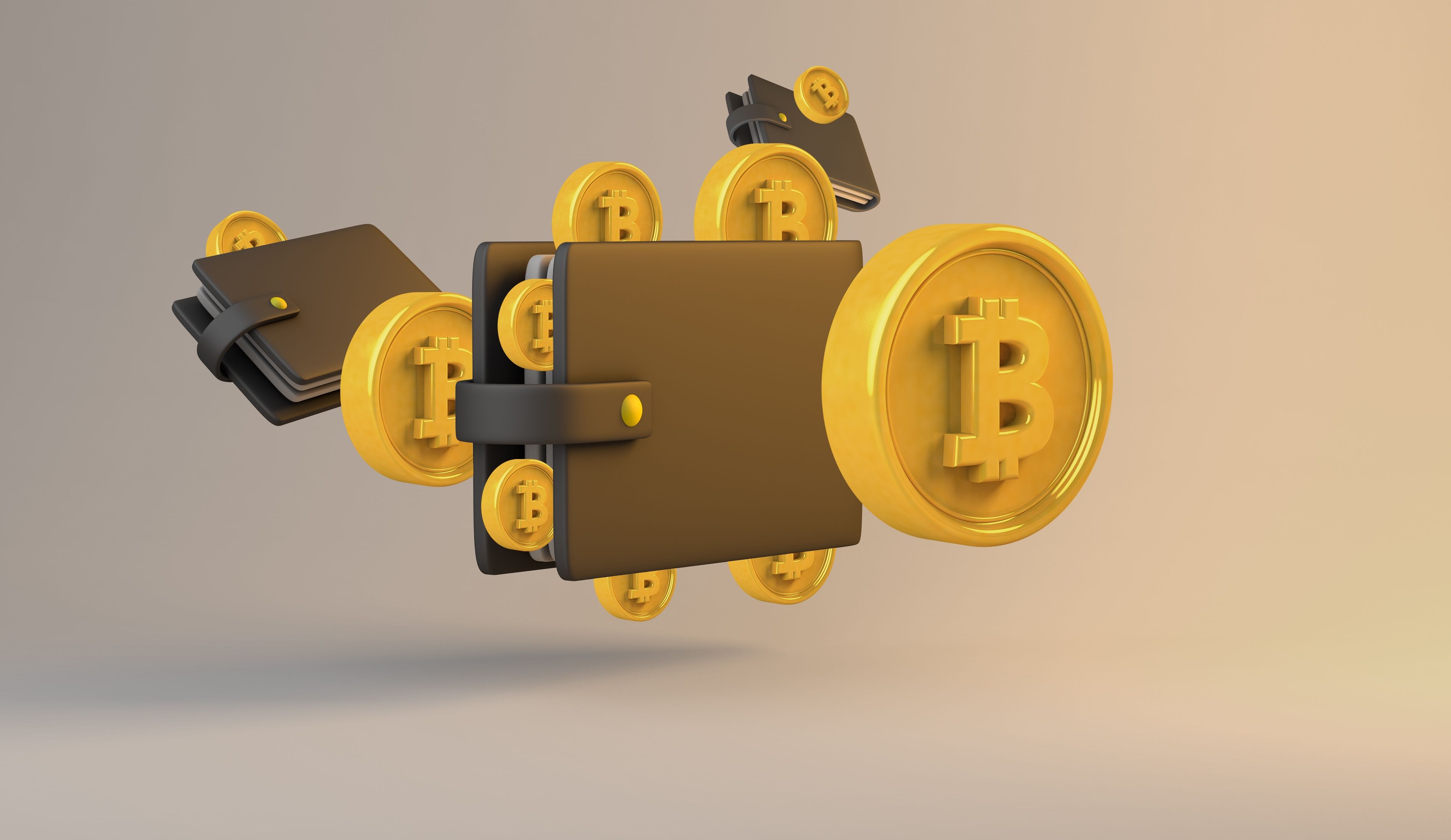 Arculus review: A secure cold storage wallet with Web3 support
Voar Designs / Shutterstock
We adhere to strict standards of editorial integrity to help you make decisions with confidence. Please be aware that some (or all) products and services linked in this article are from our sponsors.
We adhere to strict standards of editorial integrity to help you make decisions with confidence. Please be aware that some (or all) products and services linked in this article are from our sponsors.
It goes without saying that cryptocurrency has had a bumpy ride for most of 2022. Markets are down, and some major lenders and exchanges have even gone bankrupt.
If one lesson has emerged from everything, it's that controlling your own private keys is vital. After all, maintaining your own keys is the only way to guarantee that you own your assets and won't be blocked from trading.
The need for security and control is where cold storage crypto wallets like Arculus come in. If you want a simple and secure crypto hardware wallet, it's one of the top options on the market. And it's also doing things a little differently than most hardware wallets you're probably familiar with.
Our Arculus review is covering how this wallet works, the pros and cons, and how to decide if it's right for you.
Pros & cons
Pros
Simple to use yet secure
Competitive pricing
Supports NFT and DeFi integrations
Practically no risk of hardware failure
You can set up a joint wallet
Cons
Arculus only supports 40 cryptocurrencies
What is Arculus?
Arculus is a Web3-enabled cold storage wallet that lets you securely store crypto and manage non-fungible tokens (NFTs). CompoSecure, the company that developed Arculus, is a company that develops secure payment solutions and manufactures metal payment cards for major banks.
When CompoSecure realized the need for a simple-yet-effective hardware wallet for crypto investors, it created Arculus. Unlike many other hardware wallets that rely on Bluetooth, WiFi, and USB/cord connections, Arculus just uses a key card. It's a secure and sleek way to protect your digital assets. And most importantly, Arculus puts you in control of your own private keys.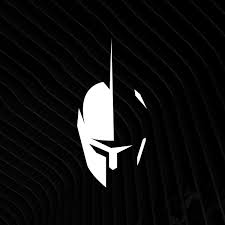 What makes Arculus great?
The main advantage of using Arculus over other hardware wallets is its simplicity. You get an incredibly secure hardware wallet at a reasonable price, and you don't have to worry about hardware failure or overly-complex features.
Cold wallet storage
One advantage of using Arculus over software-based wallets or keeping your crypto on an exchange is that your assets are held in cold storage. This means your assets and private keys aren't stored online. Rather, your private keys are encrypted and stored on your Arculus Key Card, which you use to access your wallet.
Using a cold hardware wallet means that you can't get hacked or lose account access like you can with a software wallet or exchange. Your key card is the only way to access your private keys, so you're always in control of your crypto. And if you lose your card, you're still safe since Arculus relies on three-factor authentication, which I'll explain below.
Three-factor authentication
Arculus lets you view and manage your crypto and NFTs through its Android and iOS mobile apps. But to unlock the app and transact, you have to complete Arculus' three-factor authentication process:
1.

Biometric Lock: To unlock your phone in the first place, you have to enter your passcode, use facial recognition, or scan your fingerprint (if your phone supports this feature), which isn't something a thief would likely be able to accomplish.

2.

Numeric Pin: After unlocking your phone, Arculus requires entering a six-digit pin that you create when you initially set up your card to unlock your wallet.

3.

Arculus Key Card: You tap your key card to the back of your smartphone to complete the three-factor authentication process. This enables you to buy, sell, swap, and manage your crypto and NFTs within Arculus' mobile app.
As you can probably tell, the odds of someone being able to steal your crypto is practically zero. And even if you lose both your smartphone and key card, the person who finds it would need to know your six-digit Arculus app PIN and have your biometric measurement.
No hardware pitfalls
When you tap your Arculus Key Card to your phone, it relies on near-field-communication (NFC) to authenticate. This is the same technology tap-to-pay solutions like Google and Apple Pay use. It also means there's little chance of hardware failure; there's no Bluetooth or WiFi requirement that can malfunction.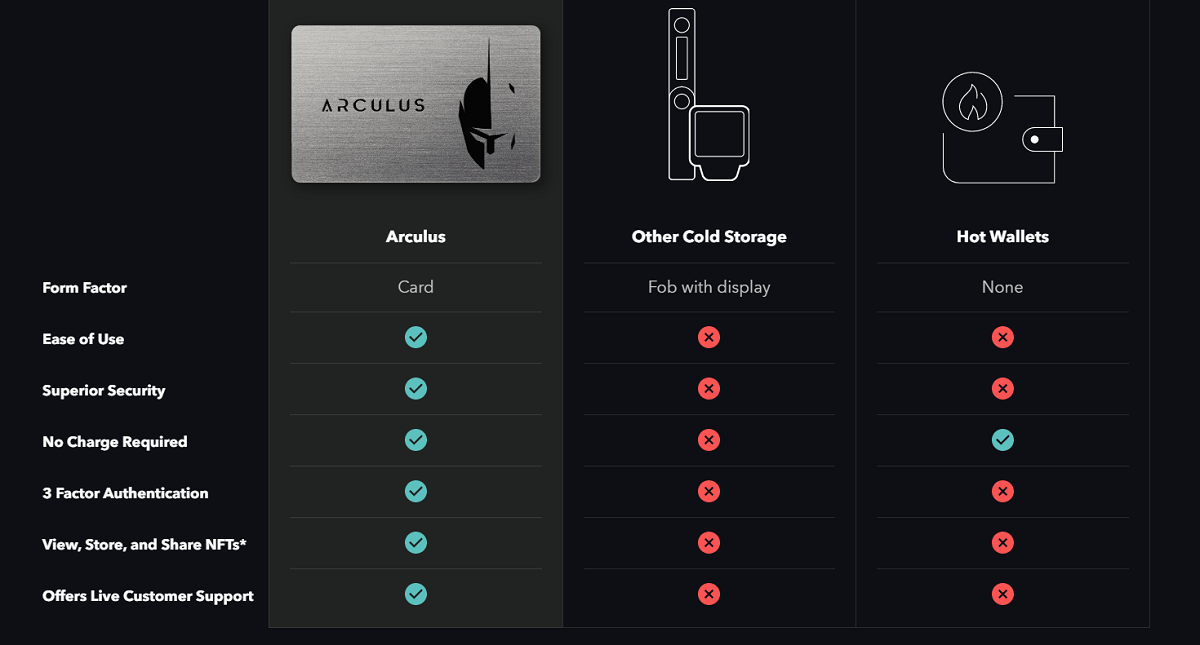 Private key control
As mentioned, the only place your private keys are stored is on your key card. You don't save keys to your phone, and Arculus doesn't have access to your keys either.
This might not sound important if you're new to crypto investing. However, 2022 hasn't been a great year for crypto, and companies like Celsius and Voyager both suspended withdrawals before declaring bankruptcy shortly thereafter. This means customers were completely powerless to transfer their crypto from these platforms, and it's uncertain what will happen to these customers in the proceeding bankruptcy filings.
The bottom line is that you need to control your own private keys if you want complete control of your crypto.
NFT & DeFi integrations
The latest Arculus update added support for NFTs and a Web3 WalletConnect integration. This lets you store, view, and manage your NFTs right from the app. You can also connect to NFT marketplaces like OpenSea and SuperRare.
Once you're on your NFT marketplace of choice, you can use its WalletConnect integration (if it's offered) to connect to your Arculus wallet. This process uses a QR code that you scan with the Arculus app, so the process is fast and simple.
Just note that Arculus currently supports viewing ERC721 and ERC1155 NFTs in the in-app gallery. You can store other NFTs in your wallet but won't be able to view them currently.
What cryptocurrencies does Arculus support?
At the time of writing, Arculus supports 40 cryptocurrencies. This includes popular cryptos like:
AAVE
Bitcoin Cash
Chainlink
Compound
Decentraland
DAI
Mana
Polygon
Shiba Inu
Uniswap
USDC
USDT
XRP
You can store, send, and receive all 40 cryptos on your Arculus wallet. The platform also supports buying and swapping for over a dozen cryptos and altcoins, including popular options like BTC, ETH, USDC, and USDT. This is less selection than using a major exchange, but you get way more security.
Currently, Arculus supports USD and EUR for coin purchases through the wallet but anticipates adding additional currencies in the future. You can also set up a joint wallet, which is useful if you want to share your wallet with a spouse or partner.
Note that Arculus doesn't charge fees for sending or receiving crypto. However, you do pay fees for buying and swapping crypto. These fees are charged by Arculus' liquidity partners, Simplex and Changelly.com. Fees vary depending on the crypto and blockchain conditions; but you see the breakdown of fees before placing a swap or trade.
How much does Arculus cost?
The Arculus Key Card costs $99, and its mobile app is free. This is similar in price to other hardware wallets like Trezor and Ledger. And, as mentioned, the chance of hardware failure is practically non-existent whereas other hardware wallets have display screens, charging ports, and other elements that might fail.
How to set up Arculus
Once your Arculus Key Card arrives in the mail, setting up your wallet requires six simple steps:
2.

Tap the "Create a New Wallet" button in the app's menu and follow instructions to pair your key card.

3.

Create the six-digit pin you use to unlock your wallet.

4.

Write down your 12-word recovery phrase that you use to reclaim access to your wallet if you ever lose your phone or key card.

5.

Re-enter your 12-word recovery phrase.

6.

Begin importing/trading crypto or connect your NFT gallery to the app.
Best alternatives
If you want the simplest crypto hardware wallet possible, Arculus is for you. However, certain alternatives might be better options if you want additional crypto support and more trading features.
Ledger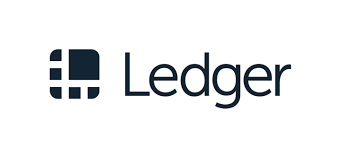 Ledger is one of the most popular crypto hardware wallets on the market. Its main advantage is that it supports over 5,000 different cryptos and tokens. Plus, through Ledger Live, you can buy and sell crypto and even stake select coins right from your wallet to earn passive income.
The wallet has also added NFT support for NFTs on the Ethereum blockchain. And its entry-level Ledger Nano S Plus starts at $79 USD.
Trezor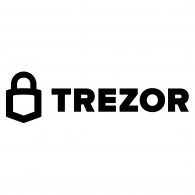 Trezor is another popular hardware wallet and it's one of the main Arculus and Ledger competitors. Unlike Arculus, Trezor uses a USB device for its wallet. It currently supports over 1,000 cryptos and tokens and also integrates with software wallets like Exodus.
With Trezor Suite, the wallet's desktop and browser app, you can buy, exchange, and spend your crypto. This helps improve the flexibility of its wallet, which is generally the main disadvantage of using hardware wallets in the first place. However, Trezor doesn't have native NFT support. Instead, you have to connect it to a third-party software wallet like MetaMask.
The entry-level wallet starts at around $80, so it's comparable in price to Arculus.
CoolWallet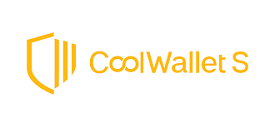 CoolWallet is the closest alternative to Arculus because it uses a physical key card plus mobile app for three-factor authentication. It also works with WalletConnect to let you access NFT and DeFi applications, including OpenSea and Rarible. Finally, it also supports a similar number of cryptos and stablecoins as Arculus.
The main difference is that CoolWallet requires charging. Its standby time is around two to three months, but afterwards, you need to replenish the battery. And if you want in-app NFT integrations and more crypto support, you need to buy the CoolWallet Pro which costs $149 instead of the basic CoolWallet S, which costs $99.
Bottom line
If crypto winter and the events in 2022 have taught us anything, it's that maintaining control of your own private keys is of the utmost importance. After all, as the saying goes: "not your keys, not your crypto."
With Arculus, you get a high-security, cold storage solution for your crypto and NFTs. And the lack of hardware fail-points and reasonable price are two main reasons we like this wallet.
It's also exciting that Arculus has new features in the pipeline. As it expands its crypto and fiat support, the product is only going to improve. The bottom line is that if you're currently holding large amounts of crypto on a software wallet or exchange, consider making the switch to Arculus.