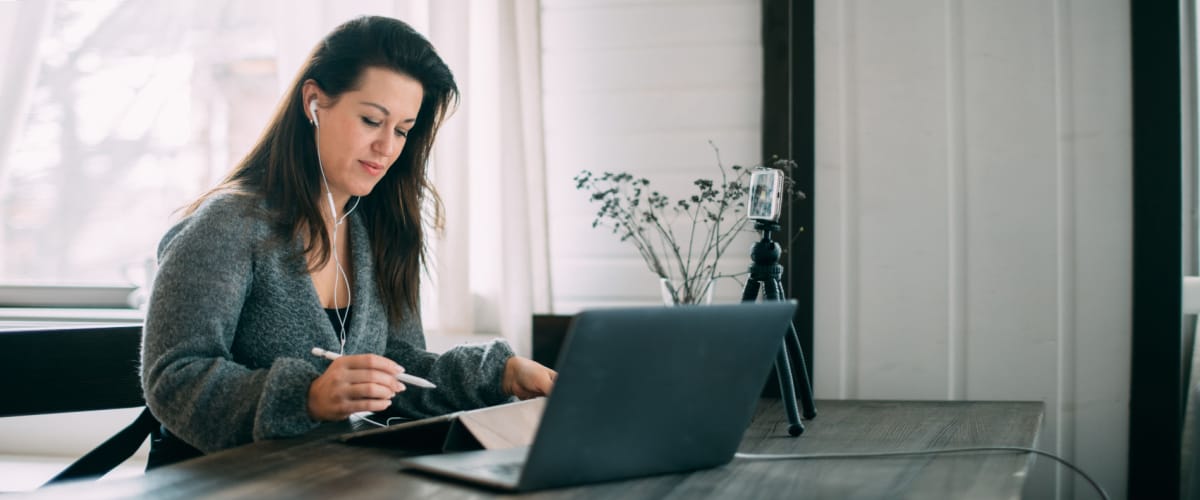 The 10 best investing blogs
Grusho Anna / Shutterstock
We adhere to strict standards of editorial integrity to help you make decisions with confidence. Please be aware that some (or all) products and services linked in this article are from our sponsors.
We adhere to strict standards of editorial integrity to help you make decisions with confidence. Please be aware that some (or all) products and services linked in this article are from our sponsors.
It's no secret that we live in an Information Age. There are thousands of websites filled with content, all purporting to have the best financial advice out there. But with so much faulty information and speculation out there, how do you know who to trust?
When seeking out investing blogs, you'll want to determine the author's credibility first. They'll need a proven track record before you can take their word as experts. A blog with good testimonials from current readers indicates that its advice can be considered sound. Plus, you'll want to find a blog with investing advice that matches your current situation and goals.
As time goes on, you'll know what to look for when searching for your perfect investing blog. In the meantime, here's our top ten picks for the best blogs across different investing niches to get you started.
Wondering why the investing blogs listed above made our top-10 list for 2023? Below, we break down what each blog offers and why it's worth reading.
Best for value investors: Contrarian Edge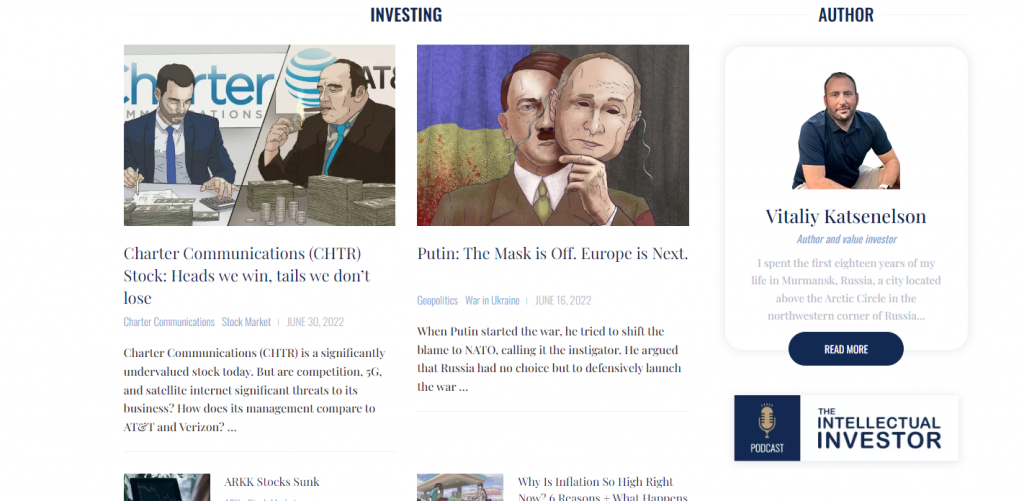 Vitaliy Katsenelson, the founder of Contrarian Edge, has been dubbed by Forbes as the new father of value investing. Katsenelson has published numerous books on the subject and often appears on Market Watch to discuss value investing advice for the public.
Contrarian Edge offers advice on building a portfolio in today's market, particularly how to construct a portfolio that protects you from market volatility. You can also sign up for Katsenelson's "Six Commandments of Value Investing" series, which is a hands-on approach to the principles behind value investing.
Katsenelson's vast knowledge and experience in value investing make Contrarian Edge the best blog for value investors. Not only does he make the topic interesting, but he also manages to sprinkle in occasional thoughts about life and happiness.
Click here to read Contrarian Edge >>>
Best for dividend investors: The Dividend Guy Blog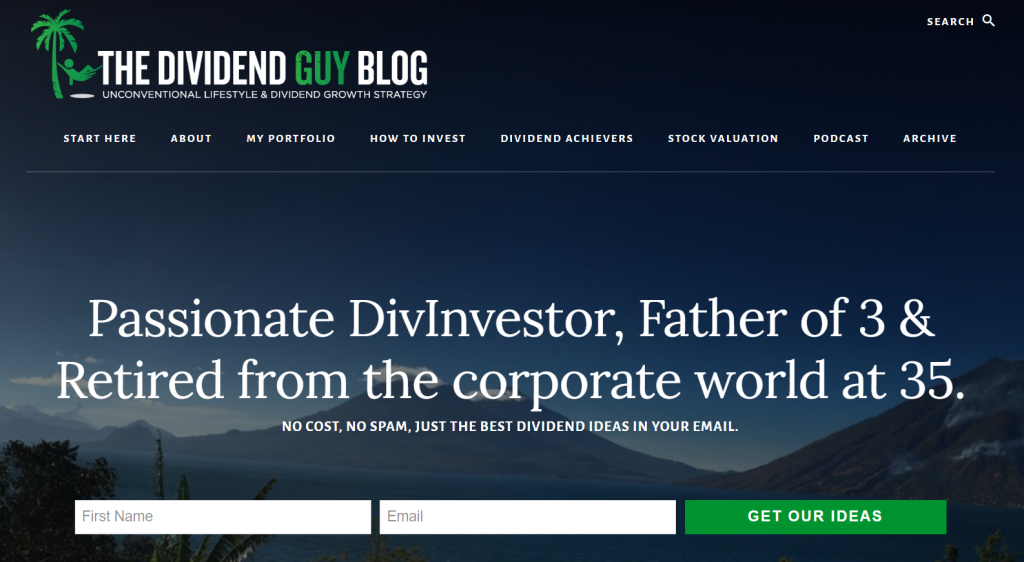 In 2010, Mike Heroux became The Dividend Guy when he purchased the blog after being a long-time fan. Heroux became financially independent at age 35. This allowed him to leave his corporate job to travel the globe with his family and live off income from his dividend investments.
The articles on the blog look at topics like stock valuation, finding dividend growth stocks, and how to build a six-figure dividend portfolio. Heroux offers a six-day dividend growth investing series targeted at beginning investors. The series details his investment strategy and how to avoid newbie mistakes.
The Dividend Guy consistently publishes articles with analysis and information on the best dividend-paying stocks. His eagerness to help others create the best possible portfolio makes The Dividend Guy our top pick for dividend investing blogger.
Check out The Dividend Guy Blog >>>
Best for sustainable investors: Grünfin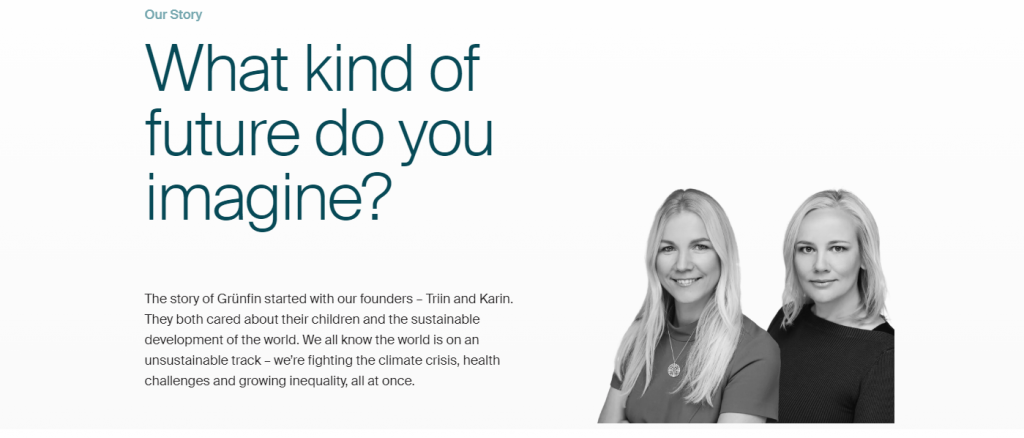 Grünfin was founded by two mothers, Triin Hertmann and Karin Nemec, who were concerned about the world's sustainable development. Grünfin's mission is to see a future where investment decisions are based on environmental and societal impact instead of just profits.
While Grünfin mainly offers portfolio management services, its blog contains content on the importance of sustainable investing, tips on how to make smarter investments, and explains how you can match your money with your values.
We chose Grünfin as the best blog for sustainable investors because its content and mission center around the idea that your money, invested wisely, can positively impact the world.
Best for real estate investors: BiggerPockets

BiggerPockets was founded by Joshua Dorkin, a real estate investor who eventually sold the company to a private equity firm. Since 2004, the blog and online forum have become a top resource for real estate investors. BiggerPockets has a robust community with various writers and content, including podcasts, videos, webinars, and expert-recommended books.
BiggerPockets produces helpful guides on renting out your place, tips on evaluating a property, and detailed looks on how to make money from short-term rentals (like Airbnb). Its glossary defines hundreds of real estate terms. It also boasts several calculator tools to determine profit margins on things like fixer-uppers, rentals, wholesale real estate, and more. Most of the content is free, but the website does offer priced membership plans for access to more articles, webinars, and reports.
If you're looking to get into real estate for the first time or want to grow your real estate investment portfolio, the BiggerPockets blog should have something for you. It's our pick for the best real estate investing blog simply for the sheer amount of resources offered.
Best for technical analysis: The Motley Fool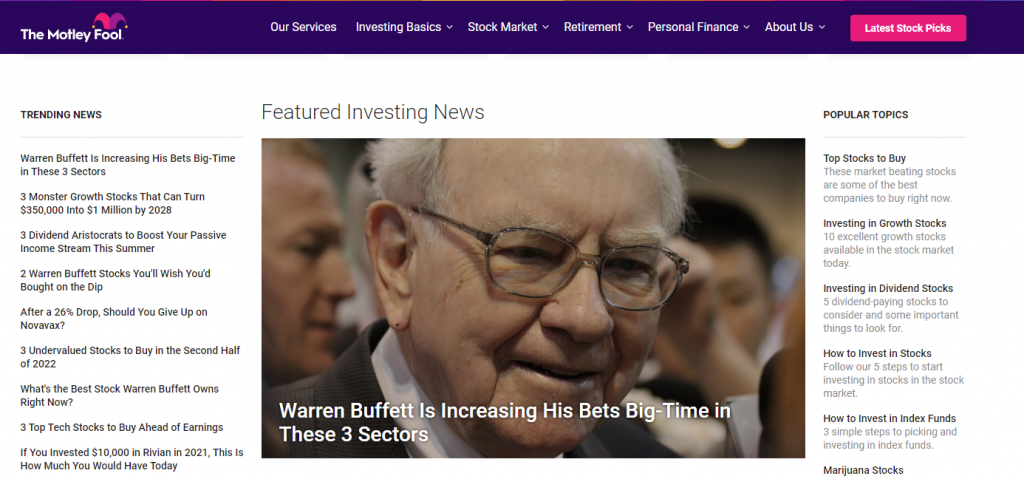 The Motley Fool was founded in 1993 by brothers Tom and David Gardner. Their investing philosophy focuses on purchasing quality stocks based on a business's performance over long periods. Their mission is to share their investment insights with other "little guy" investors.
The website gives detailed advice on investing. When you check out The Motley Fool, you can expect to find content ranging from tips on finding the best stocks to news updates on what's happening in the market. Many expert writers contribute to The Motley Fool, sharing frequent insights and analyses on all things related to the stock market.
The Motley Fool is the best blog for technical analysis because of its timely articles about market performances and in-depth looks into individual stocks.
Best for crypto investors: Cointelegraph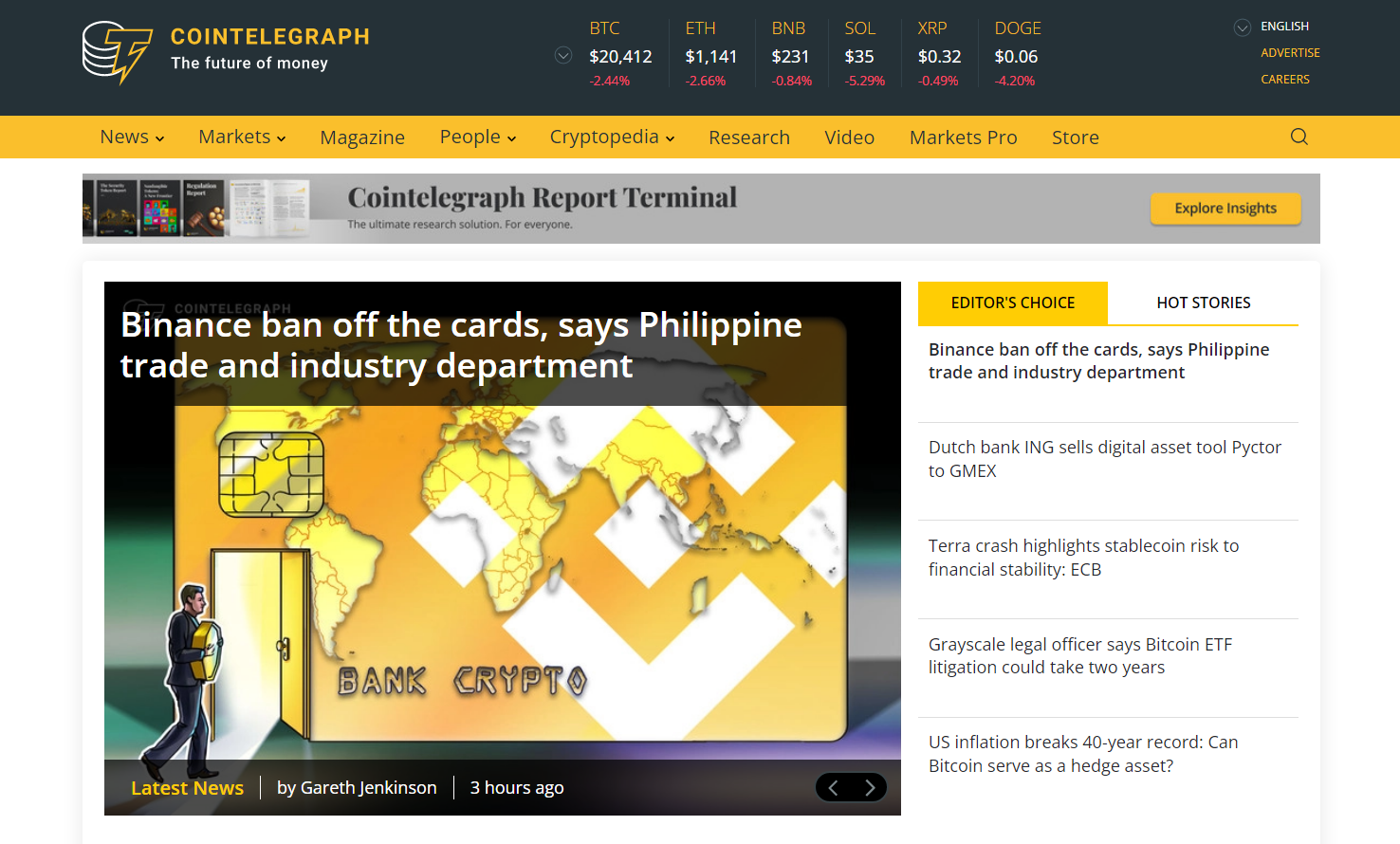 Founded in 2013, Cointelegraph is a completely independent publication covering everything related to cryptocurrency. Its mission is to educate readers on the ongoing decentralized digital revolution, covering everything from blockchain technology to crypto assets.
Cointelegraph publishes the latest news, insights, and analyses of the cryptocurrency space from numerous authors. The website also offers helpful beginner guides on different cryptocurrencies, the role of blockchain, NFTs, trading strategies, and more.
Cointelegraph's mission to offer unbiased, informative, and relevant crypto content makes it a great place for beginning and seasoned crypto investors to learn about digital currencies.
Best for options traders: Option Alpha Blog

Option Alpha is an options trading platform that was founded originally by Kirk Du Plessis. The Option Alpha website offers educational resources from self-paced courses to blog posts explaining the basics of options trading. The blog section is filled with detailed content on everything related to options trading. Option Alpha also provides free trials for readers who are interested in automating their stocks or options trading strategy.
You can find content on the Option Alpha blog on topics ranging from the best options trading strategies to setting up your own bot. Option Alpha has become a digital encyclopedia for investors who want to learn more about trading options and everything that it entails.
Read the Option Alpha Blog >>>
Best for young investors: The College Investor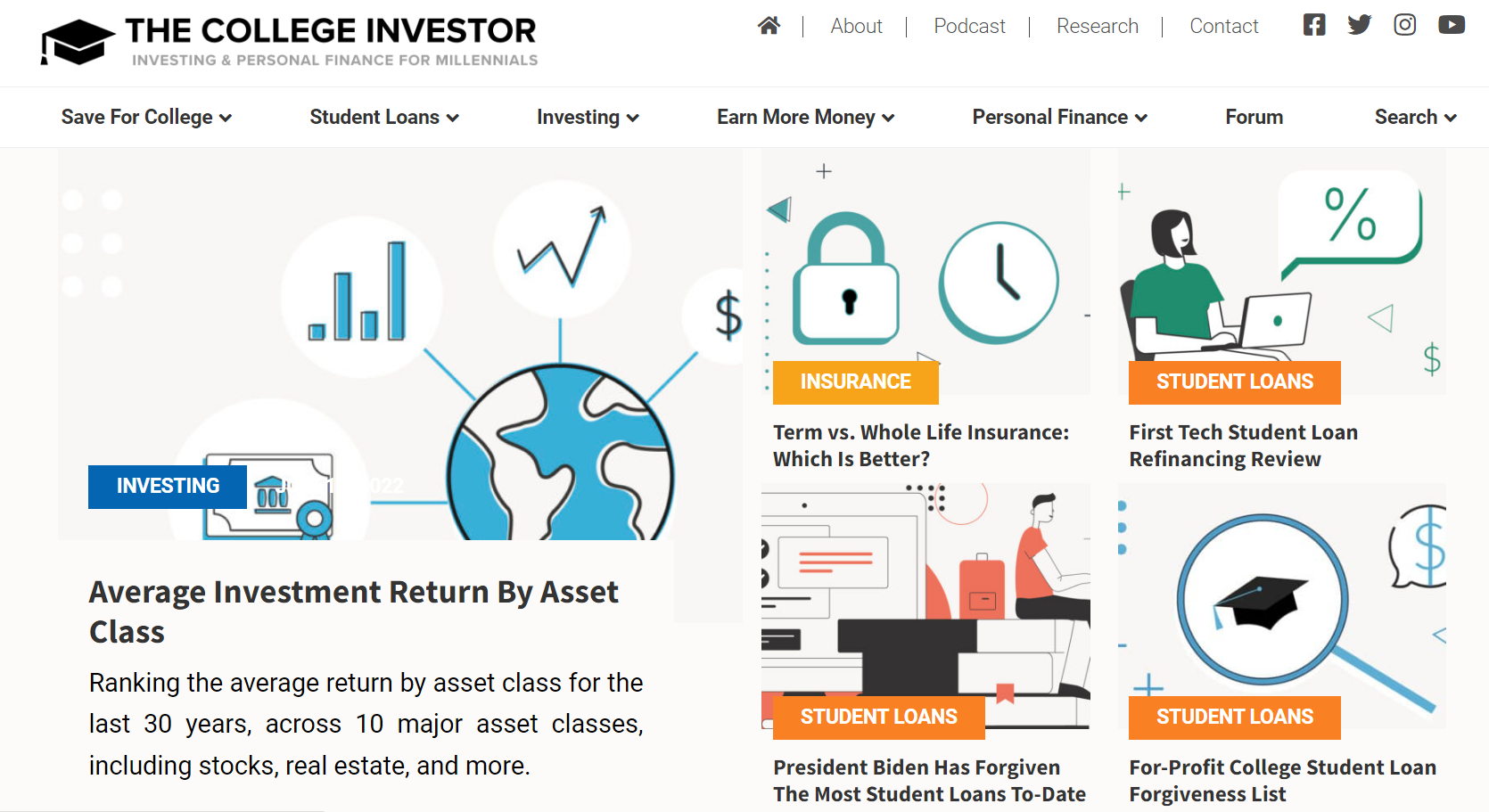 Robert Farrington is the mind behind The College Investor and is considered one of the leading experts on student loans. When Farrington realized that many peers in his MBA program weren't aware of the basics of personal finance, he recognized an opportunity to create a valuable resource for young investors.
Farrington dives into all things investing and money management, focusing on teens and young adults. The College Investor has content on saving for college with investment plans, how to invest with just $100, and other approachable ways for younger folks to begin their investment journey. The blog also reviews popular investing tools, accounts, and brokers, giving its readers practical, comprehensive information to boost them along.
We consider The College Investor one the best investment blogs for young investors because it's tailored specifically to that audience. With easy-to-understand content ranging from blog posts, podcasts, and videos, there should be something for every young investor to learn.
Check out The College Investor >>>
Best for doctors: White Coat Investor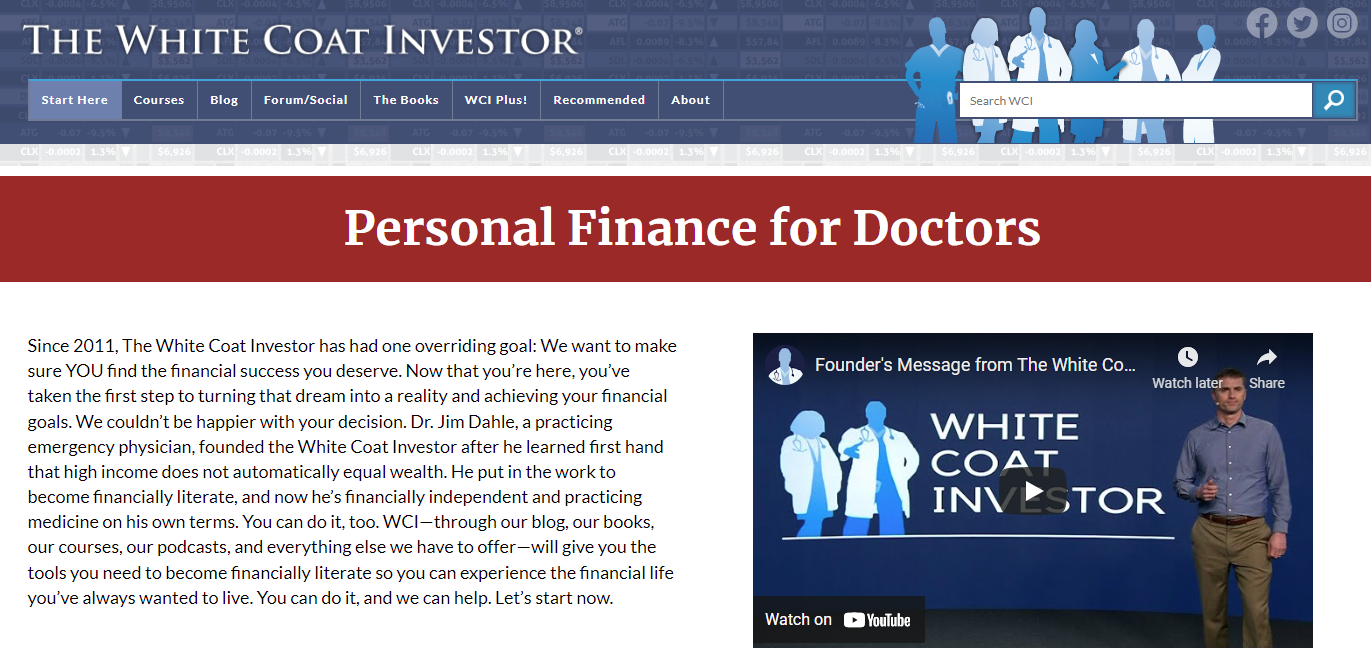 Dr. Jim Dahle, an emergency physician, founded the White Coat Investor after encountering some untrustworthy financial professionals. The website provides financial literacy to doctors and other high earners looking for reliable financial information and advice.
White Coat Investor has since developed into an entire community with a podcast, online forum, Facebook group, and articles for doctors looking for assistance with their finances. Physicians can find over 2,300 articles detailing things like investment strategies, student loan refinancing, insurance mistakes, retirement accounts, and financial strategies for residents.
White Coat Investor is unique in that its content and resources are tailored specifically for medical employees, making it our choice as the best investment blog for doctors.
Check out The White Coat Investor >>>
Best For FIRE Fans: Mad Fientist

Brandon Ganch, a former computer programmer-turned-financial guru, founded The Mad Fientist to help others become financially independent. The blog has become extremely popular among fans of the FIRE movement. It offers advice and tax-avoidance strategies for people seeking early retirement.
On The Mad Fientist, you can find free money tools and spreadsheets created by Ganch. These resources allow users to input their finances to track how close they are to financial independence. The blog also has a partner podcast where other financial independence influencers often discuss their unique FIRE strategies.
The Mad Fientist earns our pick for best FIRE blog. The site offers helpful content tools created by someone who became financially independent.
Bottom line: Even the best investing blogs should be vetted
Informative, accurate content can make a huge difference for someone interested in investing, whether they're a beginner or have been chasing the markets for years. The blogs mentioned above have a reputation for being trustworthy among their readers.
However, it's essential to do thorough research before applying any investment advice you find online. No one can perfectly predict what the markets will look like or the best investment for your specific goals. Take any advice you read online with a grain of salt.
Looking to level up your investing life?